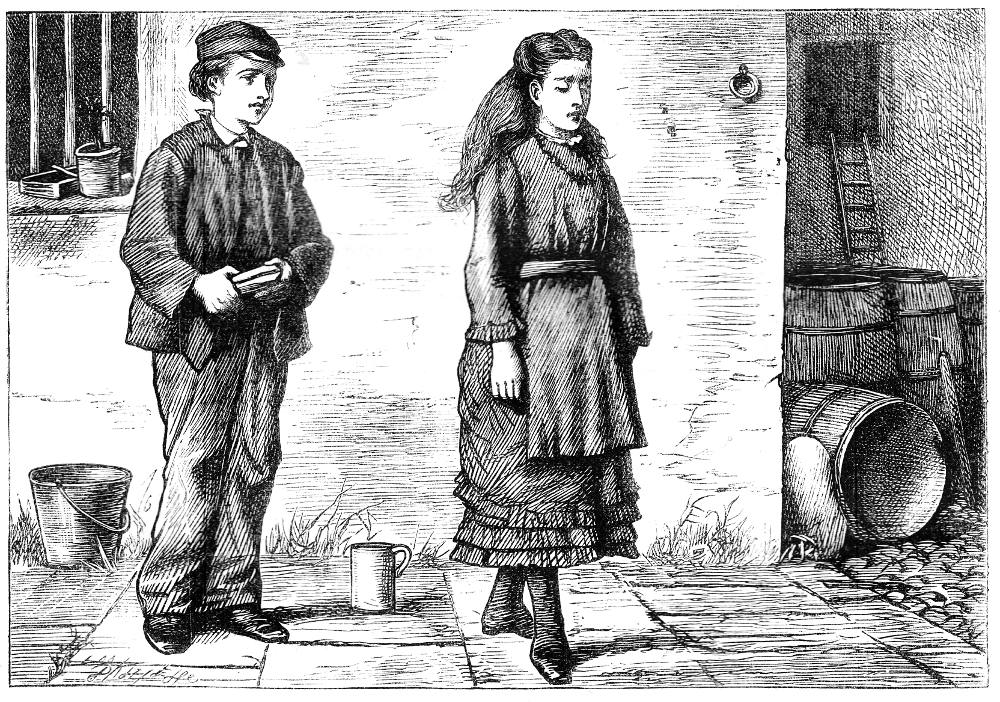 "She gave a contemptuous toss . . . . and left me" by F. A. Fraser (1876), in Charles Dickens's Great Expectations, Chapman & Hall. British Household Edition, for Chapter VIII. 9.4 x 13.7 cm (3 ¾ by 5 ⅜ inches), framed. Running head: "A Wilderness" (29). [Click on the images to enlarge them.]
Passage Illustrated: Pip encounters Estella on his first visit to Satis House
Nothing less than the frosty light of the cheerful sky, the sight of people passing beyond the bars of the court-yard gate, and the reviving influence of the rest of the bread and meat and beer, would have brought me round. Even with those aids, I might not have come to myself as soon as I did, but that I saw Estella approaching with the keys, to let me out. She would have some fair reason for looking down upon me, I thought, if she saw me frightened; and she would have no fair reason.
She gave me a triumphant glance in passing me, as if she rejoiced that my hands were so coarse and my boots were so thick, and she opened the gate, and stood holding it. I was passing out without looking at her, when she touched me with a taunting hand.
"Why don't you cry?"
"Because I don't want to."
"You do," said she. "You have been crying till you are half blind, and you are near crying again now."
She laughed contemptuously, pushed me out, and locked the gate upon me. [Chapter VIII, 29}
Commentary: Prosaic rather than Romantic
With the example of Marcus Stone's 1862 Illustrated Library Edition frontispiece before him, Fraser could well; have decided to romanticize Pip's initial visit to Satis House. But instead of air air of mystery or an emotional effusion based on Pip's first encounter with the beautiful but aloof Estella and the mysterious recluse who has adopted her, Fraser gives us a plain, sour-faced adolescent. And in place of the candle-lit halls of the brewer-heiress's mansion, Fraser chooses as his backdrop the mundane, utterly unexotic brewery yard. Marcus Stone depicted Miss Havisham as a ravishing beauty enveloped in an air of mystery, part of which lies in the origins of Estella.
Although the young artist collaborated closely with the author on the eight engravings in the 1862 first volume edition, Stone's style had veered away from the literal realism of the sixties' novel and towards the creation of an appropriate mood or atmosphere in both the opening scene in the churchyard and in the scenes at Satis House. Stone's atmospheric treatment is most evident in Pip Waits on Miss Havisham, a full-page plate which realises not merely Stone's initial reading of the serialised in All the Year Round, but also the young illustrator's conversations with the author himself. This initial visit to Satis House leads Pip into the greater world beyond the marshes, towards high society, education, professional status, and ultimately marriage with the love of his life. And yet in the Fraser illustration one has almost no sense of the momentous nature of the visit in Fraser's illustration.
Fraser's depiction of Estella against the backdrop of the barrels in the abandoned brew-house is certainly the most prosaic treatment of Dickens's difficult heroine offered by the various nineteenth and early twentieth-century illustrators of the novel. She is statuesque and attractive as an adult in the other programs of illustration, but Fraser depicts her here in his first regular illustration of her begins as a sour-faced, bushy-haired adolescent in the Fraser sequence. The illustrator has chosen to introduce Estella ahead of the other female characters (Miss Havisham, Mrs. Joe, Biddy, Molly, Mrs. Pocket, and Clara) in the frontispiece, the scene in Richmond society in which Estella announces her intentions regarding Pip's nemesis, Bentley Drummle. Her reappearance in this fifth illustration underscores her importance in both the romance plot and as a motivator for Pip to become "gentleman," and therefore worthy of the book's other adopted child. Fraser has made her a society beauty in his first illustration, but here he focussed upon her negative qualities: her truculence, self-assertiveness, negativity, and class consciousness as she stonily remarks, "You are to wait here, you boy" (28), and then regards him "insolently" and dismisses him with "a contemptuous toss" of her head of the visitor whom she had initially dismissed as "a common labouring boy" (27). The illustration, therefore, underscores the negative aspects of the couple's initial meeting which leaves Pip feeling "humiliated, hurt. spurned, offended, angry, [and] sorry" (28).
Relevant Images of Pip and Estella from Other Editions (1860-1910)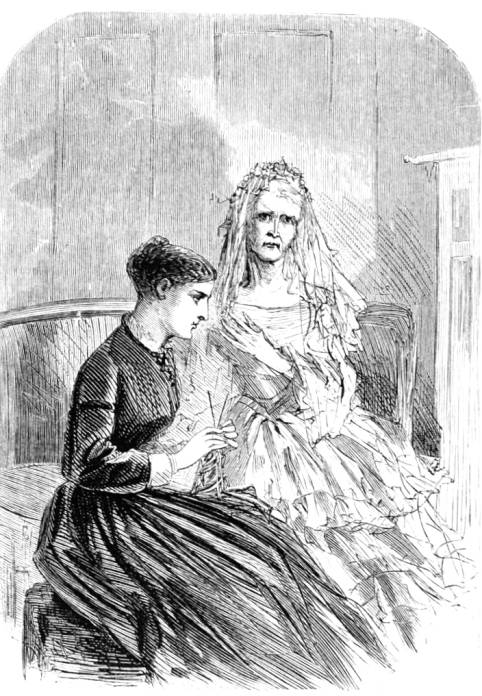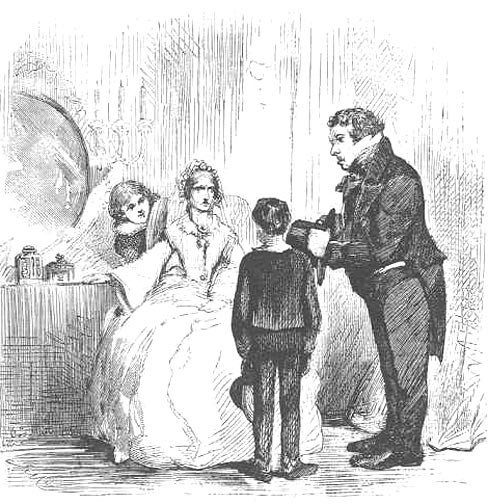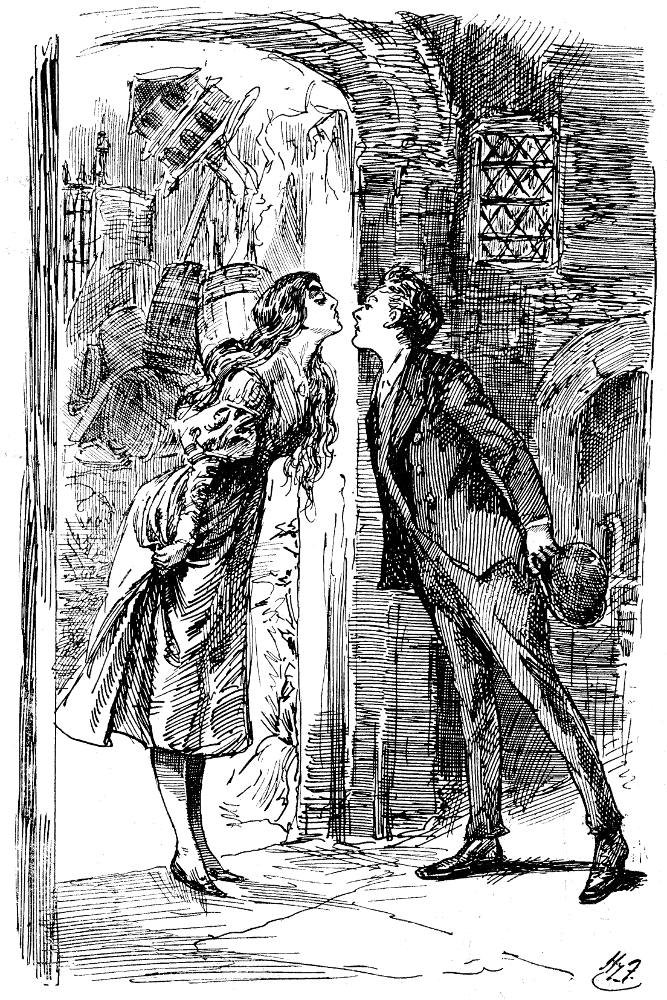 Left: Miss Havisham and Estella (1867), from the Diamond Edition by Sol Eytinge, Jr. Centre: In the first American serialisation, periodical illustrator John McLenan emphasizes the close relationship between Estella and her adoptive mother when joe pays a call about pip's apprenticeship in "Which I meantersay, Pip." (12 january 1861). Right: Harry Furniss's 1910 lithographic depiction of Pip's delight in being rewarded with a kiss after beating Herbert in a fist fight: An Unexpected Pleasure For Pip, in the Charles Dickens Library Edition, Vol. 14.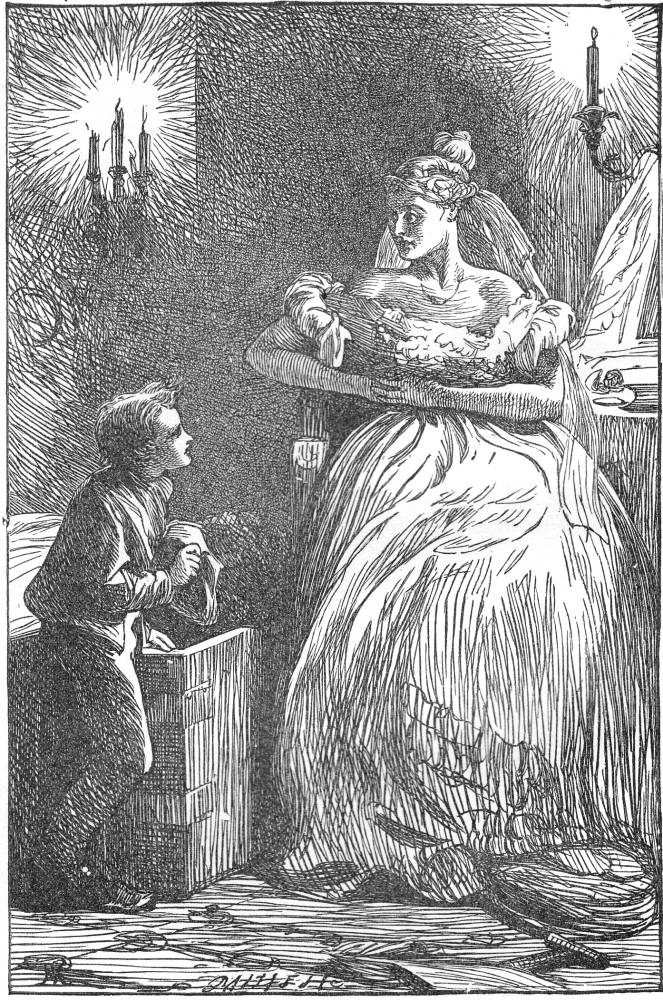 Left: Marcus Stone in the frontispiece sets the keynote by establishing Miss Havisham as a sort of fairy-godmother when the working-class lad first visits her: Pip Waits upon Miss Havisham (1862). Right: H. M. Brock establishes Miss Havisham's desire to be avenged on the male gender by training Estella to be a heart-breaker in "Well? You can break his heart". (1901).
Other Artists' Illustrations for Dickens's
Great Expectations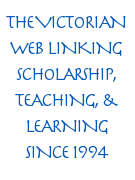 Scanned images and text by Philip V. Allingham. [You may use these images without prior permission for any scholarly or educational purpose as long as you (1) credit the photographer and (2) link your document to this URL in a web document or cite the Victorian Web in a print one.]
Bibliography
Allingham, Philip V. "The Illustrations for Great Expectations in Harper's Weekly (1860-61) and in the Illustrated Library Edition (1862) — 'Reading by the Light of Illustration'." Dickens Studies Annual, Vol. 40 (2009): 113-169.
Dickens, Charles. Great Expectations. Illustrated by John McLenan. [The First American Edition]. Harper's Weekly: A Journal of Civilization, Vols. IV: 740 through V: 495 (24 November 1860-3 August 1861).
______. ("Boz."). Great Expectations. With thirty-four illustrations from original designs by John McLenan. Philadelphia: T. B. Peterson (by agreement with Harper & Bros., New York), 1861.
______. Great Expectations. Illustrated by Marcus Stone. The Illustrated Library Edition. London: Chapman and Hall, 1862. Rpt. in The Nonesuch Dickens, Great Expectations and Hard Times. London: Nonesuch, 1937; Overlook and Worth Presses, 2005.
______. A Tale of Two Cities and Great Expectations. Illustrated by Sol Eytinge, Jr. The Diamond Edition. 16 vols. Boston: Ticknor and Fields, 1867.
______. Great Expectations. Volume 6 of the Household Edition. Illustrated by F. A. Fraser. London: Chapman and Hall, 1876.
______. Great Expectations. The Gadshill Edition. Illustrated by Charles Green. London: Chapman and Hall, 1898.
______. Great Expectations. The Grande Luxe Edition, ed. Richard Garnett. Illustrated by Clayton J. Clarke ('Kyd'). London: Merrill and Baker, 1900.
______. Great Expectations. "With 28 Original Plates by Harry Furniss." Volume 14 of the Charles Dickens Library Edition. London: Educational Book Co., 1910.
---
Created 19 March 2004 Last modified 18 August 2021