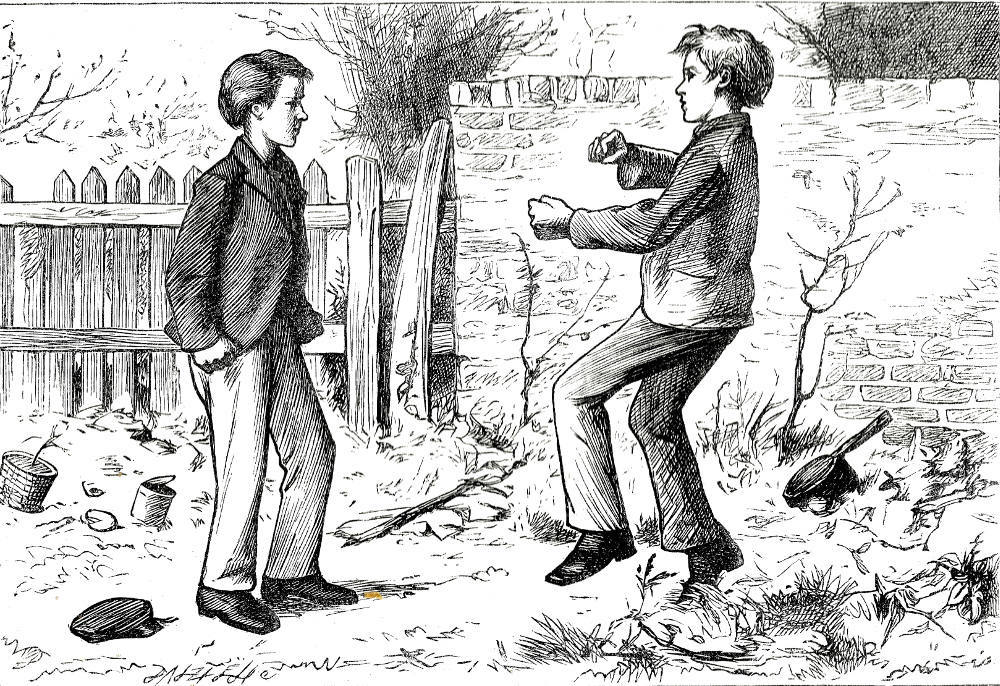 He said, "Aha! would you?" and began dancing backward and forward: sixth illustration by F. A. Fraser (1844-1896). 9.4 cm high by 13.6 cm wide (3 ¾ by 5 ⅜ inches), framed (half-page, horizontally mounted), p. 44. This wood engraving illustrates p. 41, Chapter Eleven in Charles Dickens's Great Expectations, which appeared as Volume 11 in the British Household Edition )1876), for Chapter XI. Running head: "The Pale Young Gentleman" (41). [Click on the images to enlarge them.]
Passage Illustrated: Pip encounters Herbert Pocket, "The Fighting Boy," at Satis House
"Halloa!" said he, "young fellow!"
Halloa being a general observation which I had usually observed to be best answered by  itself, I said, "Halloa!" politely omitting young fellow.
"Who let you in?" said he.
"Miss Estella."
"Who gave you leave to prowl about?"
"Miss Estella."
"Come and fight," said the pale young gentleman.
What could I do but follow him? I have often asked myself the question since; but what else could I do? His manner was so final, and I was so astonished, that I followed where he led, as if I had been under a spell.
"Stop a minute, though," he said, wheeling round before we had gone many paces. "I ought to give you a reason for fighting, too. There it is!" In a most irritating manner he instantly slapped his hands against one another, daintily flung one of his legs up behind him, pulled my hair, slapped his hands again, dipped his head, and butted it into my stomach.
The bull-like proceeding last mentioned, besides that it was unquestionably to be regarded in the light of a liberty, was particularly disagreeable just after bread and meat. I therefore hit out at him and was going to hit out again, when he said, "Aha! Would you?" and began dancing backwards and forwards in a manner quite unparalleled within my limited experience.
"Laws of the game!" said he. Here, he skipped from his left leg on to his right. "Regular rules!" Here, he skipped from his right leg on to his left. "Come to the ground, and go through the preliminaries!" Here, he dodged backwards and forwards, and did all sorts of things while I looked helplessly at him. [Chapter XI, 41]
Commentary: Introducing Pip's Best Friend, Herbert Pocket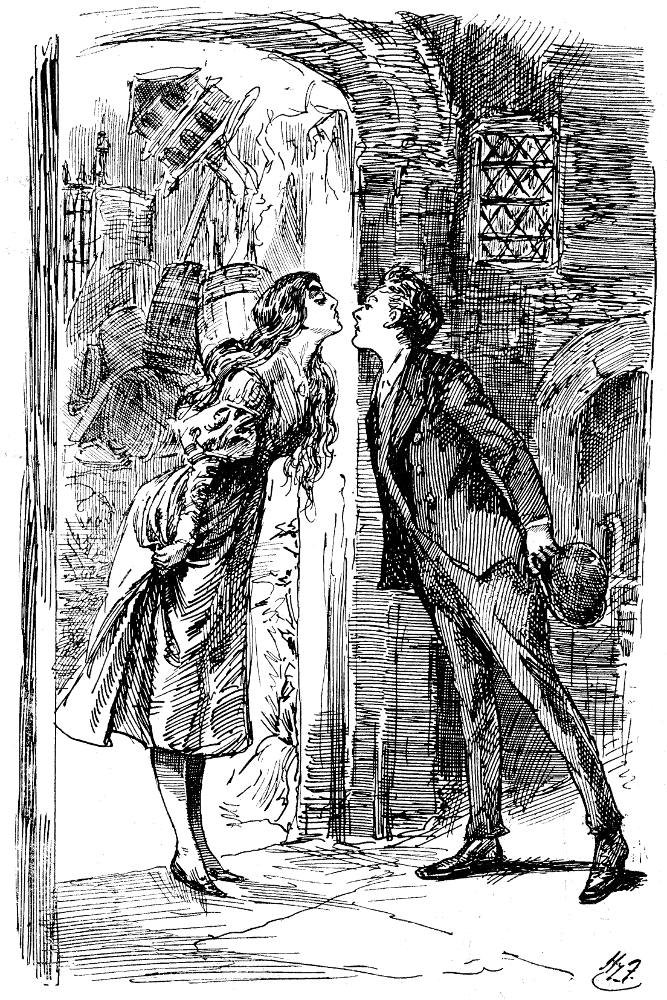 Harry Furniss's 1910 lithographic depiction of Pip's delight in being rewarded with a kiss after beating Herbert in a fist fight: An Unexpected Pleasure For Pip, in the Charles Dickens Library Edition, Vol. 14.
Perhaps because he is so bland and so marginal in the plot, illustrators have failed to provide realisations of scenes involving Herbert Pocket, both as the "Fighting Boy" at Satis House and later as Pip's chief friend and confidant among The Finches of the Grove. Here, Dickens and F. A. Fraser satirize Herbert's pose as an experienced pugilist as he attempts to put into use his fragmentary knowledge of the rules of boxing established by the Marquis of Queensbury. The visiting blacksmith's boy clearly does not know what to make of the energetic boy who is dancing about in a boxer's stance, aggressively swinging his arms about. Pip with little difficulty knocks the "pale young gentleman" down, giving him a black eye — hardly an auspicious start to a lifelong friendship. However, as elsewhere in the novel Pip discovers that his first impressions can be misleading. Herbert, the youngest member of the money-grubbing aptly named Pockets to visit their wealthy relation, the aging heiress Miss Havisham, is not at all interested in currying favour with her. Significantly, probably because she believes that the fist fight was occasioned by rivalry over her, Estella grants Pip a kiss. Herbert, the son of the educated but less-than-successful aristocrat whom Jaggers selects to be Pip's tutor, later becomes Pip's roommate at Barnard's Inn, in Holborn, East London, one of the now-defunct Inns of Chancery. In the main plot, Herbert's most significant role will be helping Pip hide Magwitch until he and Pip can arrange for the convict's escape. In Chapter 59, Miss Havisham rewards the feckless but well-meaning Herbert for his virtuous conduct by leaving him four thousand pounds in her will.
Related Material
Other Artists' Illustrations for Dickens's
Great Expectations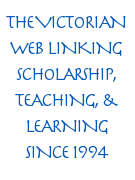 Scanned images and text by Philip V. Allingham. [You may use these images without prior permission for any scholarly or educational purpose as long as you (1) credit the photographer and (2) link your document to this URL in a web document or cite the Victorian Web in a print one.]
Bibliography
Allingham, Philip V. "The Illustrations for Great Expectations in Harper's Weekly (1860-61) and in the Illustrated Library Edition (1862) — 'Reading by the Light of Illustration'." Dickens Studies Annual, Vol. 40 (2009): 113-169.
Dickens, Charles. Great Expectations. Illustrated by John McLenan. [The First American Edition]. Harper's Weekly: A Journal of Civilization, Vols. IV: 740 through V: 495 (24 November 1860-3 August 1861).
______. ("Boz."). Great Expectations. With thirty-four illustrations from original designs by John McLenan. Philadelphia: T. B. Peterson (by agreement with Harper & Bros., New York), 1861.
______. Great Expectations. Illustrated by Marcus Stone. The Illustrated Library Edition. London: Chapman and Hall, 1862. Rpt. in The Nonesuch Dickens, Great Expectations and Hard Times. London: Nonesuch, 1937; Overlook and Worth Presses, 2005.
______. A Tale of Two Cities and Great Expectations. Illustrated by Sol Eytinge, Jr. The Diamond Edition. 16 vols. Boston: Ticknor and Fields, 1867.
______. Great Expectations. Volume 6 of the Household Edition. Illustrated by F. A. Fraser. London: Chapman and Hall, 1876.
______. Great Expectations. The Gadshill Edition. Illustrated by Charles Green. London: Chapman and Hall, 1898.
______. Great Expectations. The Grande Luxe Edition, ed. Richard Garnett. Illustrated by Clayton J. Clarke ('Kyd'). London: Merrill and Baker, 1900.
______. Great Expectations. "With 28 Original Plates by Harry Furniss." Volume 14 of the Charles Dickens Library Edition. London: Educational Book Co., 1910.
---
Created 19 March 2004 Last modified 21 August 2021