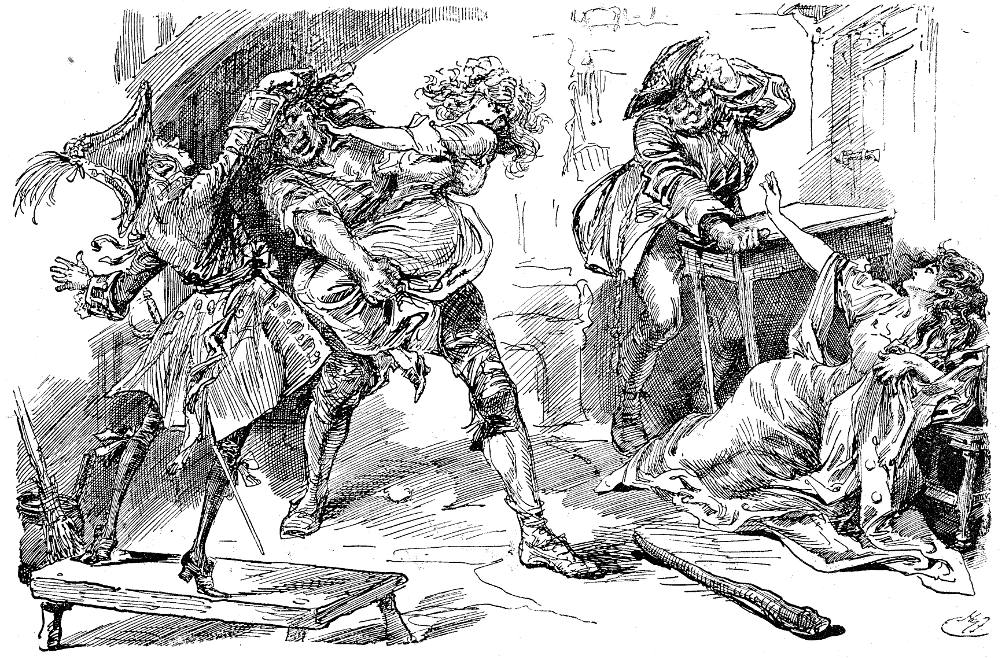 Emma and Dolly Prisoners (p. 363) — Chapter 59, 3 ½ by 5 ½ inches (9.2 cm high x 14.2 cm wide), vignetted, twenty-second illustration in Charles Dickens's Barnaby Rudge, Charles Dickens Library Edition (1910), facing VI, 465. Original caption: "Carry her into the next house!" Hugh had her in his arms directly. It might be that Master Tappertit's heart was really softened by her distress, or it might be that he felt it in some degree indecorous that his intended bride should be struggling in the grasp of another man. He commanded him, on second thoughts, to put her down again. [Click on the images to enlarge them.]
Passage Illustrated: Hugh preempts Sim with Dolly
As he said these words he advanced towards her. Dolly retreated till she could go no farther, and then sank down upon the floor. Thinking it very possible that this might be maiden modesty, Simon essayed to raise her; on which Dolly, goaded to desperation, wound her hands in his hair, and crying out amidst her tears that he was a dreadful little wretch, and always had been, shook, and pulled, and beat him, until he was fain to call for help, most lustily. Hugh had never admired her half so much as at that moment.
"She's in an excited state to-night," said Simon, as he smoothed his rumpled feathers, "and don't know when she's well off. Let her be by herself till to-morrow, and that'll bring her down a little. Carry her into the next house!"
Hugh had her in his arms directly. It might be that Master Tappertit's heart was really softened by her distress, or it might be that he felt it in some degree indecorous that his intended bride should be struggling in the grasp of another man. He commanded him, on second thoughts, to put her down again. [Chapter the Fifty-ninth, 463]
Commentary: A Highly Physical Interpretation
Furniss dedoubles the violence and energy of the original Phiz illustration by showing all of the characters in motion, as if implying that the young women are in real danger of being reaped. In Phiz's animated interpretation of Hugh's wrestling with Dolly, Emma cowers nervously as she glances at the conduct of her captors. Here, however, a florid Emma has been swept up in the violence, having fainted as Dennis lurks above her. Sim, apparently to have Dolly for himself, pulls Hugh's hair as the brutal laughs at both the "Captain" and Dolly, whose struggle suggests the intensity of her terror. And yet Furniss injects humour into the scene (with both Dennis and Sim) to transform the melodramatic moment into something of a farce.
Relevant Illustration from the Household and Original Editions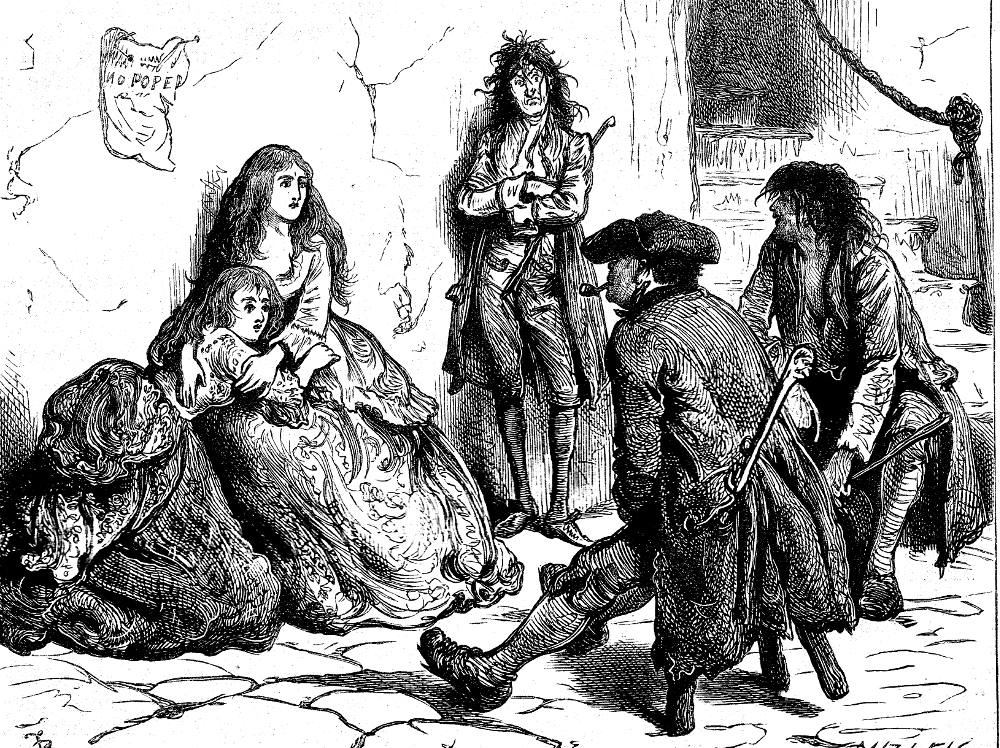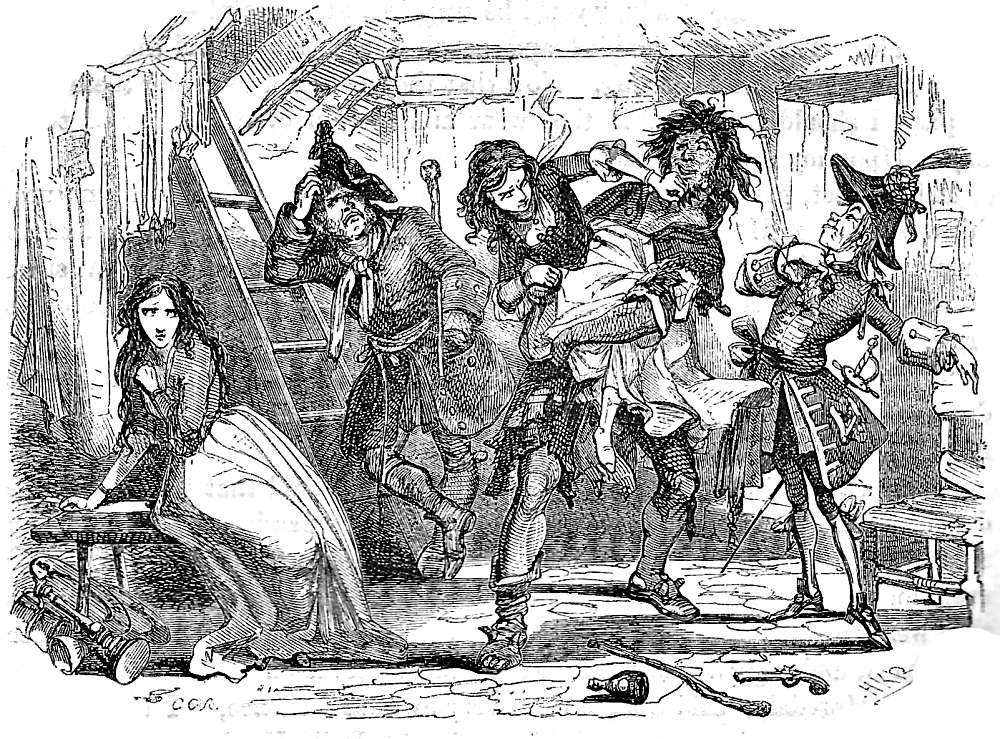 Left: Fred Barnard shows not Hugh's violent abduction of Dolly but its aftermath, Looked moodily on as she flew to Miss Haredale's side (Chapter LIX). Right: Phiz's dramatic action scene of Dolly struggling with Hugh:Dolly in Hugh's Arms (11 September 1841).
Related Material including Other Illustrated Editions of
Barnaby Rudge
Scanned image, colour correction, sizing, caption, and commentary by Philip V. Allingham. [You may use this image without prior permission for any scholarly or educational purpose, as long as you (1) credit the person who scanned the image, and (2) link your document to this URL in a web document or cite the Victorian Web in a print one.]
Bibliography
Dickens, Charles. Barnaby Rudge in Master Humphrey's Clock. Illustrated by Phiz and George Cattermole. 3 vols. London: Chapman and Hall, 1841; rpt., Bradbury and Evans, 1849.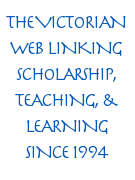 ________. Barnaby Rudge — A Tale of the Riots of 'Eighty. Illustrated by Fred Barnard. The Household Edition. 22 vols. London: Chapman and Hall, 1874. VII.
________. Barnaby Rudge. Illustrated by Harry Furniss. The Charles Dickens Library Edition. London: Educational Book Company, 1910. VI.
---
Created 24 May 2016

Last modified 16 December 2020