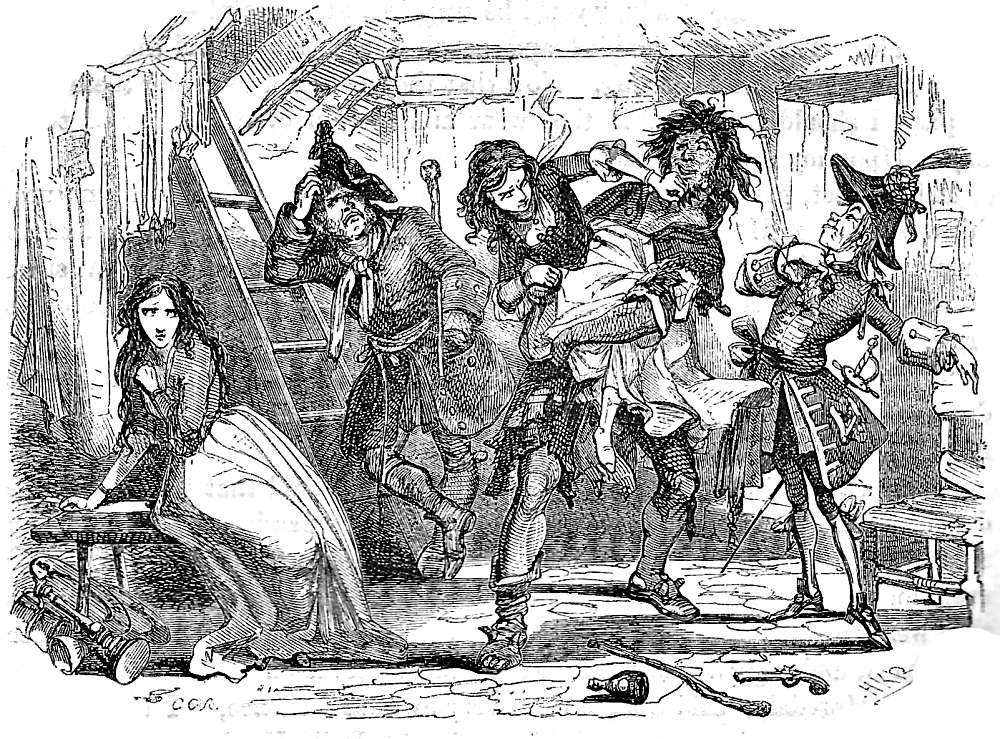 Dolly in Hugh's Arms from instalment 31 (11 September 1841) in Master Humphrey's Clock (Part 74), and published by Bradbury and Evans in volume form in 1849. 3 ¼ x 4 ½ inches (8.3 cm high by 11.3 cm wide), vignetted; composite woodblock engraving dropped into text: fifty-seventh illustration in the series for Dickens's Barnaby Rudge, Chapter the Fifty-ninth, 284. [Click on the images to enlarge them.]
Passage Illustrated: Hugh preempts Sim with Dolly
As he said these words he advanced towards her. Dolly retreated till she could go no farther, and then sank down upon the floor. Thinking it very possible that this might be maiden modesty, Simon essayed to raise her; on which Dolly, goaded to desperation, wound her hands in his hair, and crying out amidst her tears that he was a dreadful little wretch, and always had been, shook, and pulled, and beat him, until he was fain to call for help, most lustily. Hugh had never admired her half so much as at that moment.
"She's in an excited state to-night," said Simon, as he smoothed his rumpled feathers, "and don't know when she's well off. Let her be by herself till to-morrow, and that'll bring her down a little. Carry her into the next house!"
Hugh had her in his arms directly. It might be that Mr. Tappertit's heart was really softened by her distress, or it might be that he felt it in some degree indecorous that his intended bride should be struggling in the grasp of another man. He commanded him, on second thoughts, to put her down again, and looked moodily on as she flew to Miss Haredale's side, and clinging to her dress, hid her flushed face in its folds.
"They shall remain here together till to-morrow," said Simon, who had now quite recovered his dignity — "till to-morrow. Come away!"
"Ay!" cried Hugh. "Come away, captain. Ha ha ha!" [Chapter the Fifty-ninth, 283-84]
A Variety of Reactions and Postures
In Phiz's animated interpretation of Hugh's wrestling with Dolly, Emma cowers nervously as she glances at the conduct of her captors. Ned Dennis, the public hangman, scratches his head, as if perplexed by his comrades' behaviour. He does not seem to find the young woman sexually appealing, but lets drop in the dialogue that Gashford intends to have one of them. Dolly vainly struggles in Hugh's grasp, apparently trying to pinch his laughing face. Finally, Sim Tappetrit, elaborately uniformed as always, strikes a self-important pose, as if this is the moment in which he offers Dennis a young woman, and is also offering Miggs to his hairy companion. The ladder upon which the hangman leans suggests that there is a sleeping loft above the ground floor of the cottage.
Michael Steig's analysis shows the growing complexity of Phiz's responses to the surly antagonist whose later utterances strike a note of social protest:
Other than Miggs, Sim, and Bamaby, no character stands out as an individual creation, and the handling of Hugh is particularly uneven. Hugh's first appearance is a full-length portrait (ch. 11), achieving very much what the text demands; he is a "poaching rascal," who nonetheless in his "muscular and handsome proportions . . . might have served a painter for a model" (p. 298). In most of the subsequent cuts, Hugh looks more like a conventional comicgrotesque lout, although in his final appearance just before he is executed, he suddenly takes on a rather incredible nobility of feature (ch. 77).
It is difficult to say whether these inconsistencies are a response to Dickens' varying treatment of Hugh, a result of Browne's artistic tentativeness, or simply the fault of the engravers. [58]
Relevant Illustration from the Household and Charles Dickens Library Editions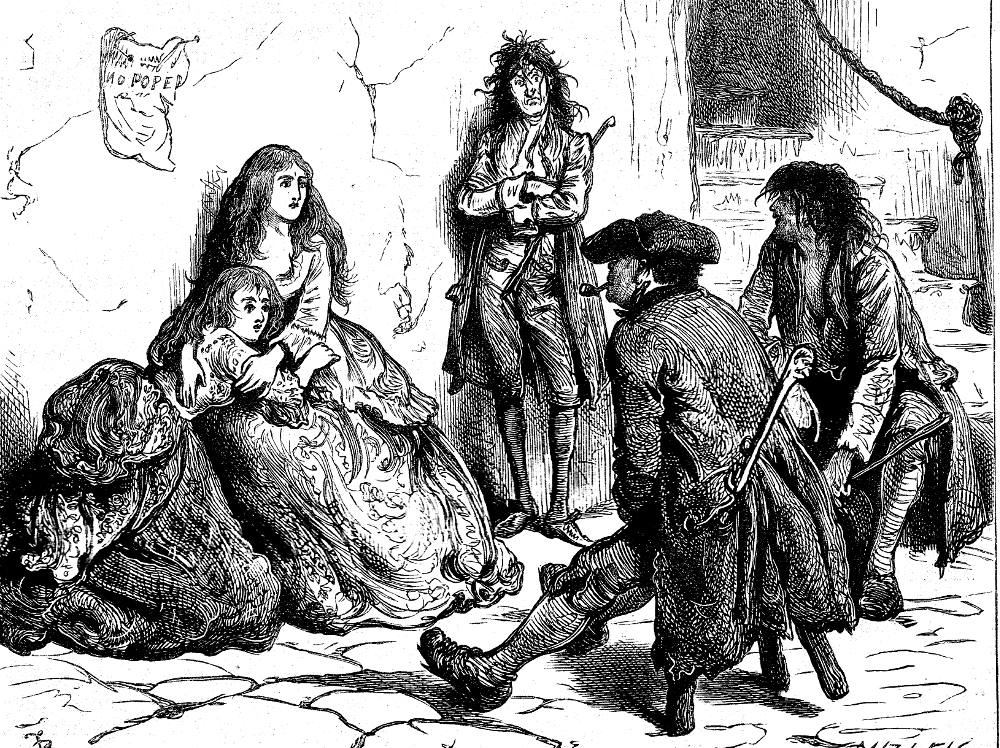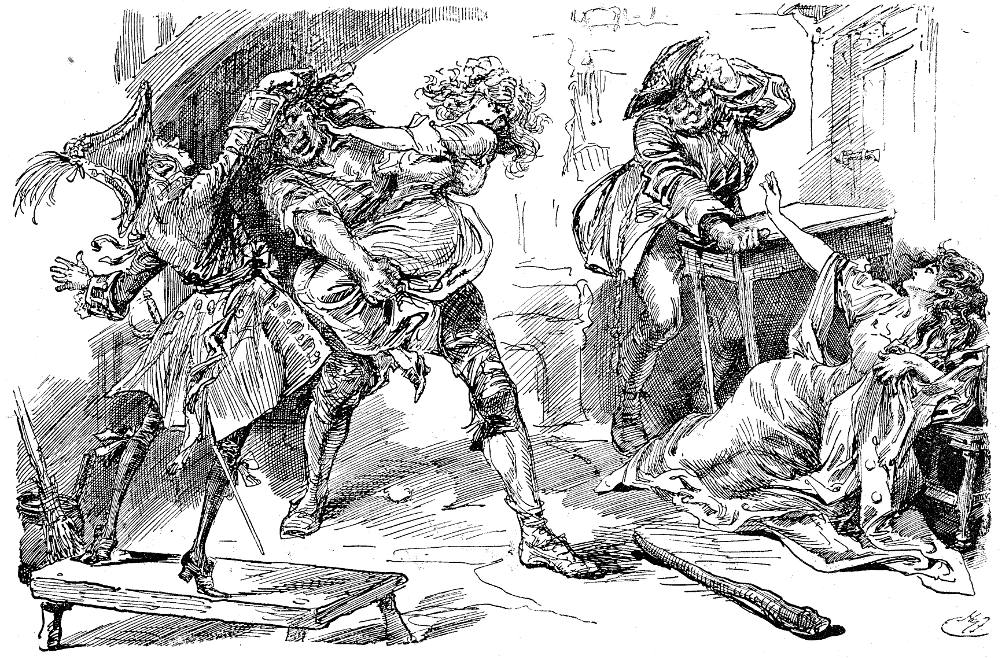 Left: Fred Barnard shows not Hugh's violent abduction of Dolly but its aftermath, Looked moodily on as she flew to Miss Haredale's side (Chapter LIX). Right: Harry Furniss's dynamic scene involves both Hugh and Sim fully engaged: Emma and Dolly Prisoners (1910).
Related Material including Other Illustrated Editions of
Barnaby Rudge
Scanned image and text by Philip V. Allingham. [You may use this image without prior permission for any scholarly or educational purpose as long as you (1) credit the person who scanned the image and (2) link your document to this URL in a web document or cite the Victorian Web in a print one.]
Bibliography
Dickens, Charles. Barnaby Rudge. Illustrated by Hablot K. Browne ('Phiz') and George Cattermole. London: Chapman and Hall, 1841; rpt., Bradbury & Evans, 1849.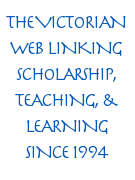 Hammerton, J. A. "Ch. XIV. Barnaby Rudge." The Dickens Picture-Book. The Charles Dickens Library Edition, illustrated by Harry Furniss. London: Educational Book Co., 1910. 213-55.
Steig, Michael. Chapter 3. "From Caricature to Progress: Master Humphrey's Clock to Martin Chuzzlewit." Dickens and Phiz. Bloomington & London: Indiana U. P., 1978. 53-85.
Vann, J. Don. "Charles Dickens. Barnaby Rudge in Master Humphrey's Clock, 13 February-27 November 1841." New York: MLA, 1985. 65-66.
---
Created 29 March 2019

Last modified 25 December 2020