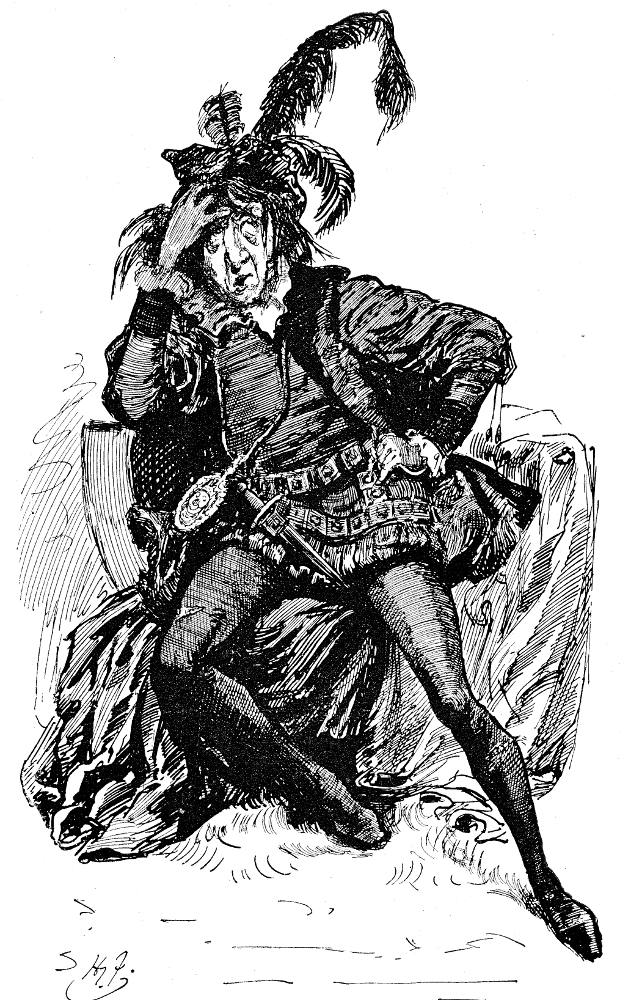 Mr. Wopsle as Hamlet
Harry Furniss
lithograph from pen-and-ink
1910
13.3 cm by 8.2 cm (5 ½ by 3 ½ inches), vignetted
Dickens's Great Expectations, Charles Dickens Library Edition, facing p. 256.
Scanned image and text by Philip V. Allingham.
[You may use these images without prior permission for any scholarly or educational purpose as long as you (1) credit the photographer and (2) link your document to this URL in a web document or cite the Victorian Web in a print one.]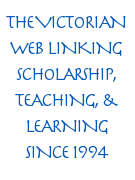 Passage Illustrated: Mr. Wopsle Enthroned
On our arrival in Denmark, we found the king and queen of that country elevated in two arm-chairs on a kitchen-table, holding a Court. The whole of the Danish nobility were in attendance; consisting of a noble boy in the wash-leather boots of a gigantic ancestor, a venerable Peer with a dirty face who seemed to have risen from the people late in life, and the Danish chivalry with a comb in its hair and a pair of white silk legs, and presenting on the whole a feminine appearance. My gifted townsman stood gloomily apart, with folded arms, and I could have wished that his curls and forehead had been more probable. [Chapter XXXI, 240]
Commentary: A Star in the Minor Theatre
The once surpremely self-confident church clerk has become the lead actor in an unlicensed theatre of the type that Dickens frequented in his youth, when his day job was acting as a parliamentary reporter for the True Sun. Here Dickens reverts to the satirizing of the early Victorian theatre that he embodied in the actor-manager Vincent Crummles in Nicholas Nickleby (1838-39).
Harry Furniss's version of Wopsle as the small-town-amateur-actor/turned professional suggests that he is as disconsolate as the celebrated Prince of Denmark whom he is impersonating here. Perhaps Wopsle is finding that the world of unlicensed theatre in the metropolis is less exciting and fulfilling than he had hoped. Through the performance that Pip and Herbert attend Dickens satirizes the tawdry world of Victorian theatre, both on stage and (as in the Pailthorpe illustration of Wopsle and his dresser) backstage.
Other Artists' Renderings of the Ham Actor before and behind the Scenes, 1867 and 1910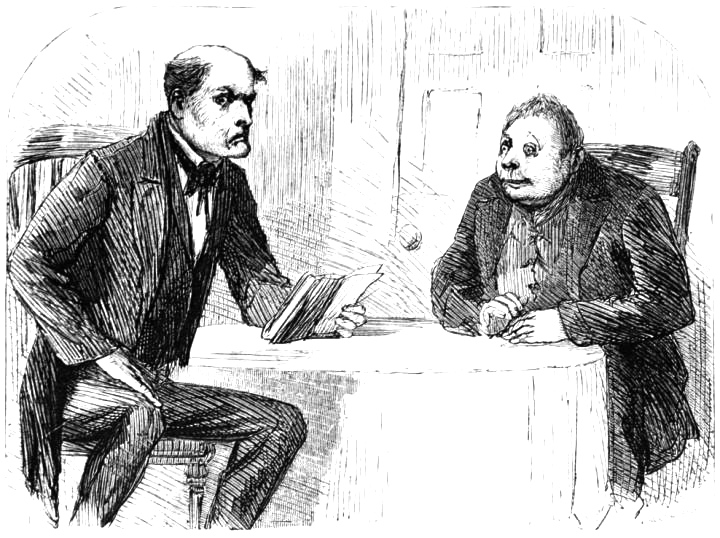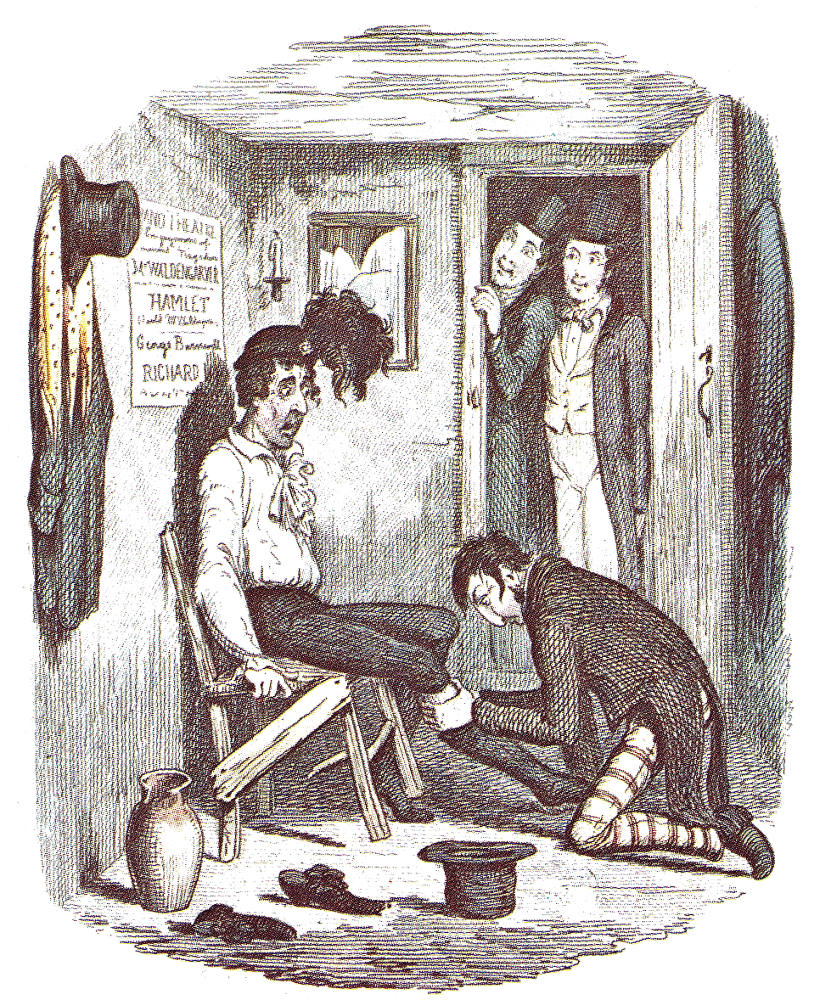 Left: Harry Furniss's Charles Dickens Library Edition illustration of Wopsle behind the scenes, Pip enters Wopsle's Dressing Room (1910). Centre: Sol Eytinge, Jr.'s Diamond Edition version dual portrait of two of the novel's amusing (and exasperating) humbugs: Pumblechook and Wopsle (1867). Right: Frederick W. Pailthorpe's humorous backstage scene of a terrified Wopsle and his dresser, casting quite another light on Pip's fellow-townsman theatrical debut in a minor London theatre: The Flaying of Hamlet (1885).
Related Material
Other Artists' Illustrations for Dickens's Great Expectations
Bibliography
Allingham, Philip V. "The Illustrations for Great Expectations in Harper's Weekly (1860-61) and in the Illustrated Library Edition (1862) — 'Reading by the Light of Illustration'." Dickens Studies Annual, Vol. 40 (2009): 113-169.
Dickens, Charles. Great Expectations. Illustrated by John McLenan. [The First American Edition]. Harper's Weekly: A Journal of Civilization, Vols. IV: 740 through V: 495 (24 November 1860-3 August 1861).
______. ("Boz."). Great Expectations. With thirty-four illustrations from original designs by John McLenan. Philadelphia: T. B. Peterson (by agreement with Harper & Bros., New York), 1861.
______. Great Expectations. Illustrated by Marcus Stone. The Illustrated Library Edition. London: Chapman and Hall, 1862. Rpt. in The Nonesuch Dickens, Great Expectations and Hard Times. London: Nonesuch, 1937; Overlook and Worth Presses, 2005.
______. A Tale of Two Cities and Great Expectations. Illustrated by Sol Eytinge, Jr. The Diamond Edition. 16 vols. Boston: Ticknor and Fields, 1867. XIII.
______. Great Expectations. Volume 6 of the Household Edition. Illustrated by F. A. Fraser. London: Chapman and Hall, 1876.
______. Great Expectations. The Gadshill Edition. Illustrated by Charles Green. London: Chapman and Hall, 1898.
______. Great Expectations. The Grande Luxe Edition, ed. Richard Garnett. Illustrated by Clayton J. Clarke ('Kyd'). London: Merrill and Baker, 1900.
______. Great Expectations. "With 28 Original Plates by Harry Furniss." Volume 14 of the Charles Dickens Library Edition. London: Educational Book Co., 1910.
Paroissien, David. The Companion to "Great Expectations." Westport, Conn.: Greenwood, 2000.
---

Victorian
Web

Illustration

Harry
Furniss

Great
Expectations

Next
Created 16 February 2007 last updated 28 October 2021