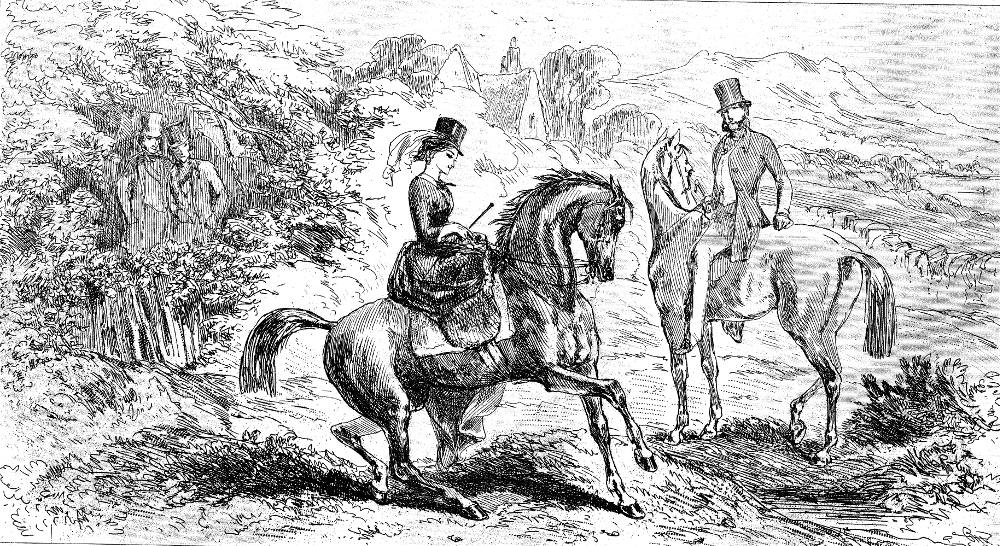 Jim by Phiz (Hablot Knight Browne), January 1849. Steel-engraving. 8.5 cm high by 15.6 cm wide (3 ⅜ by 6 ⅛ inches), framed, full-page plate for Roland Cashel, Chapter XXXV, "Miss Jemima Meek," facing p. 308. [Click on the image to enlarge it.]
Passage Illustrated: A Typical Lever Fence-jumping Scene
It was a moment of intense interest, for the speed was far too great to clear a high leap with safety; the fear was, however, but momentary, for, with a tremendous bound, the mare cleared the fence, and, after a couple of minutes' cantering, stood with heaving flanks and swelling nostril beside the other horse.
"You see my misfortune, I suppose?" said the girl, addressing Frobisher.
"No. She's not cut about the legs?" said he, as he bent down in his saddle and took a most searching survey of the animal.
"No, the hack is all right. But don't you perceive that bit of blue cloth flaunting yonder on the hedge — that is part of my habit. See what a tremendous rent is here — I declare, Charley, it is scarcely decent." And to illustrate the remark, she wheeled her horse round so as to show the fringed and jagged end of her riding-habit, beneath which a very finely turned ankle and foot were now seen.
"Then why don't you wear trousers, like everybody else?" said Frobisher, gruffly, and scarce bestowing even a passing glance at the well-arched instep.
"Because I never get time to dress like any one else. You order me out like one of your Newmarket boys," replied she, pettishly.
"By Jove! I wish any one of them had got your hand."
"To say nothing of the foot, Charley," said she, roguishly, and endeavouring to arrange her torn drapery to the best advantage.
"No. That may do to astonish our friend Cashel, and make 'my Lady' jealous. By the way, Jim, I don't see why you shouldn't 'enter for the plate' as well as the Kennyfeck girls."
"I like you better, Charley," said she, curveting her horse, and passaging him alternately from side to side.
"This is the second time to-day I have played the eavesdropper unconsciously," said Roland, in a whisper, "and with the proverbial fortune of the listener in both cases." And with these words he moved on, leaving Linton still standing opposite the opening of the hedge. [Chapter XXXV, "Miss Jemima Meek," pp. 307-308]
Commentary: Further Possible Romantic Complications for the Protagonist
The ostensible subject is the two youthful figures on horseback (down centre and centre right), the dashing blade of the turf, Sir Charles Frobisher, and his horsey companion, 'Jim' (Jemima Meek), riding side-saddle and wearing fashionable equestrian habit with voluminous skirts. However, Phiz draws the eye back to the shadowy eaves-droppers on foot to the left, Tom Linton and Roland Cashel, from whose perspective Lever develops the scene.
After the plot involving the wreck of Cashel's schooner and his untimely arrival at theTubbermore estate, Lever manipulates the action in order to bring Cashel into sympathy with Corrigan, Tiernay, and Mary Leicester — and out of sympathy with the devious Tom Linton, who has been acting as his agent in such a spendthrift manner. Finally, after the congenial breakfast scene at Tubber-beg with old Corrigan and his sensible grand-daughter, Mary Leicester, Lever positions his protagonist to make the acquaintance of another Dublin beauty, the horsey Jemima Meek. The author signals her masculine exuberance through her nickname. As the pair are walking back from the cottage at Tubber-beg (which Phiz has apparently placed up centre in a copse), Linton, as he prepares to light a cigar, explains to his fellow-stroller just who this dashing horsewoman is. Cashel, himself an accomplished horseman, is entranced by both Jim's good looks and her effortless command of her mount:
"How gracefully she sits her saddle," muttered Cashel; and the praise might have been forgiven from even a less ardent admirer of equestrianism, for she was a young, fresh-looking girl, with large hazel eyes, and a profusion of bright auburn hair which floated and flaunted in every graceful wave around her neck and shoulders. She possessed, besides, that inestimable advantage as a rider which perfect fearlessness supplies, and seemed to be inspired with every eager impulse of the bounding animal beneath her.
As Cashel continued to look, she had taken the mare a canter round a large grass field, and was evidently endeavoring, by a light hand and a soothing, caressing voice, to calm down her temper; stooping, as she went, in the saddle to pat the animal's shoulder, and almost bending her own auburn curls to the counter.
"She is perfect!" cried Roland, in a very ecstasy. "See that, Linton! Mark how she sways herself in her saddle!"
"That comes of wearing no stays," said Linton, dryly, as he proceeded to light a cigar. [308]
Related Material: Phiz's Passion for Horses
Scanned image and text by Philip V. Allingham. [You may use this image without prior permission for any scholarly or educational purpose as long as you (1) credit the person who scanned the image and (2) link your document to this URL in a web document or cite the Victorian Web in a print one.]
Bibliography
Lever, Charles. Roland Cashel. With 39 illustrations and engraved title-vignette by Phiz. London: Chapman & Hall, 1850.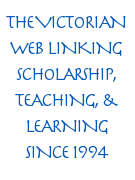 Lever, Charles. Roland Cashel. Illustrated by Phiz [Hablot Knight Browne]. Novels and Romances of Charles Lever. Vols. I and II. In two volumes. Boston: Little, Brown, 1907. Project Gutenberg. Last Updated: 19 August 2010.
Steig, Michael. Chapter VII, "Phiz the Illustrator: An Overview and a Summing Up." Dickens and Phiz. Bloomington: Indiana U. P., 1978. Pp. 299-316.
---
Created 2 January 2023