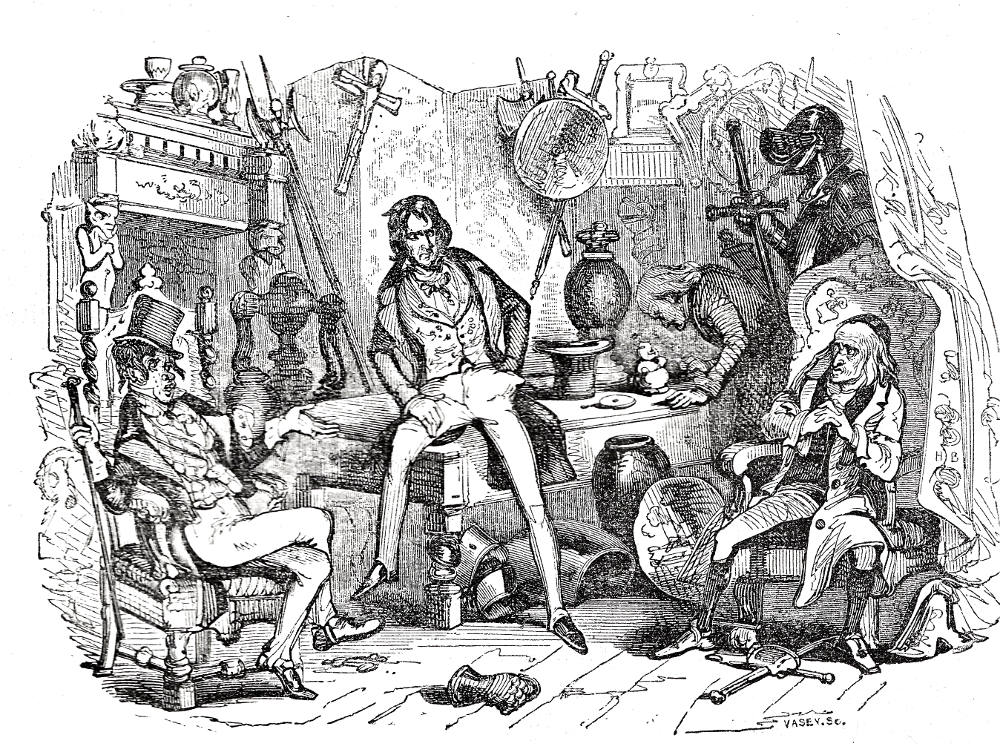 Mr. Swiveller Seeks to Gain Attention by Hablot Knight Browne (Phiz). Wood engraving, 3 3/8 x 4 ½ inches (8 x 11.3 cm). — Chapter 2, The Old Curiosity Shop, Part Two. [For passage illustrated see below.] Date of original serial publication: 16 May 1840. Master Humphrey's Clock, Part 5, 83-84. [Click on images to enlarge them.]
Passage Illustrated
"Sir," replied Mr. Swiveller, "don't you interrupt the chair. Gentlemen, how does the case stand, upon the present occasion? Here is a jolly old grandfather — I say it with the utmost respect — and here is a wild, young grandson. The jolly old grandfather says to the wild young grandson, "I have brought you up and educated you, Fred; I have put you in the way of getting on in life; you have bolted a little out of course, as young fellows often do; and you shall never have another chance, nor the ghost of half a one." The wild young grandson makes answer to this and says, "You're as rich as rich can be; you have been at no uncommon expense on my account, you're saving up piles of money for my little sister that lives with you in a secret, stealthy, hugger-muggering kind of way and with no manner of enjoyment — why can't you stand a trifle for your grown-up relation?" The jolly old grandfather unto this, retorts, not only that he declines to fork out with that cheerful readiness which is always so agreeable and pleasant in a gentleman of his time of life, but that he will bow up, and call names, and make reflections whenever they meet. Then the plain question is, an't it a pity that this state of things should continue, and how much better would it be for the gentleman to hand over a reasonable amount of tin, and make it all right and comfortable?" [Chapter II, 11]
Commentary
Phiz had no clue as to the trajectory of the story or these characters. Consequently, he makes Dick Swiveller look every inch a drunken sot got up in fashionable clothing of the Regency, and invests Fred Trent with a focus and a seriousness he does not deserve. Although he is very much the moody malcontent, Fred here might be Sidney carton in A Tale of Two Cities rather than a self deluded young man who believes himself done out of his expectations by a parsimonious grandparent, who clearly cares more for Fred's sister, Nell, than he does for the surly, brooding Fred.
Frederick Trent reveals himself as Nell's older brother, scheming to get to old man's fortune. Fred mistakenly, and even obdurately believes that his grandfather has accumulated considerable wealth, which he hoards rather than gives to his grandchildren. Fred's moody truculence here prepares us for his schemes to have his friend Dick marry Nell so that the two can split in the old man's supposed treasure: "The other stood lounging with his foot upon a chair, and regarded him with a contemptuous sneer. He was a young man of one-and-twenty or thereabouts; well made, and certainly handsome, though the expression of his face was far from prepossessing, having in common with his manner and even his dress, a dissipated, insolent air which repelled one. [Chapter II, 8]
On the other hand, Dick Swiveller offers considerable comic relief in both the text and accompanying illustration. Whereas Phiz in his original plate Mr. Swiveller Seeks to Gain Attention seems favour the more serious of the two young men, Fred Trent, Green's characterisation of his companion, the whimsical, carefree Dick Swiveller, seems far more accurate. Having studied the text but also having a knowledge of the entire novel, Green has absorbed every detail in Dickens's description of the cigar-smoking, rum-drinking law clerk Richard 'Dick' Swiveller — Fred's manipulated friend who works in the law office of Sampson Brass and the Marchioness's guardian. Swiveller will eventually free himself of Fred's dubious friendship and plotting to become a force for good. He eventually inherits money, and marries the Brasses' charge, whom he has dubbed "The Marchioness."
Parallel Scenes by Other Illustrators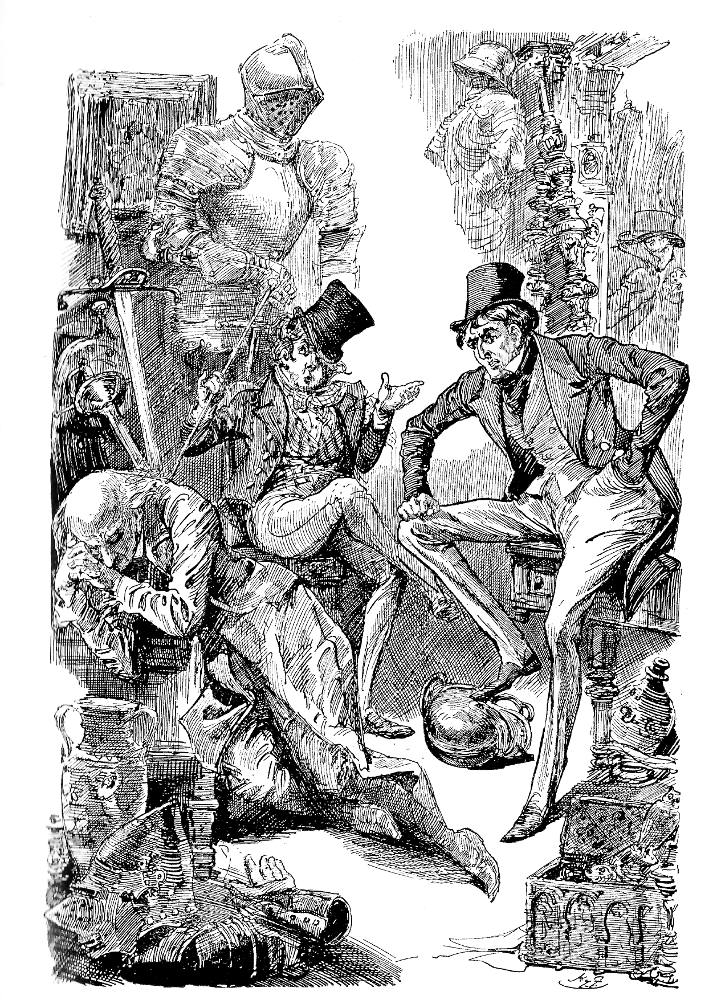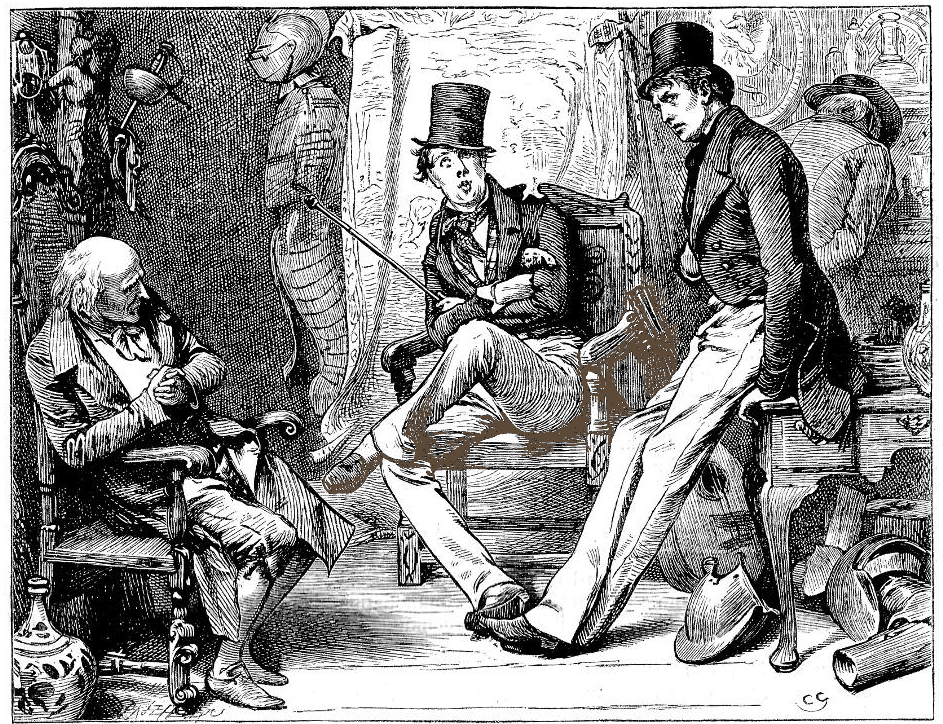 Left: Harry Furniss's study of the interview of Fred, his grandfather, and the dissolute law clerk Dick Siveller, with the emphasis on the figures rather than on the cluttered backdrop, in which Furniss has not placed the narrator, Master Humphrey: Fred Trent visits his Grandfather (1910). Right: Charles Green, a member of the team of 1860s illustrators who worked on the Household Edition, illustrated the same scene in a markedly realistic manner in The old man sat himself down in a chair, and, with folded hands, looked sometimes at his grandson and sometimes at his strange companion (1876, Ch. 2).
Related Resources Including Other Illustrated Editions
Scanned image by Simon Cooke; colour correction, sizing, caption, and commentary by Philip V. Allingham. [You may use this image without prior permission for any scholarly or educational purpose, as long as you (1) credit the person who scanned the image, and (2) link your document to this URL in a web document or cite the Victorian Web in a print one.] Click on the image to enlarge it.
Bibliography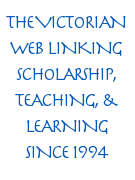 Dickens, Charles. The Old Curiosity Shop. Illustrated by Hablot Knight Browne ("Phiz"), George Cattermole, and Daniel Maclise. London: Chapman and Hall, 1841. Rpt., 1849 by Bradbury and Evans (3 vols. in 2).
---
Created 10 May 2020

Last modified 11 November 2020