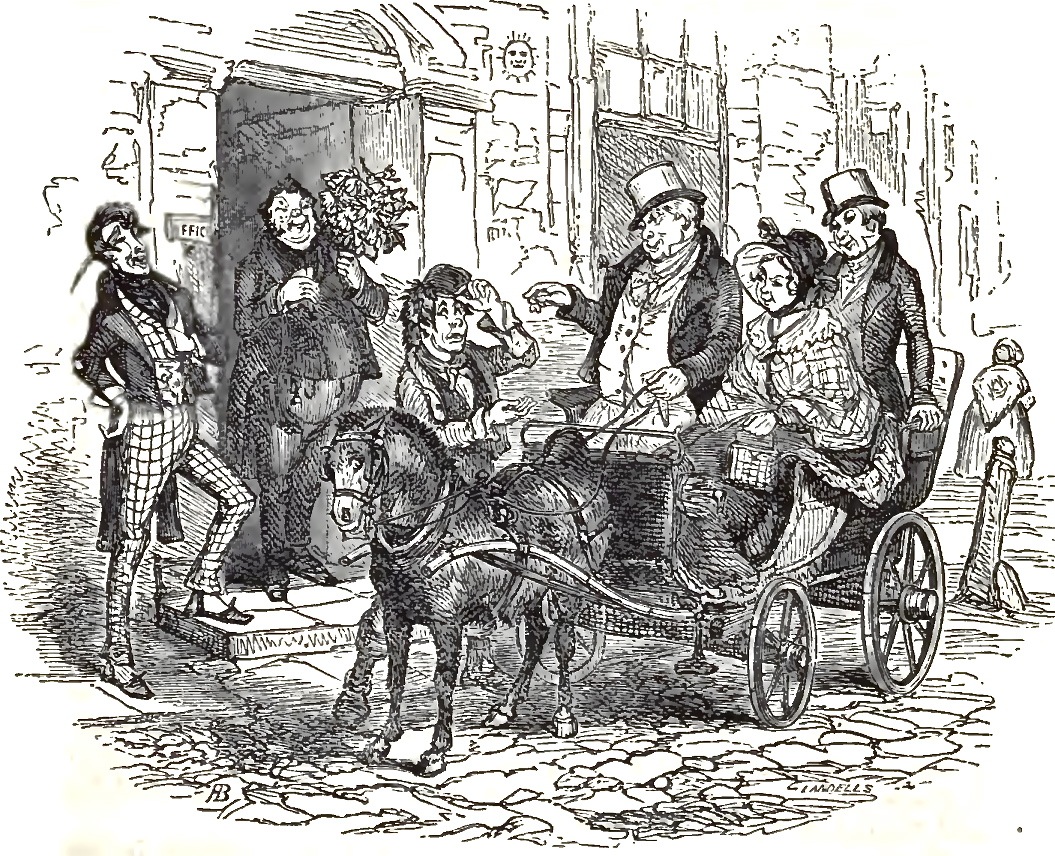 Mr. Garland Charges Kit to Return; or, Kit makes an Appointment by Hablot Knight Browne (Phiz). Wood engraving, 3 3/8 x 4 1/2 inches (8.8 x 11.1 cm). — Chapter 14, The Old Curiosity Shop, Part Nine. Date of original serial publication: 4 July 1840. Master Humphrey's Clock, Part 13, 168. [Click on images to enlarge them.]
Context of the Illustration: Mr. Garland over-tips Kit
Having seen the old lady safely in her seat, and assisted in the arrangement of her cloak and a small basket which formed an indispensable portion of her equipage, Mr Abel got into a little box behind which had evidently been made for his express accommodation, and smiled at everybody present by turns, beginning with his mother and ending with the pony. There was then a great to-do to make the pony hold up his head that the bearing-rein might be fastened; at last even this was effected; and the old gentleman, taking his seat and the reins, put his hand in his pocket to find a sixpence for Kit.
He had no sixpence, neither had the old lady, nor Mr. Abel, nor the Notary, nor Mr. Chuckster. The old gentleman thought a shilling too much, but there was no shop in the street to get change at, so he gave it to the boy.
"There," he said jokingly, "I'm coming here again next Monday at the same time, and mind you're here, my lad, to work it out."
"Thank you, Sir," said Kit. "I'll be sure to be here."
He was quite serious, but they all laughed heartily at his saying so, especially Mr. Chuckster, who roared outright and appeared to relish the joke amazingly. As the pony, with a presentiment that he was going home, or a determination that he would not go anywhere else (which was the same thing) trotted away pretty nimbly, Kit had no time to justify himself, and went his way also. [XIV, 168]
Commentary: Kit's fortunes are looking up
Dickens seems to have intended illustrations in Master Humphrey's Clock to signal the arrival of new characters in the plot. A case in point is Quilp's initial appearance, in Chapter 4 (Part 2), when Phiz introduces him disturbing his wife's tea-party in Quilp Surprising his Wife's Visitors; or, Quilp Interrupts at Tea, a scene which establishes the evil dwarf as a hectoring, domineering, misogynistic force to be reckoned with. His initial appearances prepare readers for his relentless pursuit of Nell throughout the novel. "There are many other examples [beside the placement of the many Quilp illustrations] of pictorial emphasis for important matters. Among them may be noted these: Kit holds the Garland pony in 14/14 [i. e., instalment 14, Chapter 14], a plot item leading to his later fortunes . . ." (Stevens, 118). This plate marks Kit's second appearance as a focal character in the narrative-pictorial sequence as Phiz introduced the shop-boy in Chapter Ten's Kit at Home (20 June 1840).
Kit has been holding the wilful pony Whisker while the Garlands visit the notary's office to sign their son's indentures. Mr. Garland, a self-made businessman, will be exactly the kind of employer that Kit will need in order to make something of himself and join the ranks of the rising middle classes. Consequently, Dickens intends this chance meeting to lay the groundwork for Kit's fortunes later in the novel. As kit touches his hat out of respect for the substantial gentleman in the tiny equipage, the notary (holding the "nosegay" that Mrs. Garland has brought him) and the assistant, Mr. Chuckster, look on, Mr. Garland generously remunerates Kit for his slight service. The incident dramatizes the importance of coincidence (or the Victorian notion of Providence) since, if Mr. Garland had had the proper change, he would not have jocularly made the appointment with the industrious street-boy.
The Scene Depicted by Harry Furniss and Sol Eytinge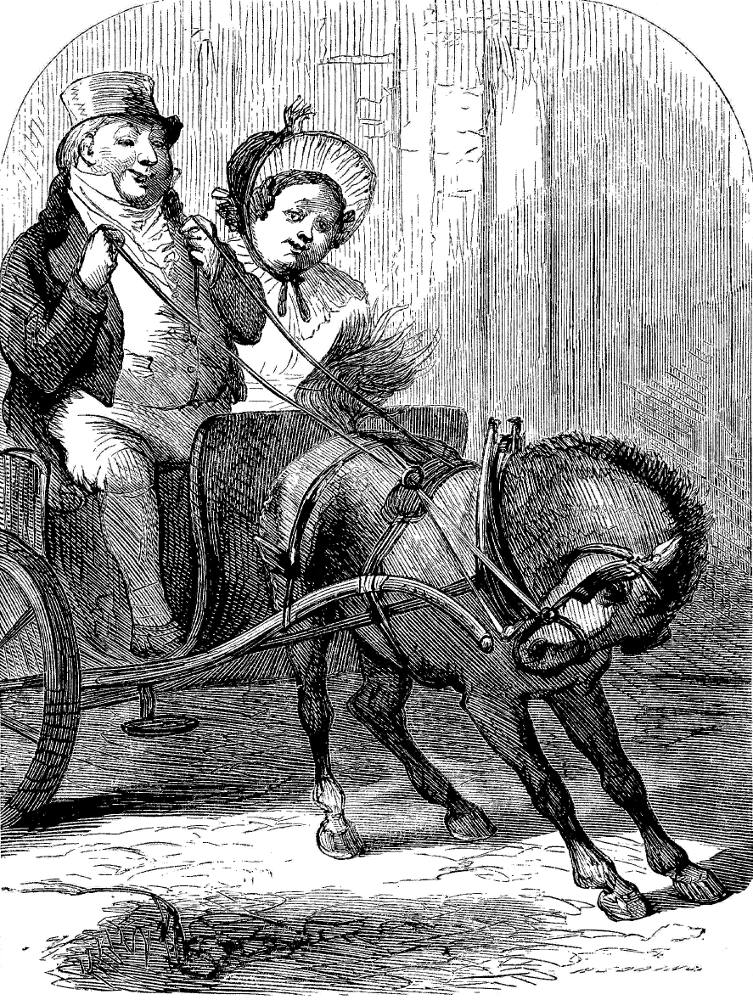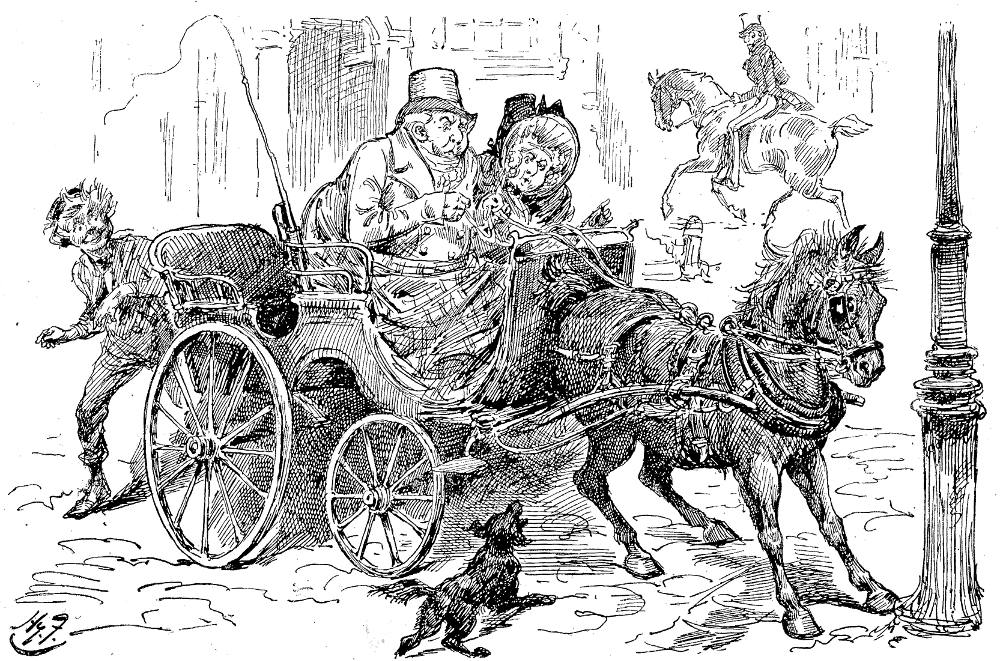 Left: Sol Eytinge, Jr.'s depiction of the elderly couple whose providentially meeting Kit in the street near the notary's results in Kit's finding alternate employment after being discharhed at the curiosity shop, Mr. and Mrs. Garland, and Whisker (1867). Right: Harry Furniss's version of the situation which results in Kit's making a significant connection, Mr. and Mrs. Garland have trouble with Whisker (1910).
Related Resources Including Other Illustrated Editions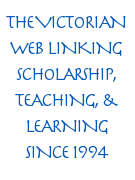 Scanned image, colour correction, sizing, caption, and commentary by Philip V. Allingham. [You may use this image without prior permission for any scholarly or educational purpose, as long as you (1) credit the person who scanned the image, and (2) link your document to this URL in a web document or cite the Victorian Web in a print one.]
Bibliography
Dickens, Charles. The Old Curiosity Shop in Master Humphrey's Clock. Illustrated by Phiz, George Cattermole, Samuel Williams, and Daniel Maclise. 3 vols. London: Chapman and Hall, 1840.
_____. The Old Curiosity Shop. Illustrated by Sol Eytinge, Jr. The Diamond Edition. 14 vols. Boston: Ticknor & Fields, 1867. XII.
_____. The Old Curiosity Shop. Illustrated by Harry Furniss. The Charles Dickens Library Edition. London: Educational Book, 1910. V.
---
Created 10 May 2020

Last modified 8 October 2020