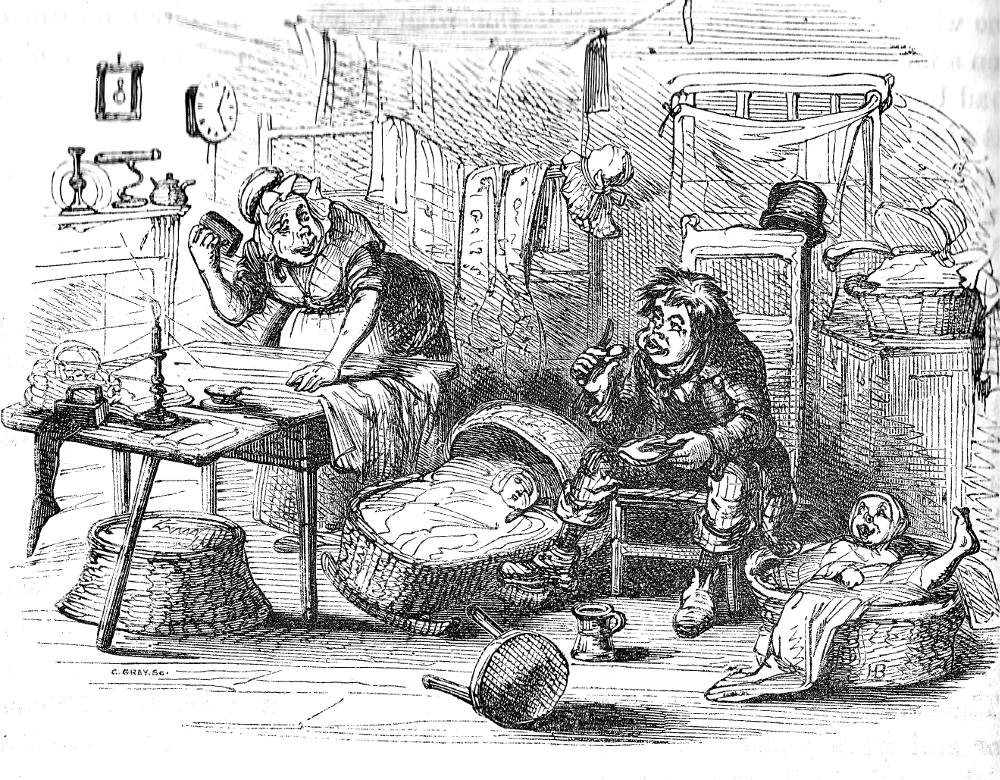 Kit at Home by Hablot Knight Browne (Phiz). Wood engraving, 3 1/4 x 4 1/4 inches (8.2 x 10.9 cm). — Chapter 10, The Old Curiosity Shop, Part Seven. Date of original serial publication: 20 June 1840. Master Humphrey's Clock, Part 10. [Click on images to enlarge them.]
Context of the Illustration: The Patient Watcher
It was rather a queer-looking family: Kit, his mother, and the children, being all strongly alike.
Kit was disposed to be out of temper, as the best of us are too often — but he looked at the youngest child who was sleeping soundly, and from him to his other brother in the clothes-basket, and from him to their mother, who had been at work without complaint since morning, and thought it would be a better and kinder thing to be good-humoured. So he rocked the cradle with his foot; made a face at the rebel in the clothes-basket, which put him in high good-humour directly; and stoutly determined to be talkative and make himself agreeable.
"Ah, mother!" said Kit, taking out his clasp-knife, and falling upon a great piece of bread and meat which she had had ready for him, hours before, "what a one you are! There an't many such as you, I know."
"I hope there are many a great deal better, Kit," said Mrs Nubbles; "and that there are, or ought to be, accordin' to what the parson at chapel says."
"Much he knows about it," returned Kit contemptuously. 'Wait till he's a widder and works like you do, and gets as little, and does as much, and keeps his spirit up the same, and then I'll ask him what's o'clock and trust him for being right to half a second."
"Well," said Mrs Nubbles, evading the point, 'your beer's down there by the fender, Kit."
"I see," replied her son, taking up the porter pot, 'my love to you, mother. And the parson's health too if you like. I don't bear him any malice, not I!"
"Did you tell me, just now, that your master hadn't gone out to-night?" inquired Mrs. Nubbles.
"Yes," said Kit, "worse luck!"
"You should say better luck, I think," returned his mother, "because Miss Nelly won't have been left alone."
"Ah!" said Kit, "I forgot that. I said worse luck, because I've been watching ever since eight o'clock, and seen nothing of her." [Chapter X, 103-5]
Commentary
Dickens uses large-scale headpiece engravings to signal the importance of a scene in a given instalment. The second Kit Nubbles illustration, with Kit holding Mr. Garland's wilful pony Whisker as the Garlands arrive at the notary's, signals his importance to the overall plot of the novel, and singles him out as a character to watch. But Dickens enlists the reader's sympathies for the industrious shopboy whose modest wages help keep his family afloat. By the time we encounter Kit and his family at the beginning of Chapter 10 we have already met the other principals: Nell, Grandfather Trent, and Master Humphrey (plate 1); Nell as somewhat isolated socially and emotionally (plate 2), the moody Fred Trent and his jolly companion, Dick Swiveller (plate 3); Daniel Quilp, his wife, and mother-in-law (plate 4); and Quilp's boy (plate 6).
Indeed, by the beginning of the seventh instalment (Chapter 10) Dickens has also begun to utlise the reiterative function of the illustrations, particularly with respect to Nell, her grandfather, Quilp, and Dick Swiveller. This present plate, no. 11, visually introduces a character whom we have met earlier, at the curiosity shop itself and again at Quilp's wharf. But Phiz introduces Kit in a context very different from that of the other characters, that is, Phiz shows him in the midst of a family, comprising a young adult mother, no apparent father, and three children. Thus, the illustration implies that Kit is both a boy with a boy's tastes and needs, as well as a de fact father by virtue of his being the second wage-earner. Kit's mother recognizes his quasi-adult status by having prepared for him a meal that includes a draft of porter. All of this background Phiz has subtly represented in the illustration, which is dominated by suggestions of Mrs. Nubbles' trade: the iron, ironing board, laundress's wicker basket (under the table that doubles as the ironing-board, laundry hanging to dry, and laundry waiting to be washed.  Through the device of the overturned stool Phiz draws the reader's attention to the pewter pot, signifying Kit's honorary status as an adult, at his feet. The clock suggests the lateness of the hour, reinforcing the point that Kit has been watching the shop ever since eight o'clock to ensure himself that Nell, sitting at her window, presumably awaiting her grandfather's return. The reader must therefore process the picture in terms of the framing or surrounding text.
Other Introductory Illustrations of Kit Nubbles (1872-1910)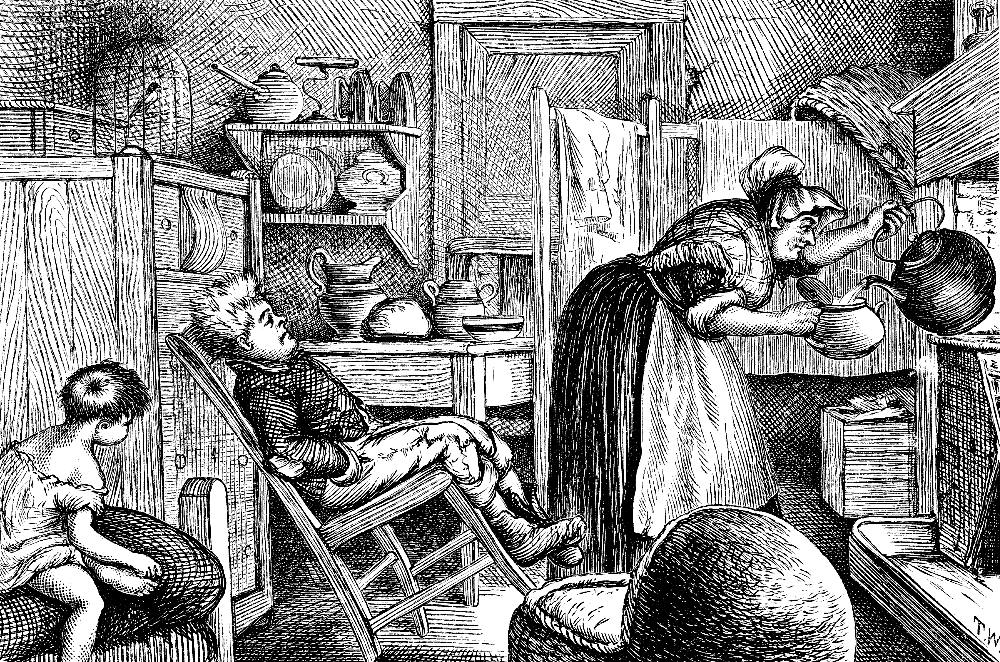 Left: Sol Eytinge, Jr.'s version of the domestic scene emphasizes the figures of Kit and his mother, and places the elements of her laundering in the background: Kit, His Mother, Jacob, and the Baby (1867).. Right: Worth's American Household Edition realisation of Kit's pondering the fate of the wayfarers with his mother: "They may not come back, for all that." (1872).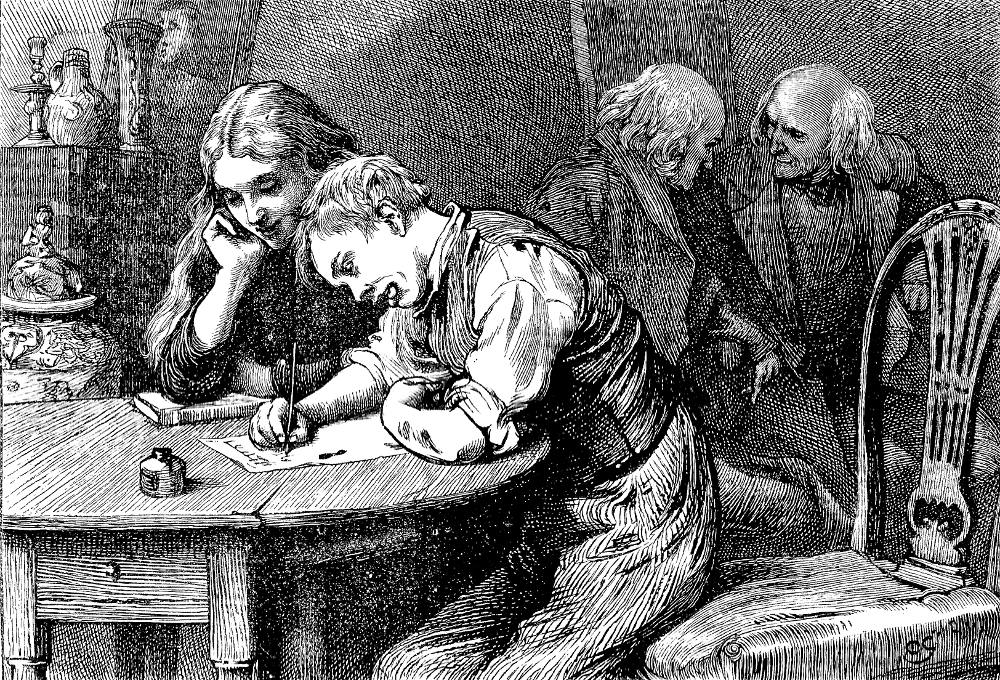 Above: Green's Household Edition realisation of Kit's striving to better himself by struggling to acquire literacy skills: When he did sit down, he tucked up his sleeves and squared his elbows and put his face close to the copy-book (1876).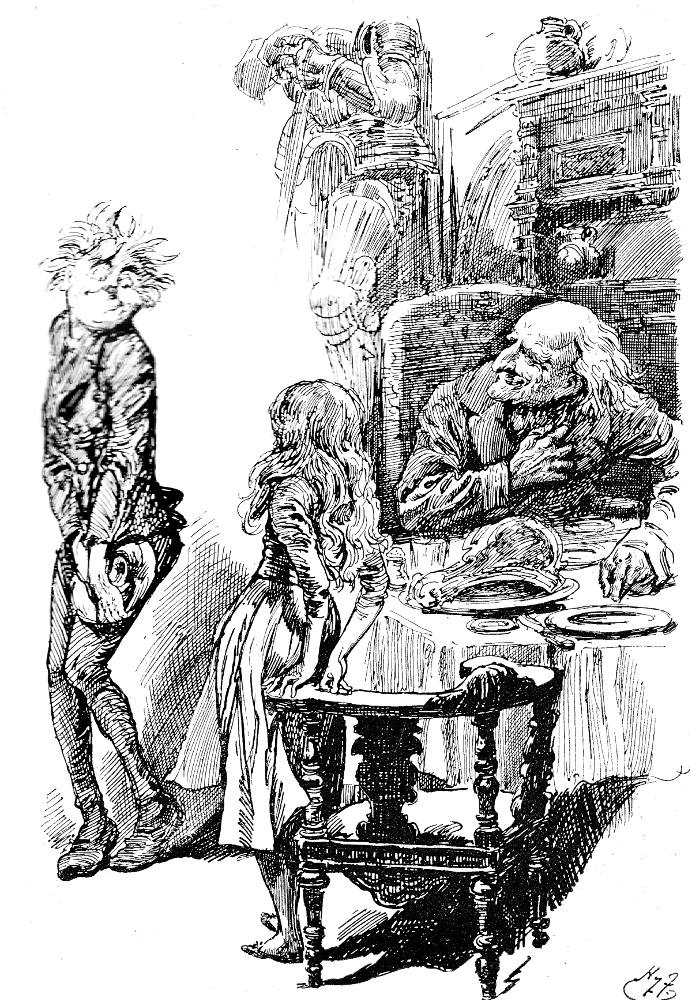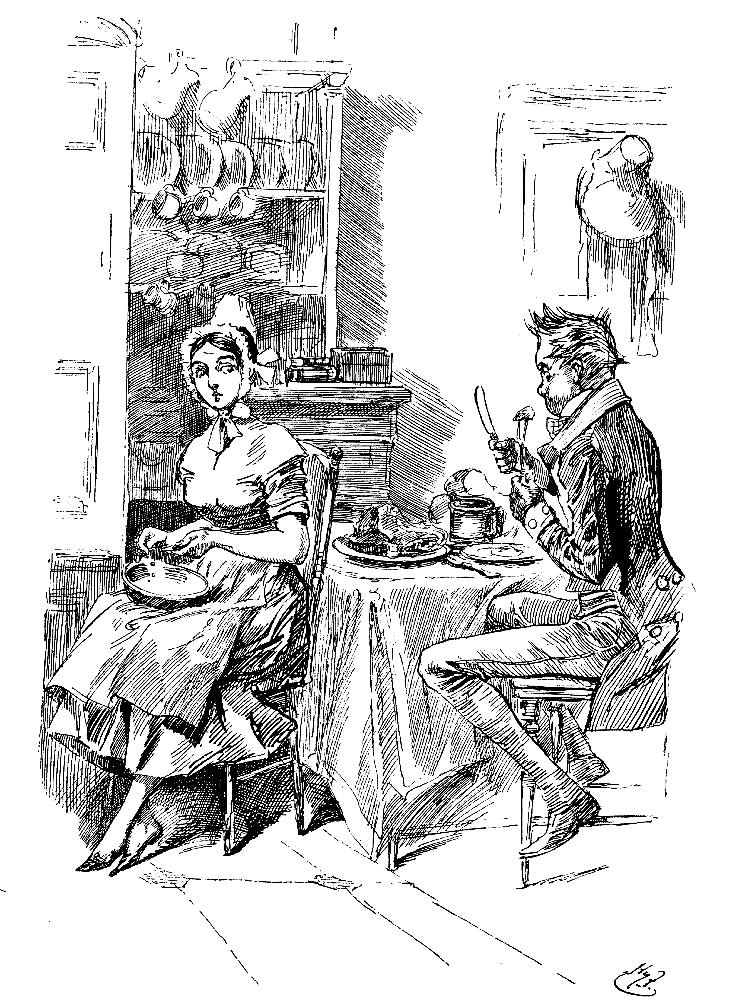 Left: Harry Furniss's character study of Kit as well-meaning but awkward in his infatuation with Nell: Kit in his 1910 series. Right: Furniss graphs Kit's rise as the Garlands' servant by showing him with the maid whom he will later marry: Kit and Barbara at Abel Cottage, Finchley (Chapter 22).
Related Resources Including Other Illustrated Editions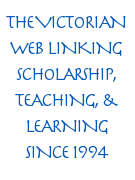 Scanned image, colour correction, sizing, caption, and commentary by Philip V. Allingham. [You may use this image without prior permission for any scholarly or educational purpose, as long as you (1) credit the person who scanned the image, and (2) link your document to this URL in a web document or cite the Victorian Web in a print one.]
Bibliography
Dickens, Charles. The Old Curiosity Shop in Master Humphrey's Clock. Illustrated by Phiz, George Cattermole, Samuel Williams, and Daniel Maclise. 3 vols. London: Chapman and Hall, 1840.
---
Created 10 May 2020

Last modified 8 October 2020