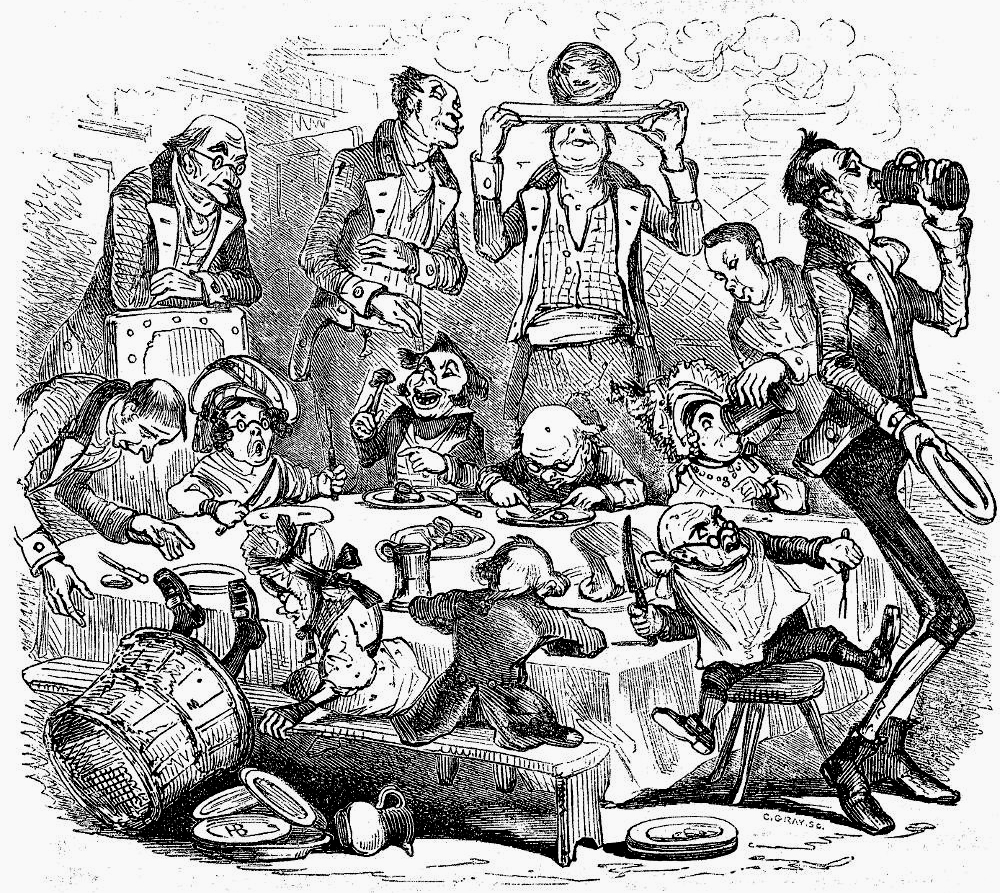 The Giants waiting on the Dwarfs by Hablot Knight Browne (Phiz). Wood engraving, 4 ¼ x 4 ½ inches (10.5 x 11.7 cm). — Part Twelve, headpiece for Chapter 19, The Old Curiosity Shop. Date of original serial publication: 25 July 1840. Twentieth illustration in the series in Master Humphrey's Clock, no. 15, 193. [Click on images to enlarge them.]
Context of the Illustration: Mr. Vuffin's's Theatrical Reminiscence
The landlord drew his breath hard, and looked at the owner of the dogs, who nodded and said gruffly that he remembered.
"I know you do, Jerry," said Mr. Vuffin with profound meaning. "I know you remember it, Jerry, and the universal opinion was, that it served him right. Why, I remember the time when old Maunders as had three-and-twenty wans — I remember the time when old Maunders had in his cottage in Spa Fields in the winter time, when the season was over, eight male and female dwarfs setting down to dinner every day, who was waited on by eight old giants in green coats, red smalls, blue cotton stockings, and high-lows: and there was one dwarf as had grown elderly and wicious who whenever his giant wasn't quick enough to please him, used to stick pins in his legs, not being able to reach up any higher. I know that's a fact, for Maunders told it me himself."
"What about the dwarfs when they get old?" inquired the landlord. [Chapter XIX, 194]
Commentary
Nell and her grandfather do not actually see this scene; rather, it is narrated to them (undoubtedly with some exaggeration for humorous effect) by the showman, Mr. Vuffin, at the Jolly Sandboys as an instance of how show-business functions behind the scenes. Dickens retails the story second-hand as Vuffin, the veteran showman, has heard it from the owner of another freak show, old Maunders, who was undoubtedly trying to show his friend how fractious and difficult dwarfs can be. The oral tale shows just how gluttonous, envious, and wrathful, particularly in company with giants dwarfs can be, says Vuffin. Adina Ciugureanu points out that Phiz's illustration, which contrasts big and little folk of the inset narrative, represents
both envy (one seated dwarf kicks a giant because he cannot reach him otherwise) and gluttony (the dwarfs seem to be expecting a lavish meal) is both absurd and hilarious. Apparently fed by giants, the dwarfs' gluttonous appetite is symbolically rendered by the numerous empty plates and jugs on the floor. Could the dwarfs' insubordination and malice, derived from envy, greed, and wrath, be described as a reverse contrapasso to Prudence and Temperance? [122]
Even though Phiz shows the service of the giants as exemplary and attentive, the dwarfs remain unsatisfied; they simply cannot have as much food and drink as they desire. Ciugureanu interprets the temperate, mild-mannered behaviour of the giants as an attempt to model or teach their diminutive masters the virtue of temperance, just as Nell tries again and again to wean her grandfather away from his addiction to gambling, which leads him into low company, debt, and the loss of the Trents' paradise, the old curiosity shop.
Darley's Engraved Title-pages (1861)
Related Resources Including Other Illustrated Editions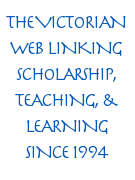 Scanned image and text by Philip V. Allingham. [You may use this image without prior permission for any scholarly or educational purpose as long as you (1) credit the person who scanned the image and (2) link your document to this URL in a web document or cite the Victorian Web in a print one.]
Bibliography
Dickens, Charles. The Old Curiosity Shop in Master Humphrey's Clock. Illustrated by Phiz, George Cattermole, Samuel Williams, and Daniel Maclise. 3 vols. London: Chapman and Hall, 1840.
---
Created 10 May 2020

Last modified 12 November 2020