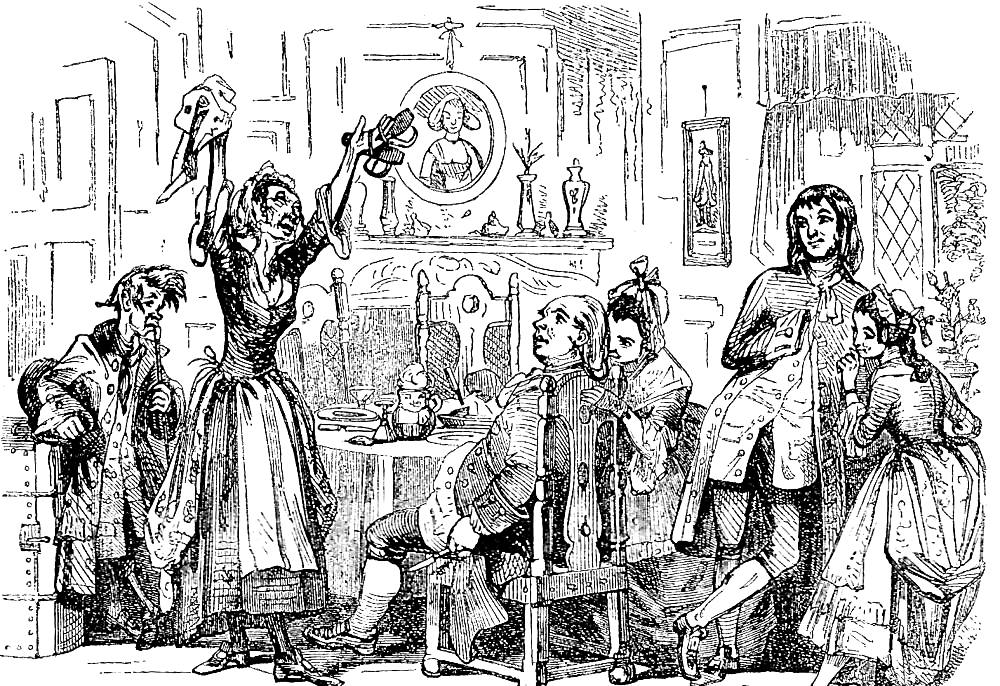 Miggs's Short-Lived Joy from instalment 41 (20 November 1841) in Master Humphrey's Clock (Part 84), and published by Bradbury and Evans in volume form in 1849. 3 ¼ x 4 ⅛ inches (8.3 cm high by 11.0 cm wide), vignetted; composite woodblock engraving dropped into text: seventy-fifth illustration in the series for Dickens's Barnaby Rudge, Chapter the Seventy-seventh, 406. [Click on the image to enlarge it.]
Context of the Illustration: Miggs returns briefly to The Golden Key
"Damme, if it an't Miggs come back!"
The young damsel whom he named no sooner heard these words, than deserting a small boy and a very large box by which she was accompanied, and advancing with such precipitation that her bonnet flew off her head, burst into the room, clasped her hands (in which she held a pair of pattens, one in each), raised her eyes devotedly to the ceiling, and shed a flood of tears.
"The old story!" cried the locksmith, looking at her in inexpressible desperation. "She was born to be a damper, this young woman! nothing can prevent it!"
"Ho master, ho mim" cried Miggs, "can I constrain my feelings in these here once agin united moments! Ho Mr Warsen, here's blessedness among relations, sir! Here's forgivenesses of injuries, here's amicablenesses!"
"The locksmith looked from his wife to Dolly, and from Dolly to Joe, and from Joe to Miggs, with his eyebrows still elevated and his mouth still open. When his eyes got back to Miggs, they rested on her; fascinated.
"To think," cried Miggs with hysterical joy, "that Mr Joe, and dear Miss Dolly, has raly come together after all as has been said and done contrairy! To see them two a-settin' along with him and her, so pleasant and in all respects so affable and mild; and me not knowing of it, and not being in the ways to make no preparations for their teas. Ho what a cutting thing it is, and yet what sweet sensations is awoke within me!"
Either in clasping her hands again, or in an ecstasy of pious joy, Miss Miggs clinked her pattens after the manner of a pair of cymbals, at this juncture; and then resumed, in the softest accents:
"And did my missis think — ho goodness, did she think — as her own Miggs, which supported her under so many trials, and understood her natur' when them as intended well but acted rough, went so deep into her feelings—did she think as her own Miggs would ever leave her? Did she think as Miggs, though she was but a servant, and knowed that servitudes was no inheritances, would forgit that she was the humble instruments as always made it comfortable between them two when they fell out, and always told master of the meekness and forgiveness of her blessed dispositions! Did she think as Miggs had no attachments! Did she think that wages was her only object!" [Chapter the Eightieth, 405-6]
Miggs's Histrionics and Arch Hypocrisy
Shortly before Edward Chester and Joe Willet rescued Emma and Dolly, Miggs felt emboldened to reveal her true feelings about Dolly as she voiced her support for the Gordonites. Now, as she returns to collect her trunk, she extols Dolly as she thanks Heaven for the providential reuinion of Joe and Dolly. Gabriel Varden, stares unmoved at this performance, for he is not deceived.
In this illustration, which follows Hugh's heroic defiance of authority in Hugh's Curse, Ch. LXXVII, Miss Miggs strikes a religiously-inspired pose without the necessary underlying conviction, appealing to Heaven that she is grateful to Providence for resolving the Varde family's problems so fortuitously. Phiz cannot resist satirizing the fatuous maid by having her pose, with her pattens held aloft, echo Hugh's histrionic pose as his leg-irons and manacles are struck off at Newgate in preparation for his imminent execution. But whereas Hugh is genuine in his heroic defiance of his fate, Miggs is merely affecting an emotional pose. The contrast is that Hugh is not mouthing Byronic defiance; he genuinely feels himself superior to his fate. And Miggs, of course, is not facing execution; she has  merely (again) been rejected by her former employers.
Miggs's second rejection by the Vardens and second ignominious departure from The Golden Key brings closure to the "downstairs" plot of Miss Miggs and apprentice Sim Tappertit. Miggs has returned from her sister's flat above The Golden Lion in hopes of being reinstated by the Vardens. When it becomes apparent to her that Gabriel Varden will not relent and that Martha Varden no longer needs her servicious, Miggs goes on a humorous rant about the rocky nature of the Vardens' marriage, and Dolly's having to settle for Joe instead of the affluent young coach-builder. She flourishes her cap and servant's pattens above her head as if she is an actress in a play making a grand exit. Her nephew has yet to abandon her to her own devices, and she stands beside the trunk that she will have transport all the way back downstairs by herself. The scene, therefore, constitutes the vituperative servant's comeuppance.
Related Material including Other Illustrated Editions of
Barnaby Rudge
Scanned image and text by Philip V. Allingham. [You may use this image without prior permission for any scholarly or educational purpose as long as you (1) credit the person who scanned the image and (2) link your document to this URL in a web document or cite the Victorian Web in a print one.]
Bibliography
Dickens, Charles. Barnaby Rudge. Illustrated by Hablot K. Browne ('Phiz') and George Cattermole. London: Chapman and Hall, 1841; rpt., Bradbury & Evans, 1849.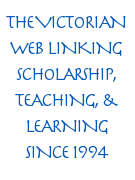 Hammerton, J. A. "Ch. XIV. Barnaby Rudge." The Dickens Picture-Book. The Charles Dickens Library Edition, illustrated by Harry Furniss. London: Educational Book Co., 1910. 213-55.
Vann, J. Don. "Charles Dickens. Barnaby Rudge in Master Humphrey's Clock, 13 February-27 November 1841." New York: MLA, 1985. 65-66.
---
Last modified 14 December 2020