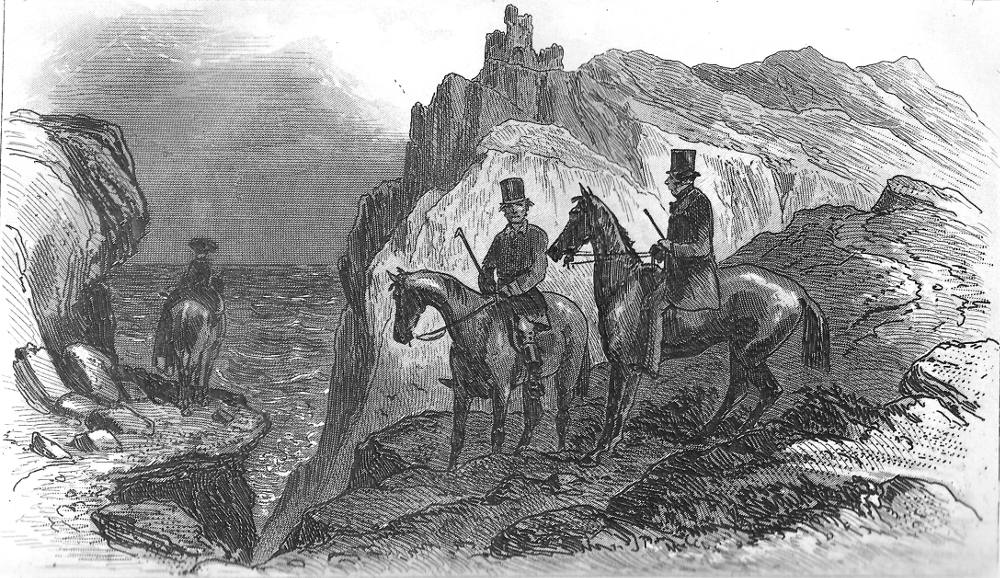 Mr. Hankes thinks he had better turn back by Phiz (Hablot K. Browne), thirty-first serial illustration and twelfth dark plate for Charles Lever's Davenport Dunn: A Man of Our Time, Part 16 (October 1858), Chapter 58, "A Bridle Path," facing 487.
Bibliographical Note
This appeared as the thirty-first serial illustration for Charles Lever's Davenport Dunn: A Man of Our Time, Steel-plate etching; 3 ¾ by 6 ½ inches (9.5 cm high by 16.7 cm wide), framed. The story was serialised by Chapman and Hall in monthly parts, from July 1857 through April 1859. The thirty-third and thirty-fourth illustrations in the volume initially appeared in the reverse order at the very beginning of the sixteenth monthly instalment, which went on sale on 1 October 1858. This number included Chapters LVII through LX, and ran from page 481 through 512 to make up the 32-page instalment. This pair of illustrations develops the secondary character of Hankes in a pair of Irish settings.
Passage Illustrated: A Perilous Ride along the Shore
Sybella made a signal with her whip to the groom, who was now close behind, and then, without awaiting for more, moved on. Hankes watched her as she descended the little slope to the base of a large rock, around which the path wound itself on the very verge of an immense precipice. Even from where he now stood the sea could be seen surging and booming hundreds of feet below; and although the night was calm and still, the ever-restless waves beat heavily against the rocks, and sent masses of froth and foam high into the air. He saw her till she turned the angle of the path, and then she was lost to his view.
"I don't think I have head for it. I 'm not used to this kind of thing," said Hankes, in a voice of helpless despondency to the old groom, who now stood awaiting him to dismount "Is there much danger? Is it as bad as it looks?"
"'Tis worse when you get round the rock there," said the groom, "for it's always going down you are, steeper than the roof of a house, with a shingle footing, and sloping outwards."
"I'll not go a step; I 'll not venture," broke in Hankes.
"Indeed, I wouldn't advise your honour," said the man, in a tone too sincere to be deemed sarcastic.
"I know my head could n't bear it," said he, with the imploring accents of one who entreated a contradiction. But the old groom, too fully convinced of the sentiment to utter a word against it, was now only thinking of following his mistress.
"Wait a moment," cried Hankes, with an immense effort. "If I were once across this" — he was going to add an epithet, but restrained himself — "this place, is there nothing more of the same kind afterwards?"
"Is n't there, faith!" cried the man. "Isn't there the Clunk, where the beast has to step over gullies five-and-thirty or forty feet deep? Isn't there Tim's Island, a little spot where you must turn your horse round with the sea four hundred feet under you? Is n't there the Devil's Nose —"
"There, there, you needn't go on, my good fellow; I'll turn back."
"Look where she is now," said the man, pointing with his whip to a rocky ledge hundreds of feet down, along which a figure on horseback might be seen creeping slowly along. [Chapter LVIII, "A Bridle-Path," 487-88]
Commentary
Phiz has interspersed conventional engravings such as Dunn addressing the Mob (June 1858) with more sombre or contemplative dark plates to provide tonal contrasts. In this October number, the regular engraving, Mr. Hanks in a Fix, conveys information useful to the reader's understanding the plot and the character of Dunn's English confederate, Mr. Hankes, whereas the dark plate conveys his depressed mood as he finds himself unable to follow where the daring horsewoman, Sybella Kellett, has led in a picturesque setting.
A Dark Plate for a Dangerous Path at Night
Here Phiz has employed the dark plate technique not merely to emphasize the nocturnal setting, but also to suggest the danger into which Hankes feels that Sybella Kellett is leading him along the precipitous bridle path. Although in this plate Phiz does not realise the mountain goats that Lever mentions as threatening to undermine the footing of Sybella's mount, Phiz includes a pair of Bilberry or Irish goats in the mountainous scene that follows. The third rider, Sybella's experienced groom, also abandons Hankes when he decides that he should not proceed. Phiz depicts the comic upshot in the accompanying illustration, Mr. Hankes in a Fix. Poor Hankes, the butt of Lever's Irish satire of the urban Englishman, has no one to guide him back to Glengariff, and ultimately finds his way to a small inn at Bantry on the coast, his clothing in rags.
Lever's reference to the inn at Bantry indicates that the setting of this part of the novel is the rugged Atlantic coast of West Cork, not far from the novel's most significant village, that near the Hermitage at Glengariff Bay on the Beara Peninsula, on the south-west coast of Ireland. As the Phiz illustrations suggest, the region contains two mountain ranges running down its centre: the Caha and the Slieve Miskish. The region of Glengarriff (or Gleann Garbh in Gaelic, meaning "Rough Glen"), in West Cork had a peak population, before the Great Famine of the 1840s, of 39,000, but today fewer than 6,000 live in the Glengariff region. The Beara peninsula, which Phiz accurately depicts in the autumn 1858 instalments, has a lengthy scenic coastline, two mountain ranges, and a number of passes.
Working methods
Scanned image by Simon Cooke; colour correction, sizing, caption, and commentary by Philip V. Allingham. [You may use this image without prior permission for any scholarly or educational purpose, as long as you (1) credit the person who scanned the image, and (2) link your document to this URL in a web document or cite the Victorian Web in a print one.] Click on the image to enlarge it.
Bibliography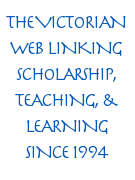 Lever, Charles. Davenport Dunn: A Man of Our Day. Illustrated by "Phiz" (Hablot Knight Browne). London: Chapman and Hall, 1859.
Lever, Charles. Davenport Dunn: The Man of The Day. Illustrated by "Phiz" (Hablot Knight Browne). London: Chapman and Hall, October 1858 (Part XVI).
---
Last modified 3 August 2019