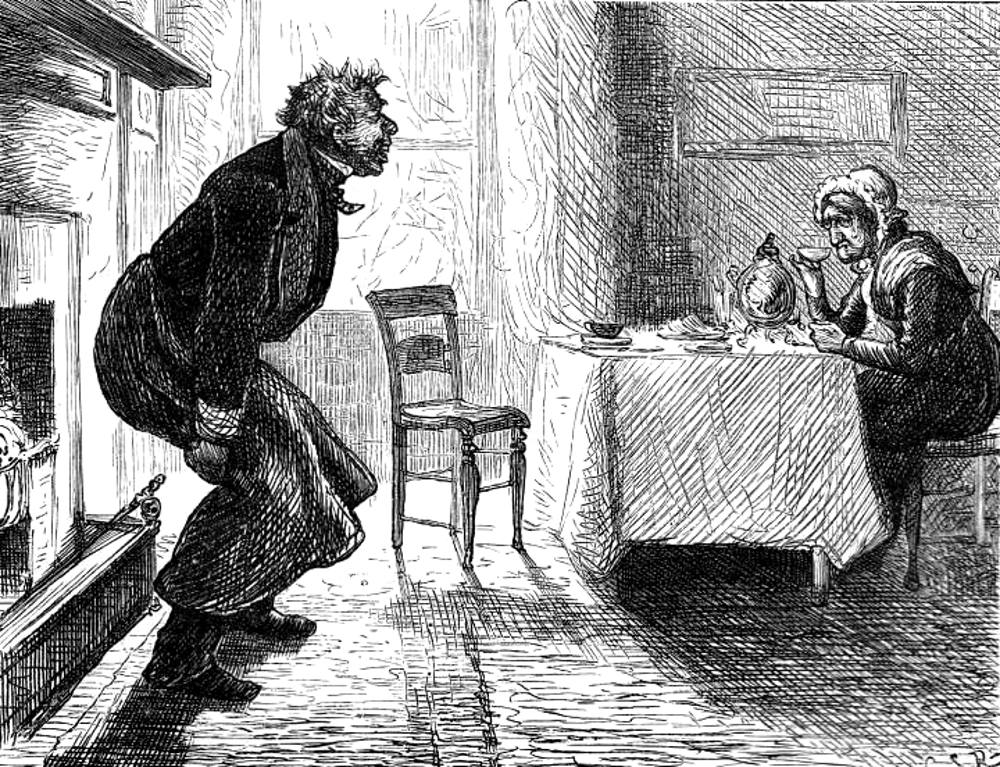 "You were in the tiptop fashion, and all the rest of it," said Mr. Bounderby" by Charles S. Reinhart. 10.1 cm high by 13.4 cm wide. At the opening of Book One, Chapter Seven, "Mrs. Sparsit," in Charles Dickens's Hard Times, which appeared in American Household Edition, 1876) 139. Running heads: "A Lady Housekeeper" (137) and "Gentility and Humility" (139).
Context of the Illustration
"Well, ma'am," said her patron, "perhaps some people may be pleased to say that they do like to hear, in his own unpolished way, what Josiah Bounderby of Coketown has gone through. But you must confess that you were born in the lap of luxury, yourself. Come ma'am, you know you were born in the lap of luxury."
"I do not, sir," returned Mrs Sparsit with a shake of her head, "deny it."
Mr. Bounderby was obliged to get up from the table, and stand with his back to the fire, looking at her; she was such an enhancement of his position.
"And you were in crack society. Devilish high society," he said, warming his legs.
"It is true, sir," returned Mrs. Sparsit, with an affectation of humility the very opposite of his, and therefore in no danger of jostling it.
"You were in the tip-top fashion, and all the rest of it," said Mr. Bounderby.
"Yes, sir," returned Mrs. Sparsit, with a kind of social widowhood upon her. "It is unquestionably true."
Mr. Bounderby, bending himself at the knees, literally embraced his legs in his great satisfaction, and laughed aloud. [Book One, Chapter VII, 138]
Commentary
The arrogant braggart Josiah Bounderby, self-made millionaire industrialist of Coketown, glories in the fact that he has risen from the industrial town's gutters to own a country-house, factory, and a bank. Moreover, he has acquired a status symbol, as he is the patron of the "bank fairy," a widow of aristocratic lineage, Mrs. Sparsit. Here, in the elegantly furnished rooms which he has in all charity and dubious humility provided her above the bank, Bounderby warms himself against a roaring coal fire, indicative of conspicuous comsumption. He gleefully laughs as he puts Mrs. Sparsit in her place as a former social superior over whom he asserts his moral and fiscal hegemony as a successful capitalist and entrepreneur from the rising middle classes.
Aside from Dickens's repeatedly characterising Mrs. Sparsit by her "Coriolanian" nose, the author has given his illustrator to go in in realising the face and form of Mrs. Sparsit, who in this adult fairytale functions as a witch, relentlessly pursuing the object of her jealousy, Louisa. Reinhart has made her small of stature and repulsive of physiognomy, exaggerating the age and lack of attractiveness of the Bank Fairy (who is really much more the Bank Witch) and therefore, to a certain extent, justifying Bounderby's passing her over as a marital candidate in favour of the younger and much more comely Louisa Gradgrind. As the scene begins, and Mrs. Sparsit presides over the breakfast tea-pot, Bounderby announces his intention to take young Tom Gradgrind into his office after he has finished "his educational cramming" (138). That he corrects Mrs. Sparsit when she calls Louisa "little puss" alerts the reader to Bounderby's considering as a potential wife.
But so much of what see here is pure artistic invention: the laden tea table in the background, the rich dressing gown and tousled hair of Bounderby, the poker and fender of the fireplace all contribute to a more informed reading of Dickens's text. On the other hand, Reinhart's positioning Bounderby's chair by the window prepares us for Mrs. Sparsit's becoming an agent of surveillance later in the story. This aspect of her character Harry French emphasizes in his illustrations for the novel in the British Household Edition, in such illustrations as Mrs. Sparsit advanced Closer to Them, in which she trails Louisa and the indolent but handsome James Harthouse in order to acquire evidence of their adultery.
The 1867 Diamond Edition version of this scene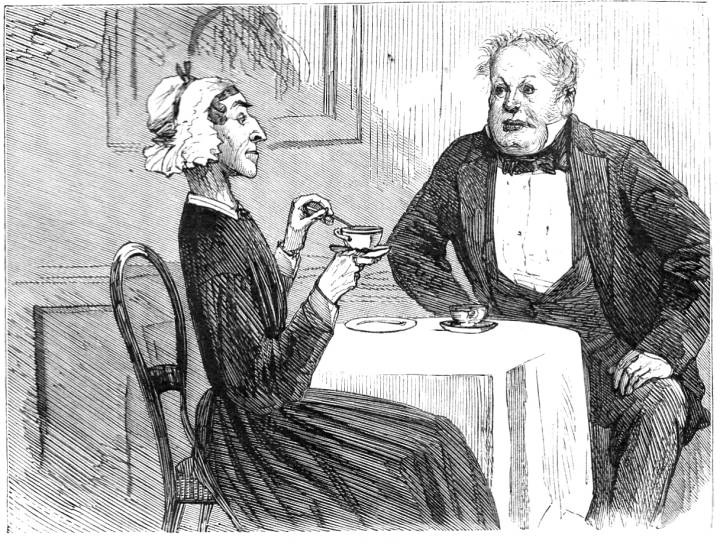 Above: Sok Eytinge, Jr.'s dual character study of the inflated bank-owner and skeletally thin bank-fairy: Mr. Bounderby and Mrs. Sparsit.
Scanned image and text by Philip V. Allingham [You may use this image without prior permission for any scholarly or educational purpose as long as you (1) credit the person who scanned the image and (2) link your document to this URL in a web document or cite the Victorian Web in a print one.]
Bibliography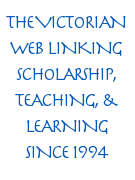 Dickens, Charles. Hard Times for These Times. Illustrated by Sol Eytinge, Jr. The Diamond Edition. Boston: Ticknor and Fields, 1867.
_______. Hard Times for These Times. Illustrated by C. S. Reinhart. The Household Edition. New York: Harper and Brothers, 1876.
_______. Hard Times for These Times. Illustrated by Harry French. The Household Edition. London: Chapman and Hall, 1877.
Houfe, Simon. The Dictionary of Nineteenth-Century British Book Illustrators and Caricaturists. Woodbridge, Suffolk: Antique Collectors' Club, 1978.
Pennell, Joseph. The Adventures of An Illustrator Mostly in Following His Authors in America and Europe. Boston: Little, Brown & Co., 1925.
---
Created 10 October 2002

Last modified 7 August 2020