Introduction: Shields as an Illustrator
Though primarily a painter, Frederick Shields (1833–1911) produced a small but distinctive body of illustrations. He contributed several engravings to Once a Week (1861–67) and single designs to Good Words (1868) and The Sunday Magazine (1865). However, his best work appeared in just two outstanding books. The first, published in 1863, was a version of Daniel Defoe's History of the Plague of London, and he followed this up with an elaborate treatment of Bunyan's Pilgrim's Progress (1864). Both series are complex and interesting, the paradoxical and sometimes confusing combination of an intense originality and a willingness to respond to visual exemplars that are drawn from elsewhere. By turns strikingly unusual and eclectic, Shields is a challenging artist.
Shields was primarily an illustrator of prose rather than poetry (Goldman, p.59), and his work for Defoe and Bunyan displays a strong understanding of story-telling and the need to propel the narrative forward. This emphasis is embodied in his selection of scenes, which are generally climactic or transitional moments – one variety representing epiphanies of insight and understanding, and the other passages of action and change, leading from one situation to the next. The effect is generally breathless, hurrying the reader/viewer onward.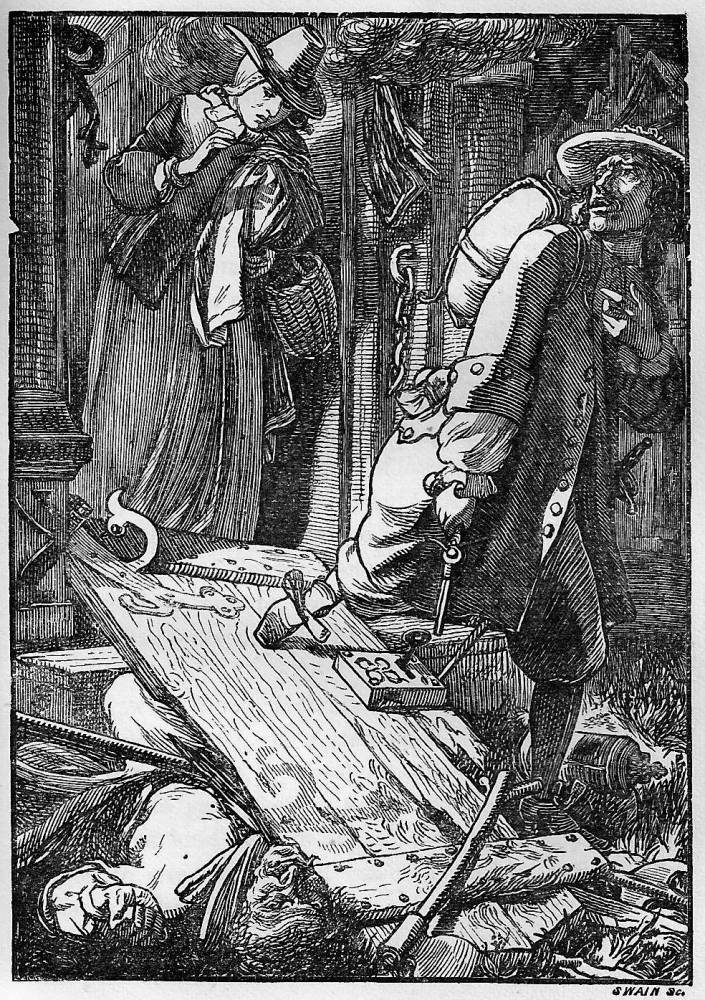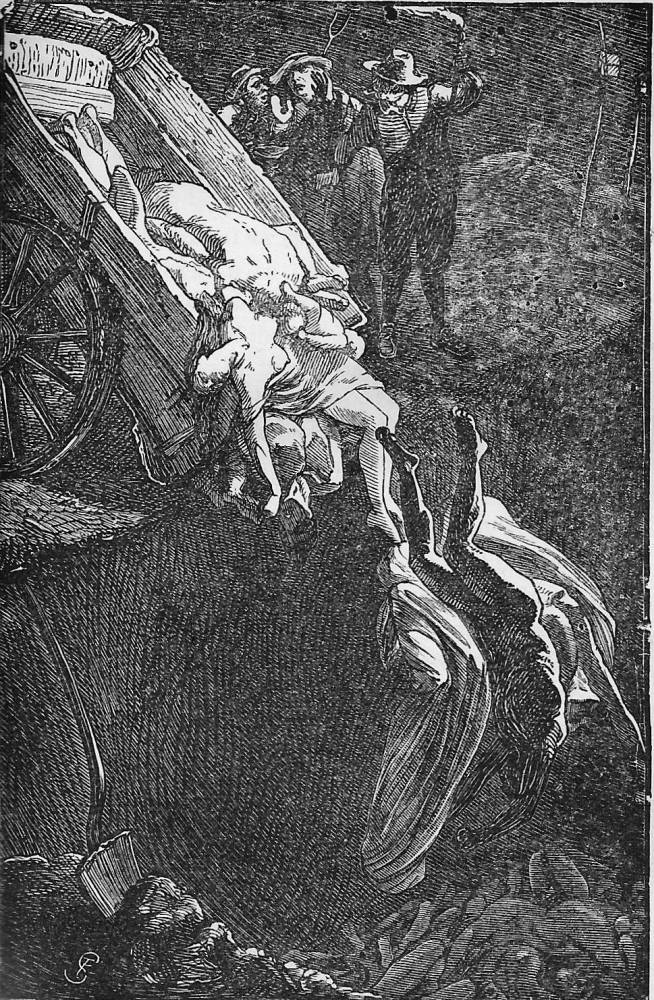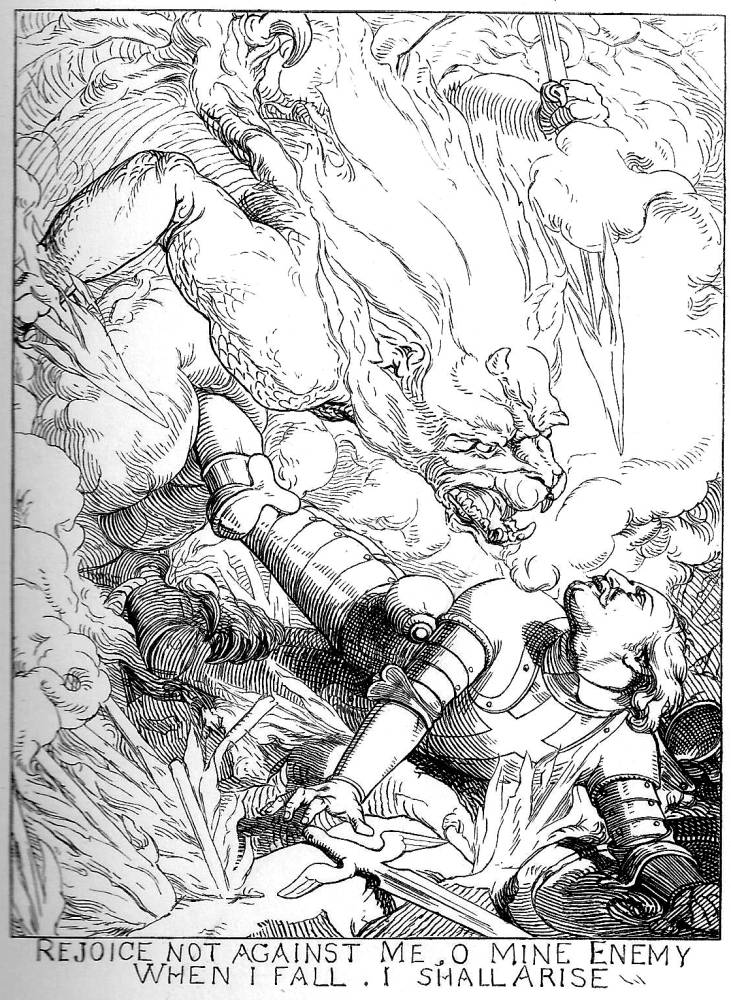 Left: Two plates from Daniel Defoe's History of the Plague of London: Imprisoned family escaping and The Dead Pit. Right: Christian cast down by Apollyon from John Bunyan's Pilgrim's Progress. [Click on images to enlarge them.]
In The Pilgrim's Progress, Shields converts the drama into a cinematic montage of dynamic tableaux: for example, we see Faithful turning away from the House of Wanton, Mercy fainting, and Pilgrim looking vertiginously down from the Hill of Caution. Arrivals and departures are similarly privileged in the illustrations for the Plague; there are few scenes of true repose and the action is always focused on melodramatic moments of excess such as the 'Imprisoned family escaping' (facing p.48), and the depositing of bodies into the horrific 'Dead Pit' (facing p.64).
In these and other designs Shields articulates an interest not just in story-telling, as such, but in creating impact as an end in itself. Though he claims to have been inspired by Dante Rossetti's illustrations in the famous Moxon edition (1857) of Tennyson's poems (Goldman, p.59), his images do not have the psychological depth associated with Pre-Raphaelitism. What they do possess in both publications is a capacity to unsettle: visceral and brooding, they are often, to use Forrest Reid's adjective, 'grim' (p.208).
Influences: Germany
Some of Shields's illustrations are informed by a genuine inventiveness: as Reid remarks, the two books display 'considerable power of imagination' (p.208). But the illustrator was heavily influenced by Germanic design, borrowing and re-figuring ideas and devices from a variety of sources.
His treatment of the Pilgrim's Progress is clearly modelled on the outline books of F.A.M. Retzsch. He was also influenced by Julius Schnorr von Carolsfeld's Bibel in Bildern, the famous picture Bible published in Britain, 1856–60. Schnorr's dramatic telling of the Old and New Testament had a significant impact on Ford Madox Brown, Frederick Sandys and others who contributed to the Dalziels' Bible Gallery (1880/81), and analogies can also be traced between the German's style and the work of Shields in the Pilgrim's Progress. This is especially apparent in the dense modelling of costumes and the emphasis on dynamic movement.
The History of the Plague of London is likewise responsive to a Germanic influence, although the model here is probably the morbid art of Alfred Rethel. Goldman identifies Rethel as a primary source and finds analogies between the grim directness of Auch ein Totentanz (1849) and the nightmarish imagery of 'The Dead Pit'. It is also interesting to compare Shields's version of the Pit with John Franklin's design for W. H. Ainsworth's Old Saint Paul's (1841; 1847 edition). This earlier treatment provides an example of how to show the grisly cascade of bodies and there is a clear connection, I suggest, between Franklin's deployment of chiaroscuro and movement and the approach adopted by Shields. Shields might in this case have been influenced by two Germanizing tendencies – one derived directly from Rethel, and one from Franklin, who would also have seen Rethel's Dance of Death, and was well-known as a 'Germanic artist'.
A final strand, and another which takes the form of a Germanic influence mediated through a British artist, is the influence of Frederick Sandys. There are obvious analogies between the morbidity of 'Until her Death' (Good Words, 1862) and the dark and brooding atmosphere of the Shields designs for the Plague; Shields further replicates the quaint details – keys in locks, objects hung up, sandglasses and sundry other things – that appear in 'Rosmund' (Once a Week, 30 November 1861), 'The Waiting Time' (Churchman's Family Magazine, July 1863), and elsewhere.
Works Cited and Sources of Information
Ainsworth, W. H. Old St. Paul's: A Tale of the Plague and the Fire. 3 vols. London: Hugh Cunningham, 1841; single vol. reprint, 1847. Illustrated by John Franklin.
Bunyan, John. Illustrations to Bunyan's Pilgrim's Progress. London: Simpkin Marshall, 1864.
Dalziels' Bible Gallery. London: Routledge, 1881 [1880].
Defoe, Daniel. History of the Plague of London. London: Thomas Laurie, 1863.
A book of great rarity; writing in 1928, Reid complains of the 'extavagant price' (p.208) of available copies; it was reprinted in the 1880s.
Goldman Paul. Victorian Illustration: The Pre-Raphaelites, the Idyllic School and the High Victorians. Aldershot: Scolar Press, 1996, rev. ed. 2004.
Good Words. London: Strahan, 1862; 1868.
Once a Week. London: Bradbury & Evans, 1861–67.
Reid, Forrest. Illustrators of the Eighteen Sixties. 1928; reprint, New York: Dover, 1975.
Schnorr von Carolsfeld, Julius. Schnorr's Bible Pictures. London: Williams & Norgate, 1856–60.
This book was published in parts and as a single volume. It was also published by Georg Wigands in Leipzig in 1860; it seems to have had a greater impact in England than in Germany.
Sunday Magazine, The. London: Strahan, 1865.
---
Last modified 8 June 2013