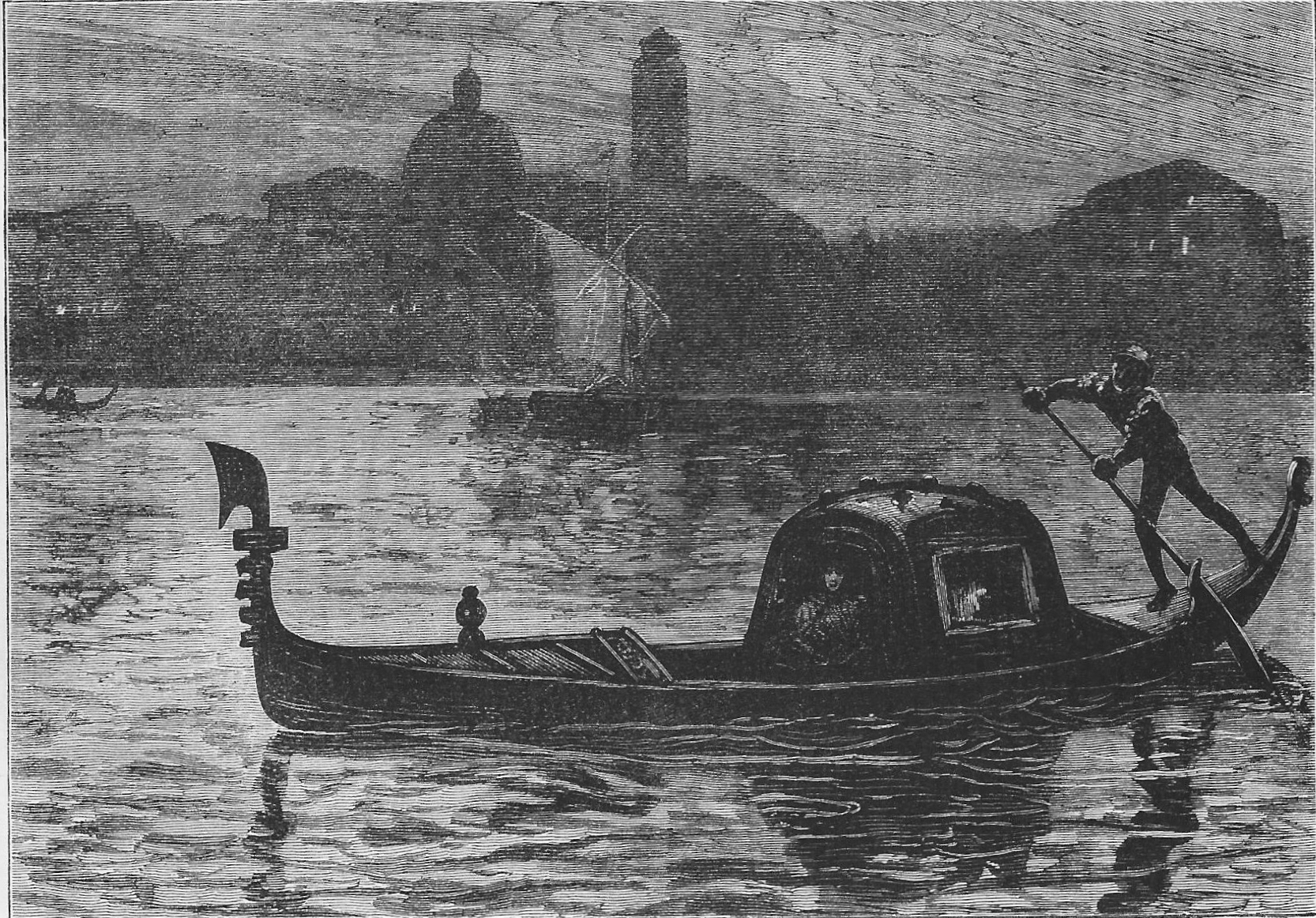 An Italian Dream by J. Gordon Thomson, in Charles Dickens's Pictures from Italy, and American Notes, eighth chapter, "An Italian Dream," facing page 75. Wood-engraving by E. Dalziel, 3 7⁄8 by 5 5⁄8 inches (9.7 cm high by 13.8 cm wide), framed. Scanned image, colour correction, sizing, caption, and commentary by Philip V. Allingham. [You may use this image without prior permission for any scholarly or educational purpose as long as you (1) credit the person who scanned the image, and (2) link your document to this URL in a web document or cite the Victorian Web in a print one.] Click on the image to enlarge it.
Passage associated with the Illustration
So we advanced into this ghostly city, continuing to hold our course through narrow streets and lanes, all filled and flowing with water. Some of the corners where our way branched off, were so acute and narrow, that it seemed impossible for the long slender boat to turn them; but the rowers, with a low melodious cry of warning, sent it skimming on without a pause. Sometimes, the rowers of another black boat like our own, echoed the cry, and slackening their speed (as I thought we did ours) would come flitting past us like a dark shadow. Other boats, of the same sombre hue, were lying moored, I thought, to painted pillars, near to dark mysterious doors that opened straight upon the water. Some of these were empty; in some, the rowers lay asleep; towards one, I saw some figures coming down a gloomy archway from the interior of a palace: gaily dressed, and attended by torch-bearers. It was but a glimpse I had of them; for a bridge, so low and close upon the boat that it seemed ready to fall down and crush us: one of the many bridges that perplexed the Dream: blotted them out, instantly. On we went, floating towards the heart of this strange place — with water all about us where never water was elsewhere — clusters of houses, churches, heaps of stately buildings growing out of it — and, everywhere, the same extraordinary silence. Presently, we shot across a broad and open stream; and passing, as I thought, before a spacious paved quay, where the bright lamps with which it was illuminated showed long rows of arches and pillars, of ponderous construction and great strength, but as light to the eye as garlands of hoarfrost or gossamer — and where, for the first time, I saw people walking — arrived at a flight of steps leading from the water to a large mansion, where, having passed through corridors and galleries innumerable, I lay down to rest; listening to the black boats stealing up and down below the window on the rippling water, till I fell asleep. [Chapter 8, "An Italian Dream," p. 74]
Commentary: Visualising a Fugue State
— sucking at their walls, and welling up into the secret places of the town: crept the water always. ["An Italian Dream," 79]
Since Dickens seems to be describing his initial experiences in Venice as if he were in a fugue state, "An Italian Dream" seems to have daunted a number of illustrators — for how does a graphic artist render the insubstantial? However, whereas Thomas Nast does not illustrate the pivotal chapter, despite his having a long program for the Harper and Brothers Household Edition volume, Thomson has realised it effectively in his short narrative-pictorial series. To communicate the half-awake state of mind in which the narrative voice recalls approaching the twilight scene, Thomson has employed a variation on the dark-plate technique pioneered by John Franklin and popularised by Hablot Knight Brown in such novels as Dickens's Bleak House, Harrison Ainsworth's Mervyn Clitheroe, and Charles Lever's Davenport Dunn.
Although Dickens has embraced contemporary Italy, even going so far as to learn to speak Italian, occasionally as here he communicates his awe of the peninsula's storied past. Then, too, as Sally Ledger has remarked, Dickens sometimes regards Italy as incapable of fully embracing modernity because it is "trapped in a kind of stasis" (82) because, for Italy, time seems to have stopped, or to have been arrested by the terrible and magnificent weight of its past. As a modern Northern European born into the Industrial Age, Dickens finds this dreamy timelessness both irresponsible and seductively exotic:
In Pictures from Italy as well as in Dickens's letters there are several complementary but also contrasting types of dream imagery. The dream may suggest a generally pleasant sense of irresponsibility and drifting, a confused enjoyment of new, exotic, unfamiliar sights (or sites) and sounds, as in the chapter on Venice entitled "An Italian Dream" in Pictures from Italy or in many other passages in the book. But it may also evoke the idea of apathy, torpor, or lethargy, all usually anathema to the ever-restless Dickens, induced either by the climate, or, more negatively, by the influence of Roman Catholicism. [Kennedy, pp. 94-95]
Although the dream of the past has already significantly morphed into the realm of nightmare at the Papal Palace of Avignon, here Dickens disregards the horrors of the Inquisition to participate in a pleasurable reverie, delighting in virtual time travel and immersing himself in the Venice of Othello and the sights and sounds of an utterly un-English and anti-modern cityscape, a "strange Dream upon the water" (80) in which even the boats have more in common with The Arabian Nights than modern commerce on the Thames. The moment, as Thomson suggests, is the persona's feeling at one with the luminous waters of the Grand Canal, mesmerized by the spectacle of a boat powered neither by conventional oars nor a steam engine. The lithe gondolier, the sleek vessel, and the shadowy buildings in the backdrop, St. Mark's Cathedral and the Palace of the Doge, contrast St. Paul's, the Old Bailey, the blackened buildings, workaday shipping, and turbid river of the modern city, Greater London, the riverscape with which generations of Dickens's readers, including the illustrator John Gordon Thomson, have grown familiar through his urban novels.
Even though the passage recalls Dickens's half-awake, half-asleep gondola ride through the canals, the travel-writer draws upon his juvenile reading of Shakespeare, so that The Merchant of Venice and The Tragedy of Othello, The Moor of Venice are constantly conditioning his responses to the sights and sounds of the mysterious presence upon the waters: "in the errant fancy of my dream, I saw old Shylock passing to and fro upon a bridge, all built upon with shops and humming with the tongues of men; a form I seemed to know from Desdemona's, leaned down through a latticed blind to pluck a flower" (79).
Thomson communicates the essential aspect of Dickens';s dream-vision, floating upon the waters of the Adriatic, the moonlight picking out the crests of the waves but throwing the background into a deep chiaroscuro, giving the sense of the "strange Dream upon the water: half-wondering if it lie there yet, and if its name be VENICE" (80).
Related Material
Relevant Marcus Stone illustrations for
Pictures from Italy
Phiz's Dark Plates for Three Novels of the 1850s
References
Dickens, Charles. Pictures from Italy. Illustrated by Samuel Palmer. London: Chapman and Hall, 1846; rpt., 1850.
Dickens, Charles. American Notes for General Circulation and Pictures from Italy in Works. Illustrated by Marcus Stone. Illustrated Library Edition. London: Chapman and Hall: 1862, rpt. 1874.
Dickens, Charles. Chapter Eight, "An Italian Dream." Pictures from Italy, Sketches by Boz, and American Notes. Illustrated by A. B. Frost and Thomas Nast. The Household Edition. New York: Harper and Brothers, 1877. Pp. 38-41.
Dickens, Charles. Pictures from Italy and American Notes. Illustrated by A. B. Frost and Gordon Thomson. London: Chapman and Hall, 1880. Pp. 1-381.
Kennedy, Valerie. Chapter Eight, "'Dream or Reality? Past Savagery versus Present Civilisation in Pictures From Italy and Little Dorrit." Dickens and Italy: Pictures From Italy and Little Dorrit, ed. Michael Hollington and Francesca Orestano. Cambridge: Cambridge Scholars, 2009. Pp. 93-113.
Ledger, Sally. Chapter Seven, "'God Be Thanked: A Ruin!' The Embrace of Italian Modernity in Pictures From Italy and The Daily News." Dickens and Italy: Pictures From Italy and Little Dorrit, ed. Michael Hollington and Francesca Orestano. Cambridge: Cambridge Scholars, 2009. Pp. 82-92.
---
Last modified 8 May 2019