I am indebted to Peter Tymms, one of the artist's descendants, who provided me with details of the family and memories of his forebear's activities. Other information has been taken from census returns, probate and marriage and death records.

illiam Robert Tymms (1828–78) was a technician, artist and designer. One of the foremost chromolithographers of the 1860s, he also created a number of cloth bindings. Knowledge of his life and art is uneven: his biography is obscure and the range of his activities both well-documented and frustratingly vague. Although he published several articles, I have not been able to trace any personal documents or likenesses. Some details can be recovered, however, and it is possible to reconstruct the outlines of his life and work.
Biography and Work as an Illuminator
Named William Robert after his father, Tymms was born in Islington, London, on 26 November 1828, and died at an address in Holloway, aged only forty nine, on 22 November 1878; the cause of death is unknown. In 1859 he married Salome Esther Warren and the couple produced three children, all boys. The family lived at several addresses in St Pancras, and although a Londoner Tymms had connections in East Anglia and the West Country. His marriage took place in Lowestoft (his wife's home), and one of their sons was baptised in Prestbury, near Cheltenham.
Tymms was one of several designers of the period who was proficient as a technician and as an artist/designer. He appears in the census and trades directories as an 'artist' and 'lithographic draughtsman', and, like his contemporaries John Sliegh, A H Warren and Robert Dudley, who practised as artisans and artists, was multi-skilled and versatile.
His role as a chromolithographic draughtsman was created by the need to service the developing trade in polychromatic books. Pioneered in the 1840s and 50s by Owen Jones, Matthew Digby Wyatt and H. Noel Humphreys (McLean 115–139), chromolithography was a dynamic new mode of printing which democratized colour printing (Gascoigne 39) and could only be produced by those proficient in the process of drawing on stone, colour separation and printing. Tymms became one of the masters in the field, but where he gained his skills is unknown. There is no record of his earliest training, but he must have been apprenticed to an engravers' or printers' workshop and seems to have had a wide-ranging interest in art and design. It is remembered in the family that he painted a six-sided screen with images taken from his sketchbook and made and embellished a bookcase and mirror.
The earliest mentions of his professional activities are in relation to Digby Wyatt's monumental, journalistic record of The Industrial Arts of the Nineteenth Century at the Great Exhibition (1851–3), where he is cited as an assistant working under the direction of Francis Bedford, and he is mentioned in the same capacity as one of those engaged on Owen Jones's source-book of styles, The Grammar of Ornament (1856). Thereafter he became a principal lithographer in his own right, flourishing in the 1860s when he worked on a series of ambitious colour-books.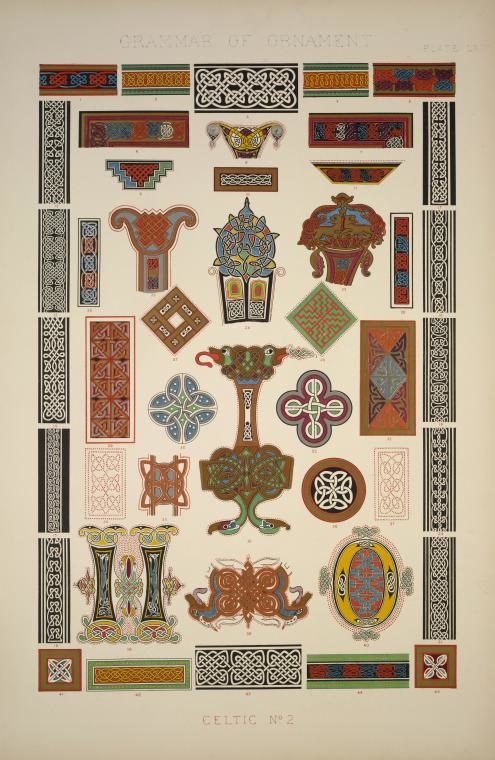 Two examples of the type of work that Tymms produced under the direction of Francis Bedford, (a) Celtic design, and (b) medieval imagery. These illustrations are taken from a later edition of The Grammar of Ornament.
Tymms came to pre-eminence as an expert in the production of 'illuminated' editions, which although commonplace since the 1840s were now being produced more cheaply than before and on a grander scale. These editions were imitations of medieval manuscripts and responded, as Alice Beckwith explains, to two parallel tendencies: one was a growing interest in Gothicism which took the form of scholarly studies and reproduced the original material; and the other was the desire to recreate the effects of medieval and exotic art by producing modern equivalents. In a typically mid-Victorian move prefiguring William Morris's emulation of incunabula, historicism was fused with the modern, making use of a new printing technology to recreate the fine effects of the unique, sole-authored manuscript.
These two strands – antiquarianism and modernization – ran in tandem, and Tymms contributed to both fields. He was instrumental in supporting texts on the art of illumination, selecting examples from medieval sources to illustrate the written discussions. These vivid designs were often the subject of praise. In the words of a reviewer in The Art Journal who was assessing Wyatt's Art of Illuminating (1859), for example, the text is compelling, but its application is demonstrated by 'Mr Tymms' who 'comes opportunely to his aid with beautiful fac-simile specimens' (379) of illuminated manuscripts.
His treatment of contemporary work was likewise vivid and luxurious, enlightened by extravagant colours and gilding. Some of his best efforts can be seen in The Sermon on the Mount [1861] by William and George Audsley, for the same designers' version of Byron's The Prisoner of Chillon [1865], and for exotics such as Florence Lacomb's Indian Fables from the Sanscrit of Hitopadesa [1863].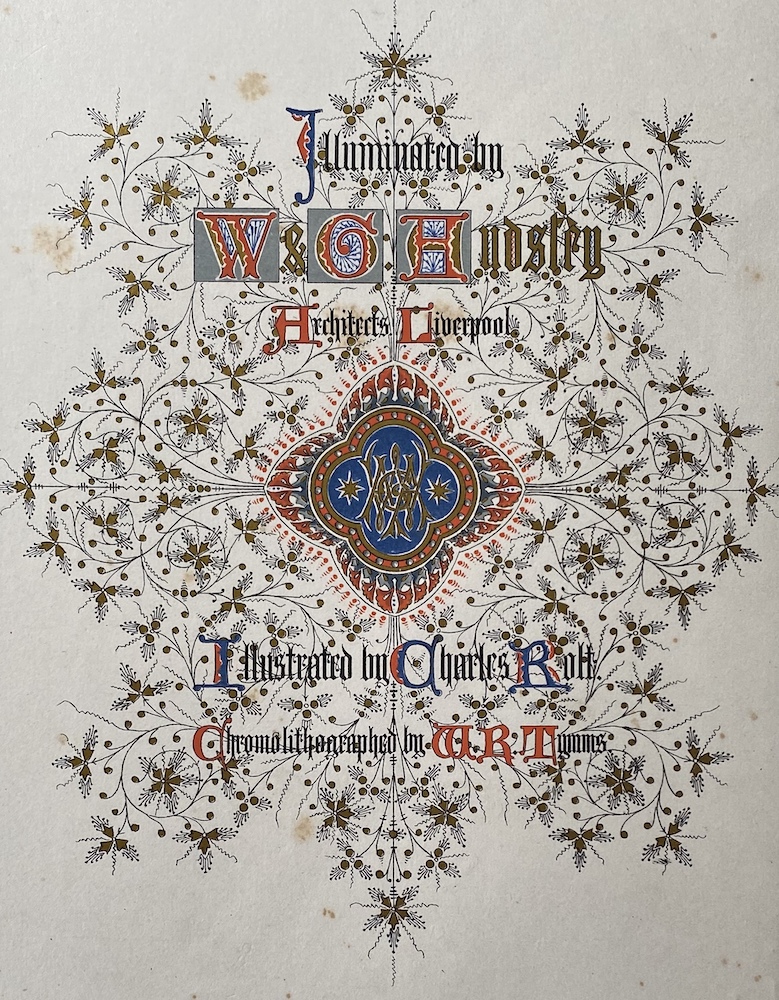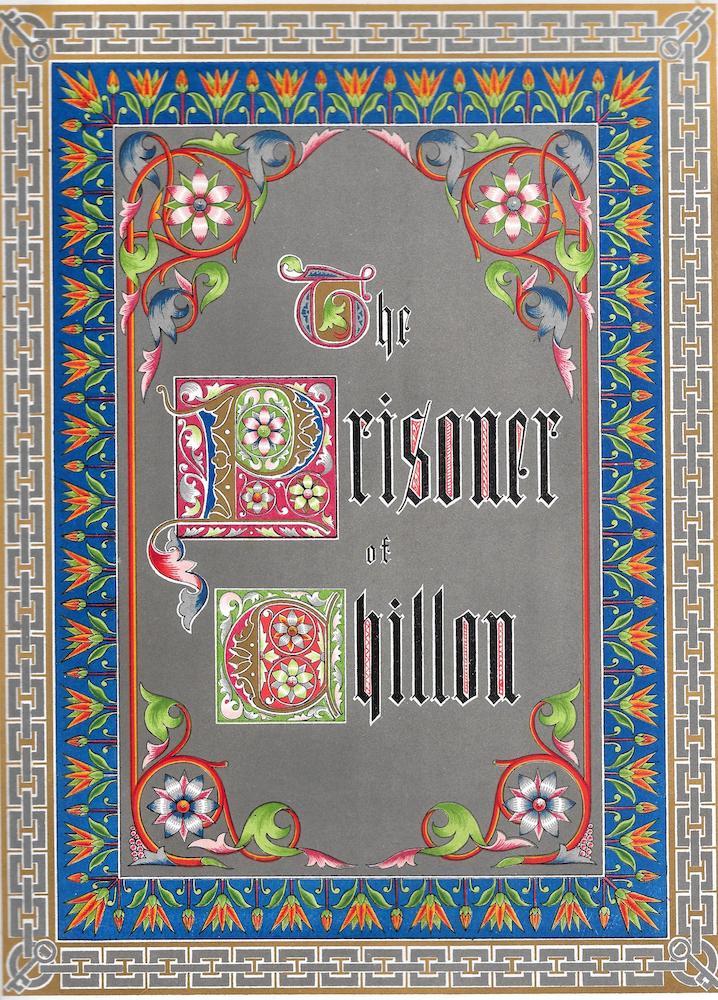 Some examples of Tymms's work: opening pages (a and b), for The Sermon on the Mount, and (c) the title page for The Prisoner of Chillon.
These works were published by Day and Son, the most influential proponent of picture-books illustrated by chromolithographs in the period from the mid-1850s to the end of the 1860s. Tymms became the publisher's foremost technician, and all of the imprints of this period give his name a prominent billing. The illuminations are extremely diverse, and Tymms was required to make accurate transcriptions which varied from the entirely ornamental to the figurative, and in a variety of styles. For Byron's The Prison of Chillon, for instance, he is concerned with the transcribing of the Audsleys' endlessly varied borders and decorative letters, and with Charles Rolt's narrative illustrations. He managed the same intermingling of visual units in his work for Lacomb's Indian Fables [1863], which unites scenes of animals and landscapes with decorative motifs, achieving a fine balance between the narrative panels and dynamically radiating borders made up of floral arabesques. He did parallel work for Tennyson's The May Queen (1861), in which he translates 'L. Summerbell's' (Mrs W. H. Hartley's) intricate watercolours into a series of elaborate floral borders with coloured backgrounds. For both books – Fables and The May Queen – he probably designed the lettering, and for all of his publications he had considerable freedom in making sense of others' designs; like the wood-engravers who converted book illustrations of the Sixties into fine prints, his role was not so much a transcriber as an interpreter.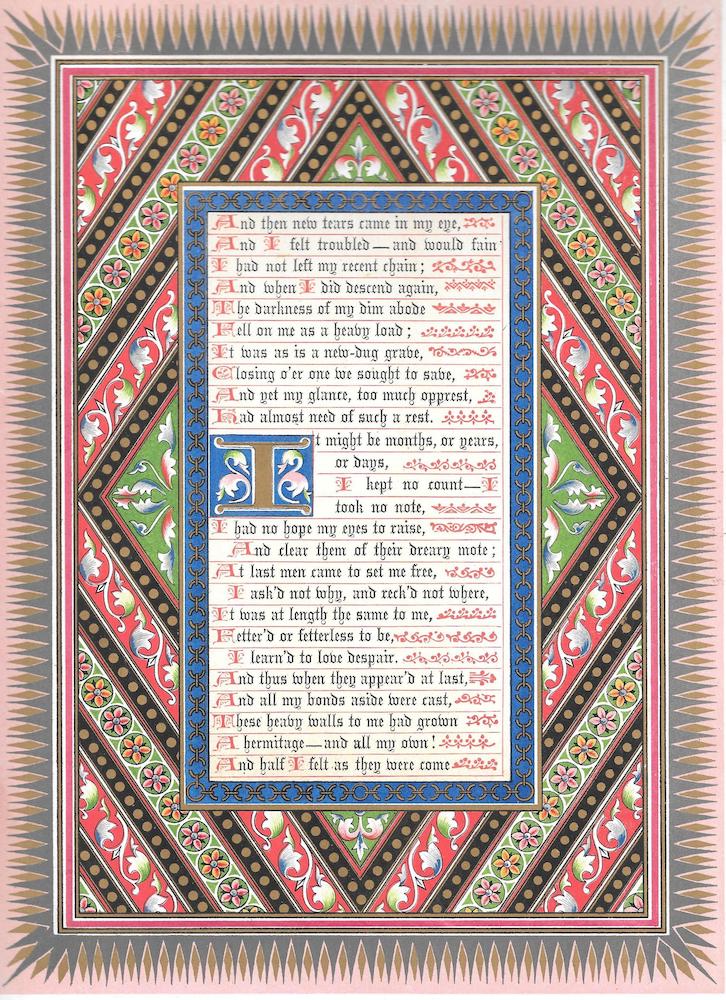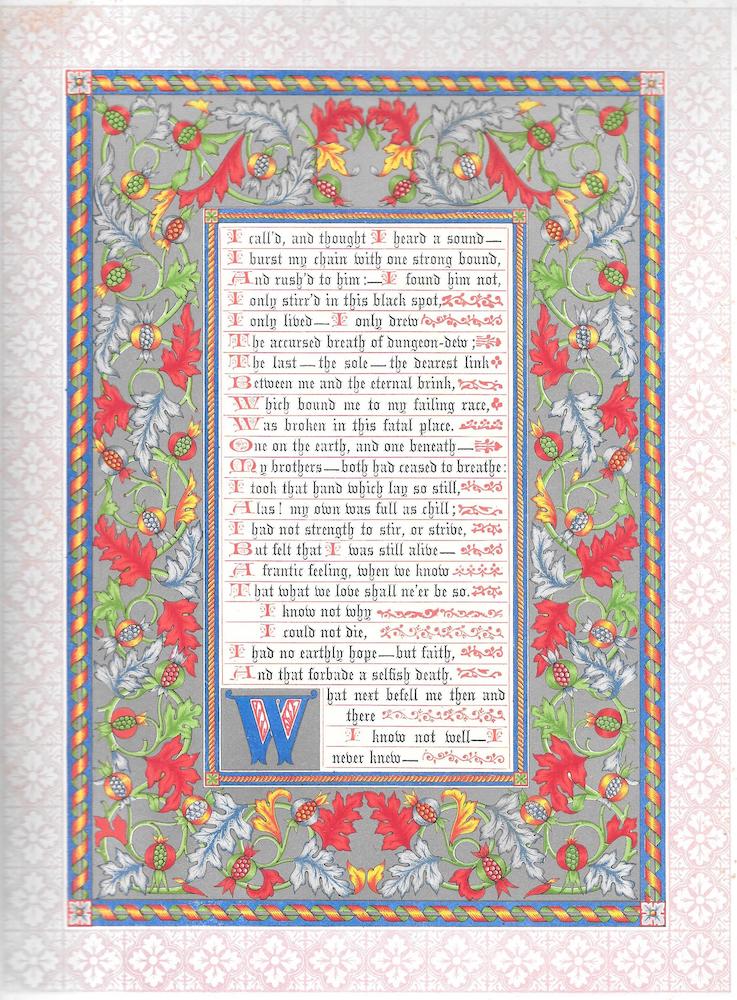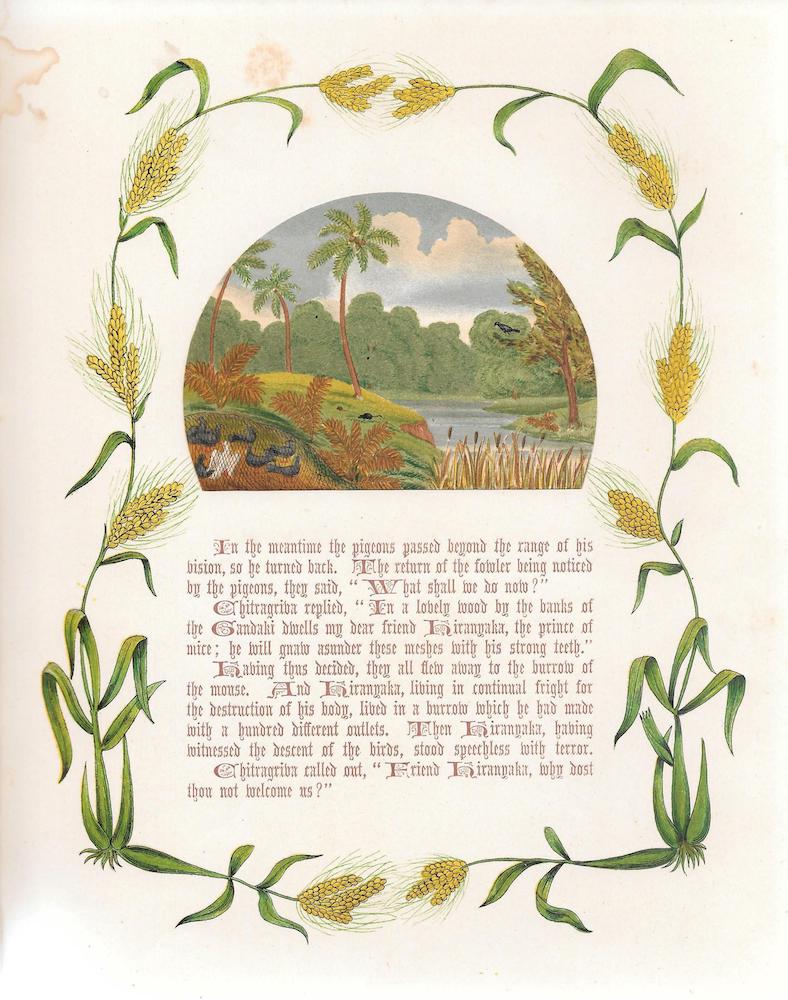 Some examples of Tymms's work: (a and b), some representative pages for The Prisoner of Chillon, and (c and d) for Indian Fables from the Sanscrit of Hitopadesa.
Tymms's own visual style is demonstrated in his illuminations for Emily Cuyler's selection of poems in The Church's Floral Kalandar [1862]. For this project, he composes each page as a dense visual scheme: the emblematic flowers are illustrated realistically in a panel to the left, with the poem occupying the centre ground; quotations from the scriptures are placed in elongated panels to form a broken border, linked at the corners with abstracted flower-blooms; and the title's capitals are treated as decorated gilt initials. The effect is complicated; although he includes arabesques and floral arrangements he balances these motifs against oblong-shaped panels.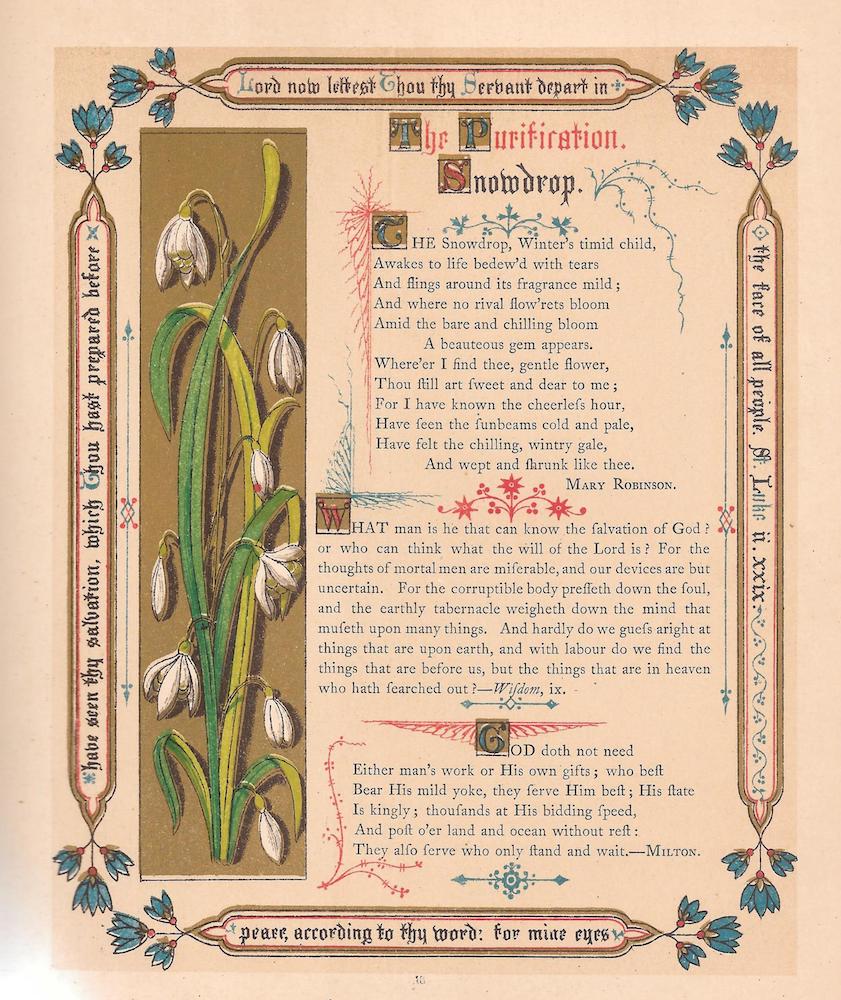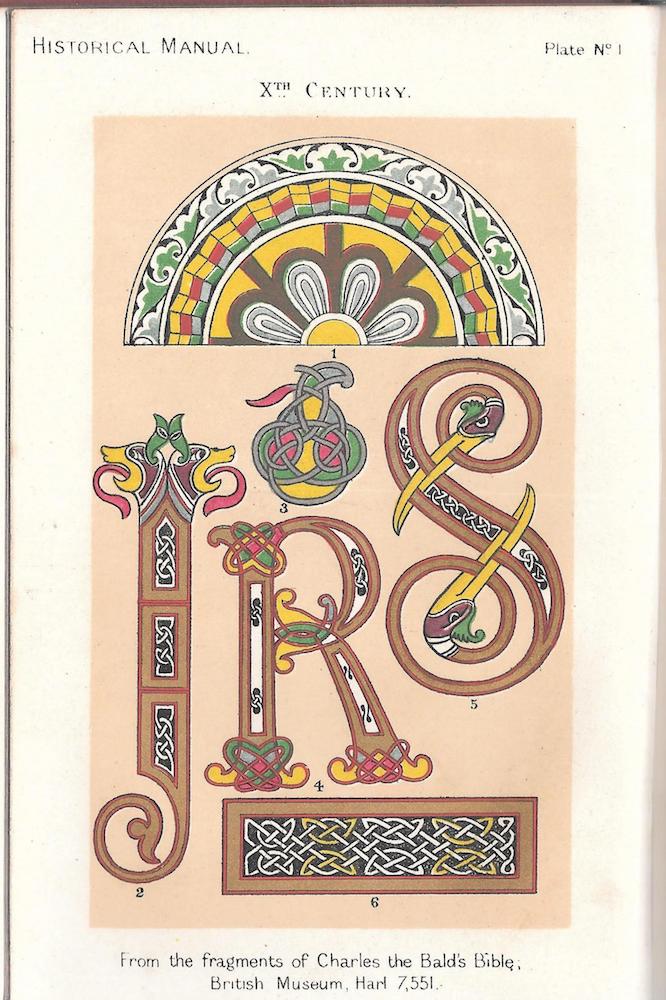 Some examples of Tymms's work: (a and b), some representative pages for The Church's Floral Kalandar, and (c) for The History, Theory, and Practice of Illuminating.
Criticism of the period offers no analysis of Tymms's style, but he helpfully explains his approach in a series of articles, supposedly intended to instruct amateurs who wished to become illuminators in The Chromolithograph, a short-lived periodical published by Day to generate interest in their books (1868). Effective illumination, he says, should always combine several elements: for inspiration 'the illuminator should go to nature' ('Lessons', 1, 228); the decorations should possess 'interest and variety' and have 'grace and charm'; the lettering should be legible (227); and the design of each page should possess both 'flow' and 'repose', apparently contradictory qualities which are united by emphasising structure, with clear lines following the 'parallelogram formed' by the text.
Each of these elements feature in Tymms's designs for The Floral Kalandar in which he unites naturalistic observation of the flowers with a huge variety of decorative devices, clear writing, and carefully organized arrangements of text, border and other motifs to produce a clear sense of balance or 'repose'. This disciplined, coherent approach characterizes his style and contrasts with the more flamboyant work of Lacomb and Summerbell which he renders, nevertheless, with absolute fidelity.
What links all of his books is of course their extraordinarily intense palettes, heighted by gilt and sometimes by silver, which reproduces the brightness of illuminated manuscripts. Although some critics thought the work gaudy, most considered it in good taste. In the words of one critic reviewing The Sermon on the Mount, 'the colour is very brilliant, harmonious and pure' ('Our Weekly Gossip', 22), projecting a chromatic range that reflects the radiance of Pre-Raphaelite painting as much as the publications' medieval exemplars. In an age when bright colour was preferred and the polychromatic an integral part of applied art and architecture, Tymms responded in detail to the prevailing aesthetic.
The creation of this intense luminosity has two dimensions: it has to be part of the original material, and it must be matched by the inks which convert the source work into a coloured print. Tymms helpfully tells us how he produces the radiance of his designs when they are in the process of being drawn on paper. Writing in one of his articles in The Chromolithograph, he gives a rare insight into the practicalities of working with colour:
For my own part, I prefer the use of the ordinary powder colours of the best quality with gum-water [gum Arabic]. The quantity of each colour required should be mixed on the porcelain slab with a portion of Chinese white. An ivory palette-knife should be used, as many colours are affected by steel. All colours do not require the same quantity of Chinese white; the transparent colours require the most, but the opaque colours, such as vermilion, require very little. The greatest cleanliness must be observed in the management of brushes, palette, and knife, for the beauty of illumination much depends on the purity and brilliancy of the colours; and colours mixed on a dirty palette, and worked with unwashed brushes, can never be either pure or brilliant. ['Lessons,' 353]
Once the artist has captured the effect he is trying to achieve, it is then the responsibility of the chromolithographer to reproduce them. Tymms does not reveal his practices in the workshop, although it is well-known how chromolithographs of the mid-Victorian period were prepared, and his approach can be reconstructed.
Tymms's first task involved the transfer of the original design onto the stone. This could have been achieved by tracing supplemented by drawing; the outlines, registered in a fine waxy crayon, could be then be printed using the usual procedures involved in lithography. In the meanwhile Tymms would have prepared a series of coloured inks which matched the composition's colours, and decided how he would divide them into printable sections. Having established the main lines in black or grey, he could then proceed to print individual colours from a series of stones. These would vary according to how many colours he required, which varied from page to page. In the Indian Fables, one page has only two (a green and a red), but others five or six; The Prisoner of Chillon, has seven or eight, and the Kalandar, up to ten; gilding was also applied. The broadest range of colours was typically reserved for the title-page, which set out to beguile the reader with the most impressive show, and the range of colours in the book as a whole was only limited by the number of stones that the publisher was willing to commit to what was always a slow, laborious and therefore expensive process. Splendour was finally created, however, not by the chromatic range but by the accuracy of the assembly: all the colours had to be in register, and any overlapping destroyed the effect of precious craftsmanship and luxurious resplendence. Tymms's work is in this respect always of a very high quality, producing extremely delicate effects; in the words of a reviewer assessing The Art of Illuminating, the 'plates have been executed with much care; there is a sharpness of outline, and a precision of "registration" which has 'not been surpassed' (Art of Illuminating, 319). That noted, there was occasional slippage – quite literally – especially in the Kalandar, where some of the lines are overprinted. As the Athenaeum, notes, 'we have seen better work by Mr Tymms' ('Kalandar', 829).
Tymms's contribution to the development of the illuminated gift book was nevertheless significant, combining technical excellence with intelligent and imposing design. The insolvency of Day and Son at the end of sixties had a serious impact on his career, and dissolved the association between the names of Tymms and Day. He produced his last work for another publisher, Bernard Quaritch, in 1868, although the book was still created in Day's workshop. Thereafter, Tymms did not create any original work; the fashion for illuminated books had declined and chromolithography was increasingly used at the lower end of the publishing trade for cheap nursery books and advertisements. Tymms took no part in this process and may have been suffering from the illness that caused his early death. Interestingly, he left a legacy of around £5000, a sum which translates into £330,000 in modern sterling but had far more value than its numbers suggest. In an age when it was possible to buy a large house for £2,000, Tymms's legacy was considerable, an amount well in advance of many artists' heirlooms; for example, the illustrator E. H. Wehnert left £200. That Tymms willed so much suggests his status and earning power in the brief period when fine chromolithography was valued.
Bibliography
Books with chromolithographs by Tymms
Browne, Jane Euphemia. The Child: from The Dove on the Cross. Illuminated and chromolithographed by Tymms. London: Day and Son, 1863.
Byron, George. The Prisoner of Chillon. Illuminated by W. and G. Audsley and chromolithographed by Tymms. London: Day and Son [1865].
Cuyler, Emily. The Church's Floral Kalandar. Illuminated and chromolithographed by Tymms. London: Day and Son [1862].
Jones, Owen. The Grammar of Ornament. Illuminated by Jones and chromolithographed by Tymms. London: Day and Son (1856).
Keble, John. Keble's Morning Hymn. Illuminated by B.B.B. and chromolithographed by Tymms. London: Day and Son [1861]..
Lacomb, Florence. Indian Fables from the Sanscrit of Hitopadesa. Illustrated and chromolithographed by Tymms. London: Day and Son [1863].
Pensées Choisies. Illuminated by M. Simpson and chromolithographed by Tymms. London: Day and Son [1862].
The Sermon on the Mount. Illuminated by W. and G. Audsley, illustrated by Charles Rolt and chromolithographed by Tymms. London: Day and Son [1861].
Tennyson, Alfred. The May Queen. Illustrations by L. Summerbell [Mrs W. H. Hartley] and chromolithographed by Tymms. London: Day and Son, 1861.
Westwood, F. O. Fac-similes of the Miniatures and Ornaments of Anglo-Saxon and Irish Manuscripts. Chromolithographed by Tymms. London: Bernard Quaritc, 1868.
Wyatt, Matthew Digby. The Art of Illuminating. Chromolithographed by Tymms. London: Day and Son, 1859.
Wyatt, Matthew Digby. The History, Theory, and Practice of Illuminating. Chromolithographed by Tymms. London: Day and Son [1860–61].
Wyatt, Matthew Digby. The Industrial Arts of the Nineteenth Century at the Great Exhibition. Chromolithographed by Tymms. London: Day and Son, 1851–3.
Secondary Material
Ancestry.co.uk.
'The Art of Illuminating.' The Art Journal (1860): 319.
'The Church's Floral Kalandar.' The Athenaeum 1808 (21 June 1862): 829.
Gascoigne, Bamber. Milestones in Colour Printing, 1457–1859. Cambridge: Cambridge University Press, 1997.
Maclean, Ruari. Victorian Book Design and Colour Printing. London: Faber & Faber, 1963.
'Our Weekly Gossip.' The Athenaeum 1784 (4 January 1862): 22.
Tymms, W. R. 'Lessons in the Art of Illuminating'. The Chromolithograph (1867–8).
---
Created 24 August 2020