"Now, my boys, fight away. I'll fight you both." Chapter VI of Dickens's Old Curiosity Shop by Thomas Worth in the first Household Edition volume published by Harper & Bros., New York (1872), 26: 3 ½ x 5 ¼ inches (9.2 x 10.6 cm) framed.
Passage Illustrated: Fisticuffs at Quilp's Wharf
"It's Kit!" cried Nelly, clasping her hand, "poor Kit who came with me! Oh, pray stop them, Mr. Quilp!"
"II'll stop 'em," cried Quilp, diving into the little counting-house and returning with a thick stick, "I'll stop 'em. Now, my boys, fight away. I'll fight you both. I'll take both of you, both together, both together!"
With which defiances the dwarf flourished his cudgel, and dancing round the combatants  and treading upon them and skipping over them, in a kind of frenzy, laid about him, now on one and now on the other, in a most desperate manner, always aiming at their heads and dealing such blows as none but the veriest little savage would have inflicted. This being warmer workthan they had calculated upon, speedily cooled the courage of the belligerents, who scrambled to their feet and called for quarter. [Chapter VI, 25-6 in the Household Edition; running head, "Little Nell Brings a Letter" (25).
Commentary
Right: Groome's derivative scene presents realistically drawn Quilp, but little background detail about his wharf: "Now, my boys, fight away." (1900).
Up to this point, Dickens has only suggested Daniel Quilp's proclivity for violence, particularly in the scenes on Tower Hill involving his much-put-upon wife and his antagonistic mother-in-law, Mrs. Jiniwin. However, once he has crossed to the Surrey side, Quilp reveals himself ready enough to resort to violence to keep subordinates in their place. He has already hit the boy who serves as his watchman at the countinghouse, and her he prepares to use his cudgel to admonish the combatants, namely, his own boy and Grandfather Trent's assistant, Kit Nubbles, who has apparently followed Nell in order to protect her both going to Quilp's to deliver Grandfather Trent's note and returning to the Covent Garden area.
Although Worth generally depicts his characters and settings realistically, he seems to have lapsed into fairy-tale idiom in depicting Quilp as a leprechaun or Rumple Stiltskin figure. He takes pains to get the river scene right, showing shipping and the northern shore of the Thames, including the dome of St. Paul's Cathedral in the centre. And his depiction of the wharf and Quilp's rundown counting-house is as realistic as Green's depiction of the fight between the boys. But Worth has his bearded dwarf seemingly sail through the air, his club raised and coat-tails flying, as an adolescent Nell pleads with him to intervene.
Cattermole's and Green's Versions of the Dilapidated Site
Cattermole has applied his elegant architectural style to an odd subject, the run-down and apparently activity-less industrial facility which Quilp owns on the Surrey side, Directly Quilp had shut himself in, the boy stood on before the door, then walked about on his hands: Quilp's Wharf (Part 4: 30 May 1840).
Right: Green's action scene of a realistically drawn Quilp encouraging the fight and eager to hit both boys: "I'll beat you to a pulp, you dogs" (1876).
Oddly enough, Quilp is absent from the scene at Quilp's Wharf in the Chapter VI illustration in the 1840 Master Humphrey's Clock illustration, in which we are probably seeing seeing Quilp's ship-wrecking facility from the river; although the narrator remarks that Quilp does not approach his counting-house from the wharf, but arrives at it through a series of alleyways. Dickens states that Quilp's firm is no longer actively engaged in the dismantling of out-of-date ships, but Cattermole  shows a canon from a British warship of the line as the final remnant of a dismantled  vessel. Green similarly provides evidence (in the form of the trunks of masts) that Quilp does indeed run a ship-wrecking business.
Other Introductory Illustrations of Daniel Quilp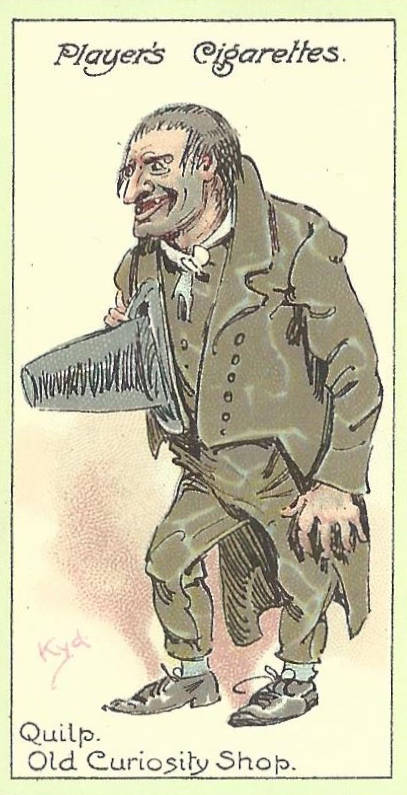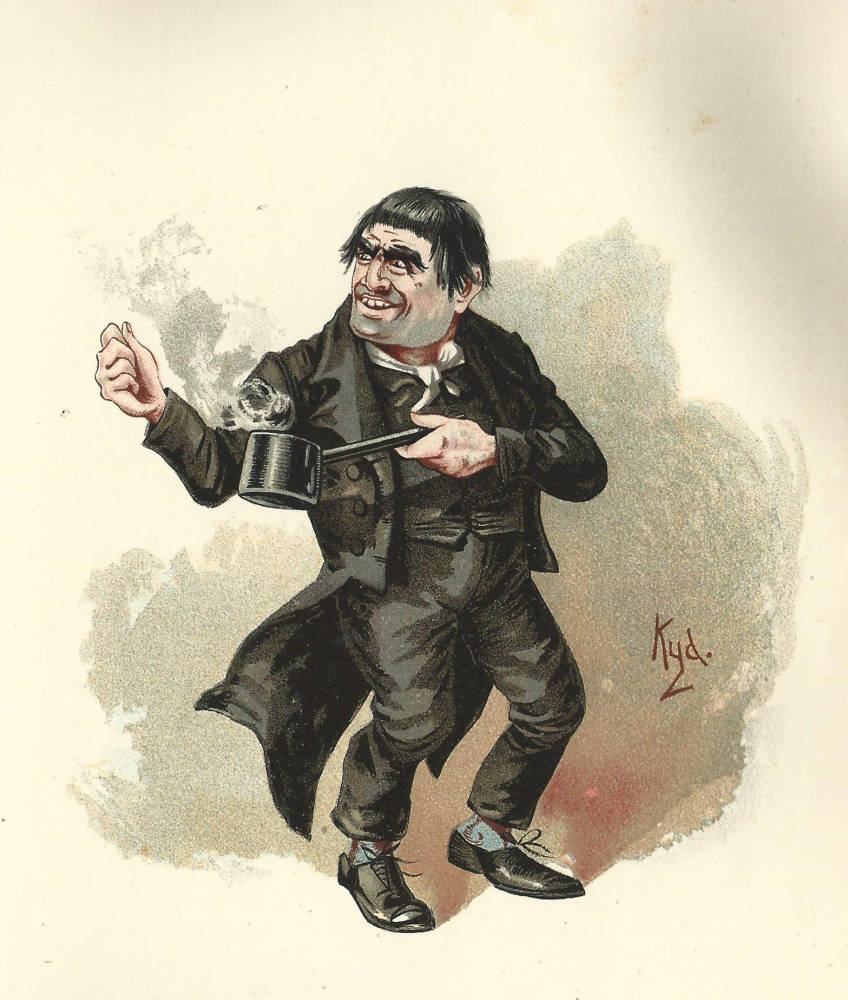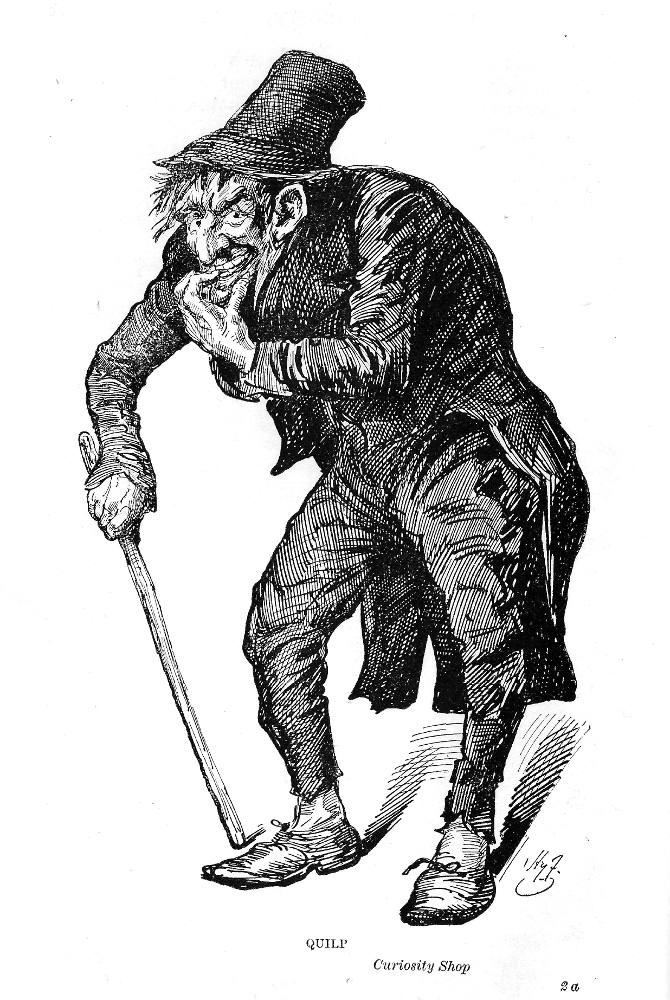 Left and centre: Clayton J. Clarke's amusing caricatures of the demonic villain in the Player's Cigarette card series, Quilp (Card No. 27, 1910) and Quilp in his series of Dickens characters, dating from 1888. Right: Harry Furniss's character study of the novel's self-satisfied, diminutive villain: Quilp (1910).
Relevant Illustrations from various editions
Scanned image and text by Philip V. Allingham. [You may use this image without prior permission for any scholarly or educational purpose as long as you (1) credit the person who scanned the image and (2) link your document to this URL in a web document or cite the Victorian Web in a print one.]
Bibliography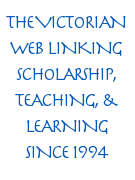 Davis, Paul. Charles Dickens A to Z: The Essential Reference to His Life and Work. New York: Facts On File, 1998.
Dickens, Charles. The Old Curiosity Shop in Master Humphrey's Clock. Illustrated by Phiz, George Cattermole, Samuel Williams, and Daniel Maclise. 3 vols. London: Chapman and Hall, 1841; rpt., Bradbury and Evans, 1849.
_____. The Old Curiosity Shop. Frontispieces by Felix Octavius Carr Darley and Sir John Gilbert. The Household Edition. 55 vols. New York: Sheldon & Co., 1863. 4 vols.
_____. The Old Curiosity Shop. Illustrated by Sol Eytinge, Jr. The Diamond Edition. 14 vols. Boston: Ticknor & Fields, 1867. XII.
_____. The Old Curiosity Shop. Illustrated by Thomas Worth. The Household Edition. New York: Harper & Bros., 1872. I.
_____. The Old Curiosity Shop. Illustrated by Charles Green. The Household Edition. London: Chapman and Hall, 1876.
_____. The Old Curiosity Shop. Illustrated by William H. C. Groome. The Collins' Clear-Type Edition. Glasgow & London: Collins, 1900.
_____. The Old Curiosity Shop. Illustrated by Harry Furniss. The Charles Dickens Library Edition. London: Educational Book, 1910. V.
Hammerton, J. A. The Dickens Picture-Book. The Charles Dickens Library Edition. 18 vols. London: Educational Book, 1910. XVII.
Kitton, Frederic George. "Phiz" (Hablot Knight Browne), a Memoir, Including a Selection From His Correspondence and Notes on His Principal Works. London, George Redway, 1882.
Lester, Valerie Browne. Phiz: The Man Who Drew Dickens. London: Chatto and Windus, 2004.
Matz, B. W., and Kate Perugini. Character Sketches from Dickens. Illustrated by Harold Copping. London: Raphael Tuck, 1924.
Steig, Michael. Dickens and Phiz. Bloomington & London: Indiana U. P., 1978.
---
Last modified 29 August 2020