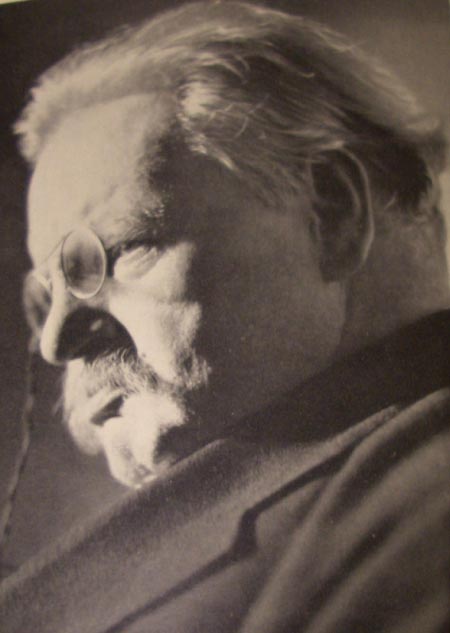 G. K. Chesterton in later life.
[Click on thumbnail for larger image.]
An ebullient, larger-than-life character, the writer G. K. Chesterton was a Londoner through and through. He was born in Kensington and educated at St Paul's School, London. Then, with the idea of becoming a book illustrator, he enrolled at the Slade School of Art at
University College
in 1892. He was less than happy there, and talked in his autobiography of "attending, or not attending, to the art instructions of the Slade School" (99). But the episode was productive. When he joined a friend, the future publisher Ernest Hodder Williams, at the English lectures, he was impressed, especially by a literary scholar whose name would be known to many future generations of students because of his prolific and inspiring writings. Chesterton wrote,
I am able to boast myself among the many pupils who are grateful to the extraordinarily lively and stimulating learning of Professor W.P. Ker.... And I once had the honour of constituting the whole of Professor Ker's audience. But he gave as thorough and thoughtful a lecture as I have ever heard given, in a slightly more colloquial style; asked me some questions about my reading; and, on my mentioning something from the poetry of Pope, said with great satisfaction: 'Ah, I see you have been well brought up.'" [99-100]
Ker, at that time the Quain Professor at University College, would go on to become the Professor of Poetry at Oxford in 1920.
In this way, the friendship with Hodder Williams was instrumental in turning Chesterton towards literary topics, and, of course, writing — "the easiest of all professions," he claimed (100). He must have found enough at University College to stimulate his mind, for he did stay the course until 1895, studying French and Latin as well as art and English, even though he left without taking a degree.
Of course, Chesterton's achievements lie outside the Victorian period. After leaving the college, he turned out to be a highly prolific author himself, as a novelist, short story writer, journalist and poet, and also a lively, opinionated and readable critic of other people's writing. Amongst those who read and discussed his column in the Daily News was a young miner's son from Nottingham, who in 1908 dared to send some of his work to him for an "opinion as to its merit" (qtd. in Lawrence, 43n). Unfortunately, the actual letter and any subsequent correspondence have been lost, but this shows Chesterton standing on the threshold of a whole new literary era. Nevertheless, it is worth noting how he influenced our assessment of the great era just past. The first book of literary criticism which he was actually commissioned to write (by Macmillan's), was on one of his predecessors at University College, Browning, and it immediately established Chesterton in the genre. He is most famous for having revived the reputation of Dickens. "[T]here is no better critic of Dickens living," wrote T. S. Eliot in his essay on Wilkie Collins and Dickens in 1927 (461).
Sources
Bergonzi, Bernard. "Chesterton, Gilbert Keith (1874-1936)." Oxford Dictionary of National Biography. Online ed. Viewed 30 Jan. 2007.
Chesterton, G(ilbert) K(eith). Autobiography. London: Hutchinson, 1936.
Eliot, T. S. Selected Essays. 3rd enlarged ed. London: Faber, 1951.
Lawrence, D. H. The Letters of D. H. Lawrence, Vol. I, 1901-13. Ed. James T. Boulton. Cambridge: Cambridge Univ. Press, 1979.
---
Last modified 31 December 2010