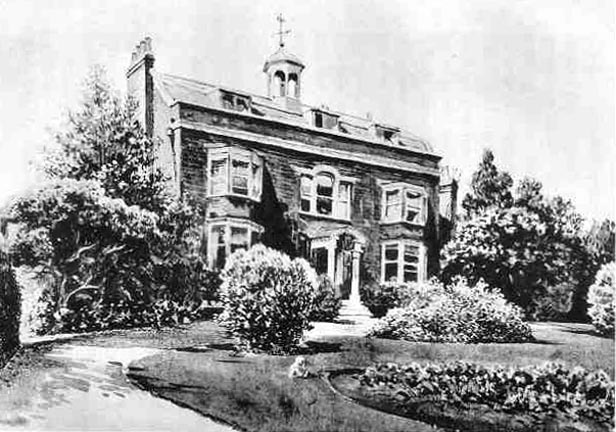 Gad's Hill from a water-colour drawing by O'Connor. Source: Memories of my Father, facing p. 14.
Scanned image and text by
Philip V. Allingham
. [This image may be used without prior permission for any scholarly or educational purpose.]
Other views of Gadshill
— Dedicated to Daphne Nisbett. —
[Philip V. Allingham explains how he acquired the volume from which he scanned this image: "Sir Henry F. Dickens's Memories of My Father . . . [was] given to me by my cousin, Daphne Nisbett of 1 Rock Road, Borough Green, Kent, prior to her death in 1998. She acquired both while she was working in London at the BBC (she retired from the music criticism department in 1949!). Her father, who built Brough Green House at the turn of the century, had in his youth been a copy-boy in a London publishing house, and in that capacity had to clean out the wastebaskets (which explains how an envelope addressed by Dickens came into his possession)." GPL]
References
Forster, John. The Life of Charles Dickens The "Charles Dickens Edition." 2 vols. London: Chapman and Hall, [n. d.]
Dickens, Sir Henry F. Memories of my Father. London: Victor Gollancz, 1928.
---
Last modified 19 July 2007