[Added by Marjie Bloy, Ph.D., Senior Research Fellow, National University of Singapore, from Timothy Gowing, Voice from the Ranks: a personal narrative of the Crimean Campaign (Nottingham: 1895).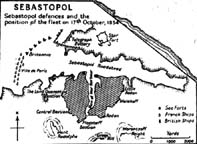 This map is taken from Christopher Hibbert's The Destruction of Lord Raglan, (Longmans, 1961), p. 94, with the author's kind permission. Copyright, of course, remains with Dr Hibbert.
Click on the image for a larger view
The enemy suffered a terrible loss during that long siege, particularly in the last three months that the town held out. One of their principal papers published their loss; but I have every reason to believe that it was far below the truth. During the fifth bombardment (which was in August, 1855) they acknowledged a daily loss of 1,500 men, exclusive of officers; whole brigades disappeared, and the interior of the town was nothing but a slaughter-house, or a hell upon earth. Then they lost 1,000 men daily until the last, or final, bombardment.
It is bad enough to be on the conqueror's side, but what must it be to be on the side of the vanquished? The conquerors have something to keep up their spirits, but the defeated lack every source of consolation.
We knew well that a grateful and kind-hearted people in Old England were watching every move we made. Mr. Bull does not mind how deeply he dives into his pocket, so long as he can sit with his pipe and glass over a good fire and shout, 'We have beaten them again, my boys!' — and we had given Mr. Bull something to talk about, now that Sevastopol had been taken; the bells of Old England, we knew, would clash for joy, in peal after peal, at the news of the fall of this town!
But there is another side to the picture. Many a good, kind, fond mother lost her son, perhaps her only son; thousands were left fatherless; hundreds were left to mourn absent husbands; and many a heart-rending scene in many a formerly happy home was brought about by this terrible war.
The remainder of September and October passed off pretty quietly. After the dead had been buried and the wounded removed to camp, our commanders were at liberty to turn their thoughts towards the enemy still on the north side of the harbour — the south side was well guarded by British troops, and those of our allies.
There were, as yet, no signs of peace; we were still frowning at each other across the water. The enemy's fleets had all been sent to the bottom, but the booming of their heavy guns told us that, although defeated, the Muscovites were not yet subdued, and that if we wanted the north side we should have to fight for it.
Our people were now making preparations for destroying the huge forts, barracks, and docks, of Sevastopol. This had sometimes to be carried on under a heavy fire from the north side, but still the work did not cease. Not a day passed without our losing a number of men and some good officers.
By the end of October many of our wounded began to recover and to return to their duties. Some, discharged from hospital convalescent, might be seen walking about the camps with their arms in splints, or with their heads bandaged, others limping about with the assistance of a stick or crutch — but all appeared in high spirits. That indomitable British pluck had been in no wise quenched, in spite of the wounds that had been received. Our men were burning to have another shy at the enemy on a grand scale in order to wipe out the stain of the repulse at the Redan, although that was not all their fault.
The first anniversary of the Alma was kept in camp in grand style (as far as our means would allow), and wine was sent to all the wounded Alma men then in hospital. When we looked back, what an eventful twelve months it had been! Victory after victory had been added to our already long and glorious roll; but, alas! where were the noble sons of Britain who had gained them?
Had all fallen? Had all been food for powder, or succumbed to the deadly thrust of the bayonet? No! Hundreds — yea, thousands! — had been sacrificed by cruel hardships: little or no food, hardly sufficient clothing to cover their nakedness, in the trenches for twelve hours at a stretch up to their ankles (or sometimes knees) in mud — half drowned, frozen to death, their limbs dropping off through frost-bite! There is hardly one of those men now living who does not feel the effects of that terrible winter of 1854. Thousands have since perished through diseases contracted during that awful time; but the excitement, supported by an invincible spirit, kept them up then, and for some time after.
The first anniversary of Balaclava found me still in hospital, slowly recovering — able to walk about, but very shaky. Inkerman was another anniversary duly observed by the whole army. We had by this time got into capital huts and had plenty of good clothing (in fact, more than we could stand under!), and we had as much food as we required; thousands of tons of potted beef, mutton, and all kinds of vegetables, having been sent out by the kind-hearted people at home. Indeed it looked very much as though we were being fattened before being let loose at the enemy again!
Although the second winter was far colder than the first, we had the means to resist the cold; we could now almost bid defiance to a Russian winter. Each man's wardrobe consisted of a tunic, well lined with flannel; a shell-jacket, well lined; a fur coat, a rough sandbag coat, a summer coat made of tweed; an overcoat, a waterproof coat that came below the knees; a forage cap and a fur cap; two pairs of cloth trousers, one sandbag ditto, one pair of waterproof leggings, two pairs of ankle boots, one pair of long ditto to go outside the trousers and come nearly up to the fork; three woollen jerseys, three linen shirts, two pairs of good flannel drawers, three ditto worsted stockings, and two cholera belts made of flannel. It would have been rather a difficult matter to find out what regiment a man belonged to. The greater portion of these things had been sent us by our sympathising fellow countrymen and countrywomen, and we who received them were deeply grateful for the kindness shown; we were now very comfortable.
Sir W. Codrington, the former commander of the First Brigade of the Light Division, was appointed our Commander-in-Chief in the beginning of November. Sir William had no sooner assumed the command than a terrible catastrophe occurred, that for a time threatened to destroy the whole of the old Light Division.
About 3.30 p.m. on the 14th November our camp was startled by a terrible explosion close to the Fusiliers' Hospital. We could not conceive what was up, but all at once shot, shell, grape, canister, &c., were sent flying in all directions. One of the principal magazines in the French artillery park, just in rear of us, had exploded!
Some hundreds of guns that had been captured from the enemy — some loaded with shot, some with shell, some with grape, and pointed in all directions — had been fired by the heat or the concussion, sending death and destruction all around for upwards of a mile. Wounded men were killed as they lay, and others wounded again. Some 500 shell were up in the air at one time, and about 60,000 ball cartridges were flying about the camp like hail. Huts were smashed to pieces and tents blown into the air. A number of poor fellows were so shattered that we could not tell who they were, or what regiment they belonged to.
Our allies suffered heavily. Their loss was 19 officers and nearly 400 non-commissioned officers and men killed and wounded. Our loss, in a few seconds, was 5 officers and 16 non-commissioned officers and men. It was truly a horrible scene — men going about with baskets or skeps picking up the remains of their comrades who had been blown to atoms.
But, even in the midst of all this, men could be found ready to face almost certain death. A large windmill close by had been converted into a powder magazine by our people. Close upon 200 tons of powder and other explosives were lodged in it; the roof, doors, and windows, were blown in and the contents thus exposed, with tons of powder going off and hundreds of rockets flying in all directions. The peril was imminent. Had one spark dropped into the mill, or had one of the fiery rockets fallen or burnt into it, another explosion would have ensued, and all within a radius of at least a half-mile must have been destroyed. In the midst of the excitement, General Straubenzee exclaimed:
'If the mill goes up, all is lost!'
Then he called in a voice of thunder for volunteers from the 7th Royal Fusiliers for an enterprise more hazardous than a forlorn hope — to climb the walls of the powder mill and to cover it up with tarpaulins and wet blankets: 'It must be done, or all is lost!'
Lieutenant Hope and 25 men of the Fusiliers immediately stepped to the front, and the gallant lieutenant led his Fusiliers up to the top of the mill and covered it, while another party, consisting of men of the 34th Regiment, and 2nd Battalion Rifle Brigade, and artillerymen, courageously volunteered to block up the doors and windows with sandbags.
Lieutenant Hope was presented with the Victoria Cross for his conduct — and he deserved it. But surely every man of that noble band ought to have had something, if not the Cross!
Had the mill gone up, our hospital, huts, and marquees would have been destroyed, with every wounded and unwounded man in or near them, as we were only about 300 yards from the scene. As it was, we lost several men in killed and wounded, and would probably have lost many more but for the fact that the greater portion were out on fatigue, some three miles away. One man who has made himself famous was dangerously wounded that day: Lieutenant F. C. Roberts, now Lieutenant-General Sir F. C. Roberts, V.C.
Thank God I escaped once more, although it seemed as if all would have been destroyed. Our camping ground was covered with fragments of shell, and musket balls lay about in thousands. The hut that I should most likely have been in, had I not been in hospital, was blown to pieces with shell, the only man in it being dangerously wounded.
Once more I wrote home:
Camp before the Ruins of Sevastopol, 26th December, 1855
My Dear Parents,
Just a few lines from this cold, bleak corner once more. I am happy to inform you that (thanks to the good people at home) we had a good day yesterday; Christmas was kept up in camp in grand style, with plenty of good beef and pudding, and a good fire or two in our huts. The day passed off very comfortably, the only drawback being that both the geese intended for my sub-division of the company were walked off with by some hungry Frenchman — the Zouaves got the credit of it. I for one hope they did them good, as we had plenty to eat without them.
It's bitterly cold, but we have all got plenty of warm clothing and waterproofs, and can almost bid defiance even to a Crimean winter. If last year we had only had half what we now have, many an aching heart at home would be rejoicing, for men whose bones are now rotting in the Valley of Death would most likely have been with us.
Our men look well and cheerful. We have got all sorts of things out of the town and are making ourselves quite at home. The enemy treat us now and again to a long-ranger, just to let us know, I suppose, that we did not kill them all on the 8th September.
I have done no duty yet, am still convalescent. My arm is in a sling and so is my head, but I am happy to inform you that I am getting on capitally. I must not walk about much, as it's so slippery. There is any amount of life in the camp, and plenty of books to read. A great number of the men who have been wounded keep returning to their duty, and I do believe in the spring we shall match to the north side the Russians to bleed — that is if they do not get out of the way.
Our men are kept well in exercise, marching out two or three times a week, from ten to fifteen miles at a time; it would amuse you, or anyone else, to see our men returning to camp with icicles — some of them six or seven inches long — hanging to their beards and moustaches; but yet we have capital health.
I have had two or three attempts at this letter. I hope you will be able to make out this scrawl. My hand, I am sorry to inform you, is very painful just now; the wounds in my head are rapidly healing. I hope you will not forget me at the Throne of Grace. I must now conclude.
Believe me ever, dear Parents,
Your affectionate son,
T. Gowing, Sergeant, Royal Fusiliers
The true Briton generally comes out in his proper colours when under difficulty. During the Crimean campaign a man joined us who had some little experience in the prize ring. There was nothing particular to note about him further than that he was a fine specimen of humanity, about five feet eleven inches and forty-six inches round the chest; he was as strong as Hercules, and knew it. But he was as meek as a lamb unless well roused, and it took not a little to accomplish that. 'Yorkshire Bite' we had nicknamed him, as he hailed from Leeds. Only once during the trying campaign was he ever known to stand upon his dignity, and that was with a big bully whom he settled in less than five minutes.
Whilst the fighting lasted our gallant allies the French got on well with us. It was nothing strange to hear them applauding us with 'Bon Anglais, bon Anglais!' They were loud in their expressions of admiration at our conduct at Balaclava, and after Inkerman their exultation was beyond all bounds. They looked at our men in wonderment. They knew well we were but a handful against a host and with thrilling shouts of 'Vive l'Empereur' and 'Bon Anglais' they threw their arms round many a grim face covered with powder, blood and mud, and impressed kiss after kiss in token of admiration. But what a lot of faces some people carry under one hat, and we proved before we parted with our excitable little neighbours that we could not stake horses well together.
After the fall of that far-famed town Sevastopol we had but little to do but drink each other's health, which often ended in a row; and it was nothing strange to see one of our men defending himself against half a dozen half-drunken Frenchmen, and proving the victor. If they started to kick some of our Lancashire lads would give them a lesson in 'pausing' and 'purring'; foreigners have no more idea than a child how to use their hands — they will scratch and kick, but if you give them a good go-along they will not face up again. So things went on week after week.
Some six months after the fall of Sevastopol, when peace negotiations were being carried on, some four or five non-commissioned officers (I being one of them) had been out for a walk on a Sunday afternoon. Returning home to camp up one of the ravines that had been the scene of the desperate strife at Inkerman, we met a party of some fifteen half drunken Frenchmen coming down the hill. It was an awkward place for a row. The road was narrow; on one side was a solid rock and on the other a nasty slope of some thirty or forty feet, like an ugly railway embankment.
As soon as the French caught sight of us they commenced to shout, 'Anglais non bon; non bon Anglais!' (English, you are no good; you are no good!). One of our party was the gallant bruiser to whom I have before alluded. He immediately took command of us, directing us to sit down under the rocks.
'Now, lads, set thee doon,' said he. 'If these fellows interfere with us, you set still and leave this little lot to me, and if I cannot settle them my name is not Jacky Frith.'
They were rapidly approaching us, still shouting like madmen, 'Anglais non bon — non bon!' and cursing us with all the most filthy oaths they could muster — which we all understood, having been mixed up with them for two years. Well, we all sat still under the embankment, with the exception of our Yorkshire sprig.
A monster of a French artilleryman was the first to come up — and the first to go down. He deliberately spat in our hero's face, shouting disdainfully, 'Anglais non bon'. The Yorkshireman's arm at once came into play with a blow that lifted him clean off his feet and sent him rolling from top to the bottom of the cudd [field]. Another, or two, went at him and he sent them to look after their comrade. Others rushed at him, but he proved himself more than match for the lot. As far as we could see, one blow was quite enough.
We all sat looking at the fun, almost bursting our sides with laughter, until the last had disappeared down the cudd. Our hero then put his hands into his pockets and, looking over the cudd, shouted out that the English were bon enough for them on the field of Waterloo and were so now, and turning round to us with, 'Come on, boys, let's go home', left the French to get out the best way they could.
Next day there was a parade for all hands in order to pick out the men who had so disgraced themselves and the regiment, as our friends had stated that they had been overpowered by numbers, and that those who had attacked them belonged to the Fusiliers. I must say they all looked in a most pitiable plight — some with their heads bandaged, some with black eyes, others with their arms in slings, and some limping with the assistance of a stick. They were accompanied by a French general officer (I think MacMahon).
After a minute inspection up and down the ranks not a man could be picked out, but they still persisted that the party that had given them such an unmerciful beating belonged to us. The Colonel then formed square, with this nice little party in the centre. He then addressed us, expressing a hope that those who had disgraced themselves would step to the front.
Four out of the five who had constituted our party at once complied. We were made prisoners, and the Colonel proceeded to question us; but when it was made known to him that we had been attacked and grossly insulted, and that one man (who was not then on parade) had settled the whole without any assistance from us, the regiment was at once dismissed and our gallant pioneer corporal sent for.
As soon as our friends caught sight of him there was no need to ask if they recognized him, for they at once commenced to jabber like a lot of magpies. When General MacMahon had satisfied himself that we had been the injured party, and that this solitary man had settled the lot (and further stated that he was ready for as many more, provided they came singly), the General laughed heartily and applauded the man's conduct, requesting the Colonel not to punish any of us. We were at once released and the case dismissed.
After peace negotiations had been settled, the Russians — late enemies — came into our camp and we entertained them as friends, regaling them with the best that our stores could produce. The exchange of prisoners had taken place, and some of our men who had been in Russian hands for upwards of twelve months proved themselves very useful as interpreters.
Our old enemies made themselves quite at home, walking about arm-in-arm with the very men they had so often confronted in deadly combat. The French and Russians, however, did not get on well together, and whenever they were under the influence of drink this was manifest, for they often exchanged blows, and our people had to rush in and separate them.
On two or three occasions a party of Russian sergeants, numbering from twelve to twenty, dined with us, and seemed delighted to think we were once more friends. We were repeatedly invited over to their camp to spend a day with them, and our non-commissioned officers and men went in numbers, and were hospitably entertained.
On one occasion a wag of a sergeant of ours got up a party of some twenty-five non-commissioned officers (all picked men) from various regiments of the Light Division — not a man under six feet. We obtained permission from our respective commanding officers, met at the place of rendezvous, and away we started.
We quietly walked into Sevastopol, crossed the harbour, and were welcomed by a party who had on more than one occasion dined in our mess. We were taken first to Fort Constantine and shown all over that noble structure, and from thence to other fortifications. All ranks seemed to vie with each other in showing us attention. The whole of our party had on their breasts the Crimean Medal with three clasps, viz., Alma, Inkerman, and Sevastopol, which seemed to afford much attraction to all ranks, and — as far as we could see — the higher in rank, the more courteous they were towards us. We dined together on the best the camp could afford, The greatest drawback was that we had not a sufficient number of interpreters.
After we had dined there was a little speech-making and many kind things were said, one half of which we did not understand. Our leader proposed the health of their Emperor, which was received with applause and drunk with three times three, all standing uncovered. After a short time the chief of our hosts proposed the health of Her Most Gracious Majesty, which was drunk with tremendous applause. As we were about to resume our seats, some four or five French sergeants walked in, which seemed to have a very happy effect. After any amount of embracing and kissing, they were requested to take their seats and make themselves at home. The health of the Emperor Napoleon was now proposed and responded to in flowing glasses, with cheers that could be heard for a mile.
Some two or three Russian officers entered, one of them a very venerable-looking gentleman. He shook hands all round and embraced one of our party, expressing a hope that we should never again meet as foes, and that those who made the quarrels might do the fighting. A number of our party at once surrounded the old gentleman. He eyed us from head to foot and enquired what division we belonged to; and when it was explained to him that we all belonged to the Light Division, it seemed to tickle him, for he wanted to know: if we were specimens of the Light, what the Heavies were like! — several of our party being considerably over six feet, and stout in proportion.
The old gentleman then proposed the health of the Light Division, which was responded to, and drunk, with tremendous cheering. After a time he enquired about the regiment that rode grey horses (the Scots Greys), and what they were. 'For,' said he, with his eyes flashing, 'they are noble fellows, and I should like to embrace one of them.' He took but little notice of the French. After embracing some eight or ten of our party (the writer being one of them) he took his leave.
He had not been gone more than half an hour when two men brought up a case of brandy from the old general (for that was his rank) with a note requesting that we would drink the Emperor's health, and his also, if we thought him worthy — a request that was, I need not say, at once complied with.
Before we parted we found it required no small amount of generalship to keep ourselves sober; for had we drunk one quarter of what they wanted us to do, we should not have slept with the Light Division that night. As it was, however, we parted with our friends on the best of terms, perfectly sober, they coming down to the water's edge with us. After much embracing, we jumped into our boats, bidding them farewell and asking them to come and see us whenever they pleased.
Shortly after this we had a review in our camp on a grand scale before Prince Gortchakoff. With French, English, Sardinians, and Turks, we mustered nearly 500,000 men. It took us from morning until late at night to march past. It was a grand sight.
As far as the Light Division was concerned, we were nearly up to our full strength — not made up with boys, but with men who had been frequently wounded but had recovered and returned to their duty — and went by the Prince with trailed arms, at a swinging pace, to the tune of 'Ninety-five — I'm Ninety-five'. This was one of the greatest military sights that has been beheld during the present century.
Well, we at last broke up camp and embarked for dear old England, leaving those cold, bleak, inhospitable regions behind. The first night on board ship, homeward bound — what a night for reflection!
A flood of thoughts came across my mind regarding the different fields I had fought on, and the many hair-breadth escapes I had had. I thought of the Alma and my Christian comrade who lay buried beside the river. I thought of the wild charge of our handful of cavalry at Balaclava, of our desperate fight at Inkerman, of our terrible work in the trenches. And after all I had gone through — death staring me in the face in a thousand shapes, both in the field and camp, for upwards of twelve long months — truly I had much for meditation; verily I had much to be thankful for. Thousands had fallen all around me — heap upon heap, and pile upon pile — and yet I had been spared. I thought of poor Captain Vicars, and what a noble fellow he was; he fell in almost his first fight, and yet a merciful God had thought fit to throw His protecting arm of love around me.
What a night of reflection! I found myself on board a noble ship — homeward bound! I knew well that a grateful country was waiting to receive us and that we should most likely have a warm reception, to say nothing of the affectionate greetings from those who were near and dear to us by ties of nature. I will pass over the voyage home as quickly as possible, for it was a very pleasant one; every morning brought us nearer to that dear old Isle that many of us had shed our blood for. At last we arrived in Portsmouth Harbour, on the 26th July, 1856.
We at once landed and marched to the railway station. Or, rather, we eventually found ourselves there safe, for how we got there it would be difficult to say — one would have thought that the good people had gone mad! They had witnessed hundreds come home from the seat of war maimed in a most frightful manner, mere wrecks of humanity. They had now got hold of the men that they had read so much of. In their excitement they lifted us right out of the ranks and carried us on their shoulders through the streets, which were packed by thousands of people who were determined to give us a cordial welcome. They wanted to kill us with kindness, for, as soon as they got hold of us, it was brandy in front of us, rum to the right of us, whisky to the left of us, gin in rear of us, and a cross-fire of all kinds of ales and lemonades — to say nothing of the pretty girls, and we got many a broadside from them!
It did not matter much which way one went, all appeared determined to give the men who had stormed the Heights of Alma, defended against such odds the Heights of Inkerman, routed the hordes of Muscovites from the plains of Balaclava, and twice stormed the bloody parapets of the Redan, a hearty reception — and right well they did it! We did not want to tell them what hardships we had to endure in the trenches; we did not want to tell them how often we had faced the foe — they knew it all.
Many a loving wife embraced her fond, but rough-looking, husband. The children did not, in many cases, know their long-bearded fathers. Mothers that had come for miles fell fainting into the arms of their soldierly, but affectionate, sons. Many brothers and sisters, too, had come great distances to meet and welcome long absent brethren. All helped to swell that mighty throng that were only too happy to welcome home the conquering sons of Albion.
The whole nation appeared to have made up its mind to do honour to the Crimean Army. Hundreds — yea thousands — had previously come home maimed, and many had since found rest in the quiet grave, but all were looked after by the nation at large. Her Most Gracious Majesty showed a kind motherly feeling, shedding many a tear as she looked at her maimed soldiers. This evidence of Her Majesty's sympathy was most touching, and, as a rough, loyal old soldier from the Emerald Isle called out at Aldershot after the Queen had said a few kind words to the troops, and thanked us for doing our duty, 'Where is the man who would not fight for such a Queen?'
I would re-echo that cry and add, 'Where is the Briton who would not do or die to uphold our glorious old flag?'
---
Last modified 21 May 2002