Want to know how navigate the Victorian Web? Click here.
General
Dramatic adaptations of works by Dickens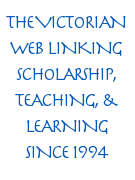 Dramatic adaptations of works by other authors
Cinema
Television
Recent publications of interest
Murray, Simone.

The Adaptation Industry: The Cultural Economy of Contemporary Literary Adaptation

. London: Routledge, 2011.

According to David Finkelstein, who reviewed Murray's book in the January 2012 Times Literary Supplement, "This timely work details how books and fiction writing are enmeshed within a complex business network that links texts to other media sources. Literary fiction in particular is a fruitful hunting ground for film and screen adaptation" (27). The more things change, the more they remain the same.
Related material
---
Last modified 17 June 2019