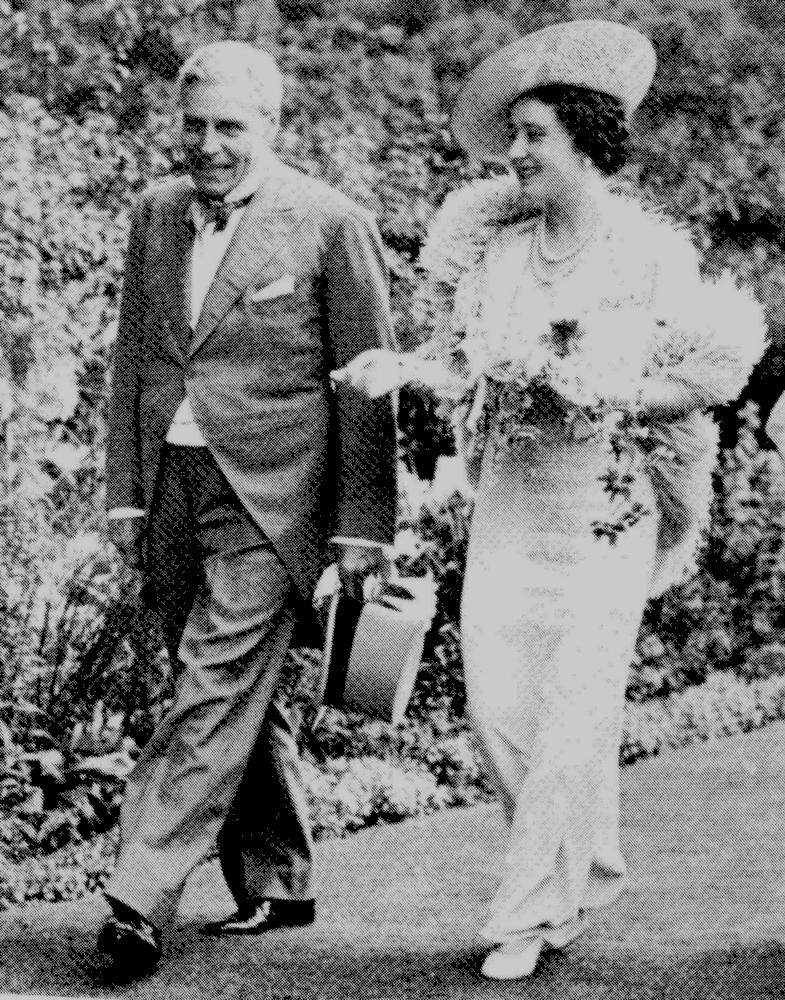 Sigismund Goetze accompanying the Queen Mother at a garden party in Grove House. Credit: Octavia Housing, with many thanks.
Sigismund Christian Hubert Goetze was born on 24 October 1866, the youngest son of James Goetze, described by Hector Bolitho as "a coffee merchant in Mincing Lane" (88) whose wife Rosina (née Bentley) was a talented musician. He was christened on 19 February 1868 at St Mark's Church, Hamilton Terrace, where his family worshipped, and where there is a memorial window to him. He attended University College School, from which he won a scholarship to the Slade, and then in 1855 he entered the Royal Academy Schools. He exhibited at his work at the Royal Academy and the Paris Salon from 1888, winning a gold medal at the latter.
Goetze first established himself as a portrait painter, for which he had a flourishing practice. His figure painting was widely recognised: in 1898 he painted a mural for the Royal Exchange (The Crown offered to Richard III at Baynard's Castle), and from 1912-21 he produced a whole large-scale cycle of paintings which he donated to the Foreign Office, in response to a speech by the then Archbishop of Canterbury about the drabness of officials' surroundings. They were first executed on canvas, and then attached to the walls. These grand historical and emblematic works were influenced both by his early training under Lord Leighton and Lawrence Alma-Tadema, his time in France, and a preparatory tour of Europe.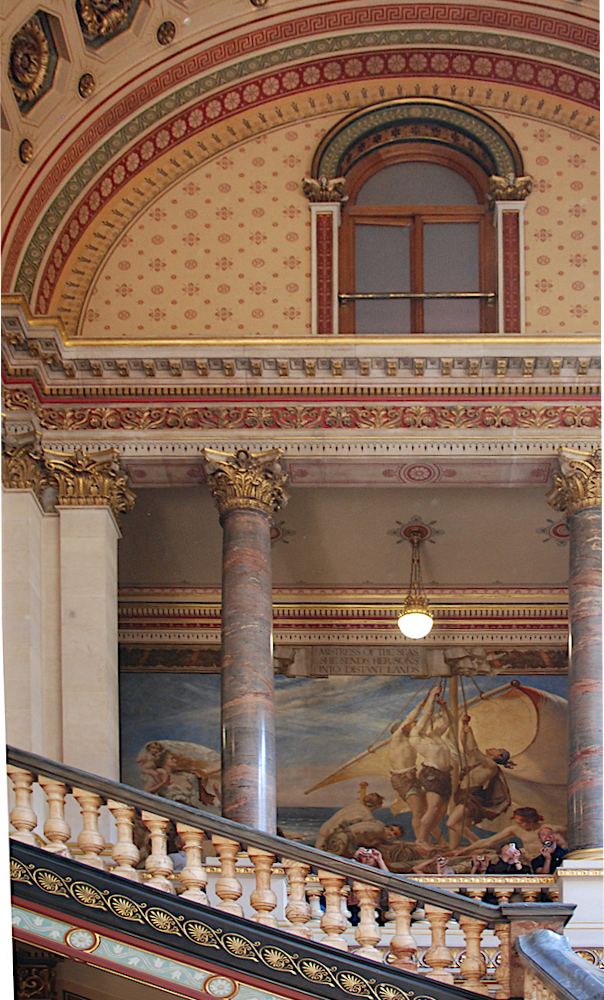 A Glimpse of Goetze's Britannia Colonorum Mater on the Ambassador's Staircase at the Foreign Office. Credit: Wikipedia, cropped, and corrected for perspective.
The one glimpsed on the staircase on the left here is Britannia Colonorum Mater, and the text at the top reads, "MISTRESS OF THE SEAS SHE SENDS HER SONS INTO DISTANT LANDS." According to Clare Willsdon, it shows "the youth of Britain hoisting sail and launching a primitive boat from the shore in Britannia," and "offered a tangible celebration of ... naval supremacy" (111). In general, his Times obituary says, "[t]he frescoes depict the origin, education, development, expansion, and triumph of the British Empire." Goetze had intended the works to remain anonymous, but he became known as the artist. When the paintings proved controversial, they brought down some anti-Semitic criticism on him, which he successfully countered in a libel case. For his services to architecture, he was later made an honorary associate of the Royal Institute of British Architects(ARIBA).
Two of his best-known individual paintings are on biblical themes, He was despised and rejected of men (1904) and The Ever Open Door (1906). Goetze was also interested in sculpture. It was he who presented C. L. Hartwell's statue of St George to St John's Wood (as well as new Silver Jubilee gates to Regent's Park and other such benefactions). Another particularly noteworthy service he performed was to take care of and distribute his friend Alfred Gilbert's sculpture collection after his death. Only the year before he died, Goetze was awarded a gold medal in recognition of his "Distinguished Service to Sculpture" by the Royal Society of British Sculptors, and in the year of his death he was elected Master of the Glaziers' Company, in which he had also taken a great interest. He was an important benefactor to the Artists' General Benevolent Institution as well.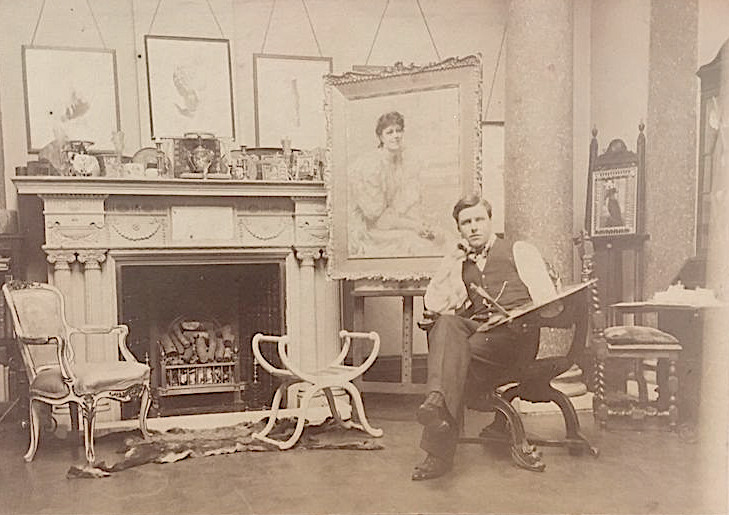 Left: Grove House as it was in the early nineteenth century, before Goetze purchased it in 1907. Source: Shepherd, facing p. 48. Right: Sigismund Getze in his studio at Grove House. Credit: Octavia Housing, with many thanks.
Goetze died at home in Grove House, Regent's Park, on 24 October 1939, his seventy-third birthday. Like his birth, his death was registered in the Marylebone district in London. His Times obituary declared that he would be "remembered for his versatility, his enthusiasm. and his devotion to the interests of artists." He had commissioned several sculptures himself, and under the direction of his wife Constance, whom he had married in 1907, his good works in this line continued: the "Constance Fund" set up in 1944, and administered by the Royal Society of British Sculptors, was used to encourage "...Ideal Sculpture and its setting for Parks and Public Places in conjunction with the settings and surroundings" (Clarke). The couple had not had any children, but Goetze had been very fond of children, often painting them and putting in a good deal of time on behalf of schools, which kept his memory alive in another way. All this was quite remarkable for a man described, in the Times obituary, as "singularly retiring and modest" in disposition.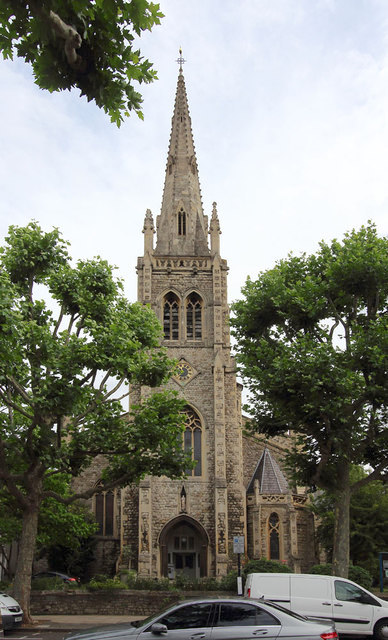 St Mark's Church, Hamilton Terrace, where Goetze was christened and which has a window in memory of him. Photograph by John Salmon.
Related Material
Bibliography
Bolitho, Hector. Alfred Mond, First Lord Melchett. London: Martin Secker, 1933. Internet Archive. Contributed by the Digital Library of India.
Clarke, Bridget. "Sigismund Goetze 1866–1939." St John's Wood Memories. Web. 16 July 2018.
Crowther, Paul. Awakening Beauty: The Crowther-Oblak Collection of Victorian Art. Exhibition catalogue. Ljubljana: National Gallery of Slovenia; Galway: Moore Institute, National University of Ireland, 2014. No. 34.
"Deaths." The Times, 25 October 1939: 1. The Times Digital Archive. Web. 18 July 2018.
[Illustration source] Foreign Office Stairwell. Wikipedia (no photographer's name given). Web. 16 July 2018.
FreeBMD. Web. 16 July 2018.
"Mr. Sigismund Goetze" (Obituary) The Times 25 Oct. 1939: 10. The Times Digital Archive. Web. 18 July 2018.
Shepherd, Thomas H. Metropolitan improvements, or, London in the nineteenth century: being a series of views of the new and most interesting objects in the British metropolis & its vicinity from original drawings..... Illustrations by James Elmes. London: Jones & Co., 1829. Hathi Trust. Contributed by the University of California. Web. 18 July 2018.
"Sigismund Christian Hubert Goetze". Mapping the Practice and Profession of Sculpture in Britain and Ireland 1851–1951 (University of Glasgow History of Art and HATII, 2011). Web. 16 July 2018.
Willsdon, Clare A. P. Mural Painting in Britain 1840-1940: Image and Meaning. Oxford: Oxford University Press, 2000.
---
Last modified 18 July 2018