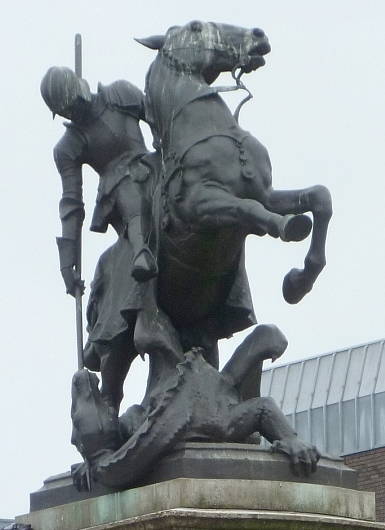 This war memorial, one of the major public commissions of sculptor Charles Leonard Hartwell (1873-1951), was unveiled in 1923 by Earl Haig. The bronze figure of St George, in the act of vanquishing the dragon, surmounts a tall (6-metre high) Portland stone pedestal on a wide stepped base. There is a stone-carving of a lion on the front, and a bronze relief panel on each side; to the rear are the words: "MEMORY / LINGERS HERE," above a bronze wreath. The memorial is sited in Eldon Square, Newcastle upon Tyne, which is the usual focus for Remembrance Day events in the city. Plans to relocate the statue in the 1970s met with such bitter opposition from the Royal British Legion that they had to be shelved. Left: The figure of St George is in lively action, unquestionably "a vigorous equestrian bronze" (Pevsner et al. 483). Right: The idea from the beginning was that this should be a large, powerful-looking memorial commensurate with the momentousness of the sacrifices and events memorialised. [Click on these images for larger pictures.]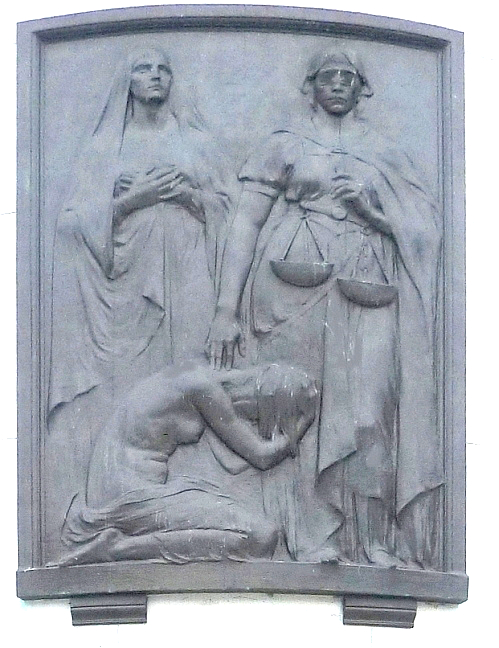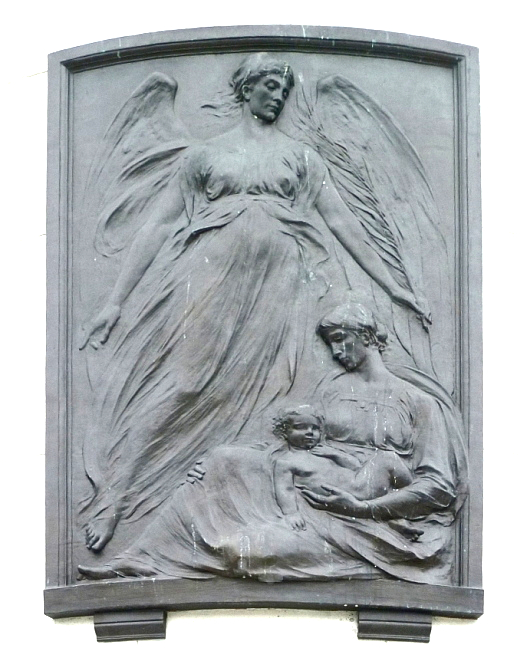 The bronze reliefs on either side of the pedestal are also powerful. Left: Shown here are Justice, with her scales, tempered perhaps" by Mercy, standing above a (hopefully) remorseful wretch who kneels abjectly at their feet. Right: Peace is beautiful in the drifting, nebulous New Sculpure way, with delicately flowing drapery and a certain poignancy. It is interesting to learn that the sculptor originally thought of for this commission was the better known New Sculptor, Alfred Drury (see Usherwood et al. 100).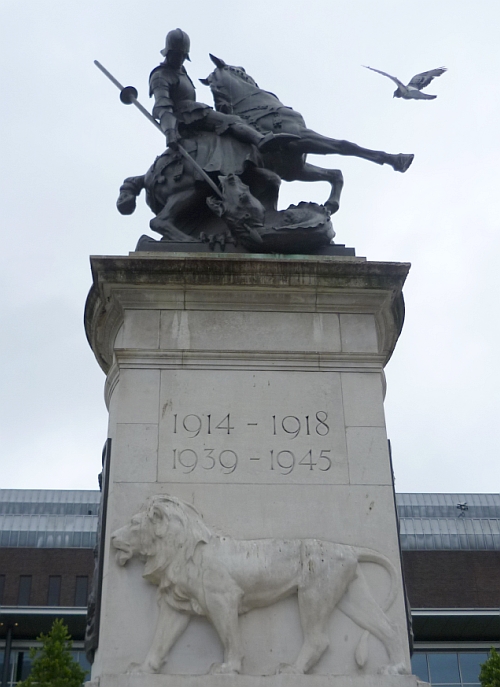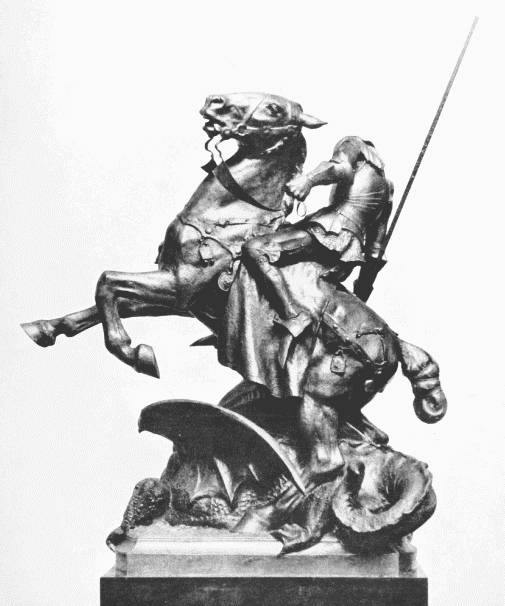 Left: The dates of the Second World War have been added here, and there is a carved lion, perhaps to suggest fortitude (cf. Sir George Frampton's lion on Edith Cavell's monument near Trafalgar Square, which dates from the same period). It is also suitable as a reference to England, though the idea here was not to be in any way forcefully patriotic. Right: A second casting of the equestrian St George stands outside St John's Wood Church, Marylebone, London (source: Modern British Sculpture, p. 44). It was donated in the mid-thirties" by the artist and local benefactor Sigismund Goetze. Compare this work to Adrian Jones's Cavalry Memorial in Hyde Park, also featuring St George and the Dragon. Although the statue has a special relevance in Newcastle, because St George and the Dragon feature on the crest of the Northumberland Fusiliers (see Usherwood et. al. 100), it is an appropriate choice for any English war memorial. See also H. C. Fehr's St George on the war memorial in Leeds.
By this time, the great age of public sculpture had passed, as too had the vogue for presenting heroes and royalty on horseback. War memorials like this gave an almost unique opportunity for sculptors to show their skills in these areas.
Photographs by the author. You may use these images without prior permission for any scholarly or educational purpose as long as you (1) credit the photographer and (2) link your document to this URL in a web document or cite the Victorian Web in a print one.]
Bibliography
Bullus, Claire & Ronald Asprey. The Statues of London. London and New York: Merrell, 2009 (see p. 16).
"Charles Leonard Hartwell." Tate Collections. Web. 12 July 2011.
"Hartwell, Charles Leonard, (1873-1950)." National Archives. Web. 12 July 2011.
Modern British Sculpture (compiled" by the Royal Society of British Sculptors). London: Country Life, nd. Internet Archive. Web. 12 July 2012.
Pevsner, Nikolaus, et. al. The Buildings of England: Northumberland. 2nd (revised) ed. London: Penguin, 1992 (note that here the name on the base has been misread as "Charles Hardman").
Usherwood, Paul, Jeremy Beach and Catherine Morris. Public Sculpture of North-East England. Liverpool: Liverpool University Press, 2000.
---
Last modified 12 July 2011