Biography
Charles Leonard Hartwell was born in Blackheath, Kent (now a part of London) on 1 August 1873. Some sources (such as the Tate) give Blackheath, Surrey, but these are two entirely different places, and since his birth was registered in September 1873 in Greenwich, the former is undoubtedly correct. He first studied sculpture under William Silver Frith at the South London Technical School (earlier known as the Lambeth School of Art, now the City and Guilds School), Kennington, then, from 1896, attended the Royal Academy Schools. He also studied privately under Edward Onslow Ford and William Hamo Thornycroft, and started exhibiting at the Royal Academy from 1900, becoming an associate in 1915 and a full academician in 1924 — presenting his marble head of The Oracle (1922) as his diploma piece. Some years later, in 1929, he was awarded the Silver Medal of the Royal British Society for his lovely Goatherd's Daughter (bronze, now in St John's Lodge Garden, Regent's Park), which depicts a partially draped, nubile young woman holding a kid-goat under one arm, and looking at it tenderly.
Hartwell is perhaps best-known now for his war-related work: he produced pieces called evocatively Blighty (1916), Tommy (1918) and An Ally (1945). Among his war memorials, the most important was the equestrian one of St George and the Dragon in Newcastle, of which a second casting was made for London, where it stands outside St John's Wood Church, Marylebone. Although he had already produced the War Memorial known as "The Bugler" on Kings Road, Brighton (designed in 1904, originally to commemorate those who fell in South Africa), Hartwell was fortunate to get such an important public commission in a large Northern city. The original choice for the project had been the more prominent Alfred Drury, who withdrew from it despite pressure from the Laing Art Gallery in Newcastle.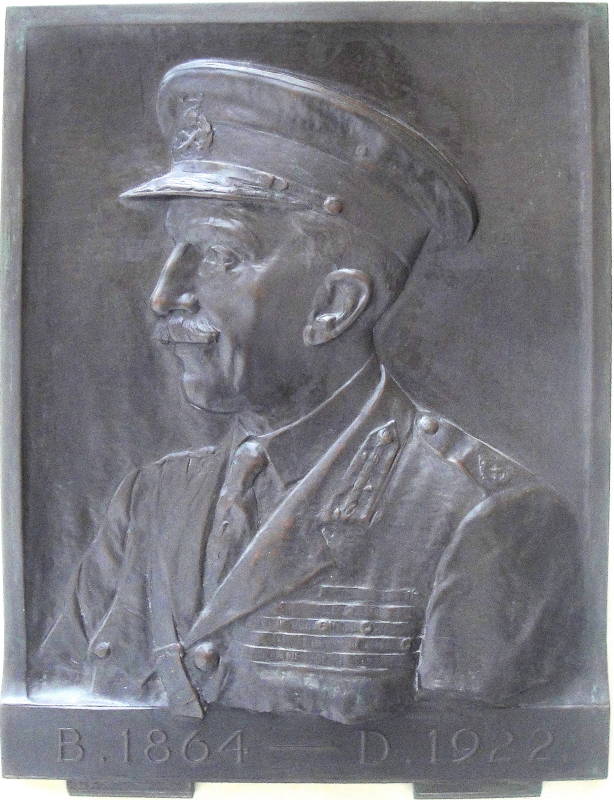 Other important works were his bronze portrait statue of General Sir Alexander Taylor, which was exhibited at the Royal Academy in 1914, and installed outside the Mori Gate in Old Delhi, to commemorate Taylor's part in recapturing the city during the 1857 Mutiny/War of Independence. This was lucky not to meet the fate of other sculptures which became inappropriate reminders of the colonial past: it was shipped back to England in 1956, free of charge," by the P&O Shipping Company, and now stands in the grounds of Brunel University, site of the former Indian Engineering College established" by Sir George Chesney in Egham, Surrey. Hartwell also sculpted the bronze Memorial to Field-Marshal Sir Henry Wilson next to Liverpool Street Station in London. As part of the Chantrey Bequest, Tate Britain now holds his A Foul in the Giants' Race (a group of Indian elephants and their riders, 1908) and Dawn (a rather typically dreamy New Sculpture piece in marble, c.1909-1914). His bronze sculpture of Edward, Prince of Wales, was donated to the National Museum of Wales" by the Board of Trade in 1949. Among many other works are his Hopton wood stone and bronze tablet to William Hamo Thornycroft in the crypt of St Paul's Cathedral, his marble bust of Edward, Prince of Wales in the Mansion House (1921), the recumbent figure of Archbishop William West Jones in St George's Cathedral, Capetown (after 1908) and his bronze bust of Sir Frank Swettenham (a top colonial official important in the making of modern Malaysia) in Kuala Lumpur (1919). Hartwell died at Aldwick, West Sussex on 12 January 1951. — Jacqueline Banerjee, PhD, Associate Editor, the Victorian Web
 Memorials and Portraits
Nudes and Figure Studies
Miscellaneous subjects
Works not illustrated on this site
Untitled [Classical goddess with snake]

Sir Frank Swettenham

Sussex Regional Memorial

William Hamo Thornycroft
Bibliography
Beattie, Susan. The New Sculpture. New Haven: Yale University Press, 1983.
Bullus, Claire & Ronald Asprey. The Statues of London. London and New York: Merrell, 2009 (see p. 16).
"Charles Leonard Hartwell." Tate Collections. Web. 12 July 2011.
Free BMD (Births, Marriages and Deaths records). Web. 12 July 2011.
"Hartwell, Charles Leonard, (1873-1950)." National Archives. Web. 12 July 2011.
"Hartwell, Charles Leonard." LARA (London Atelier of Representational Art). Web. 12 July 2011.
Mapping the Practice and Profession of Sculpture in Britain and Ireland 1851-1951. Web. 12 July 2011.
Modern British Sculpture (compiled" by the Royal Society of British Sculptors). London: Country Life, nd. Internet Archive. Web. 12 July 2011.
Pevsner, Nikolaus, et. al. The Buildings of England: Northumberland. 2nd (revised) ed. London: Penguin, 1992 (note that here the name on the base has been misread as "Charles Hardman").
"Royal Sussex Memorial." Public Sculptures of Sussex — "The Bugler." Web. 12 July 2011.
St George's Cathedral, Cape Town. Ancestry24. Web. 12 July 2011.
Usherwood, Paul, Jeremy Beach and Catherine Morris. Public Sculpture of North-East England. Liverpool: Liverpool University Press, 2000.
---
Last modified 4 June 2019