Introduction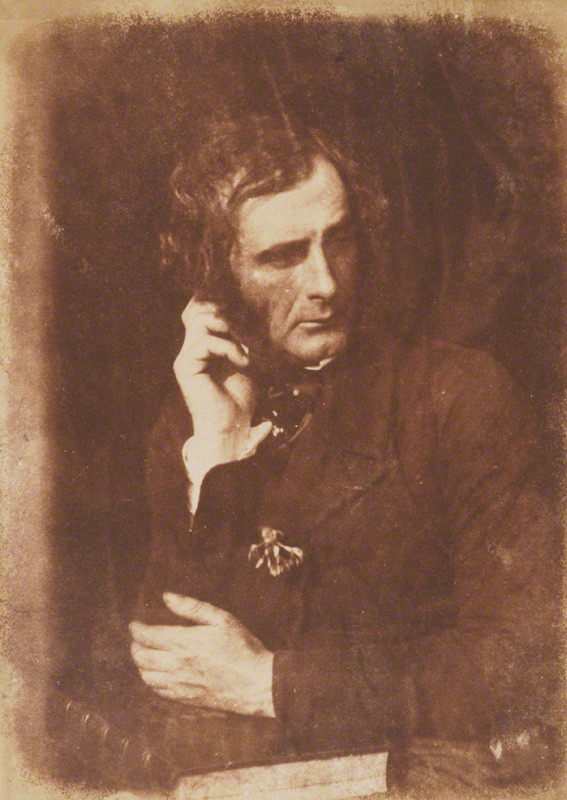 Sir Francis Grant, calotype by David Octavius Hill and Robert Adamson, 1845, ©National Portrait Gallery, NPG P6(25).
Francis Grant (1803-1878) was a very distinguished portrait painter, who rose to become the first and only Scottish President of the Royal Academy. He was born on 18 Jauary 1803, the fourth son of a Perthshire laird; one of his brothers was General Sir James Hope Grant, an important army officer who served with distinction in India and elsewhere. From such a family he had chances that others could not obtain. After his education at Harrow and Edinburgh High School, he refined his artistic skills by copying masterpieces, and studying under sporting artist John Fernley (1782-1860) in the early 1820s. He loved fox-hunting and first made his name as a painter of sporting scenes, but his reputation grew considerably with his celebrated portrait of Queen Victoria Riding Out, which showed the young Queen riding side-saddle in the company of Lord Melbourne and Lord Palmerston at Windsor, and which he exhibited in 1840. From now on he was much in demand as a portrait painter to the rich and famous: "Grant's success in this genre was unmatched by his contemporaries," writes Cassandra Albinson. "The portraits he produced in the latter half of his career are notable for their large scale and broad brushwork, anticipating trends in later Victorian and Edwardian portraiture." They were also mildly flattering, which must have increased his popularity.
Grant was elected an associate of the Royal Academy two years later, and then in 1851 became a full academician. After Sir Charles Eastlake died in 1865, and Sir Edwin Landseer declined the position, he was elected president in March 1866, the only Scotsman to fill that office, and was knighted soon afterwards. He remained president until his death. The Queen herself was not particularly impressed by him: "He has decidedly much talent, but it is much the talent of an amateur," she wrote to Lord John Russell (qtd. in Lambourne 218), and he was grateful for Landseer's support in his new role (see Wills 76). But all the same he was a highly successful — and prolific — president, acquiring the lease of Burlington House for the Royal Academy, and contributing altogether 253 paintings to its exhibitions between 1834 and 1879, including further equestrian portraits of Queen Victoria and Prince Albert, and the Prince of Wales (see Graves 386-87). He died at his country home in Leicestershire on 5 October 1878, and was buried in Melton Mowbray. The sculptor Mary Grant was Sir Francis's niece. — Jacqueline Banerjee.
Works
Bibliography
Albinson, A. Cassandra. "Sir Francis (1803–1878), portrait and sporting painter." Oxford Dictionary of National Biography. Online ed. Web. 22 August 2016.
Graves, R. E. "Grant, Sir Francis (1803–1878), portrait-painter." Dictionary of National Biography, Vol. XXII (Glover-Gravet) (1890). Internet Archive. Contributed by Robarts Library, University of Toronto. Web. 22 August 2016.
Lambourne, Lionel. Victorian Painting. London and New York: Phaidon, 1999.
Wills, Catherine. High Society: The Life and Art of Sir Francis Grant (1803-1878). National Galleries of Scotland (exhibition book), 2003.
---
Last modified 22 August 2016