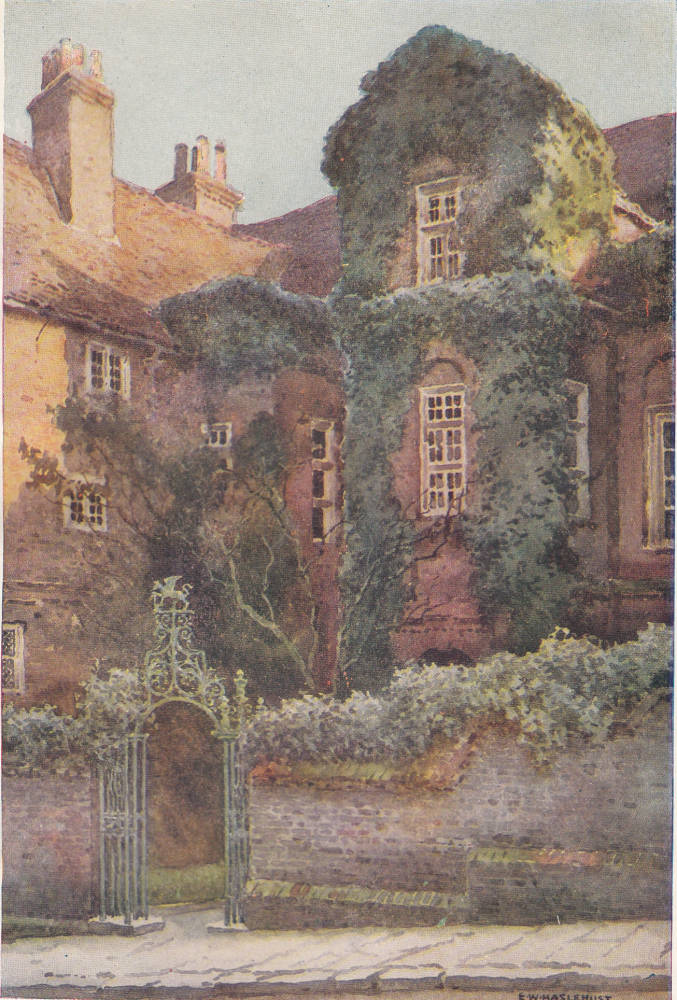 Restoration House, Crow Lane, Rochester, Kent
Ernest William Haslehust (1866-1949), RI, RWA
1911
Water colour painting
16.5 x 11 cm framed
Scanned image and text by Philip V. Allingham.
[You may use this image without prior permission for any scholarly or educational purpose as long as you (1) credit the person who scanned the image and (2) link your document to this URL in a web document or cite the Victorian Web in a print one.]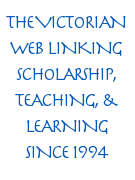 Passage Realised
In the old cemetery of St. Nicholas' Church, on the north side of the Cathedral, it was Dickens's desire to be buried, and his family would have carried out his wishes had it not been that the burial-ground had been closed for years and no further interments were allowed. On the south side of the Cathedral is the delightfully old fashioned terrace known as Minor Canon Row — Dickens's name for it is Minor Canon Corner — where the Reverend Septimus Crisparkle kept house with the "china shepherdess" mother. The "Monks' Vineyard" of Edwin Drood exists as "The Vines". Here under a group of elms called "The Seven Sisters" Edwin Drood and Rosa sat when they decided to break their engagement, and opposite "The Seven Sisters" is the "Satis House" of Great Expectations, where the lonely and embittered Miss Havisham taught Estella the cruel lessons of a ruined life. It is really Restoration House — Satis House is on the site of the mansion of Master Richard Watts, to whose apologies for no better entertainment of his Sovereign, Queen Elizabeth answered "Satis" — and it takes its name from having received the restored Merry Monarch [Charles II] under its roof on his way to London and the throne. [Diarist Samuel] Pepys, who was terrified by the steepness of the castle cliff and had no time to stay to service at the Cathedral, when he had been inspecting the defences at Chatham, found something more to his mind in a stroll by Restoration House, and into the Cherry Garden, where he met a silly shopkeeper with a pretty wife, "and did kiss her." [Nicklin, 20-21]
Commentary
Today, the old mansion upon which Dickens based Miss Havisham's Residence is still standing, although its grounds are somewhat limited. However, it continues to be a significant building in Rochester as it services as the Administration Building of King's School. Based on two separate buildings constructed in 1454 and 1502-22, Restoration House was created by Member of Parliament Sir Henry Clerke's joining the smaller buildings between 1640 and 1660, its name derived from the fact that King Charles the Second, but recently returned from exile in France after the Civil War and the fall of the Cromwellian Commonwealth, spent the evening of 28 May 1660 at the Elizabethan mansion, the home of local military authority Colonel Gibbon. He proceeded to London the following day, and, on his twenty-ninth birthday was proclaimed king.
For such reasons I was very glad when ten o'clock came and we started for Miss Havisham's; though I was not at all at my ease regarding the manner in which I should acquit myself under that lady's roof. Within a quarter of an hour we came to Miss Havisham's house, which was of old brick, and dismal, and had a great many iron bars to it. Some of the windows had been walled up; of those that remained, all the lower were rustily barred. There was a court-yard in front, and that was barred; so, we had to wait, after ringing the bell, until some one should come to open it. While we waited at the gate, I peeped in (even then Mr. Pumblechook said, "And fourteen?" but I pretended not to hear him), and saw that at the side of the house there was a large brewery. No brewing was going on in it, and none seemed to have gone on for a long long time.[ Great Expectations, Chapter Eight, p. 50-51]
John Forster reports that the place always held a "curious attraction" for Dickens.
Related Material
Bibliography
Dickens, Charles. Great Expectations. Il. Harry Furniss. The Charles Dickens Library Edition. London: Educational Book, 1912. Vol. 14.
Lynch, Tony. Dickens England: An A to Z Tour of the Real and Imagined Locations. A Traveller's Companion. London: Batsford, 2012.
Nicklin, J. A. Dickens-land. Il. E. W. Haslehust. Beautiful England series. Glasgow & London: Blackie & Son, 1911.
Paroissien, David. The Companion to Great Expectations. Westport, Conn.: Greenwood, 2000.
---

Victorian
Web

Charles
Dickens

Artists

E. W.
Haselhust

Next
Last modified 4 March 2014