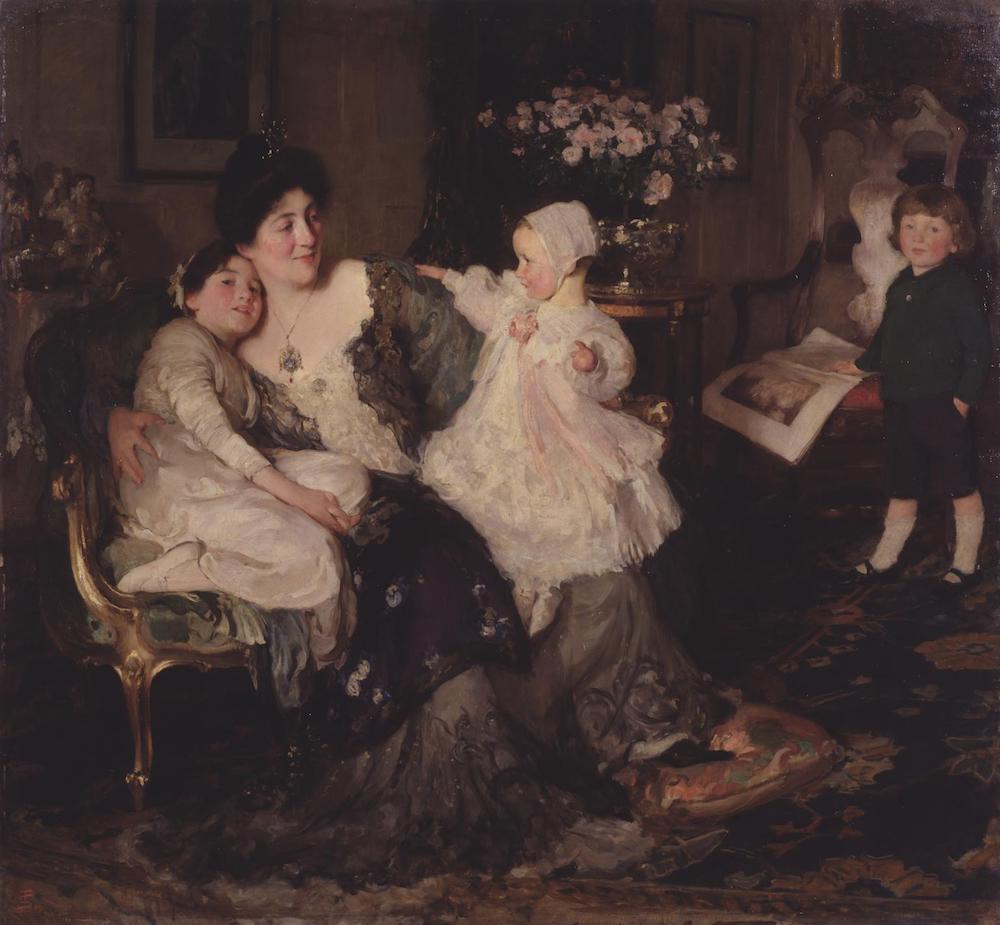 A Family Group: The Artist's Wife and Children ("Papa Painting") by Solomon J. Solomon. Inscribed "S J S [in monogram] 05" (1905). Canvas, 63 1/2 × 69 (161 × 175). Tate Gallery, London. Presented by the artist's widow in 1938. Image kindly released by the Tate under the Creative Commons CC-BY-NC-ND (3.0 Unported) license, and formatted for this website by Jacqueline Banerjee, who has also added the text. [Click here for a closer view of the mother and the two little girls. You may use these images without prior permission under the same license.]
According to the information on the Tate's website,
The painting shows the artist's wife Ella, daughter of Hyman Montagu, F.S.A., whom he married in 1897 (and who died in 1957) and, looking from left to right of the picture, his eldest daughter Mary (b. 1898, now Mrs Ronald Rubinstein), his youngest child Iris Rachel (b. 1903, now the Hon. Mrs Ewen Montagu), and standing on the right, his son Dorian Joseph (b. 1901). In a letter to the compiler (7 July 1958) Mrs Montagu wrote: "I am the baby who gave the title to the portrait by (so I am told) taking up the pose, pointing at Father and saying 'Papa painting.'"
This is a warmly affectionate family scene, then. But Solomon was important in the wider Anglo-Jewish community as well: for example, he was a founder member of the Maccabeans Society, a friendly benefit society of Zionists, to help those in need. In general he was a public-spirited person. Another example: he made an interesting artistic contribution to the war effort by promoting the importance of camouflage when World War I broke out, setting up a school for it in Kensington Gardens, and writing a book about it — Strategic Camouflage (1920). By then (in 1918) he had also been elected president of the Royal Society of British Artists.
Bibliography
Grimsditch, H. (2004-09-23). "Solomon, Solomon Joseph (1860–1927), painter." Oxford Dictionary of National Biography. Online ed. Web. 15 July 2018.
"Maccabeans, Order of Ancient." Jewish Virtual L:ibrary. Web. 15 July 2018.
"Solomon J. Solomon: A Family Group: The Artist's Wife and Children ('Papa Painting')." Tate Gallery. Web. 15 July 2018.
---
Created 15 July 2018