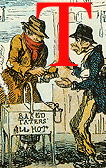 he following verses from Punch nicely situate the opening of an exhibition at the Grosvenor both in contemporary art and contemporary high society. We might expect Punch, which several times mocks the fashionable painters Edward Burne-Jones and James McNeill Whistler, to feature them as well as Ruskin, but I was surprised that William E. Gladstone, then Prime Minister (again), attended an art exhibition favored by the Aesthetes. At least two of the people mentioned relate to scandalous or at least notorious behavior — and Oscar Wilde is not one of them. "Her Highness, the Princess LOUISE," the lover of the sculptor Sir Joseph Edgar Boehm, Bart., R.A. is one such attendee. The other is Angela Georgina Burdett-Coutts, 1st Baroness Burdett-Coutts (1814–1906), supposedly the richest woman in England. On 12 February 1881, three months before the gallery opening, she had shocked society when at the age of 67 on she married her 29-year-old secretary William Lehman Ashmead Bartlett. He subsequently changed his name to William Burdett-Coutts and later served as a member of Parliament for more than three decades.
Is the Gilbert mentioned W.S. Gilbert of Gilbert and Sullivan fame? Possibly, because he was a cartoonist and visual artist as well as a writer of lyrics who might have designed costumes. Interestingly, Oscar Wilde is described here as a kind of rockstar celebrity who made young women swoon — a valuable reminder that before his disastrous encounter with civil and criminal law, he had great appeal to women.
Herkomer's "chaos of stones" refers to The Gloom of Idwal, which the London reviewer for the Australian newspaper The Argus described as "scene in North Wales" that "falls short of the eminence he has reached" in paintings of the Bavarian Tyrol. Botticelli receives mention because of the revival of interest in his work promoted by Ruskin, Burne-Jones, and others. Sir Coutts-Lindsay, owner of the Grosvenor, exhibited Charon, which the Punch reviewer finds inferior to Gustave Doré's version.
(I have transcribed the text from the Hathi Trust Digital Library online version of a copy of Punch in the University of Michigan Library using ABBYY OCR software to turn the images into text.) — George P. Landow]
The Grosvenor! the view that's called private,
Yet all the world seems to be there;
Each carriage that comes to arrive at
The door, makes the populace stare.
There's GLADSTONE, severe of demeanour,
It's plain that the pictures don't please;
And there, with'an aspect serener,
Her Highness, the Princess LOUISE.
The haunt of the'very aesthetic,
Here come the supremely intense,
The long-haired and hyper-poetic
Whose sound is mistaken for sense.
And many a maiden will mutter,
When OSCAR looms large on her sight,
"He's quite too consummately utter,
As well as too utterly quite."
The dresses! What thinks Mr. GILBERT,
Who's given us some dainty designs,
Of folds like the dead leaf or filbert,
That fall in such Florentine lines.
I trow on the whole that there's not a
Costume that looks better to-day,
Than wraps of a warm terra-cotta
Two elegant ladies display.
A frock that's the tone of a tartlet,
A hat medievally wide,
Must startle our BURDETT-COUNTS-BARTLET,
Who's here with his Baroness bride.
But come, we've the pictures to stare on,
And scarcely can see for the throng,
COUTTS-LINDSAY's remarkable "Charon"—
Another good DORÉ gone wrong!
Here's WHISTLER paints Miss Alexander,
A portrait washed out as by rain;
'Twill raise RUSKIN's critical dander,
To find James is at it again.
The flesh-tints of WATTS are quite comic;
There's HERKOMER's chaos of stones;
But where is the great anatomic
Improver on Nature, BURNE-JONES?
A Grosvenor without him so strange is,
We miss the long chins and knock-knees,
The angel of bronze, who for change is
Tied up to the stillest of trees:
Limp lads with their belli capelli,
Mad maidens with love smitten sore,
Oh, shade of defunct Boticelli,
Burne-Jones comes to startle no more!
Related material
Bibliography
London Correspondent, A. "The Summer Exhibition at the Grosvenor Gallery." The Argus (16 July 1881): 4. Online version on the National Library of Australia site, Trove. Web. 22 May 2020.
---
Created 22 May 2020