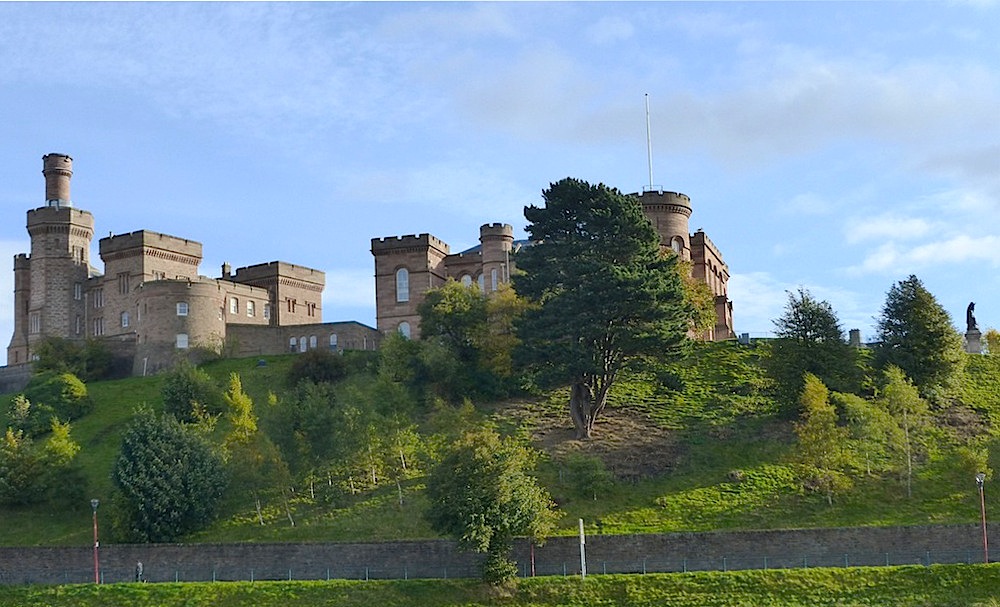 Seen from the far bank of the River Ness, the castle includes the District Court at the left, and the Sheriff Court towards the right, with the statue of Flora Macdonald in front of it (i.e. far right).
Inverness Castle stands proudly on Castle Hill, the site of the original medieval fortress here. But it is not as old as it looks. A public building complex, at present containing the Sheriff Court and District Court, it is the work of several nineteenth-century architects. William Burn (1789-1870) designed the Sheriff Court (1833-35); Joseph Mitchell (1803-1883), the Highland Railway engineer, was responsible for the bastioned enclosing walls (1839); and Thomas Brown II (1806-c.72) designed the District Court, originally built as a prison (1846-48). Brown had been an "improver" with Burn early in his career. These were all well-known people, particularly Burn, the architect of St Giles' Cathedral, Edinburgh and (in partnership with David Bryce) of St Mary's City Church, Dundee. The result is that now, as then, "[f]rom their elevated position these buildings together from one of the most striking features of the town" (Anderson 210).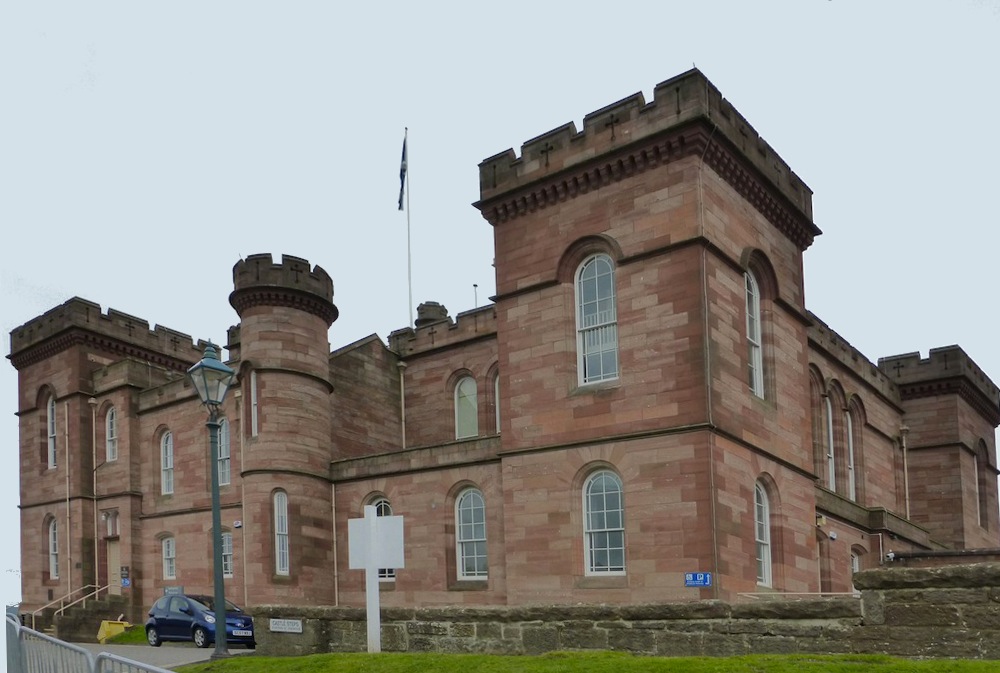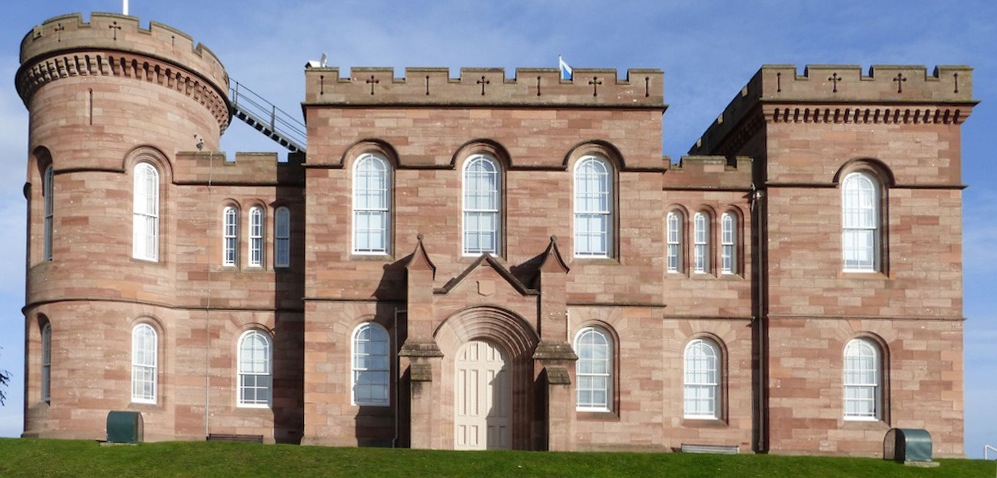 Left: Approaching the Castle from Castle Street. Right: Looking at the castle from the front.
The castle is still like a fortress, with several towers of different kinds (rectangular, square, octagonal and round), parapets, battlements etc. Burn, who had been a pupil of Robert Smirke, and had a huge practice, employed the castellated style with panache (see "William Burn"), and Brown followed suit, although in a more "frivolous" way with the "extravagantly machiolated" octagonal north-west tower with a much more slender but much higher round tower adjoining it, and rising above it (Gifford 197). Long-term plans to turn the castle into a tourist attraction are already underway, with a glassed-in viewpoint on top of the octagonal tower proving a popular draw.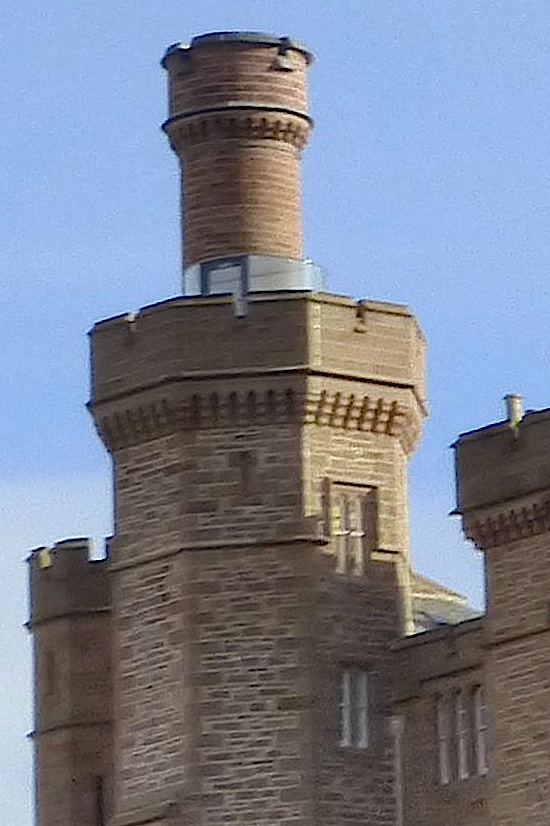 Close-up showing the observation point. From a distance, it makes the smaller tower look as if it is floating on air.
Photographs, captions and commentary by Jacqueline Banerjee. You may use these images without prior permission for any scholarly or educational purpose as long as you (1) credit the photographer and (2) link your document to this URL or cite it in a print document. [Click on the images to enlarge them.]
Related Material
Bibliography
Anderson, George, and Peter Anderson. Guide to the Highlands and islands of Scotland including Orkney and Zetland, descriptive of their scenery, statistics, antiquities, and natural history. Containing also directions for visiting the Lowlands of Scotland, with descriptive notices, and maps.... Edinburgh: A. and C. Black, 1850. Internet Archive. Contributed by University of California Libraries. Web. 7 January 2018.
Gifford, John. Highland and Islands. The Buildings of Scotland. London: Penguin, 1992.
"Inverness Historic Trail." Explore Inverness. Web. 7 January 2018.
"Thomas Brown II." DSA (Dictionary of Scottish Architects). Web. 7 January 2018.
"William Burn." DSA (Dictionary of Scottish Architects). Web. 7 January 2018.
---
Created 7 January 2018