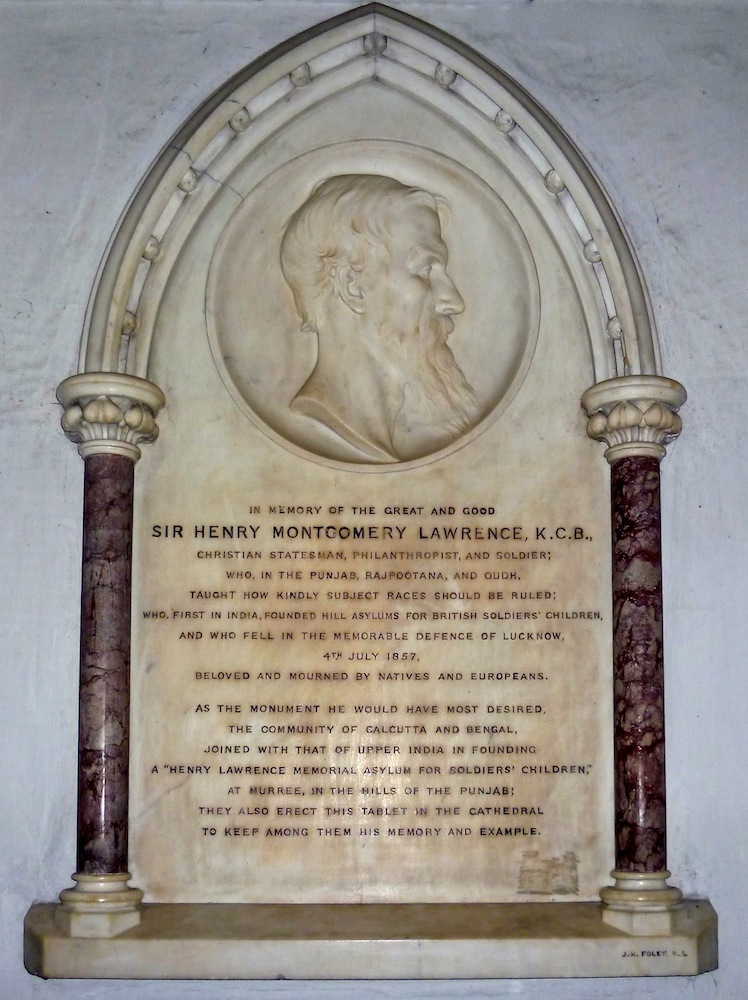 This marble tablet to the memory of Sir Henry Montgomery Lawrence (1806-1857) is in St Paul's Cathedral, Kolkata, and must date from c.1858. It has pink marble columns and a Gothic arch, features a medallion bearing Lawrence's likeness, and is clearly signed J. H. Foley. R.A. in the bottom right-hand corner. Photographs and commentary by Jacqueline Banerjee. You may use these images without prior permission for any scholarly or educational purpose as long as you (1) credit the photographer and (2) link your document to this URL or cite it in a print one. Click on the images to enlarge them.]
The much-mourned Sir Henry Lawrence was one of the greatest losses of the 1857 Indian Mutiny, as it was then known. Born in Ceylon (present-day Sri Lanka), he came from a distinguished army family. Like Major-General William Nairn Forbes, whose monument is near his in the same cathedral, he was a product of the East India Company's Addiscombe College, near Croydon, and was an energetic and versatile man, with special skills as an administrator. He had joined the Bengal Artillery and gone out to Calcutta when only sixteen. A devout Christian, and a linguist with a wide knowledge of Indian languages, he was reported to have been "sympathetic and kind-hearted," with an unusual "disregard for money or personal luxury," which endeared him to his men despite his rather "fiery temper" (Moreton). He had held a variety of important offices and was in line to be acting Governor-General of India when he died. He had also written a number of highly regarded books on Indian affairs, and opened and supported, or inspired, asylums for soldiers' children. Hence the relief on the base of his monument" by J. G. Lough in St Paul's Cathedral, London, which shows Lawrence and his wife welcoming some youngsters.
During the 1857 uprising, Lawrence was instrumental in helping the Residency at Lucknow to hold out until relief arrived. So devastating was his death that he was buried quietly and his death was not reported for several days (Mukherjee and Kapoor 85). The ruins of the room where he was killed while dictating a memorandum, after making a round of all the army posts, were preserved, and sketched there later" by the visiting artist and caricaturist, Leonard Raven Hill. All this accounts for the several splendid monuments raised to him after his death" by distinguished sculptors. But he is best remembered, even today, as the founder of, or inspiration for, the "Lawrence Schools" of the subcontinent, with their trenchant motto, "Never Give In." One historian numbers him among the "extraordinary collection of commanders" who "possessed in abundance that greatest of all virtues, courage" (Featherstone 12). Lawrence's wife had died in India in 1854, but he was survived" by three of their four children.
Related Material
Bibliography
Featherstone, Donald. Victorian Colonial Warfare: India. London: Cassell, 1992.
Moreman, T. R. "Lawrence, Sir Henry Montgomery." Oxford Dictionary of National Biography. Online ed. Web. 20 March 2014.
Mukherjee, Rudrangshu, and Pramod Kapoor. Dateline 1857: Revolt against the Raj. New Delhi: Lustre Press, Roli Books, 2008.
---
Last modified 20 March 2014