[Click on thumbnails for larger images.]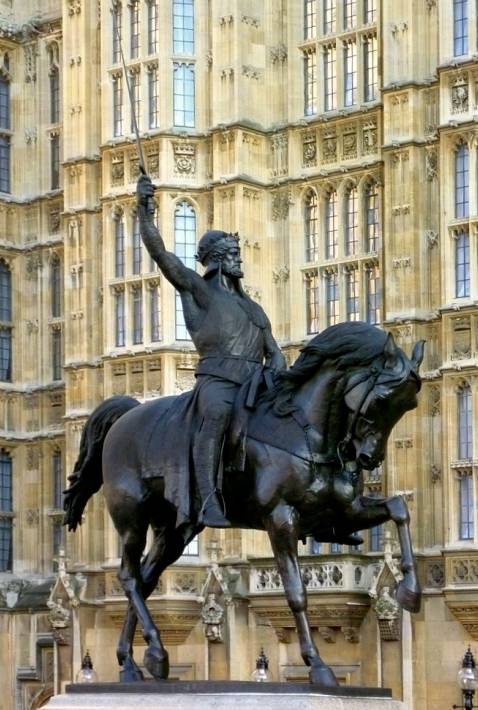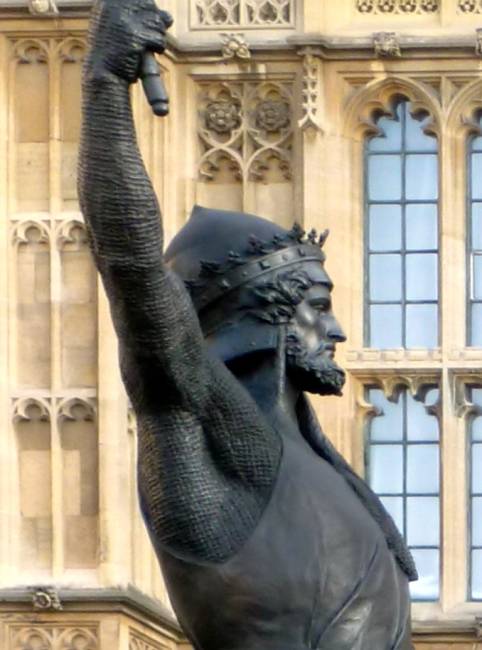 Marochetti's Richard the Lionheart, outside the House of Lords.
Carlo Marochetti (1805-1867) was responsible for some of Britain's best-known public monuments, notably the bronze equestrian statue of Richard the Lionheart that stands outside the House of Lords at the Palace of Westminster. Yet his commissions, given to "a man who did not belong to any nation" (Ward-Jackson, The Lustrous Trade, 180), were often accompanied by controversy.
Marochetti was born in Turin. His father, a Professor at Turin University, had also held office in the Piedmontese provisional government. Political changes sent the family to France, where the boy, now a naturalized French citizen, was educated at the Lycée Napoléon. He went on to study sculpture at the École des Beaux-Arts, and spent long periods in Rome, reportedly passing some of the time in the studio of the Danish sculptor Bertel Thorvaldsen (Ward-Jackson, "Marochetti"). Like Henri de Triqueti, also from a Piedmontese background, Marochetti identified with the Romantic school of sculpture, and like Triqueti too he was favoured by the Orléans court during the July Monarchy of 1830-1848. Both sculptors gained important early commissions at The Madeleine in Paris, where Marochetti was responsible for the grand tableau above the High Altar, while Triqueti was responsible for the bronze reliefs on the massive church doors. At this time Marochetti was also working on his dynamic equestrian statue of the sixteenth-century Emanuele Filiberto of Savoy, which was displayed in the Louvre courtyard before being erected in Turin. Another major work of this early period was for the relief of the Battle of Jemappes for the Arc de Triomphe. After the sudden tragic death of Duke Ferdinand, son of Louis-Philippe d'Orléans, Marochetti like Triqueti was commissioned for memorial work. Again, a version of Marochetti's equestrian statue of Ferdinand stood in the Louvre courtyard, this time for several years. However, Marochetti's commission to design Napoleons's tomb at the Invalides had to be dropped because people protested against the choice of a young "foreign" sculptor.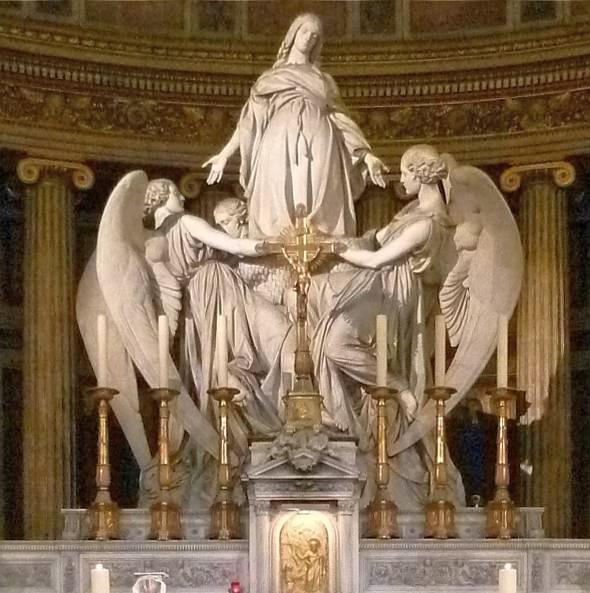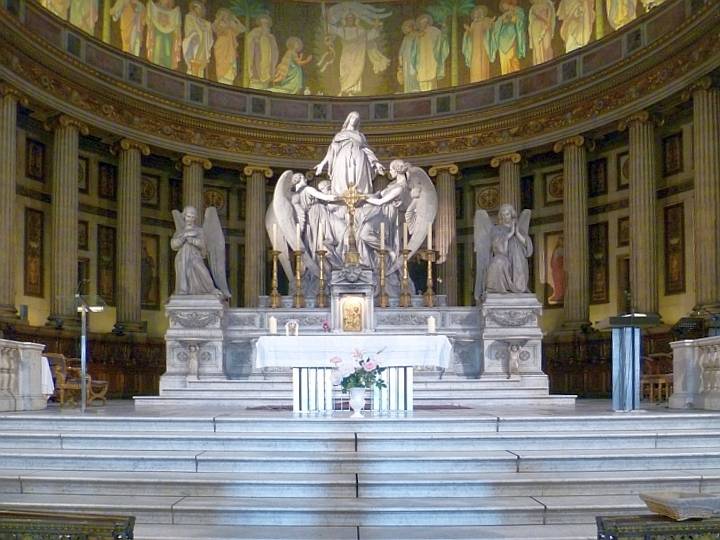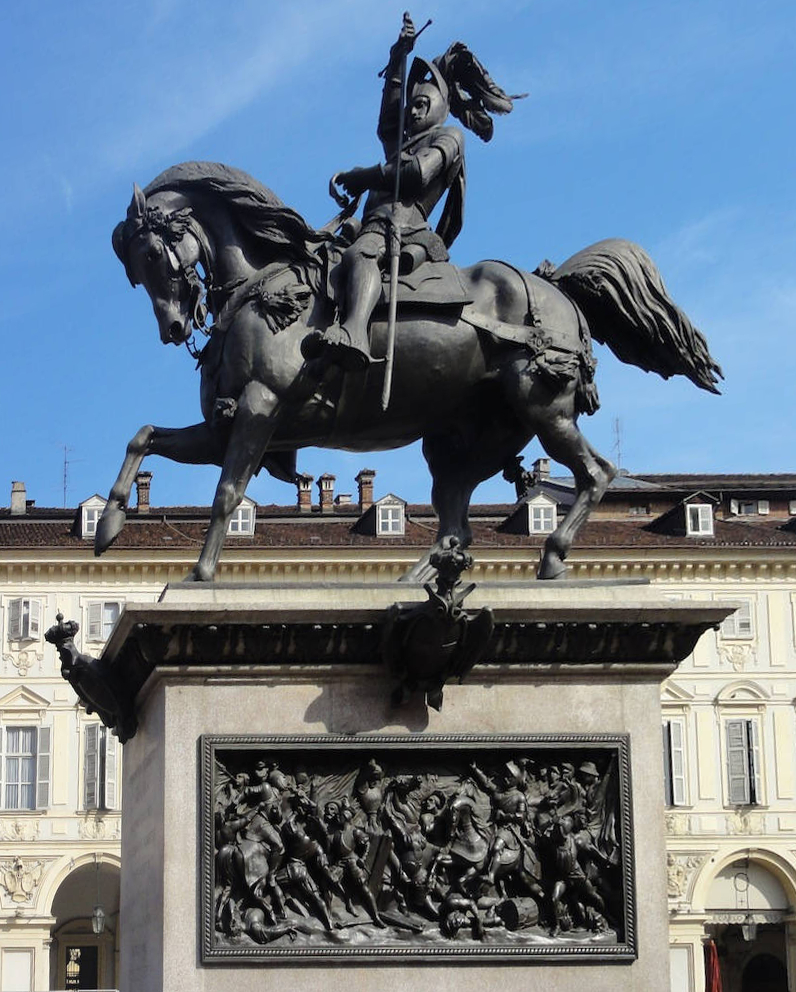 Some of Marochetti's work outside Britain. Left two: The Assumption of Mary Magdalene. The Madeleine, Paris. Right: and Emanuele Filiberto of Savoy, Turin.
By now, his fame had travelled to England: at the beginning of the 1840s he had won the commission to produce the equestrian statue of the Duke of Wellington which stands in front of the Royal Exchange in Glasgow — and is famous for being regularly "coned," or topped with a traffic cone. Unlike Triqueti, Marochetti was not injured in the barricades, and tried to re-establish himself in Paris after the forced abdication of King Louis-Philippe in 1848. But, inevitably perhaps, he soon followed the exiled French royals to England. Here, he was swiftly introduced to the British royal family: he cut a dashing figure, and the Queen found him to be "very agreeable, pleasing & gentlemanlike" (qtd. in Marsden 14); she commissioned him to sculpt a bust of Prince Albert. More such work followed, with his huge, stalwart Richard the Lionheart first modelled in plaster and placed at the entrance to the Great Exhibition, and subsequently cast in bronze and stationed outside the House of Lords, where it still stands.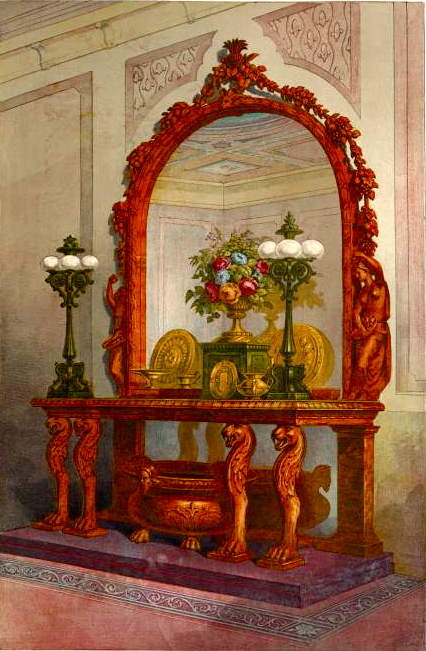 In addition to such grand commissions, he also turned his hand to smaller design tasks exemplified by the objects seen at the right — a heavily embellished flower stand for Minton and an ornate sideboard for the London firm of Snell, both from 1852.
Marochetti was now, "in all but name, the official royal sculptor" (Piggot 120). His marble likeness of little Prince Arthur (1853) was particularly successful. The Queen thought it "beautiful" (qtd. in Marsden 91), and had various miniatures made of it as gifts. This design was used by Minton as well. In the same year the Queen presented a much reduced version of the Richard the Lionheart statue to Prince Albert on his birthday. Marochetti was also responsible for several of the figures on the terrace at Sydenham when the Crystal Palace was rebuilt there, including that of Turkey. His reputation for equestrian statues led to his executing (though controversially) more such statues in Glasgow, those of the Queen and Prince Albert in George Square. And perhaps his crowning achievement was to be asked to execute the tombs and effigies of the royal couple at the Frogmore Mausoleum, in the grounds of Windsor Castle.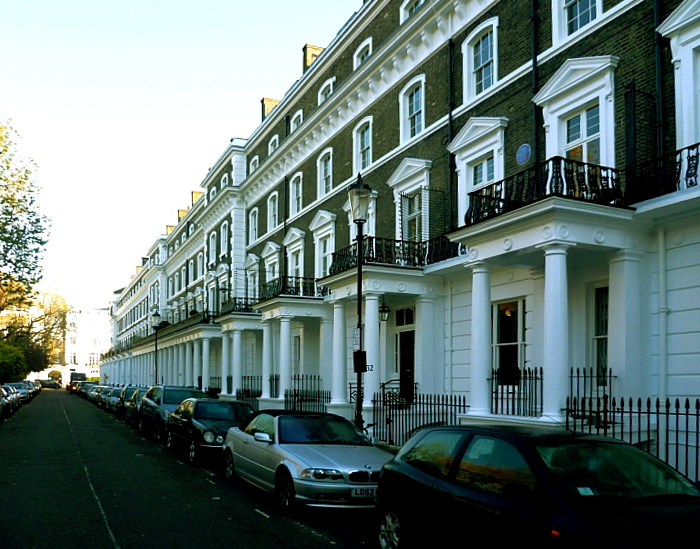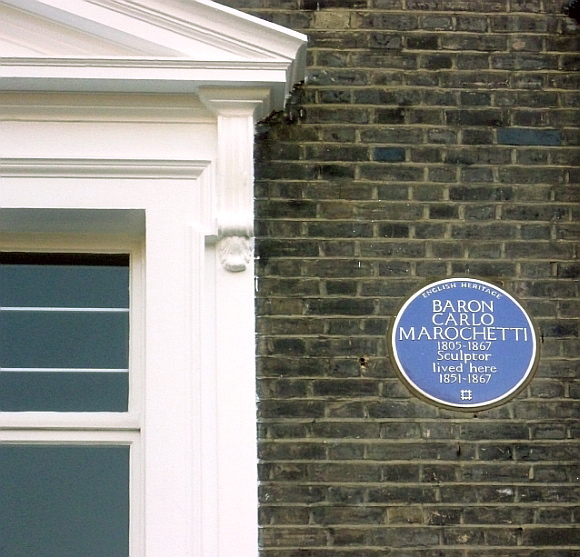 Left: Onslow Square, where Marochetti lived first (perhaps) at no. 30, then at no. 34. According to F. H. W. Sheppard he lived in the Square from 1849-1867.
Right: Blue plaque marking his residence at no. 34, put up in April 2010. [Click on thumbnails for larger images.]
Marochetti had a huge studio and foundry in the mews behind his Kensington house, where Sir Edwin Henry Landseer worked on the lions for the base of Nelson's Column — these massive beasts were cast in Marochetti's own foundry. (John Ballantyne's well-known picture, "The Artist's Studio," dated c.1865, can be seen on the National Portrait Gallery's website, here). When the Queen visited Marochetti in this cavernous studio, she found him directing a workforce of twenty artisans. His establishment in the gracious, recently built terrace at Onslow Square attracted other artists to the area: his own studio was later to be taken over by John Singer Sargent.
Charles Marochetti, as he now called himself, might seem to have become a part of the British scene, like, for instance, his fellow-countrymen Gabriele Rossetti (Professor of Italian at King's College London, and father of the Rossettis) and Anthony Pannizi, who became the first principal librarian of the British Library and whose bust by Marochetti is displayed in the British Library. But he still had to overcome opposition. While John Ruskin admired him, others, notably Francis Turner Palgrave, did not. Palgrave considered him too theatrical: "spurious, sensational and full of tricks" (Piggott 120). One disappointment was the failure of his plan to have his three statues of important civil engineers, Brunel, Robert Stephenson and Joseph Locke placed together outside St Margaret's Church at Westminster. Apart from xenophobia, one reason for disapproval may have been that, as surviving correspondence shows, he did treat his work as a business. He was also suspected of trading on royal favour to gain commissions (see Read 79). In this respect he was quite different from his fellow-exile Triqueti, who was wealthy enough to work for the love of his art. Nevertheless Ward-Jackson suggests that Marochetti should be credited "with some altruism in the matter of wishing to raise statues to politicians or creatively gifted persons (The Lustrous Trade, 177).
Marochetti certainly kept up his ties with both France and Italy, executing work in his London studio for those countries as well, although he is said to have spoken Italian only with difficulty ("The Late Baron Marochetti"). He died in France, and was buried in Vaux-sur-Seine, the old family seat, and a town of which he had twice been Mayor in earlier days. His elder son, Maurice (or Maurizio), entered the Italian diplomatic service, and inherited some of his father's talent for sculpture, along with the baronetcy. Death spared Marochetti one final disappointment: the Queen soon decided that his model of Prince Albert for the Albert Memorial was inadequate; the commission was handed over to John Henry Foley instead.
The Times obituary, having started off by saying that "genius is of no country," suggested that after 1848 Marochetti became "one of us," concluding with the claim that he was indeed English in some important essentials: "He was an Italian in his love of art, a Frenchman in refinement and sociability, an Englishman in the strength of his attachments, in his frankness and fairness, in all those greater and lesser qualities that constitute a gentleman."
Related Material
Sources
Bullus, Claire & Ronald Asprey. The Statues of London. London and New York: Merrell, 2009.
"The Late Baron Marochetti," The Times, 4 Jan. 1868, p. 9. The Times Digital Archive. Web. 18 Nov. 2010.
Marsden. Jonathan. Victoria & Albert: Art & Love. London: The Royal Collection, 2010.
Piggott, Jan R. Palace of the People: The Crystal Palace at Sydenham, 1854-1936. London: Hurst, 2004.
Read, Benedict. Victorian Sculpture. New Haven & London: Yale, 1982.
Sheppard, F. H. W., ed. "The Smith's Charity Estate: Charles James Freake and Onslow Square Gardens." Survey of London, Vol. 41: Brompton (1983): 101-17. Web. 18 Nov. 2010.
Ward-Jackson, Philip. "Maintaining Distinction in the International Sculpture Market." In The Lustrous Trade: Material Culture and the History of Sculpture in England and Italy, c.1700-1860. Ed. Cinzia Maria Sicca and Alison Yarrington. Leicester: Leicester University Press, 2000. 174-90.
_____. "(Pietro) Carlo Giovanni Battista Marochetti." Oxford Dictionary of National Biography. Online ed. 22 Oct. 2010.
Willard, Ashton Rollins. History of Modern Italian Art. 2nd ed. London: Longman, 1902. Internet Archive. Web. 19 Nov. 2010.
---
Last modified 22 April 2020