Many thanks to Caroline Hedengren-Dillon for helping me update the earlier entry on this statue in light of her own researches on it. Please see her article, "L'Emmanuel-Philibert de Marochetti, histoire d'une réduction" (offsite) for a full treatment of this aspect of the subject in French. Caroline also kindly sent in some photographs to accompany the new entry. The first two are her own, and you can use these without prior permission for any scholarly or educational purpose as long as you (1) credit the photographer and (2) link your document to this URL in a web document or cite the Victorian Web in a print one. The third photograph, of the De Braux d'Anglure reduction, is" by Alberto Ricci, and remains his copyright. I am most grateful to be able to reproduce it here. Thanks also to the National Portrait Gallery for helping me acquire the Art-Union image, and for allowing reproduction of John Ballantyne's painting. Click on all the pictures to enlarge them.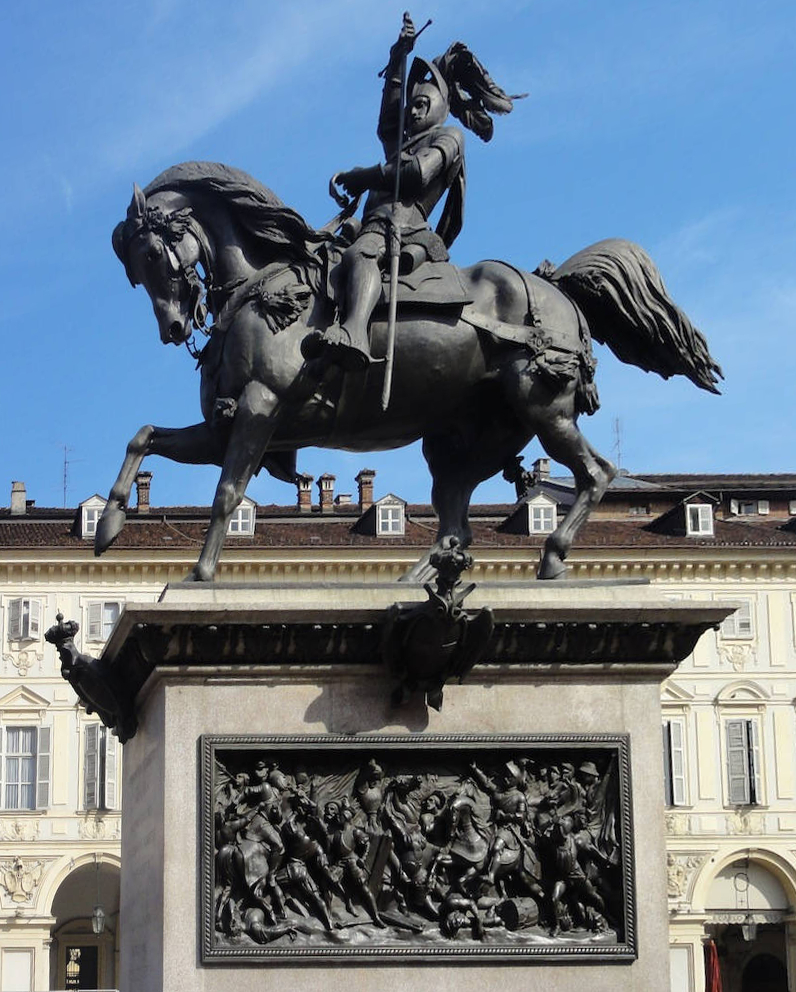 Emanuele Filiberto (or Emmanuel-Philibert) of Savoy by Baron Carlo Marochetti. 1838. Bronze, on a granite plinth. Piazza San Carlo, Turin. Photograph by Caroline Hedengren-Dillon.
Popular Success
In its original form, this was both Marochetti's first major work, and his first equestrian statue, and it made his reputation for this kind of subject. It is a bravura historical likeness, showing the sixteenth-century Italian hero in the very "act of sheathing his sword while reining in his charger" (Ward-Jackson). This was clearly intended to make a strong statement at the time of the Risorgimento. However, before presenting the statue to his birthplace, Turin, Marochetti exhibited it in the courtyard of the Louvre. Here, whether or not its significance was fully appreciated, it is said to have
scored an immediate success, both with the general public and the connoisseurs. The former were pleased" by the fire and dash in the movement of the figure and its association with a great popular here; and the latter liked it because it had something of the medieval spirit, and seemed like a plastic exposition of the novel principles of romanticism. [Willard 134]
In fact, the statue catapulted Marochetti into the limelight in France. Patronised" by no less than the then reigning constitutional monarch King Louis Philippe himself, the sculptor had already won several important public commissions there. But now he became more widely known, and reductions (or miniatures) of this statue proliferated, adorning the mantelpieces, shelves and so on of the admiring bourgeoisie (see Hedregen-Dillon).
A Milestone in the Sculptor's Career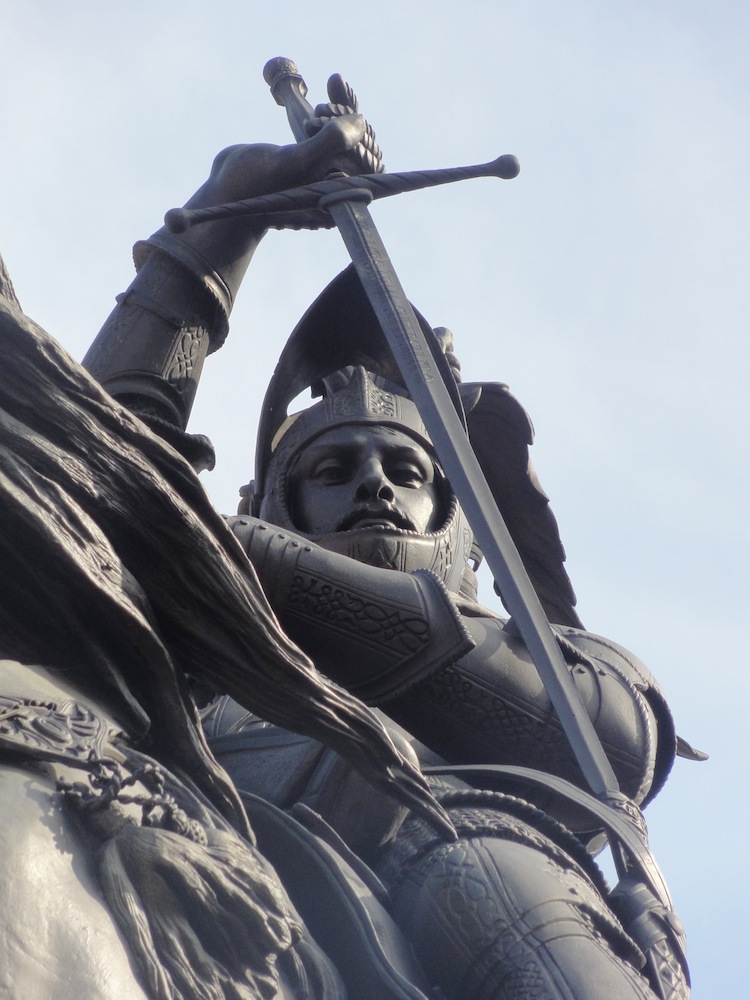 Close-up of the figure. Photograph by Caroline Hedengren-Dillon.
All this was significant in a number of ways. The fine equestrian statue of Emanuele Filiberto demonstrated an attachment to, and respect for, his country of origin. For this and his "other services" King Carlo Alberto of Sardinia-Piedmont raised him to the baronetcy (Cust). This was an honour which, together with his courtly and dignified manner of wearing it, would recommend Marochetti to British royalty when, like Louis Philippe himself, he sought refuge in England after the second and final fall of the monarchy in France.
This first big success also gave him a particular reputation for producing equestrian statues. It led to commissions to produce one of Louis Philippe's son Ferdinand (1844), another of the Duke of Wellington outside the Royal Exchange in Glasgow (also 1844), and then, most famously, his Richard the Lionheart, welcoming people to the Great Exhibition of 1851, and now stationed in the forecourt of the House of Lords at the Palace of Westminster in London — both these last figures dramatically embodying the same national pride and fighting spirit as Filiberto, but in warrior-heroes of the sculptor's adopted country.
Then would come his other high-profile equestrian works, these being of a more ceremonial nature: the mounted statues of Queen Victoria (1854) in Glasgow again, King Carlo Alberto of Sardinia-Piedmont himself in Turin (1861), and Prince Albert (1866) in George Square, Glasgow, as a memorial to the departed prince. The statue of Queen Victoria, which had previously been in St Vincent Place there, was relocated to George Square at this time, so that the two could be seen as companion pieces.
Marochetti as an Innovator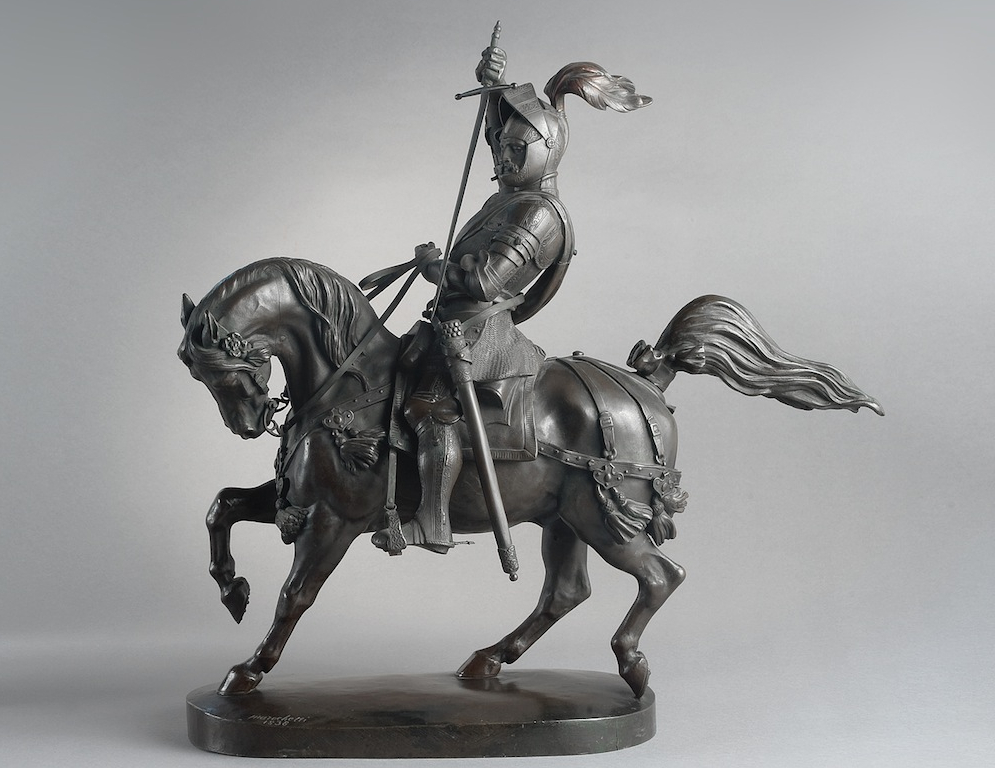 The chief or master model of the statue by the firm of De Braux d'Anglure. © Alberto Ricci.
On the more technical side, the popularity and commercialisation of the Emanuele Filiberto statue brought up important questions about reductions (those miniatures or small-sized replicas) and rights. In her article in the Tribune de l'Art, Hedengren-Dillon has painstakingly reconstructed the history of the statue's reductions, starting with the first one produced" by Louis-François Jeannest as early as April 1838, when the original statue was being shown in the Louvre courtyard. This was at Marochetti's own instigation. But counterfeit ones followed soon afterwards in 1839. These were rough copies of the ones that Marochetti himself had overseen, and he was incensed. He felt that his artistic property rights had been trampled upon, and, what was worse, noted that the copies were poor, so that his reputation too could be impugned. The immediate result was a famous, precedent-setting but finally unsuccessful court case — unsuccessful, because, although he won the first round in March 1839 (which is why it became a test case), in July it was decided that Marochetti did not have the sole right to reproduce or order reproductions of his own work. In the 19 April-21 July 2014 exhibition at the Musée des Beaux-Arts, Lyon, "Inventions of the Past," there were two reductions of the Turin statue, the bigger one being the chief or master model" by the firm of De Braux d'Anglure, which is still in the possession of Marochetti's family, the other one" by the firm of Susse Frères. Hedengren-Dillon tells us that reductions of the statue" by those two firms, which were on contract to Marochetti, can still be found in the art market, and that a later counterfeit of 1841, from Belgium, moulded over a genuine reduction, has been sold very recently in France.
At the time of the Emanuele Filiberto statue, the inventive and entrepreneurial sculptor began to experiment with different ways of producing his own reductions. As early as 1839 he adopted the pantographic resizing machine originally patented in 1836" by Frédéric Sauvage, and in the same year he took out his first patent for a method of plaster-processing. In all this, suggests Hedengren-Dillon, he was very much a man of his time. Yet, later on, he was to receive a good deal of flak for his "self-promotion" in Paris, much as he was criticised in England for his business-like approach to his art. In one particularly harsh assault, he was attacked for bruiting his "pseudo-genius" to the populace. To their shame, there was a large element of xenophobia in all such reactions to his work, in both countries. In England, for example, on hearing that Marochetti had been commissioned to produce the Duke of Wellington statue for Glasgow, a certain "M.M." wrote to the Art-Union: Monthly Journal of the Fine Arts of May 1841: "Now, Sir, if this be true, where is British patriotism, natural feeling, and common sense?" (85).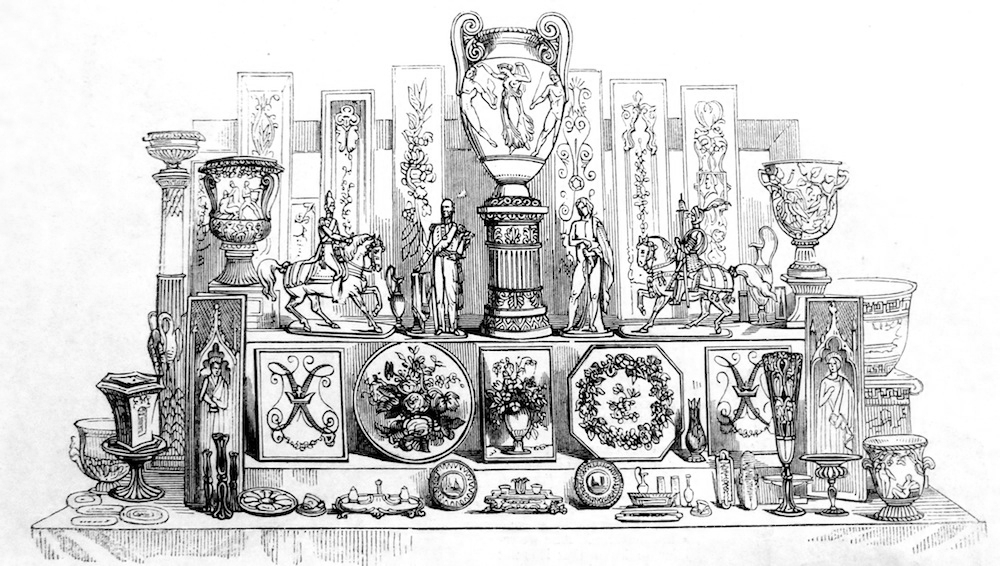 Display of Parian ware at the Manchester Exhibition in England, in 1845-46. A reduction of the original equestrian statue" by Marochetti can be seen on the right of the display table. Source: Art-Union, Vol. 8 (January 1846), 33.
It is a particular pleasure, then, to see Emanuele Filiberto of Savoy displayed on the Copeland & Garrett stand of the Manchester Exhibition of 1845-46, as a Parian ware reduction. Indeed, it earned special praise in the Art-Union of January 1846. In these statuettes in general, says the commentator, the aim "was to imitate both in material and execution, the artistic excellence and effect of the sculpture; and the result has been most successful." He continues: "We direct particular attention to the copy of Marochetti's statue "Philibert," — not only as a fine work of Art, but as a triumph over difficulties arising from the nature of the material" (32). Marochetti must have been pleased to receive this kind of publicity for his work from such a source, and would fully have appreciated the skills involved in the transformation of his monumental public sculpture into an exquisite objet d'art.
Marochetti's London Foundry
Edwin Landseer, shown working on the Trafalgar Square lions in Marochetti's workshop," by John Ballantyne (c.1865, oil on canvas). © National Portrait Gallery, London. NPG — 835.
The final paragraphs of Hedengren-Dillon's article deal with the close of the sculptor's relationships with Louis-Ferdinand Soyer of the firm of Soyer and Ingé, the founders who had won acclaim for casting the original statue, and who also cast the Duke of Wellington statue; also with de Braux, who cast the relief panels for the Glasgow monument (see "Monument to the Duke of Wellington"). In 1849 he moved to Onslow Square in Kensington, and soon afterwards opened his own independent foundry in London, as part of his extensive workshop premises in Sydney Mews behind his home. Although skilled founders would have to have been employed (see Read 60), this would have given him much more control over the whole process.
Marochetti was not the first sculptor to take such a step: Jacob Simon tells us that Sir Richard Westmacott and Sir Francis Chantrey had both opened their own foundries (interestingly, both produced very fine equestrian statues), and on occasion allowed other sculptors to cast their work there: Westmacott "accommodated" John Flaxman and Matthew Cotes Wyatt in this way, for example. Wyatt was another sculptor who produced equestrian statues. Other sculptors who made provision for casting their own work were Sir John Steell in Scotland (whose powerful Alexander the Great, training his horse Bucephalus was cast in bronze in 1883), and Sir Alfred Gilbert. But it was at Marochetti's foundry that the immense lions for Trafalgar Square were cast. Nothing could better indicate the scale of his enterprise, as well as of his achievement, and it is not too much to say that his first big success had pointed in this direction all along.
Some Other Monumental Equestrian Statues
Bibliography
Art-Union. 3.5 (May 1841): 85.
Art-Union. 8.1 (January 1846): 32-33.
Cust, L. H. "Marochetti, Carlo (1805-1867." Archive of the Dictionary of National Biography (1893). Linked to the Oxford Dictionary of National Biography. Online ed. 14 July 2014.
Hedengren-Dillon, Caroline. "L'Emmanuel-Philibert de Marochetti, Histoire d'une Réduction." La Tribune de l'Art. Web. 14 July 2014.
"Monument to the Duke of Wellington." PMSA (Public Monuments & Sculpture National Recording Project). Web. 14 July 2014.
Read, Benedict. Victorian Sculpture. New Haven and London: Yale University Press, 1982.
Simon, Jacob. "Bronze Sculpture Founders: A Short History." National Portrait Gallery. Web. 14 July 2014.
Ward-Jackson, Philip. "(Pietro) Carlo Giovanni Battista Marochetti." Oxford Dictionary of National Biography. Online ed. 14 July 2014.
Willard, Ashton Rollins. History of Modern Italian Art. 2nd ed. London: Longman, 1902. Internet Archive. Americana collection. Web. 14 July 2014.
---
Last modified 15 July 2014