[All photographs in this review were taken" by the author. The gallery exhibits were taken" by kind permission of the Musée Girodet, Montargis, France. Click on the thumbnails for larger images.]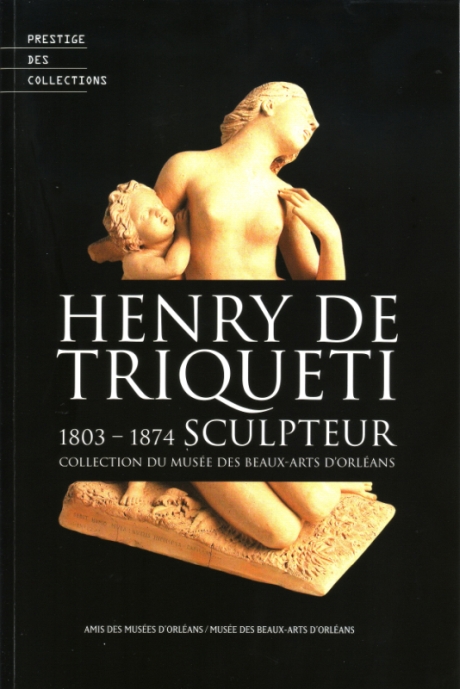 Cover of the book under review. NB This shows the terracotta Clytie discussed below.
The collapse of the July Monarchy in 1848, after the second revolution in France, sent the French royal family into exile in Surrey. Having crossed the Channel incognito, Louis-Philippe d'Orléans, already elderly, died at Claremont in Esher in 1850 and was first laid to rest in a little domed mausoleum attached to the Catholic church of St Charles Borrromeo in nearby Weybridge. His wife Marie-Amélie lived on into her eighties, occupying Claremont until her death in 1866. The Orléans family were great patrons of the arts, and their family connections with Queen Victoria meant that their residence here had an impact on the already cosmopolitan Victorian art scene. More attention is being paid to this now, with some long overdue retrospectives. One artist whose contribution has been unjustly neglected is the sculptor Baron Henri (later Henry) de Triqueti. This new book about him in France might help to right the injustice.
Since Triqueti was born in Conflans-sur-Loing in the Loiret region, near Orléans, works from his studio were donated" by his daughter Blanche and son-in-law Edward Lee Childe to the nearby Musée Girodet in Montargis and the Musée des Beaux-Arts in Orléans. These therefore were the joint venues of the first retrospective of Triqueti's work in 2007-2008. Both now have Triqueti rooms, the opening of the one in the Musée des Beaux-Arts d'Orléans having taken place only late last year (2009). This informative and attractively illustrated handbook was written by the curator, Véronique Galliot-Rateau, to mark that occasion and, it is hoped, to bring Triqueti's talent to the notice of many more people.
Left: A view of the Academic Painting and Sculpture Gallery of the Musée des Beaux-Arts d'Orléans. Right: The Triqueti room in the Musée Girodet.
After a brief preface suggesting his importance, Galliot-Rateau first outlines the career that took Triqueti away from his native country to England. He was always more than just an "enfant du pays," since his father, who was originally from Savoy, had received his baronetcy from the king of Sardinia for service as an ambassador in Amsterdam. His mother, the baron's second wife, came on her mother's side from local French nobility but was partly of Swiss origin. The young Triqueti emerged from this cosmopolitan background with a thorough knowledge of Greek, Latin, the scriptures, and medieval Italian poetry. He studied art first with his mother's friend Anne Louis Girodet Trioson, and then at the Paris studio of Louis Hersent, gradually turning to sculpture. Such details are already included in the Victorian Web, but some new ones can now be added, such as his lifelong love of drawing, his delight in nature, and the spread of his artistic sympathies. His pleasure in nature led him to take walks round the zoological gardens in London's Regent's Park; it helps to account for the well-observed natural details in his work, for instance, in the borders of the Triqueti Marbles in the Albert Memorial Chapel at Windsor. As for his artistic leanings, while he was among the new wave of Romantic sculptors, his close familiarity with early Italian sculpture gave his work a certain gravitas from an early age. Another of his London haunts, Galliot-Rateau notes later, was the British Museum, where he was much taken with the Elgin Marbles.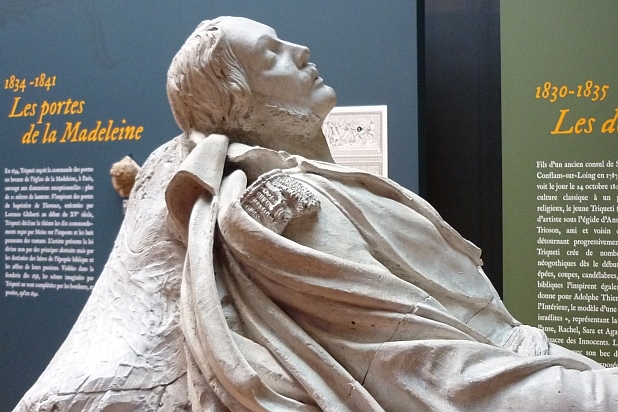 Part of the full-sized maquette of the Duke of Orléans in its gallery setting.
The advantages of such a background as Triqueti's are obvious, but nothing can really account for his precocity. Having paid tribute to the art-collector and museum director Eudoxe Marcille (1814-1890), who played an important role in the acquisition of Triqueti's works, Galliot-Rateau launches into the first of her three main sections: "Le Sculpteur des Princes." This is how Triqueti is popularly known, because of the patronage of the House of Orléans, and later of Queen Victoria. It is astonishing, as Galliot-Rateau says, that someone who had shown hardly any work at the Paris Salon should start getting major public commissions at around the age of 30, especially for the bronze reliefs of the great doors of the Madeleine, right in the heart of the capital. The young sculptor rose to the challenge magnificently, choosing to depict not episodes from the life of St. Madeleine, but the tragedy of sinful man, in a series of powerful scenes illustrating the Ten Commandments. Galliot-Rateau also gives details of other work which shows just how intensely alive Biblical figures were to him. His patron and friend during these early years was the young Prince Royal, the Duke of Orléans, whose tragic death inspired Triqueti's next notable works, the recumbent sculpture for the his tomb in the Chapelle de Saint-Ferdinand in Paris, and the Pietà there. Galliot-Rateau suggests that Mary's expression in the latter work owes something to the grief of Triqueti's mother at the death, that same year (1843), of her only daughter, the sculptor's sister Henrietta. This section discusses various other works, including a great, elaborately decorated bronze and marble vase for the Duke of Orléans, which illustrates the poetry of Dante and Petrarch. The three statuettes for niches in its base, of Beatrice, Laura, and Vittoria Colonna, are now in the Louvre.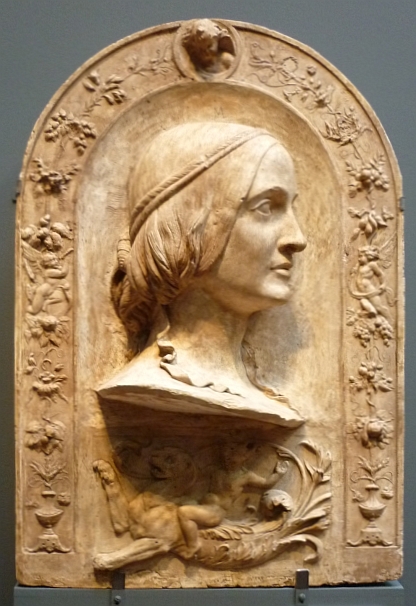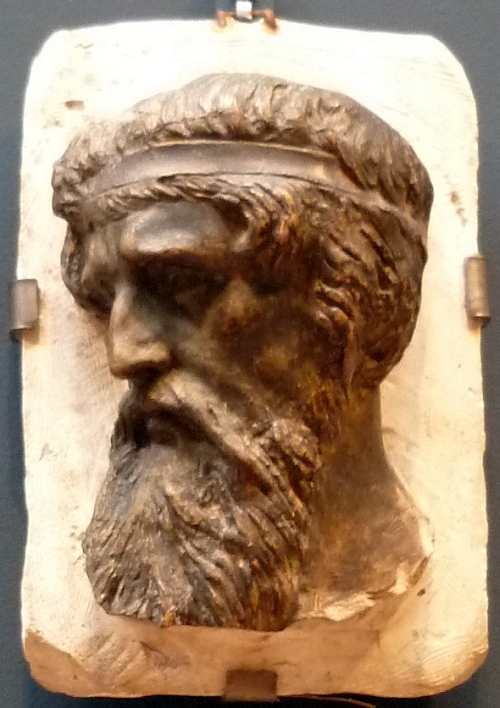 Left: A more playful side of Triqueti: this preliminary model for the bust-medallion of a young woman is surrounded by putti and flowers, with an impish figure at the bottom riding a grotesque — half-animal, but sprouting vegetation instead of a tail. His work on such medallions was influenced by fifteenth-century Florentine sculptors (Turner 416). Right: More typical: a model for one of the heads on the doors of the Madeleine, illustrating "Thou Shalt Not Steal."
Coming as he did from such a wealthy background, Triqueti never needed to work for money. He was driven, as the best are, by his own passion for his art. His marriage to Julia Forster in 1834 opened up new avenues of patronage. Julia was not only the granddaughter of the eighteenth-century English sculptor, Thomas Banks but daughter to the chaplain of the British Ambassador in Paris, Lord Cowley. Hence he began to receive commissions like that for the medallion-busts of Florence and Alice Campbell. This stood him in good stead after the second revolution, when he himself enlisted in the National Guard and was wounded at the barricades. He began to turn more and more towards England. One of the other works discussed in this section is his Sappho et l'Amour, or Sappho and Cupid, which was first executed in terracotta in the very year of the revolution, and then chiselled in ivory. The ivory piece was purchased by Queen Victoria in 1852, and is now in the Victoria and Albert Museum. It rather a typical composition, depicting a moment of high drama: according to the V & A's own site, Sappho is just about to cast herself into the sea after having been rejected" by Phaon; a small Cupid is trying unavailingly to hold her back. A parallel might be drawn with the work of another royalist artist, the painter Paul Delaroche (1797-1856), who also expressed his feelings about events in France through depictions of women in crisis (for instance, in The Execution of Lady Jane Grey, the featured work of another recent exhibition, this time at the National Gallery in London).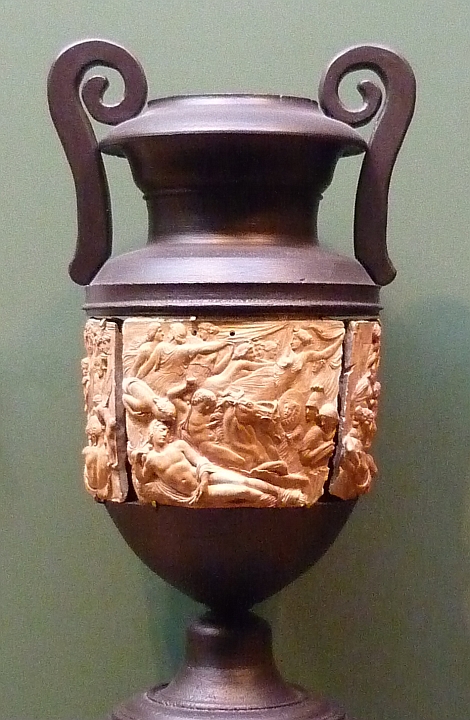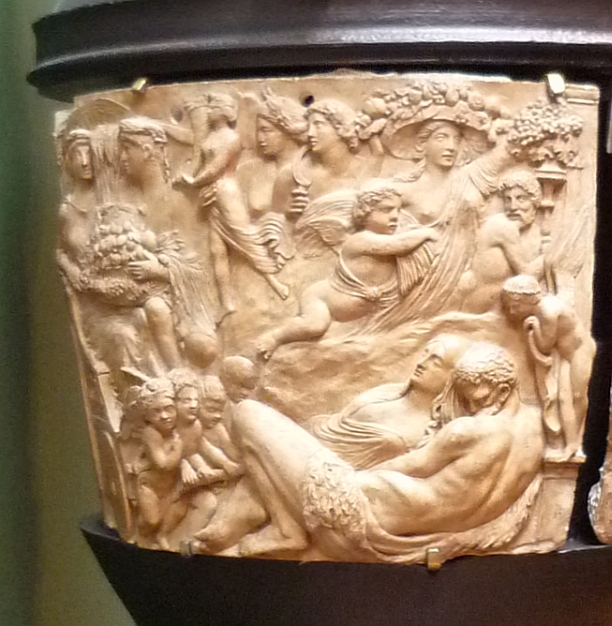 A smaller vase (but still 130 cms high) has been preserved in its entirety, on the theme of the Israelites during their Captivity. The kind of work involved can be seen in the following examples. Left to right: (a) Vase de la Chasse, bronze, 1837 (80 cms high). (b) Maquette for another vase or amphora of a different design (Triqueti did not believe in making copies of the same work). (c) Detail of one of the panels on this vase: a nuptial scene.
By the end of the 1850s Triqueti was spending much of his time in London, where his address was that of his English assistant, and from some point mistress, Susan Durant, near Hyde Park. Queen Victoria and Prince Albert visited the Chapelle de Saint-Ferdinand in 1855, and were much moved by Triqueti's work there. Prince Albert was also impressed by Triqueti's tarsia technique. He confessed in a letter to his daughter Victoria that sculpture was more attractive to him than painting (see Galliot-Rateau 24), and Triqueti was engaged to direct young Vicky's skills in this line. It was the princess, apparently, who encouraged her mother to entrust Triqueti with the decoration of the Albert Memorial Chapel. The Triqueti Marbles are fabulous. They have to be seen to be believed. The time for such sumptuous funerary work and heavily religious sentiment would pass, and it is significant that Victoria herself prevailed upon Triqueti to make the effigy of her husband more knightly than saintly. Nevertheless, Galliot-Rateau may be right about the influence of this celebrated, large-scale project. She does not elaborate on this point, but such elements as Triqueti's resuscitation of an old traditional craft, his meticulous attention to detail, the panel borders of leaves and flowers, and the use of carefully selected and interpreted texts, may well have left a profound mark on the evolving Arts and Crafts movement.
The next two sections of Henry de Triqueti, 1803-1874, Sculpteur deal with the sources of Triqueti's inspiration and his techniques. Like the first section, which moves methodically from his early commissions to his work for first French and then English royalty, these both divide into fully-illustrated shorter essays, with major works picked out for more detailed discussion. As for Triqueti's chief inspirations, these were, without doubt, Christianity, women, and ancient mythology. The order given here is absolutely right. He was a man of great religious sensibility, encouraged in him from his earliest days" by his mother Sophie. Angels feature prominently in his work of all kinds, an interest which, when combined with his skill at producing circular compositions, yielded the wonderful Concert d'Anges, or Concert of Angels, which he used for the headstone of Susan Durant, who died suddenly in January 1873. As for women, he was most affected" by their maternal feelings, and two of his haunting representations of the infant Moses with his mother are illustrated here. The heartbreak and despair of heroines from the classical past provided him with other subjects. One of the full-page illustrations is of a terracotta Clytie, her body twisted to follow the sun, some leaves" by her thigh suggesting the metamorphosis about to take place (her yielding pose contrasting sharply with G. F. Watt's more sinewy Clytie). Among the other works inspired" by classical mythology and singled out here is a remarkable Narcissus, Narcisse Mort, the figure almost subsumed into the riverbank. This dates from 1850, yet its fluid lines look forward to the New Sculpture, and such works as Alfred Gilbert's monument to Queen Alexandra. Benedict Read has written about the influence of the French on the New Sculpture, pointing particularly to his fellow-countryman Marochetti's skills in translating his models into bronze; he could have mentioned Triqueti, too.
Nor was this sculptor any less gifted or adventurous technically. His minutely observed drawings, of which there is an enormous cache (several thousand), were carefully annotated and organised. Having the wealth to acquire the best materials, he worked with a variety of them, including precious metals, wood, ivory and of course marble; and his work ranged from the truly monumental, like the vast bronze doors of the Madeleine and his great vases, to the miniature, as in the tiny details of his tarsia work. Earlier studies would be used in later compositions, but, believing a work of art should be unique, he never made copies of entire pieces. Of course, because the hard work to produce the actual sculpture was done" by his assistants under his direction, his drawings and maquettes, which show his personal touch, have a special importance. (They in fact literally bear his touch — one illustration here shows a fingerprint on the plaster of The Concert of Angels, as well as his compass marks).
Unfortunately, says Galliot-Rateau, Triqueti was a victim of his own success (52). Since he did not need to seek out public commissions, or replicate his works, the individual pieces disappeared one" by one into private hands, some in France and some in England. His desire to explicate his major works, the Madeleine reliefs and the marbles in the Albert Memorial Chapel, shows that he did care about his wider reputation; but he was largely forgotten after his death. Now, with the 2007/8 exhibition, the full-length book that accompanied it (details given below), the two dedicated museum rooms, and this useful and beautifully produced paperback, he may at last be given the place he deserves in the history of nineteenth-century sculpture.
Bibliography
Galliot-Rateau, Véronique. Henry de Triqueti, 1803-1874, Sculpteur : Collection du Musée des Beaux-Arts d'Orléans. Amis des Musée d''Orléans / Musée des Beaux-Arts d'Orléans, 2009. 64 pp. €15. ISBN 978-2-910173-36-4.
Lemaistre, Isabelle Leroy-Jay, et al. Henry de Triqueti, 1803-1874, Le Sculpteur des Princes. Vanves, France: Hazan, 2007.
Turner, Janet. Grove Dictionary of Art. London: St Martin's, 2000.
---
Last modified 29 November 2020