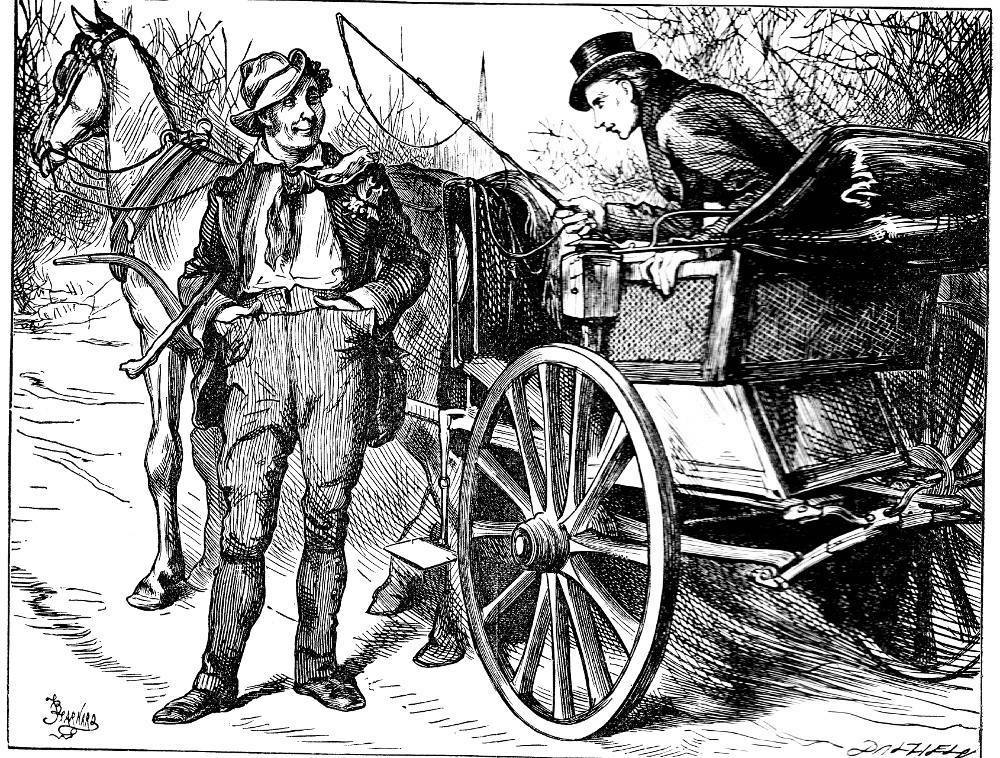 "He turned a whimsical face and a very merry pair of blue eyes on Mr. Pinch." Seventh illustration by Fred Barnard for Dickens's Martin Chuzzlewit, (Chapter V), page 33. 10.7 cm x 13.8 cm, framed. Engraving by the Dalziels Scanned image and text by Philip V. Allingham. [You may use this image without prior permission for any scholarly or educational purpose as long as you (1) credit the person who scanned the image and (2) link your document to this URL in a web document or cite the Victorian Web in a print one. Click on image to enlarge it.]
[The "jolly" and ever-optimistic Mark Tapley, ostler at the Blue Dragon, makes his initial appearance in the novel; he will become a "Sam Weller"-type of companion to the less worldly, middle-class protagonist.]
Thirty years earlier in the original serial publication, in Phiz's fifth monthly illustration, "Pinch starts homeward with the new pupil," twenty-five-year-old Mark Tapley, the hostler at the Blue Dragon in the little Wiltshire village that serves as the novel's initial setting, is largely hidden from the reader's view by Pecksniff's broken-down nag; Phiz has even obscured Mark's perpetually merry physiognomy under a non-textual fur hat, with the result that reader-viewers in the original monthly instalment did not properly see the illustrated Mark begin his progress until the sixth illustration (March 1843).
Having read the entire text in advance and therefore having realized the importance of the jovial Mark to the subsequent narrative, Fred Barnard divides the focus of the composition between a full-length study of Mark Tapley, blocking our view of Pecksniff's horse (not nearly the nag of Dickens's description or Phiz's plate), and a representation of a substantial gig, surmounted by another significant though secondary character, Tom Pinch, not previously introduced in Barnard's sequence.
Whereas Phiz has realised a moment later in Chapter 5 in order to introduce young Martin, Barnard has chosen to depict the initial appearance of the Dickensian Sancho Panza in a rustic setting. Prominent here are Mark's neck-cloth, its long ends giving his figure a dashing quality, and the winter berries and greenery in his buttonhole, imbuing him with the life-force of a woodland deity or the spirit of Christmas Present in A Christmas Carol (1843). The slouchy-brimmed hat and riding pants (not specified by the authorial voice) contribute to an overall impression of the whimsical character's jauntiness.
The mutual destination of Tom and Mark, Salisbury, Barnard indicates by the cathedral spire (centre) rising in the distance between the two. Twice Dickens employs the adjective "spruce" to characterize Mark, whose social status and character are signified in the illustration by the contrast in his attire and Tom's. The architectural apprentice's posture implies both curiosity and deference, whereas Mark's easy swagger betokens a thorough self-confidence. Barnard has substituted the soft had with dented crown and uneven brim for Phiz's beaver (from the March 1843 plate "Mark begins to be jolly under creditable circumstances") as an assertion of his working-class origins. Except for the breeches with top-pockets, conveying a certain horsiness suitable to the hostler of the Blue Dragon, the remainder of Mark's attire is consistent with Phiz's illustrations and Dickens's descriptions. Despite his Kentish origin and London background, Barnard's Mark looks a thorough countryman.
Relevant Illustrations, 1843-1910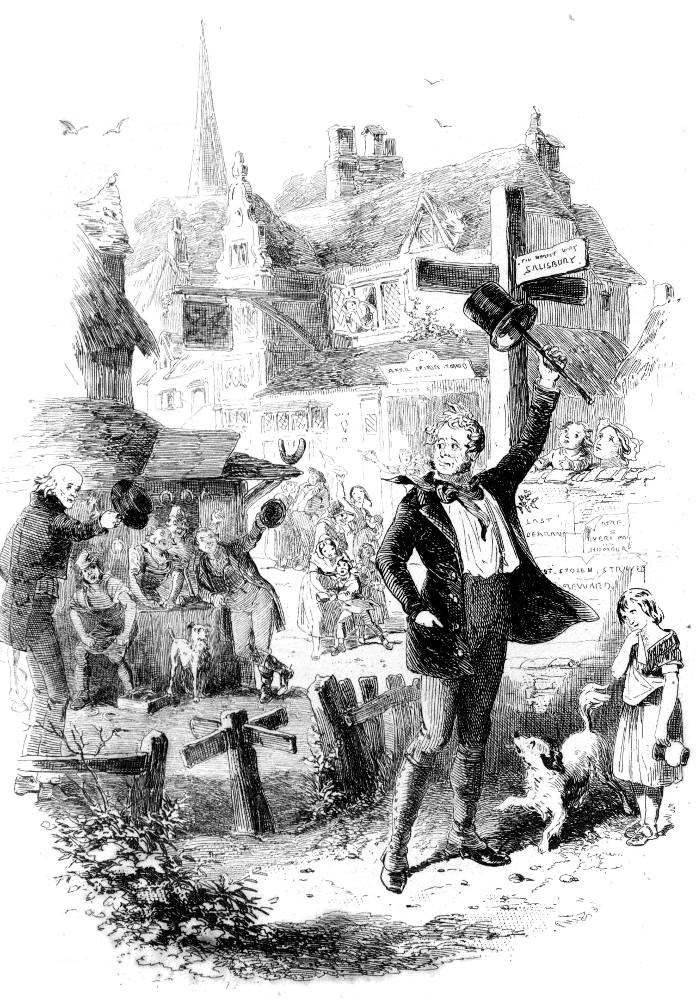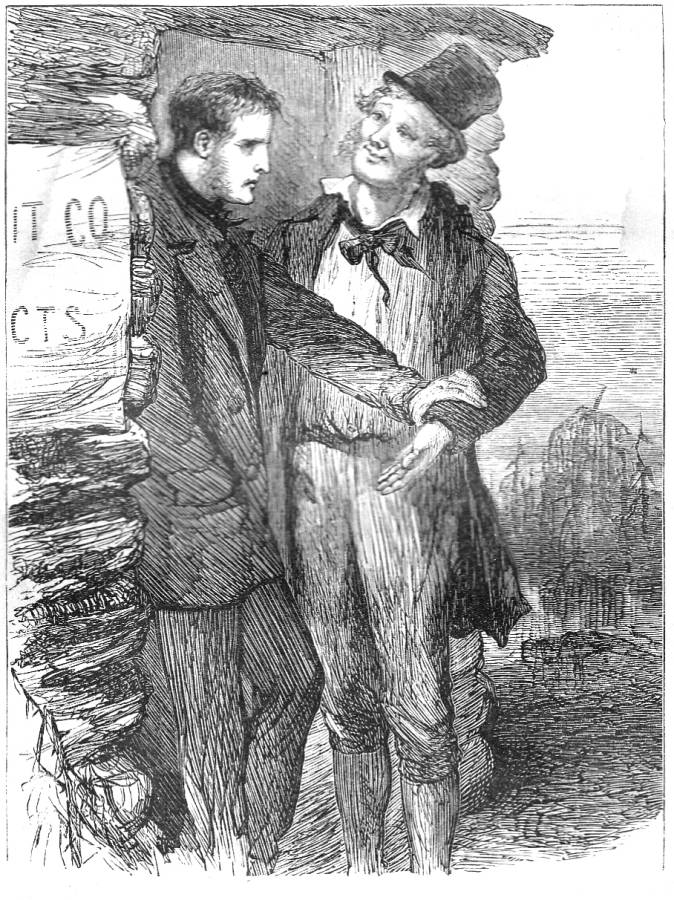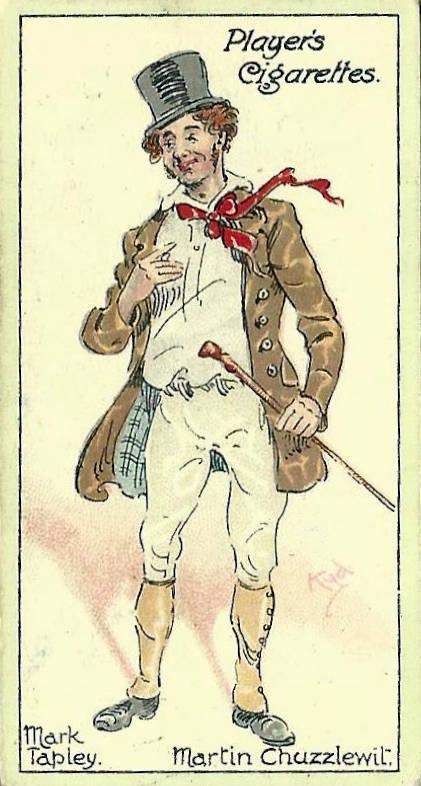 Left: Hablot Knight Browne's Mark Begins to be Jolly Under Creditable Circumstances (March 1843). Centre: Sol Eytinge, Jr.'s Martin Chuzzlewit and Mark Tapley (1867). Right: J. Clayton Clarke's (Kyd's) cigarette card image of the indefatigable optimist, Mark Tapley (1910). [Click on images to enlarge them.]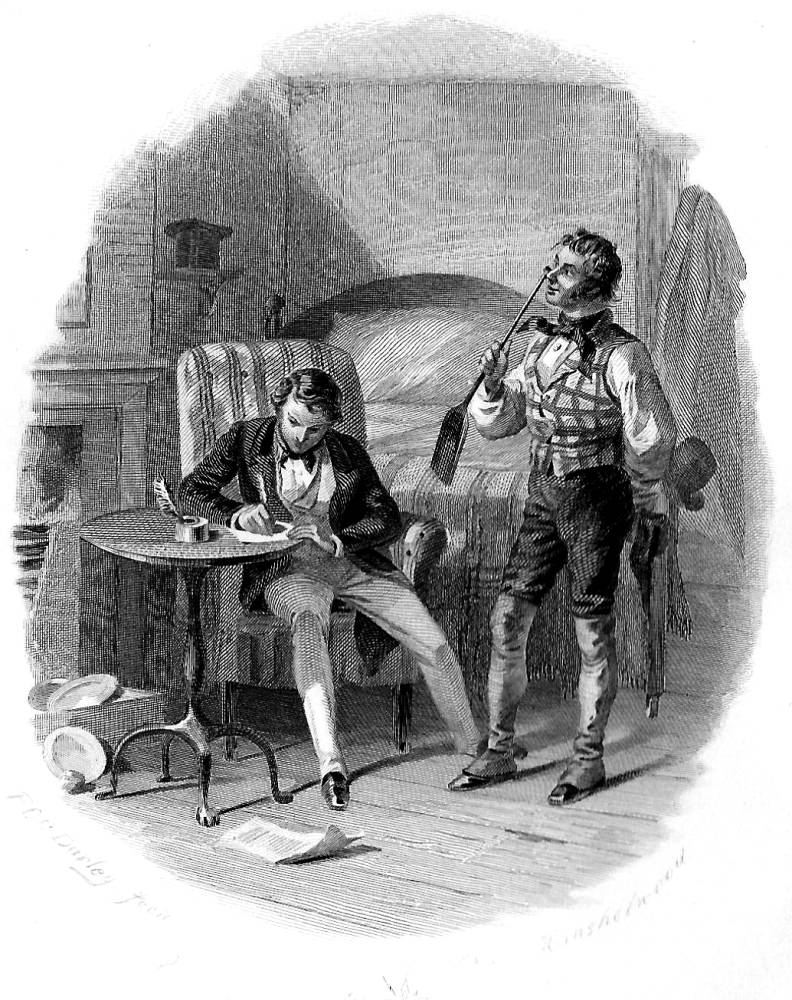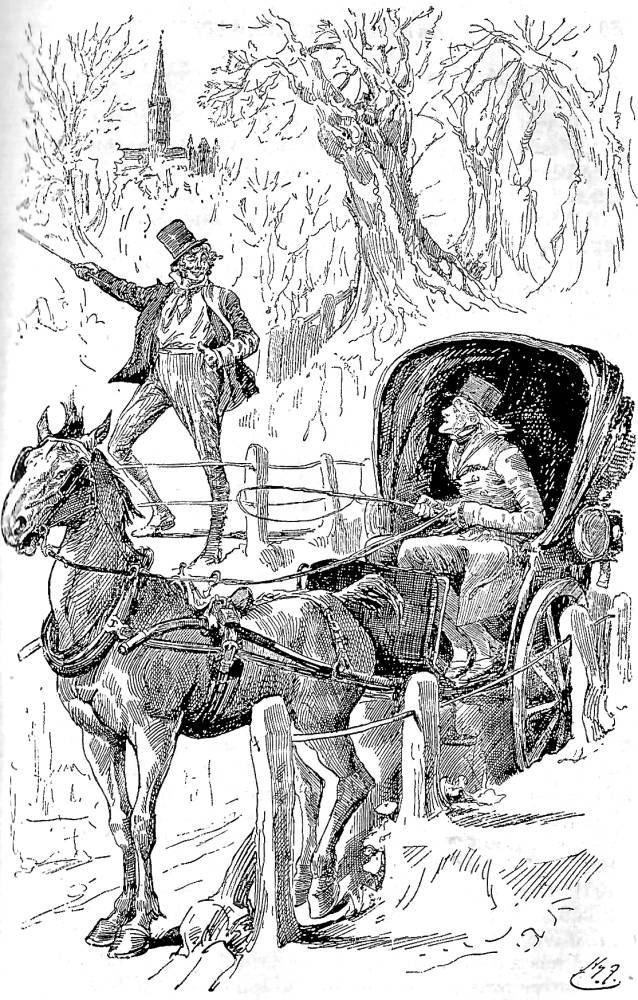 Left: F. O. C. Darley's frontispiece for volume two, "Jolly sort of lodgings", alluding to Mark's deciding to join young Martin on the voyage to America. Centre: Furniss's study of the inveterately jolly hostler, Mark Tapley, depicting Mark's cheerfully waving good-bye to all he has known. Right: Furniss's introduction of jolly Mark and pensive Tom, Mark Tapley and Tom Pinch (1910). [Click on the images to enlarge them.]
References
Bentley, Nicolas, Michael Slater, and Nina Burgis. The Dickens Index. New York and Oxford: Oxford U. P., 1990.
Dickens, Charles. The Life and Adventures of Martin Chuzzlewit. Il. Hablot Knight Browne. London: Chapman and Hall, 1844.
Dickens, Charles. Martin Chuzzlewit. Works of Charles Dickens. Household Edition. 55 vols. Il. F. O. C. Darley and John Gilbert. New York: Sheldon and Co., 1863. Vol. 1 of 4.
Dickens, Charles. The Life and Adventures of Martin Chuzzlewit. Il. Sol Eytinge, Junior. The Diamond Edition. Boston: Ticknor and Fields, 1867.
_____. The Life and Adventures of Martin Chuzzlewit, with 59 illustrations by Fred Barnard. Household Edition, volume 2. London: Chapman and Hall, 1871-1880. The copy of the Household Edition from which this picture was scanned was the gift of George Gorniak, proprietor of The Dickens Magazine, whose subject for the fifth series, beginning in January 2008, was this novel.
Dickens, Charles. Life and Adventures of Martin Chuzzlewit. Il. Harry Furniss. The Charles Dickens Library Edition. 18 vols. London: Educational Book, 1910. Vol. 7.
Steig, Michael. "Martin Chuzzlewit's Progress by Dickens and Phiz. Dickens Studies Annual 2 (1972): 119-149.
---
Last modified 8 July 2016