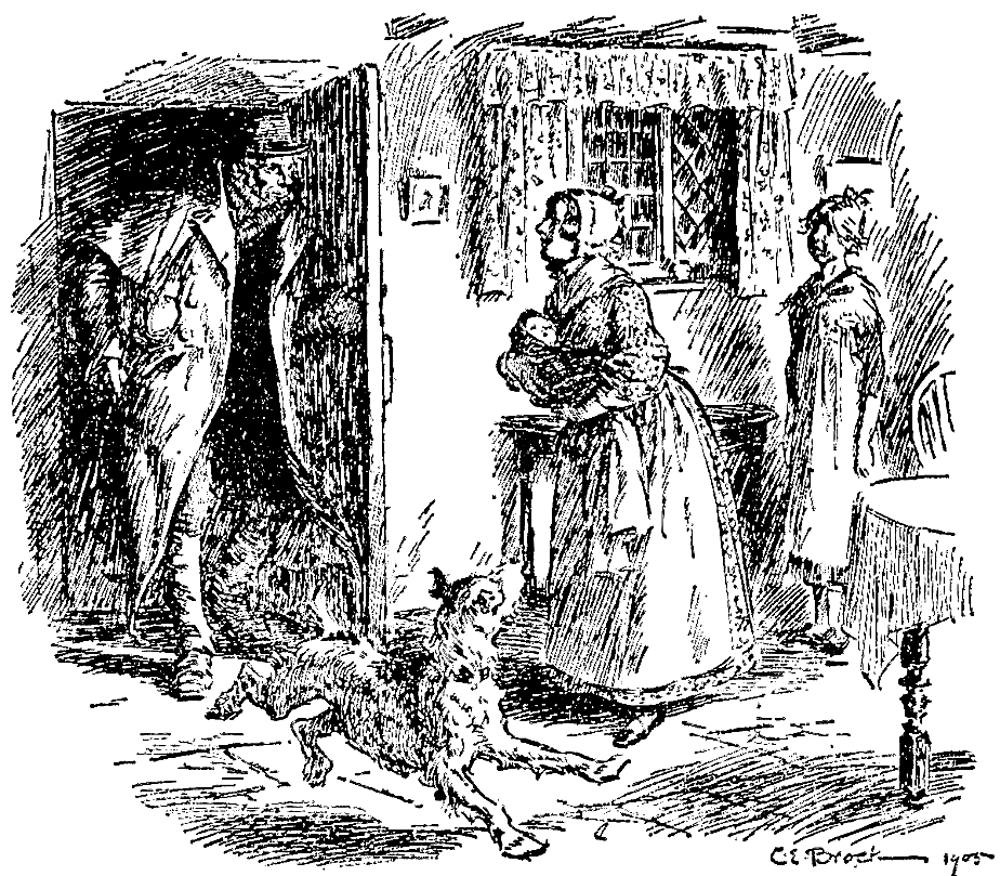 "John Peerybingle's Return Home" (1905), a half-page illustration for "Chirp the First," 8.5 cm by 9.7 cm, vignetted (105), is Brock's realisation of the middle-aged carrier's return home to his wife and child at the opening of the story.
Passage Illustrated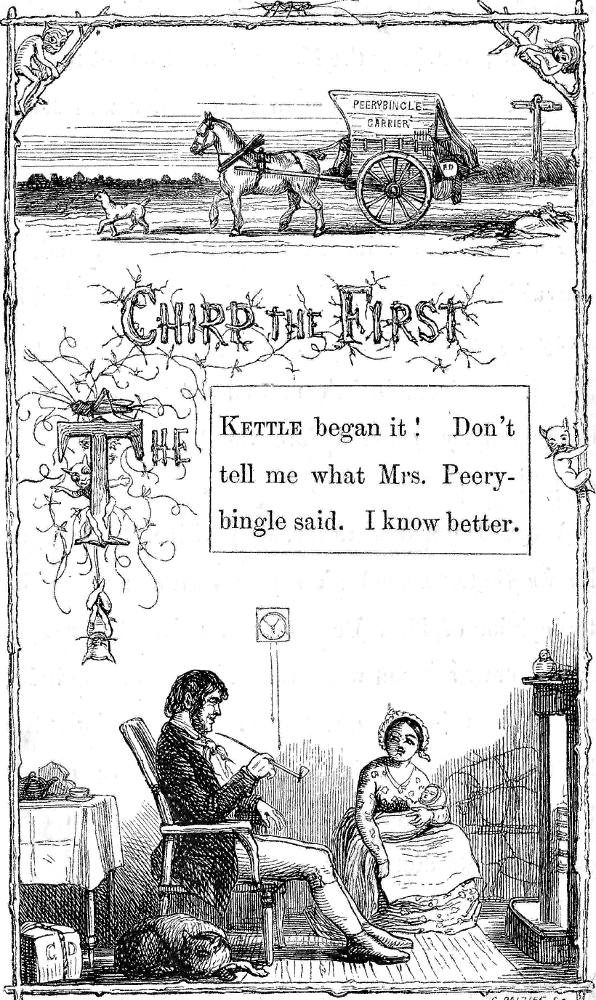 Right: Richard Doyle's split-frame illustration simultaneously depicting the Peerybingles' parlour (lower register) and carrier's van (upper register), Chirp the First (1845).
It was pleasant to see Dot, with her little figure, and her baby in her arms: a very doll of a baby: glancing with a coquettish thoughtfulness at the fire, and inclining her delicate little head just enough on one side to let it rest in an odd, half-natural, half-affected, wholly nestling and agreeable manner, on the great rugged figure of the Carrier. It was pleasant to see him, with his tender awkwardness, endeavouring to adapt his rude support to her slight need, and make his burly middle-age a leaning-staff not inappropriate to her blooming youth. It was pleasant to observe how Tilly Slowboy, waiting in the background for the baby, took special cognizance (though in her earliest teens) of this grouping; and stood with her mouth and eyes wide open, and her head thrust forward, taking it in as if it were air. Nor was it less agreeable to observe how John the Carrier, reference being made by Dot to the aforesaid baby, checked his hand when on the point of touching the infant, as if he thought he might crack it; and bending down, surveyed it from a safe distance, with a kind of puzzled pride, such as an amiable mastiff might be supposed to show, if he found himself, one day, the father of a young canary. [Chapter One, "Chirp the First," 112]
Commentary: The Sacred Family Translated into the Nineteenth Century
Brock treats this family grouping in a far more realistic manner than the caricatural versions of John Leech and Richard Doyle in the 1845 edition. The illustrators of the novella have dealt extensively with this family grouping that is the third in the succession of lower-middle class families in The Christmas Books. Leech had not done much with the Cratchits (he represents only Bob, and that in a tailpiece), but later illustrators have developed the domestic felicity of the Cratchits of Camden Town in A Christmas Carol (1876, 1878, and 1892) and atypical urban familty of widower Trotty Veck and his comely daughter, Meg, in The Chimes (1844, 1876, and 1878). The other somewhat atypical family grouping in this third Christmas Book is the household of another widower, the toy-maker Caleb Plummer, and his blind adolescent daughter, Bertha. The unusual aspect of the Peerybingle family upon which Brock comments visually is John's being a generation older than his wife. Rounding out the Peerybingle household are the awkward adolescent nurse, Tilly Slowboy, and the family dog, Boxer (bounding forward, centre), John's constant companion on his deliveries.
Relevant Illustrations from the 1878 and 1912 editions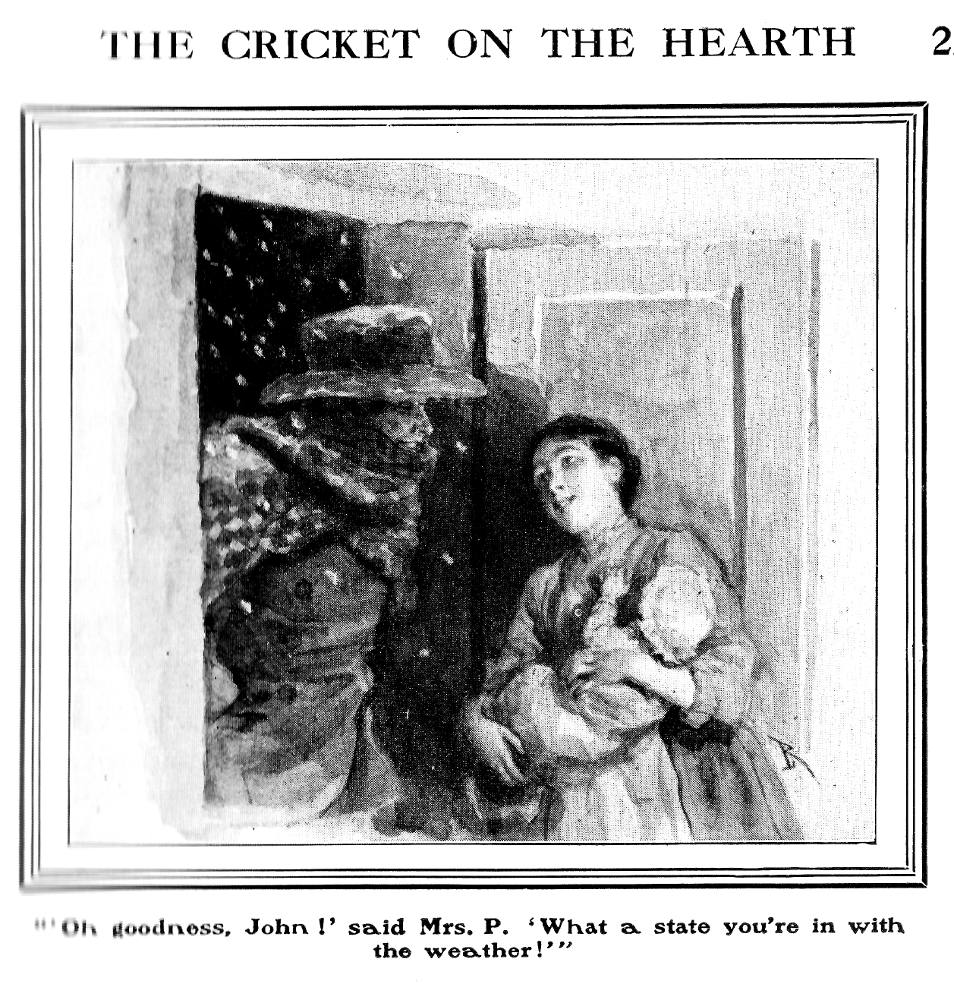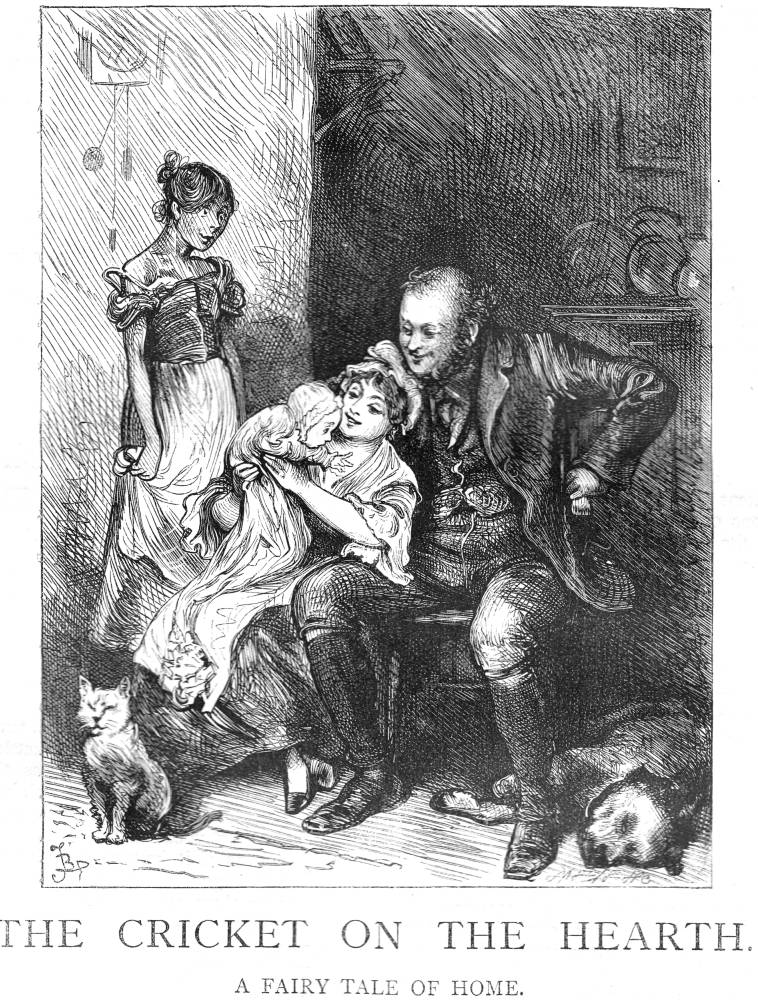 Left: Luigi Rossi's version of John's cheerrful entrance in Mr. Peerybingle's Welcome Home (1912). Right: Barnard's study of the rural, middle-class family grouping, John Perrybingle's Fireside (1878).
Other Illustrations for
The Cricket on the Hearth

(1845-1915)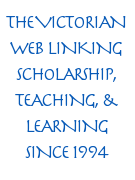 Scanned image and text by Philip V. Allingham. [You may use this image without prior permission for any scholarly or educational purpose as long as you (1) credit the person who scanned the image and (2) link your document to this URL in a web document or cite the Victorian Web in a print one.]
Bibliography
Dickens, Charles. Christmas Books. Illustrated by Fred Barnard. The Household Edition. London: Chapman and Hall, 1878.
_______. Christmas Books, illustrated by Sol Eytinge, Jr. The Diamond Edition. Boston: Ticknor and Fields, 1867.
_______. Christmas Books, illustrated by Fred Barnard. Household Edition. London: Chapman and Hall, 1878.
_______. Christmas Books, illustrated by A. A. Dixon. London & Glasgow: Collins' Clear-Type Press, 1906.
_______. Christmas Books, illustrated by Harry Furniss. The Charles Dickens Library Edition. London: Educational Book, 1910.
_______. A Christmas Carol and The Cricket on the Hearth, illustrated by C. E. [Charles Edmund] Brock. London: J. M. Dent, 1905; New York: Dutton, rpt., 1963.
_______. Christmas Stories. Illustrated by E. A. Abbey. The Household Edition. New York: Harper and Brothers, 1876.
_______. The Cricket on the Hearth: A Fairy Tale of Home. Illustrated by John Leech, Daniel Maclise, Richard Doyle, Clarkson Stanfield, and Edwin Landseer. London: Bradbury and Evans, 1845.
_______. The Cricket on the Hearth. Illustrated by L. Rossi. London: A & F Pears, 1912.
---
Created 13 October 2015

Last modified 30 July 2020