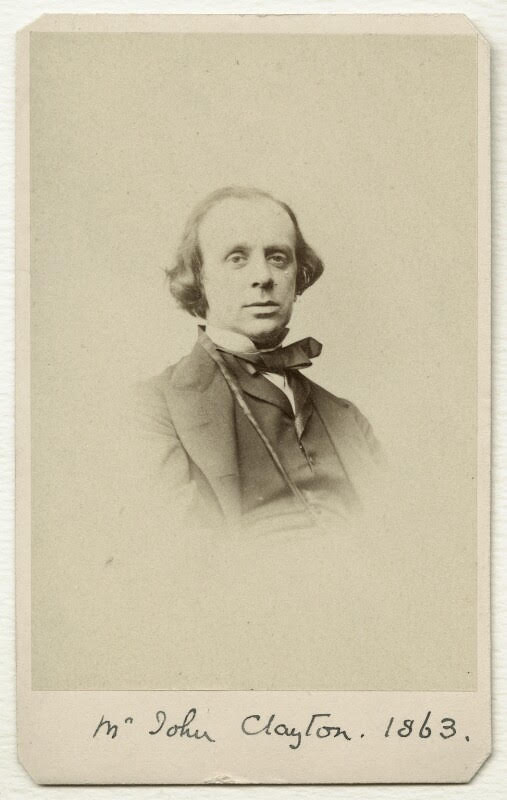 Clayton in 1863, courtesy @ National Portrait Gallery, London. [Click on all
the images to enlarge them, and for more information about them.]
John Richard Clayton was born in Marylebone, London, on 30 July 1827, the son of John Clayton and his wife Selina Hollingsworth. Clayton came from an artistic background. His mother was the daughter of Frederick P. Hollingsworth, a portrait painter from Broomfield, Essex, and she taught John how to draw from an early age. In 1844 at age seventeen Clayton was apprenticed to Theodore Phyffers, a Belgian sculptor who assisted Charles Barry and Augustus Pugin by executing sculptural decorations for the Palace of Westminster. Clayton continued to work with Phyffers even following the completion of his apprenticeship. They were frequently employed by the architect George Gilbert Scott to decorate his buildings where Clayton made plaster modellos for the stone carvers to sculpt.
Clayton's contact with Pugin led him to become increasingly interested in architecture. As part of his training Clayton spent a period of time with the architect Anthony Salvin, who in 1850 was working on alterations to the interior of Wells Cathedral. Clayton served as Clerk of Works and was employed doing stone carvings in the choir and decorating the roof. It was while working here that Clayton first fell in love with medieval stained glass, an extensive collection of which had survived the devastations of the Reformation. This experience imbued in him a desire to revive the art of stained-glass making. It was Salvin who first introduced Clayton to G. G. Scott with whom Clayton would collaborate over many years.
In 1846 Clayton began attending Leigh's Art School in Maddox Street in London in preparation for entering the Royal Academy Schools to study sculpture. Here he formed friendships with fellow artists like William Burges, Henry Stacy Marks, Henry Tamworth Wells, Henry Hugh Armstead, and Frederick Smallfield that were to continue throughout his life. On July 26, 1849 Clayton entered the Royal Academy Schools as a probationary student. He studied for only a short period of time before leaving on December 19, just after he was admitted to the Antique School, because he was dissatisfied with the curriculum and the instruction he was receiving. It was here he first became acquainted with the artists associated with the Pre-Raphaelite Brotherhood who were impressed with by his practical experience and who, like him, were also devotees of medieval art. Clayton was later a member of The Medieval Society, in existence from 1857-1858, that included architects like William Burges, William White, G. F. Bodley, G. E. Street, J. P. Seddon, Philip Webb, and Benjamin Woodward and artists like Ford Madox Brown, William Holman Hunt, D. G. Rossetti, W. M. Rossetti, William Bell Scott, William Morris, John Lucas Tupper, Thomas Woolner, Alexander Munro, G. P. Boyce, and John Ruskin. Clayton also attended the North London School of Drawing and Modelling in Camden that was associated with Thomas and J. P. Seddon.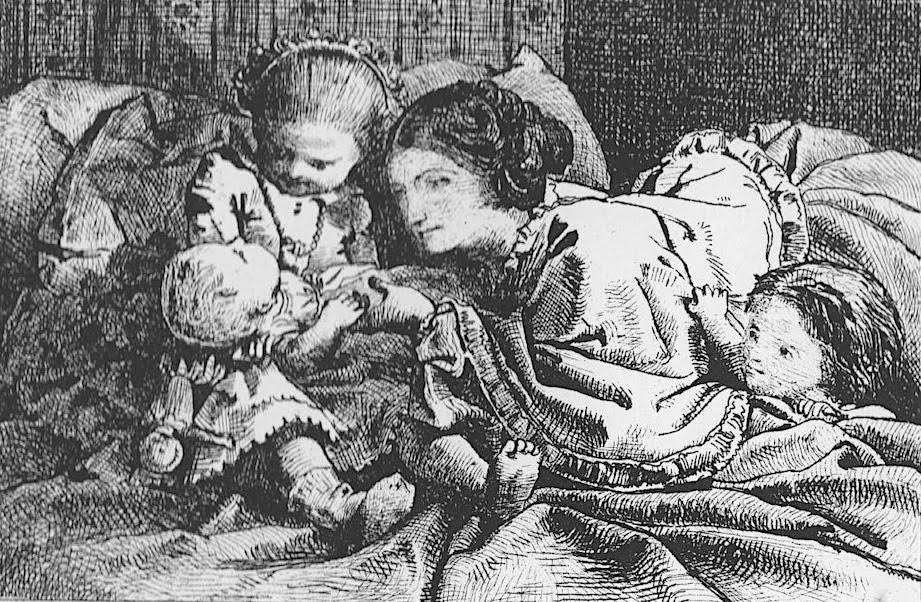 The "sympathetic" and "agreeable" Clayton's A Mother's Love for the Junior Etching Club, 1862 (see bibliography).
Clayton became good friends with the members of the Pre-Raphaelite Brotherhood, especially Dante Gabriel Rossetti, and their wider circle. He frequently attended their meetings and social gatherings. William Allingham's diary for October 23, 1889 records a visit from Clayton: "Mr. Clayton – very agreeable and sympathetic man, lover of poetry and art. He began by recalling the time, nearly forty years ago, when he used to meet me at the P.R.B. evenings" (386). Clayton was on such intimate terms with Rossetti that he was privileged to enter his studio at any time. Clayton remembered their association with great fondness and their friendship persisted even during the period late in Rossetti's life when he lost touch with many of his former friends. After Rossetti's death, Clayton sent a letter to William Michael Rossetti:
It is long since – to my loss – our paths in life diverged, so that I should see but little of him; and yet the world without him seems unlike its former self…In olden times I had discovered the affectionate side of his nature…In later days I was told he was changed, reserved, difficult. Recently – two or three years since – I met him at a friend's house…talked with him of bygone days…Instead of finding him changed, I found myself once again in communion of soul with dear old Gabriel of Newnham Street and Chatam Place. [Angeli 247]
Letters by Rossetti and G. P. Boyce from the 1850s period, as well as Boyce's diaries, document many of the interactions Clayton had with members of the Pre-Raphaelite circle. Clayton was particularly close to Boyce, H. T. Wells, and Well's future wife Joanna who was Boyce's sister. Boyce's diary for December 30, 1852 for instance mentions: "Went down to Dante G. and William Rossetti's chambers at 14 Chatham Place, Blackfriars Bridge. Met there Wells, J. P. Seddon, Clayton, and Mr. Munro, Mr. Stephens, and Mr. Hughes" (Surtees, Diaries, 8). Boyce's diary entry for January 6, 1853 states, "To Rossetti's, Blackfriars Bridge. Met there W. Holman Hunt, J. E. Millais, J. P. Seddon, Clayton, Munro, Stephens, [Edward] Blanchard, C. Lucy, a Scotchman, and a foreigner" (9). Clayton became a member of the Hogarth Club after it was formed in 1858, which again put him in contact with most of the progressive young artists and architects of his day. In 1860 Clayton, a religious man with Tractarian sympathies, joined the Ecclesiological Society which strengthened his relationship with many of the leading churchmen of the day and furthered his interests as a church decorator.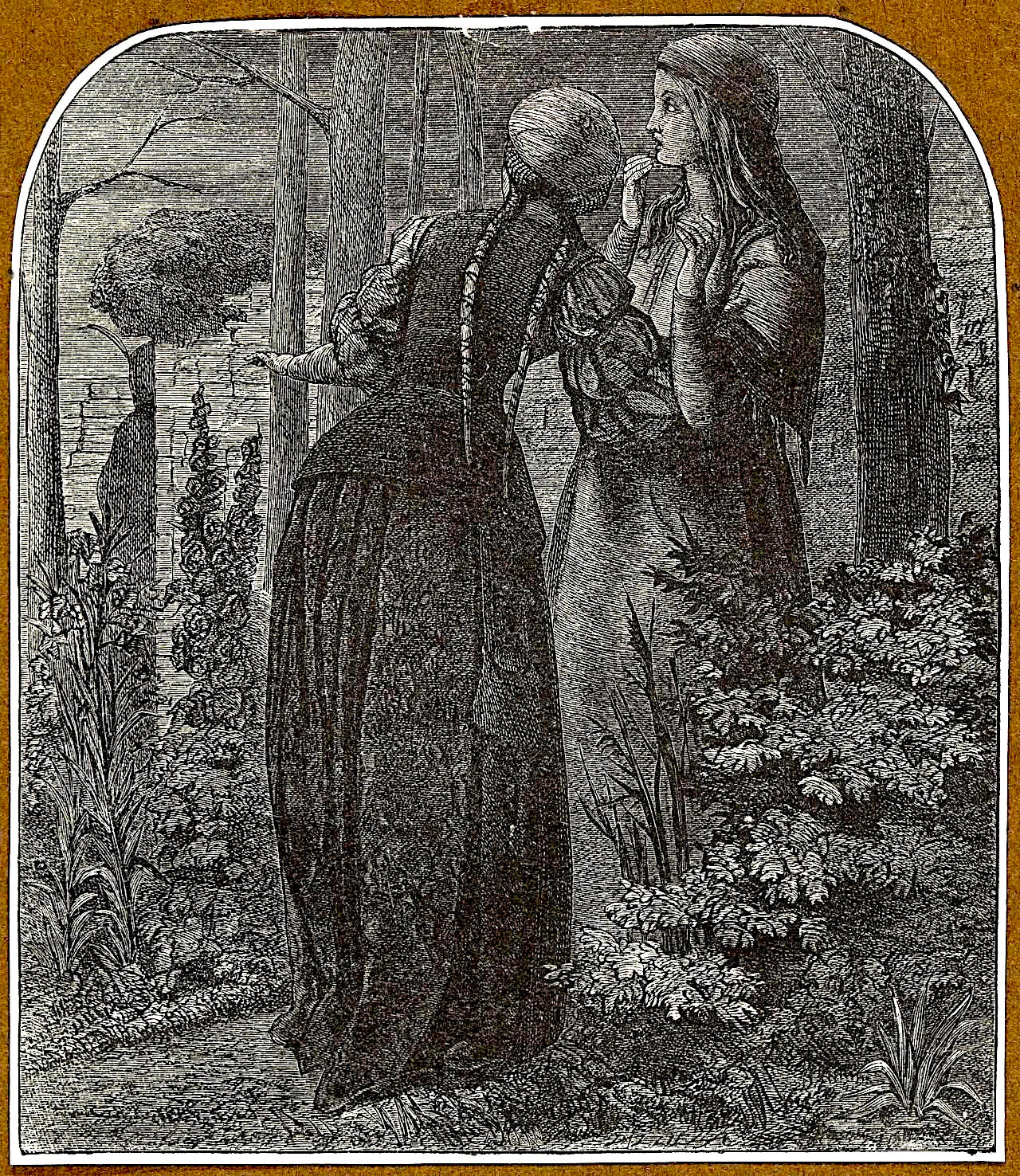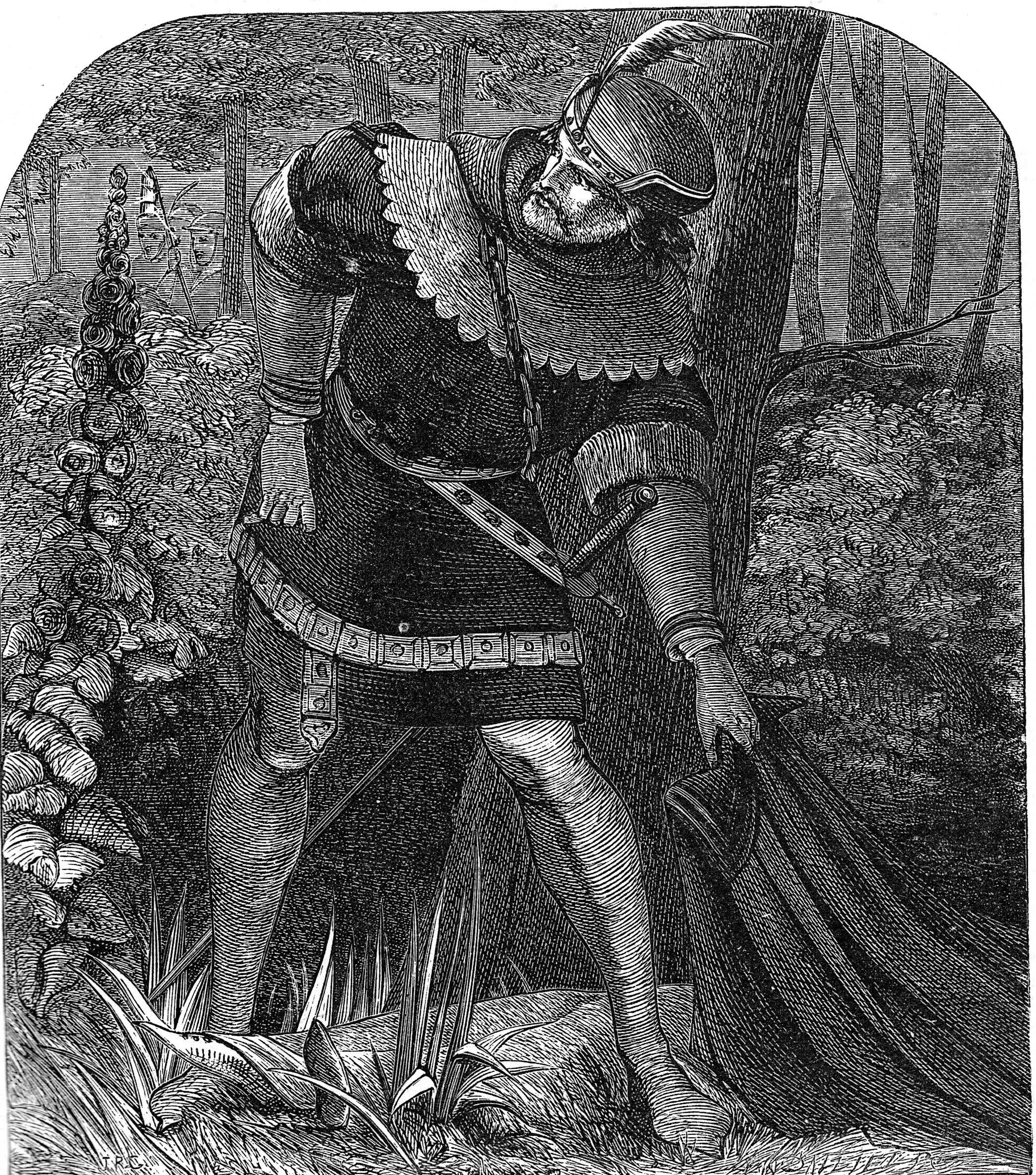 Illustrations by Clayton for Barry Cornwall's Dramatic scenes: with other poems (1857). Left to right: (a) Olympia and Bianca Enter. (b) The Murder of Olympia. (c) Cesario and the Prince.
Early in his career Clayton became an important illustrator, particularly in collaboration with the firm of wood engravers the Dalziel Brothers. In their book The Brother's Dalziel published in 1901 they recalled: "Clayton has been our friend and comrade for over fifty years. We met as fellow students at the Life School at Clipstone Street when Edward Duncan was President and Treasurer and Charles Keene, John Tenniel, George Boyce, H. T. Wells and Arthur Lewis were regular workers. This much-gifted, many-sided man began his artistic work as a sculptor with Sir Charles Barry, and under the influence of Sir Gilbert Scott, attaining much knowledge in architecture and ecclesiastical matters, he soon developed a decided taste for decorative work. During this period, however, his wonderful facility for design found an easy outlet in drawing on wood.... Clayton's taste for decorative work gradually took the form of stained glass and his success in that way became so extensive that the art of Book Illustration sank into the background. Although not really one of the P.R.B., he was of them, and with them in all their ways and works. If the Royal Academy had a more extensive scale of fitness for the honour, there is no man to our knowledge whose great ability as a true artist better deserves the distinction of R. A." (114-116). Clayton had joined the Clipstone Academy in 1851 while still working for Salvin. Most of Clayton's designs for wood engravings were executed in the period 1854-1858 and many were influenced by Pre-Raphaelite illustration. Certainly Clayton was well regarded for his drawings on wood for the wood engraver. When D. G. Rossetti was working on his first illustration for publication, The Maids of Elfen-Mere for William Allingham's Day and Night Songs, he asked for Clayton's advice. Rossetti, in a letter of March 17, 1855 to William Allingham, wrote: "Before I sent my drawing however to the engraver, I consulted a friend – Clayton, who has drawn much on wood – as to whether it were done in the right way for cutting" (Fredeman, Correspondence, letter 55.14, 25). Suriano had these comments on Clayton's illustrations:
Yet Clayton's work is austere and romantic, and his drawings for the block often feature angular figures in quirky poses, although they do not always stress the fidelity to realistic models and natural detail that characterizes much of authentic Pre-Raphaelite illustrators ... and was certainly influenced by the simplification of the early-Italian style of painting in the 1840s and 1850s of William Dyce, John Rogers Herbert, John Everett Millais, and Hunt and by the woodcuts of Albrecht Durer, Alfred Rethel, and Julius Schnorr von Carolsfeld. [275-76]
Clayton was also a member of the Junior Etching Club and produced one etching A Mother's Love for Passages from Modern English Poets in 1862.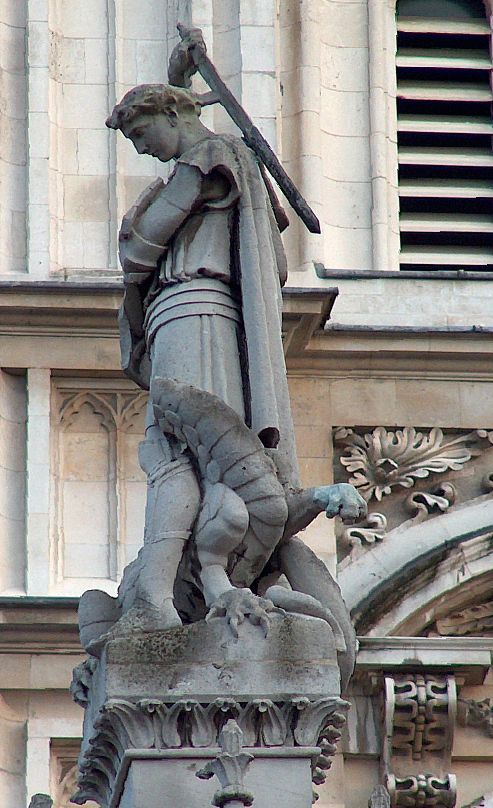 St George and the Dragon, designed by Clayton, atop the Westmister Scholars' Memorial, Westminster Walk, London.
In the mid-1850s Clayton started producing drawings for G. G. Scott while continuing his studies in sculpture at the same time. His most important design for sculpture while working for Scott was for St. George and the Dragon on the summit of the Memorial to the Westminster Scholars killed in the Crimean War of 1859-61, opposite the west door of Westminster Abbey. John Birnie Philip executed the sculpture from Clayton's maquette. In 1855 Clayton received a commission from Scott to paint the apse ceiling in Peterborough Cathedral based on the biblical passage "I am the true vine; ye are the branches." It was this commission that led to the decisive decision in Clayton's professional career that his future lay with the decorative rather than the fine arts, and he determined to become a freelance designer designing church decoration and stained glass (Waters and Carew-Cox 46). Clayton began to design stained glass from as early as 1853 encouraged by the architect Richard Cromwell Carpenter. At this early stage in his career his windows were produced by the firm of Ward and Nixon of Soho Street, London, primarily for churches designed by Carpenter.
Clayton was encouraged by Scott to work together with a pupil in his office, Alfred Bell, which was to prove a propitious suggestion as the firm of Clayton and Bell went on to become one of the most prolific stained-glass manufacturers and church decorators in England. They had designed glass together even prior to establishing a formal partnership in 1855. The firm initially lacked the facilities for glass manufacturing and so leaned heavily on technical assistance from more established firms like Heaton and Butler or Lavers and Barraud in making their windows. Their first stained-glass designs were medieval inspired, very suitable for the Gothic Revival churches being built by the architects that employed them such as G. G. Scott, J. L. Pearson and G. E. Street. Waters has remarked how Clayton's involvement with the Pre-Raphaelites
had a profound effect upon the future of stained glass. In two important ways Clayton's familiarity was responsible for fundamentally altering its nature by adapting their innovations; firstly, through intense colour, and secondly, the idiosyncratic style of representing the figure. At first he followed Pugin's example of transferring medieval iconography into the 19th century and simply updated the style of drawing. He was to take greater liberties later in the interests of realism…Clayton saw the potential to invigorate a medium hidebound by clichéd tradition…To lessen the grip of medievalism Clayton needed to update the form of the iconography. [49]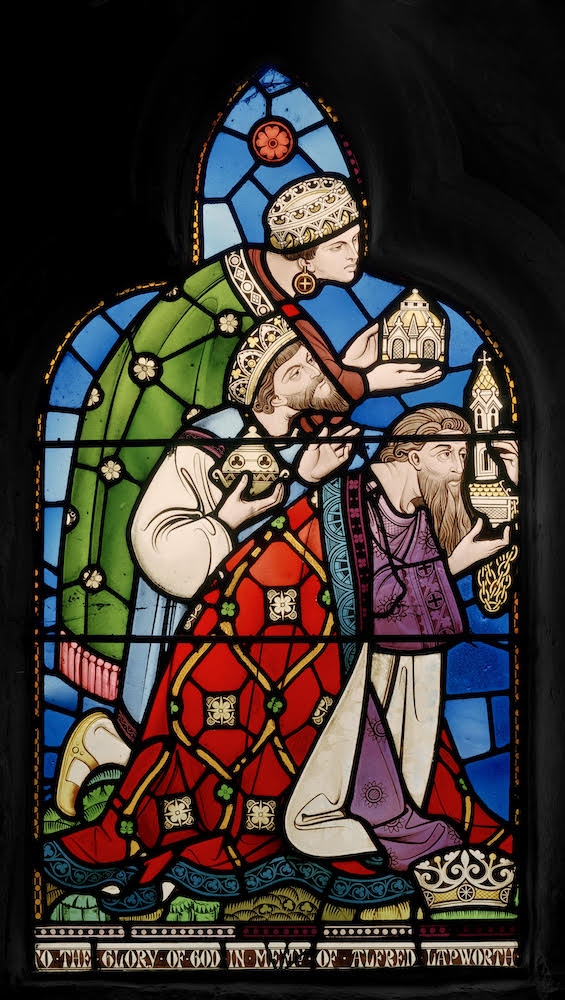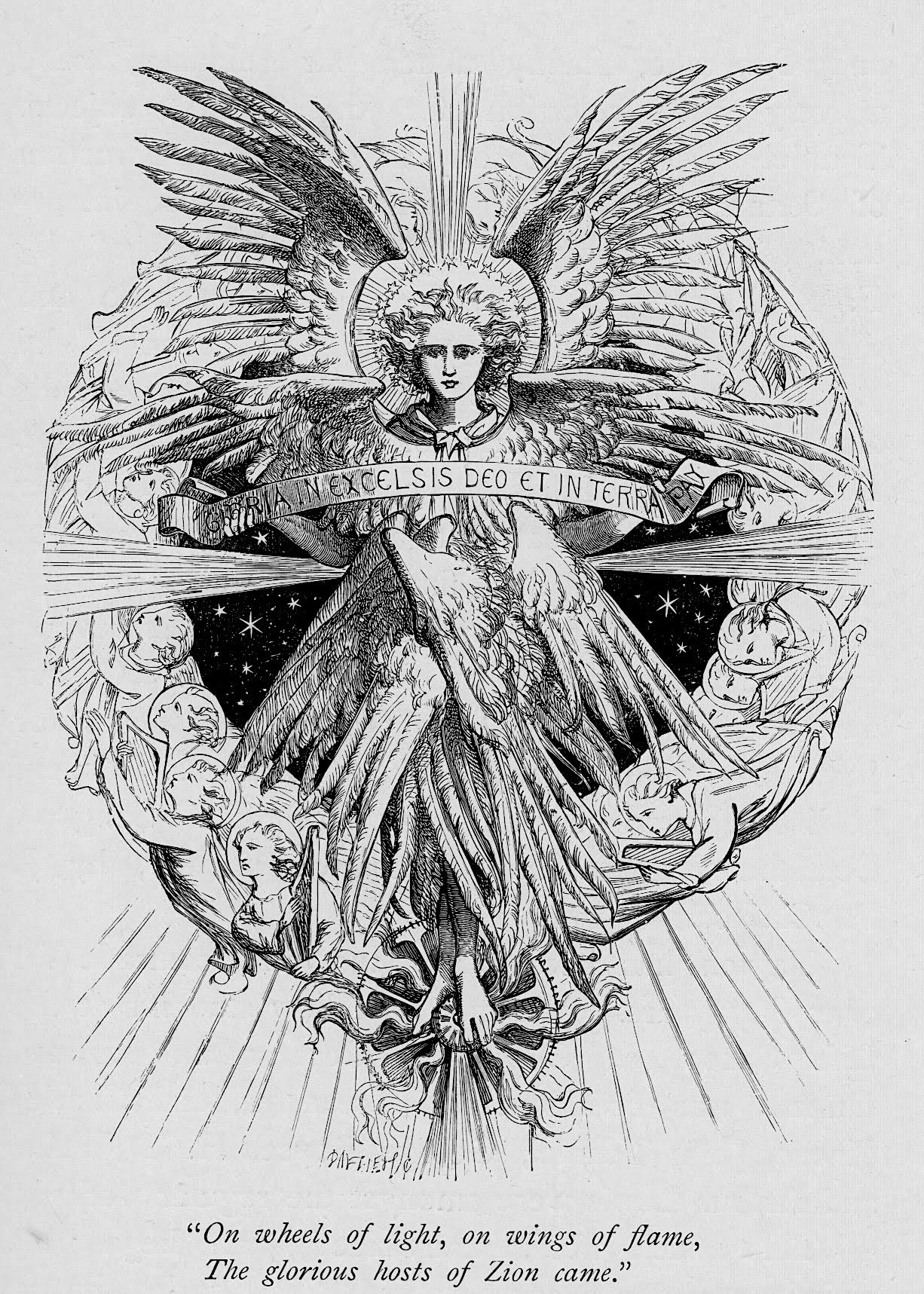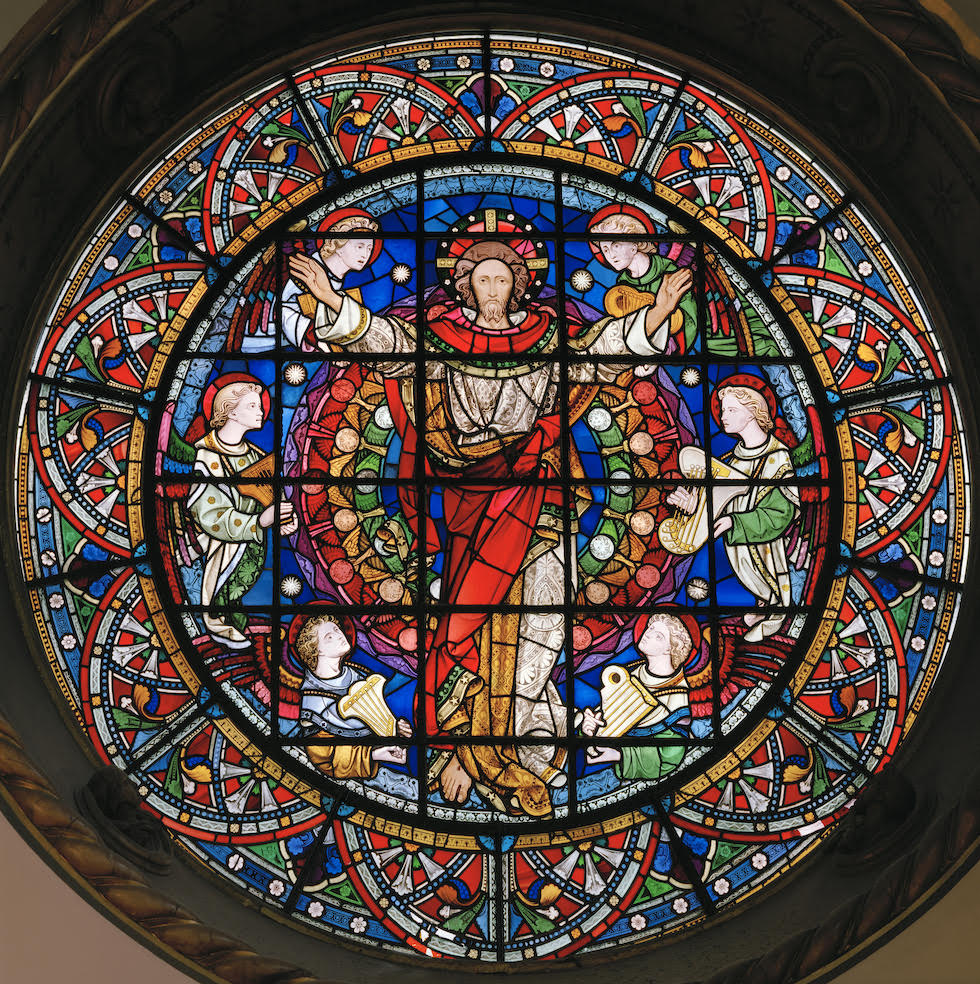 Left to right: Three Magi, St Mary, Lapworth, Warwickshire, by Clayton and Bell (1861). (b) Illustration for "The Song of Bethlehem" in Lays of the Holy Land (1858). (c) Christ in Majesty, St Michael, Cornhill, London, by Clayton and Bell (1859).
Clayton's most Pre-Raphaelite windows were produced between 1859-61. Clayton's standing as a glass maker was such that in 1862 he was chosen to be a juror on the Stained Glass and Glass Used for Decoration Committee of the South Kensington International Exhibition along with more established conservative panelists like William Dyce and John Rogers Herbert. Clayton and Bell shared a studio with Heaton and Butler between 1859 and 1862 but by 1862 they were finally ready to manufacture their own windows in the premises they moved to at 311 Regent Street in London. Their best work was produced in the 1860s, and, as noted in our own introduction to the firm, by the end of the 1860s Clayton and Bell were the largest and most prolific English manufacturer of stained-glass windows and were employing 300 men. By the 1870s, however, their commercial outlook was criticised, especially as they moved away from their earlier gothic style to one closer to the Aesthetic Movement and their previous bright colours gave way to a more subdued ones. Again, as noted in the introduction to the firm, commercial pressures to produce led to a decline in their work with many of their designs seeming formulaic as they were called upon to produce more work than could be realistically coped with, something of which Scott himself was critical. In the 1880s and 1890s, however, their standards improved once more as pressures to produce work decreased and they recaptured some of the originality and freshness of their earlier works.
In addition to stained glass the firm also carried out other forms of church adornments including mural decorations, carved reredos, encaustic tiles, and mosaics for which Clayton was mainly responsible. The best discussion of the work of Clayton and Bell is by Waters and Carew-Cox (74-122). Clayton also continued to work independently of the firm as a sculptor and draughtsman. In 1872 he designed the mosaics for the sides and the dome for G. G. Scott's Albert Memorial in Kensington Gardens, London. Other decorative work carried out for Scott included decorations for the Choir Clerestory for Westminster Abbey in 1855, the north transept of Westminster Abbey in 1860, the choir vault for Gloucester Cathedral in 1866-72, the choir ceiling for Chester Cathedral in 1870, and the walls of Salisbury Cathedral choir in 1871. By the 1880s Clayton had retired from active participation in Clayton and Bell and the wealth derived from the success of the firm allowed him to become an art collector in his own right. Clayton continued to design until his death on 5 July 1913. Even as late as 1909 he had exhibited a bronze statuette of Narcissus at the Royal Academy, no. 1729.
Links to related material
Bibliography
Allingham, William. William Allingham's Diary. Fontwell Sussex: Centaur Press Ltd., 1967.
Angeli, Helen Rossetti. Dante Gabriel Rossetti His Friends and Enemies. London: Hamish Hamilton, 1949.
Cornwall, Barry (pseud.). Dramatic scenes: with other poems. London: Chapman and Hall, 1857.
Dalziel, George and Edward Dalziel. The Brothers Dalziel. A Record of Fifty Years' Work. London: Methuen and Co., 1901.
Junior Etching Club, London. Passages from Modern English Poets. London: Day & Son, 1862.
Lays of the Holy Land: From Ancient and Modern Poets. London: Nisbit, 1858.
Rossetti, Dante Gabriel. The Correspondence of Dante Gabriel Rossetti. The Formative Years 1855-1862. Ed. William E. Fredeman. Volume 2. Cambridge: D. S. Brewer, 2002.
Scott, George Gilbert. Personal and Professional Recollections. London: Sampson, Low, Marston, Searle, & Rivington, 1879.
Surtees, Virginia Ed. The Diaries of George Price Boyce. Norwich: New World, 1980.
Suriano, Gregory R. The Pre-Raphaelite Illustrators, New Castle: Oak Knoll Press, 2000.
Waters, William and Alastair Carew-Cox. "John Richard Clayton within The Pre-Raphaelite Circle" and "Clayton and Pre-Raphaelite Art". Angels & Icons. Pre-Raphaelite Stained Glass 1850-1870. Abbots Morton, Worcester: Seraphim Press Ltd., 2012. 41-54.
---
Created 11 January 2022