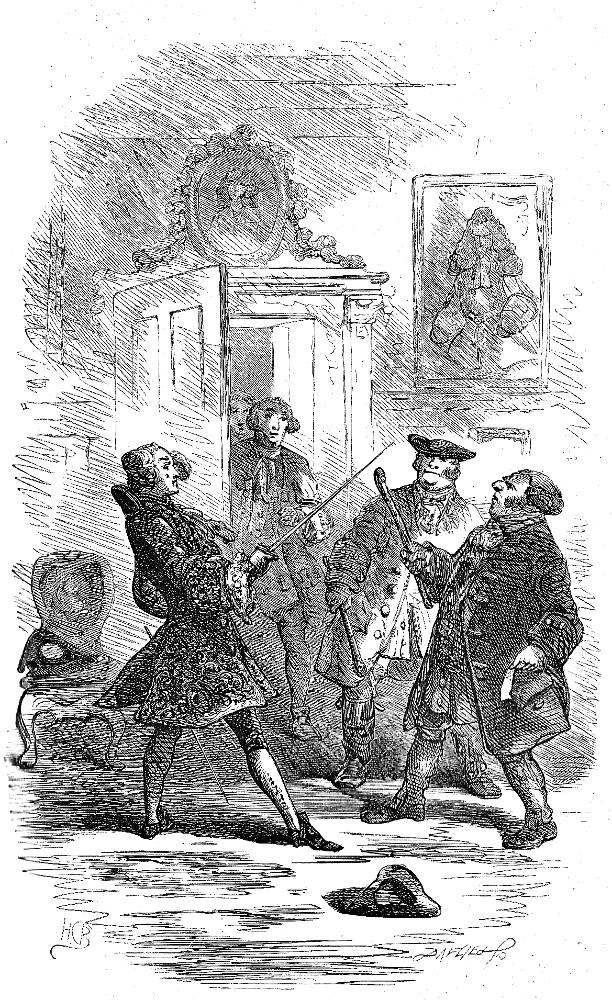 The Arrest
Phiz
Dalziel
July 1856
Steel-engraving
15.4 cm high by 9.6 cm wide, vignetted, facing 192 in volume
The Spendthrift, first published in Bentley's Miscellany, Part 13 (Chapters 30-31).
Scanned image and text by Philip V. Allingham.
[You may use these images without prior permission for any scholarly or educational purpose as long as you (1) credit the photographer and (2) link your document to this URL in a web document or cite the Victorian Web in a print one.]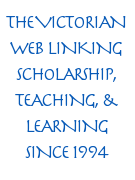 Passage Illustrated: The Protagonist Distrained for Debt
"Come with me, sir — quick! — quick! — not a moment is to be lost," the valet cried. "The bailiffs are in the house, and are making their way up-stairs. You must hide in some out-of-the-way corner till the danger be past. Ha! it is too late. They are at hand."
"Fasten the door, Bellairs. Don't let them in!" Gage shouted.
The valet endeavoured to obey the injunction, but before he could accomplish it, two sturdy, harsh-featured men, armed with bludgeons, burst into the room.
"H! ha! we're a little too quick for you, my friend," the fore-most of he twain vociferated. "Here we have him, Martin," he added, with a coarse laugh, to his brother bailiff.
"Ay, ay, Ned Craggs," the other rejoined — "that be the gem'man, sure enough." And with these words he rushed up to Gage with his companion, and exhibiting a writ, cried, "You are our prisoner, Mr, Monthermer. We arrest you at the suit of Mr. Isaac Nibbs, of Billiter-lane, scrivener."
"Keep off, rascals, if you value your lives!" Gage exclaimed, springing back, and drawing his sword. "I know nothing whatever of Mr. Nibbs, and never had any dealings with him."
"There you are in error, sir," cried a civil-spoken little man, appearing at the door. [Chapter XXXI, "The Arrest," 192]
Commentary: Being Arrested for Debt — No Laughing Matter
Distraining a debtor seems to have been a stock comic scene in nineteenth-century literature, although having the bailiffs in the house and competing to see which one would have the honour of conducting the debtor into incarceration must have been anything but amusing. Young Charles Dickens and his family obviously found their father's being incarcerated in 1824 for debt in the Marshalsea Prison a searing experience. The situation therefore only superficially resembles a plate involving the illegitimate arrest of the protagonist for crimes against the state in A Tale of Two Cities, The Knock at the Door (November 1859). The surly bailiffs, as in other arrest scenarios, confidently confront the gentleman whom they have come to take up and transport to a lockup house.
Related Scenes from Works by Dickens and Jerrold
Working methods
Bibliography
Ainsworth, William Harrison. The Spendthrift: A Tale. (1860). Illustrated by Phiz; engraved by the Dalziels. Ainsworth's Works. London & New York: George Routledge, 1882.
Lester, Valerie Browne. Phiz: The Man Who Drew Dickens. London: Chatto and Windus, 2004.
Vann, J. Don. "The Spendthrift in Bentley's Miscellany, January 1855 — January 1857." Victorian Novels in Serial. New York: Modern Language Association, 1985. 30.
Worth, George. William Harrison Ainsworth. New York: Twayne, 1972.
---

Victorian
Web

Illustra-
tion

The
Spendthrift

Phiz

Next
Created 29 December 2019

Last modified 12 May 2020