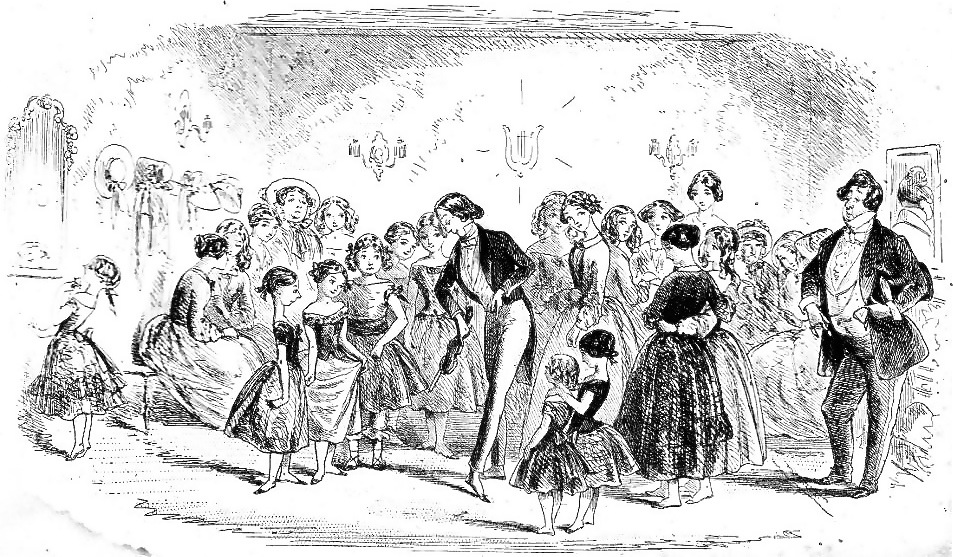 The Dancing School by "Phiz" (Hablot Knight Browne) for Bleak House (July 1852), p. 134. 10.5 cm high by 18.5 cm wide (4 ⅛ by 7 ¼ inches), vignetted. For text illustrated, see below. [Return to text of Steig.]
Passage Illustrated: The Turveydrops at the Newman Street Academy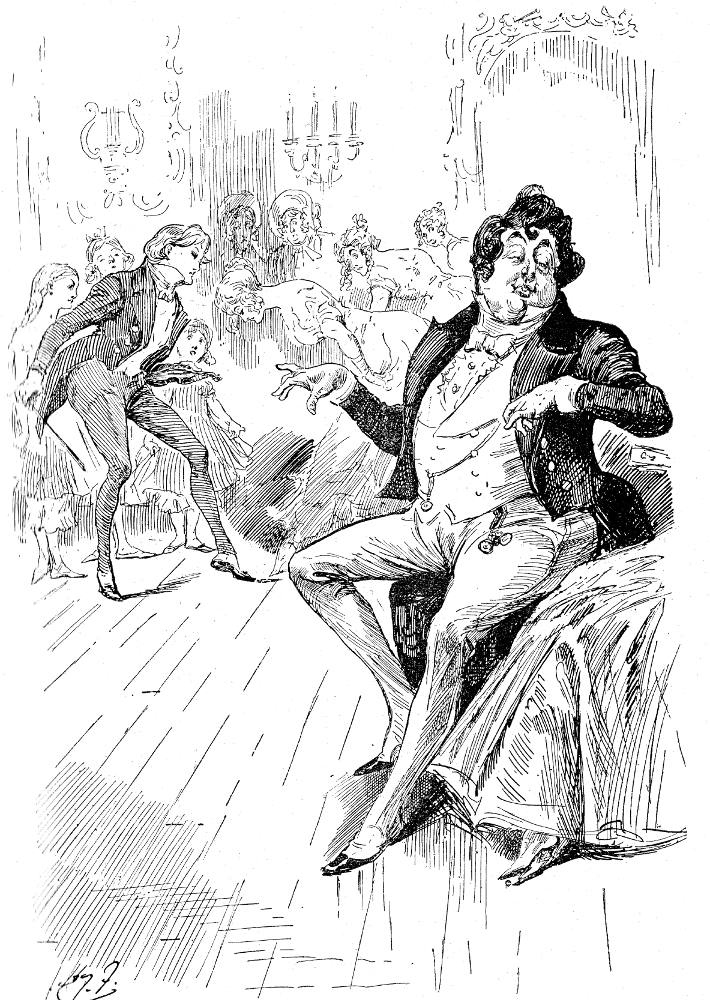 Harry Furniss's lithograph of the Regency Master of Deportment and his musical son for the Charles Dickens Library Edition: The Turveydrops, Senior and Junior (1910).
Prince Turveydrop then tinkled the strings of his kit with his fingers, and the young ladies stood up to dance. Just then there appeared from a side-door old Mr. Turveydrop, in the full lustre of his deportment.
He was a fat old gentleman with a false complexion, false teeth, false whiskers, and a wig. He had a fur collar, and he had a padded breast to his coat, which only wanted a star or a broad blue ribbon to be complete. He was pinched in, and swelled out, and got up, and strapped down, as much as he could possibly bear. He had such a neckcloth on (puffing his very eyes out of their natural shape), and his chin and even his ears so sunk into it, that it seemed as though he must inevitably double up if it were cast loose. He had under his arm a hat of great size and weight, shelving downward from the crown to the brim, and in his hand a pair of white gloves with which he flapped it as he stood poised on one leg in a high-shouldered, round-elbowed state of elegance not to be surpassed. He had a cane, he had an eye-glass, he had a snuff-box, he had rings, he had  wristbands, he had everything but any touch of nature; he was not like youth, he was not like age, he was not like anything in the world but a model of deportment.
"Father! A visitor. Miss Jellyby's friend, Miss Summerson." [Chapter XIV, "Deportment," 188-189 [Project Gutenberg etext (see bibliography below)]
Commentary: A Fashionable Relic of the Previous Era
The Regency revenant and his pleasant son have been the subject of every illustrator from the original Phiz serial illustrations of 1852-53 to the Charles Dickens Library Edition of 1910. The superannuated Regency buck who has modelled himself on the First Gentleman of Europe, the Prince Regent (afterwards, King George IV), demonstrates like his model the triumph of style over substance. The indolent senior Turveydrop had lived on his wife's exertions until she died from overwork, whereupon he took up sponging off his son, the musician and dancing-master whom he christened "Prince" in deference to his model of deportment and fashion. Like his mother, Prince maintains his father in comfort and style by over-working himself in running the Newman Street Dancing Academy. The job of the illustrator is challenging since Turveydrop must look elegant, but must reveal himself to be egotistical, exploitative — and near-sighted. The characteristic posture is therefore looking down and upon his own accoutrements rather than at others, as in the Furniss treatment The Turveydrops, Senior and Junior (1910).
The later illustrators such as Harry Furniss and Sol Eytinge, Junior, have followed Phiz's practice of exaggerating the physical bulk of Mr. Tturveydrop to suggest his massive egotism. However, whereas Phiz has contextualized the dominating figure of the master of deportment in The Dancing School (June 1852) and A model of parental deportment (October 1852), but Eytinge merely juxtaposes the slight son with the super-sized father without depicting the activities of the dancing academy in the background.
Other​ Illustrations​ of The Turveydrops, 1867-1910
​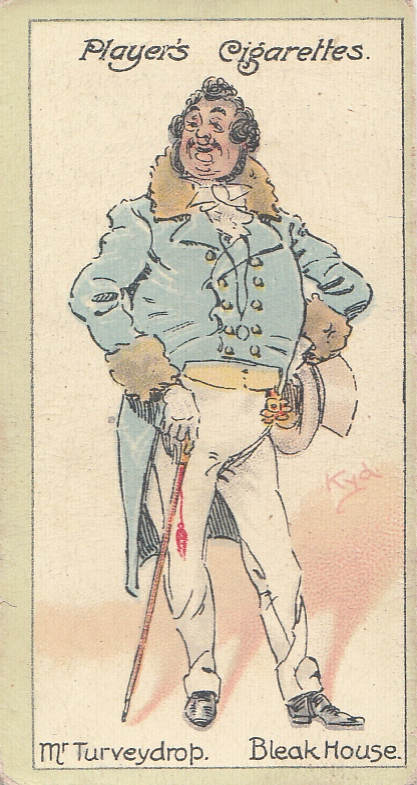 ​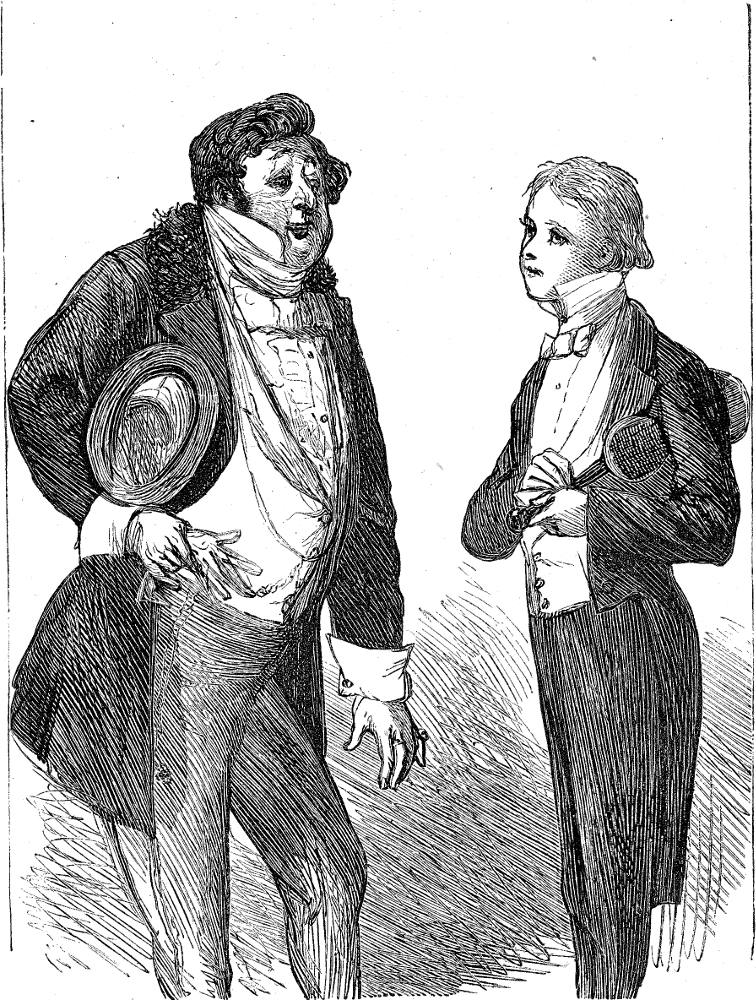 ​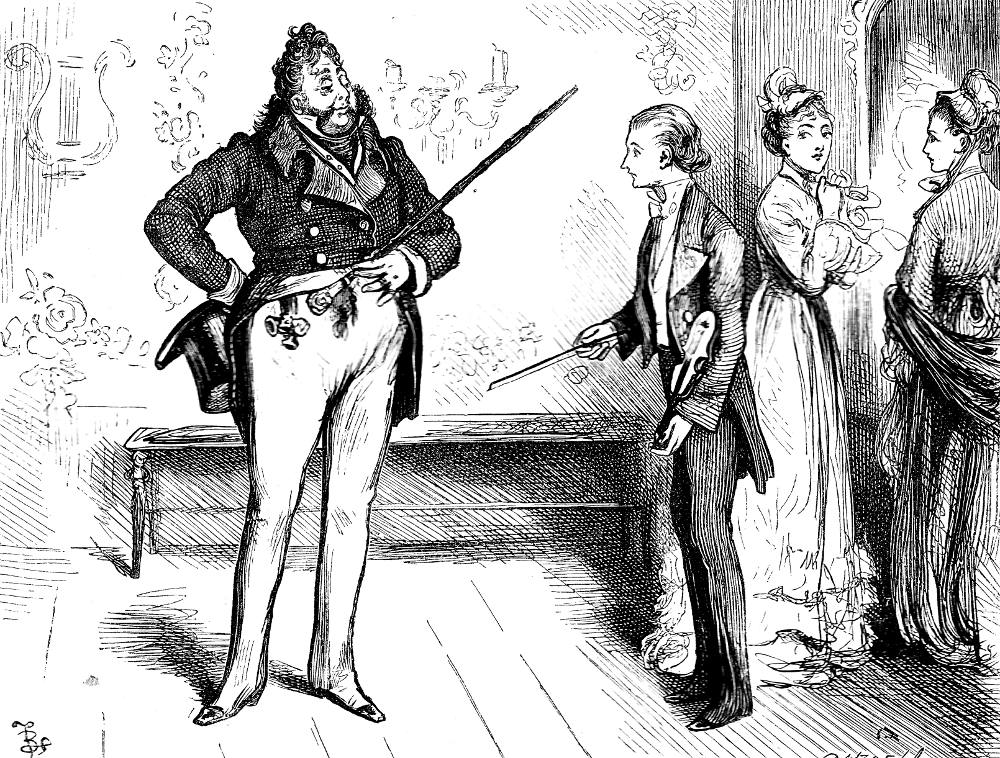 Left: The Kyd watercolour study of the Regency Master of Deportment for Player's Cigarette Card No. 47, Mr. Turveydrop (1910). Centre: Sol Eytinge, Jr.'s 1867 Diamond Edition of the Turveydrops at the Newman Street Academy: Mr. Turveydrop and his Son. Right: Fred Barnard's 1873 Household Edition full-page composite woodblock wood-engraving of the father and son in the gallery: Deportment.
Related Material, including Other Illustrated Editions of
Bleak House
Image scan and text by George P. Landow. [You may use this image without prior permission for any scholarly or educational purpose as long as you (1) credit the person who scanned the image, and (2) link your document to this URL in a web document or cite the Victorian Web in a print one.]
Bibliography
Dickens, Charles. Bleak House. Illustrated by Hablot Knight Browne ("Phiz"). London: Bradbury & Evans. Bouverie Street, 1853.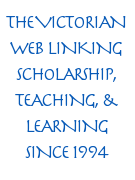 Dickens, Charles. Bleak House. Project Gutenberg etext prepared by Donald Lainson, Toronto, Canada (charlie@idirect.com), with revision and corrections by Thomas Berger and Joseph E. Loewenstein, M.D. Seen 9 November 2007.
Steig, Michael. Chapter 6. "Bleak House and Little Dorrit: Iconography of Darkness." Dickens and Phiz. Bloomington & London: Indiana U. P., 1978. 131-172.
Vann, J. Don. "Bleak House, twenty parts in nineteen monthly instalments, October 1846—April 1848." Victorian Novels in Serial. New York: The Modern Language Association, 1985. 69-70./
---
Created 11 November 2007 Last modified 2 March 2021