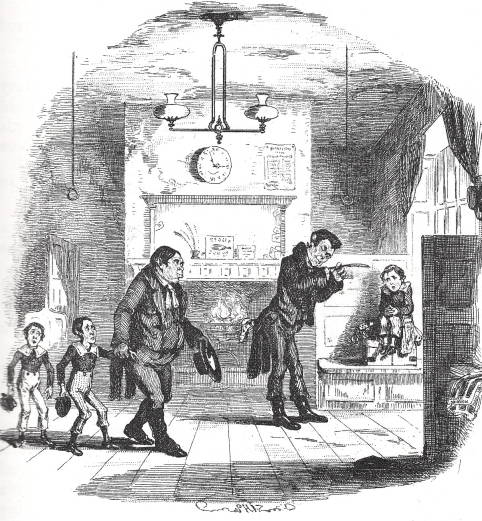 The Yorkshire Schoolmaster at The Saracen's Head
Phiz
Part 1 (April 1838)
Steel-engraving
10.6 cm high by 10.5 cm wide, vignetted
Scanned image colour correction, sizing, caption, and commentary by Philip V. Allingham.
[You may use this image without prior permission for any scholarly or educational purpose, as long as you (1) credit the person who scanned the image, and (2) link your document to this URL in a web document or cite the Victorian Web in a print one.]
The full title from the covers of the twenty monthly numbers, April 1838-October 1839, Dickens gives as The Life and Adventures of Nicholas Nickleby, Containing a Fauthful Account of the Fortunes, Misfortunes, Uprisings, Downfallings and Complete Career of the Nickleby Family, edited by "Boz".
Squeers: Dickens and Phiz's exposé of the brutality of Yorkshire schoolmasters
Mr. Squeers's appearance was not prepossessing. He had but one eye, and the popular prejudice runs in favour of two. The eye he had, was unquestionably useful, but decidedly not ornamental: being of a greenish grey, and in shape resembling the fan-light of a street door. The blank side of his face was much wrinkled and puckered up, which gave him a very sinister appearance, especially when he smiled, at which times his expression bordered closely on the villainous. His hair was very flat and shiny, save at the ends, where it was brushed stiffly up from a low protruding forehead, which assorted well with his harsh voice and coarse manner. He was about two or three and fifty, and a trifle below the middle size; he wore a white neckerchief with long ends, and a suit of scholastic black; but his coat sleeves being a great deal too long, and his trousers a great deal too short, he appeared ill at ease in his clothes, and as if he were in a perpetual state of astonishment at finding himself so respectable.
Mr. Squeers was standing in a box by one of the coffee-room fire-places, fitted with one such table as is usually seen in coffee-rooms, and two of extraordinary shapes and dimensions made to suit the angles of the partition. In a corner of the seat, was a very small deal trunk, tied round with a scanty piece of cord; and on the trunk was perched — his lace-up half-boots and corduroy trousers dangling in the air — a diminutive boy, with his shoulders drawn up to his ears, and his hands planted on his knees, who glanced timidly at the schoolmaster, from time to time, with evident dread and apprehension.
"Half-past three," muttered Mr. Squeers, turning from the window, and looking sulkily at the coffee-room clock. "There will be nobody here today."
Much vexed by this reflection, Mr. Squeers looked at the little boy to see whether he was doing anything he could beat him for. As he happened not to be doing anything at all, he merely boxed his ears, and told him not to do it again.
"At Midsummer," muttered Mr. Squeers, resuming his complaint, 'I took down ten boys; ten twenties is two hundred pound. I go back at eight o'clock tomorrow morning, and have got only three — three oughts is an ought — three twos is six — sixty pound. What's come of all the boys? what's parents got in their heads? what does it all mean?"
Here the little boy on the top of the trunk gave a violent sneeze.
"Halloa, sir!" growled the schoolmaster, turning round. "What's that, sir?"
"Nothing, please sir," replied the little boy.
"Nothing, sir!" exclaimed Mr. Squeers.
"Please sir, I sneezed," rejoined the boy, trembling till the little trunk shook under him.
"Oh! sneezed, did you?" retorted Mr. Squeers. "Then what did you say 'nothing' for, sir?"
In default of a better answer to this question, the little boy screwed a couple of knuckles into each of his eyes and began to cry, wherefore Mr Squeers knocked him off the trunk with a blow on one side of the face, and knocked him on again with a blow on the other.
"Wait till I get you down into Yorkshire, my young gentleman," said Mr Squeers, "and then I'll give you the rest. Will you hold that noise, sir?"
"Ye — ye — yes," sobbed the little boy, rubbing his face very hard with the Beggar's Petition in printed calico.
"Then do so at once, sir," said Squeers. "Do you hear?"
As this admonition was accompanied with a threatening gesture, and uttered with a savage aspect, the little boy rubbed his face harder, as if to keep the tears back; and, beyond alternately sniffing and choking, gave no further vent to his emotions.
"Mr. Squeers," said the waiter, looking in at this juncture; "here's a gentleman asking for you at the bar." [Chapter IV, "Nicholas and his Uncle (to secure the Fortune without loss of time) wait upon Mr. Wackford Squeers, the Yorkshire Schoolmaster," 38-40 in the Gadshill Edition]
Commentary: A Journalistic Exposé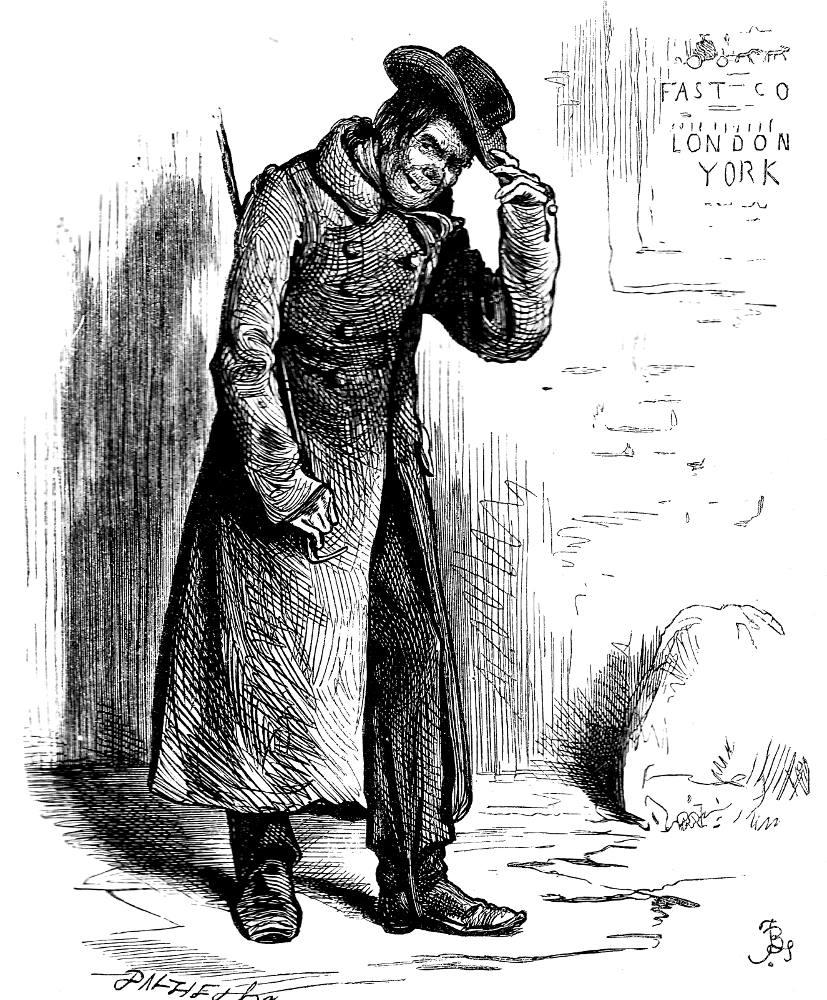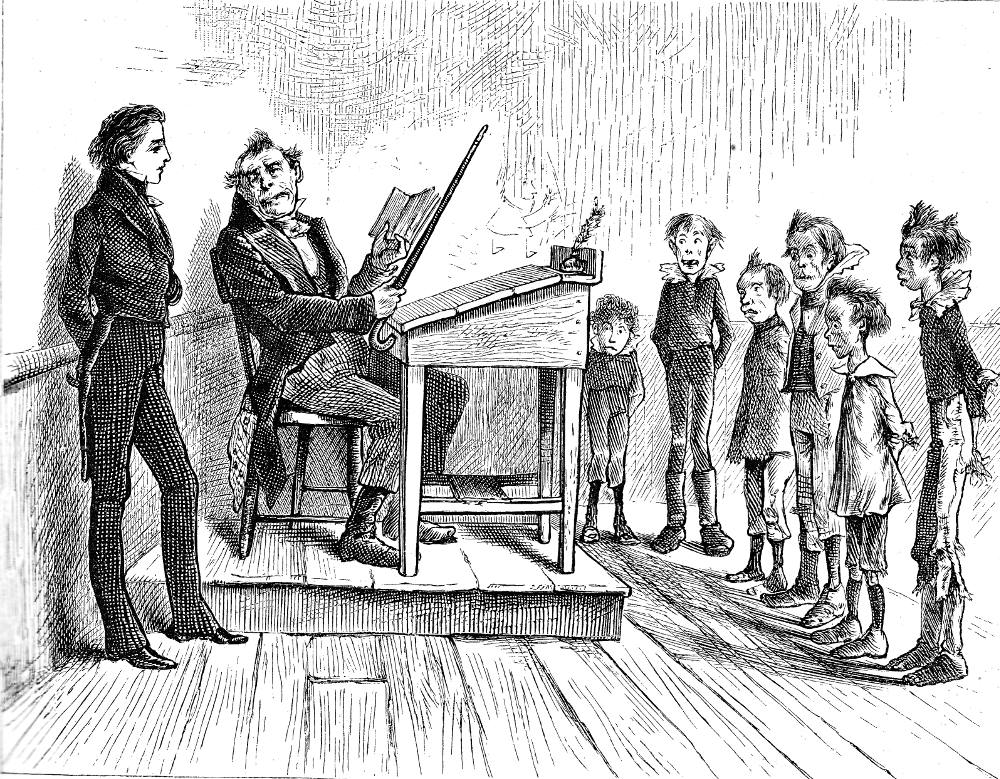 Left: "Very glad to make your acquaintance, miss," said Squeers, raising his hat an inch or two (1875), Fred Barnard's British Household Edition study of the surly Yorkshire schoolmaster. Right: C. S. Reinhart's version of Nicholas's introduction to Squeers's system of education: The is the first class in English Spelling and Philosophy, Nickleby." (1872).
As a journalist, Dickens sensed that the was a sensational story behind schoolmaster William Shaw's being prosecuted in 1823 for beatings and neglect that led to the blinding of two of his pupils. When Dickens and his illustrator, Hablot Knight Browne, visited Shaw's infamous school, Bowes Academy, in disguise in 1838, they found conditions little improved — and decided to use Shaw as their model both in personality and person for the detestable bully Wackford Squeers. However, the private schools of Yorkshire afforded other examples which could have served as models for Dotheboys Hall:
A handwritten letter written from Dickens details research he had carried out before inventing Squeers and clearly suggests that a Mr. Twycross of Winton Hall in Westmoreland (now part of Cumbria) provided the prototype, and not William Shaw of Bowes Academy in Yorkshire, as academics have usually maintained. In the personal letter which he sent to campaigning politician Lord Robert Grosvenor in July 1838, Dickens thanks his correspondent for sending him the cutting of an incriminating newspaper advertisement for Winton Hall which promised the parents and guardians of young children "no vacations," implying that unwanted stepchildren or illegitimate offspring might be left with no inconvenient questions asked, for as long as the institution received tuition payments.
"Mr. Squeers and Dotheboys Hall were originally suggested to [Dickens] by such advertisements as Lord Robert Grosvenor has had the kindness to enclose," the formal letter reads, adding that he had been in the immediate neighborhood of Mr. Twycross "in the course of a little tour among the Yorkshire schools" he had made the previous winter. [Vanessa Thorpe, Arts and Media Correspondent to The Guardian, 17 March 2018]
Acting as the agent of Nemesis, Nicholas thrashes Squeers after the one-eyed schoolmaster has beaten Smike. After he recovers from the beating, Squeers eventually joins forces with Ralph Nicklbey, who is the novel's chief antagonist, in order to be avenged on Nicholas. Embroiled in Raph's plot to hide Smike's parentage and the will that designates Madeline Bray an heiress, Squeers is arrested and transported to Australia.
Introductory Illustrations of Squeers from Other Series (1875 to 1910)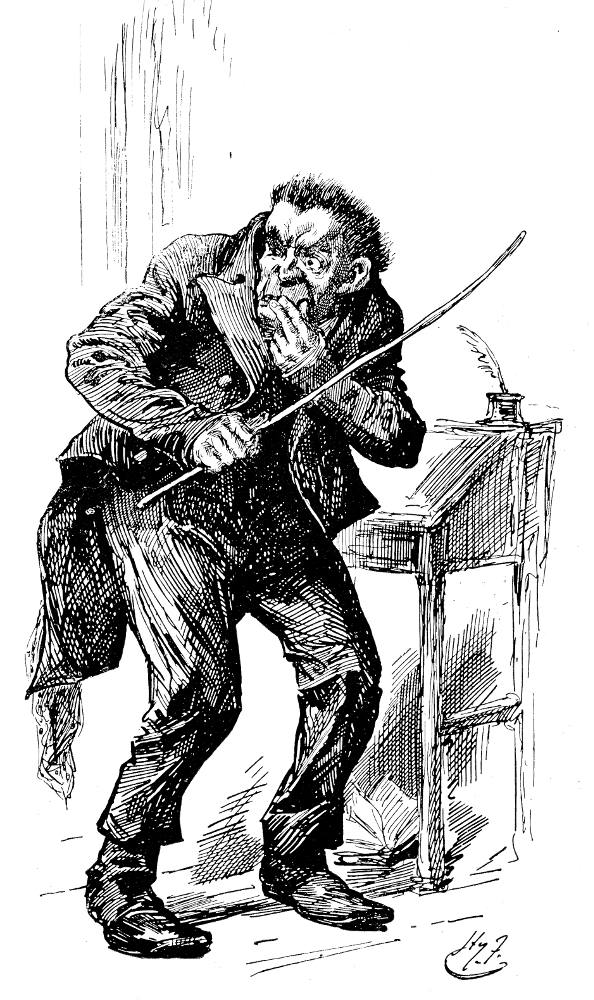 ​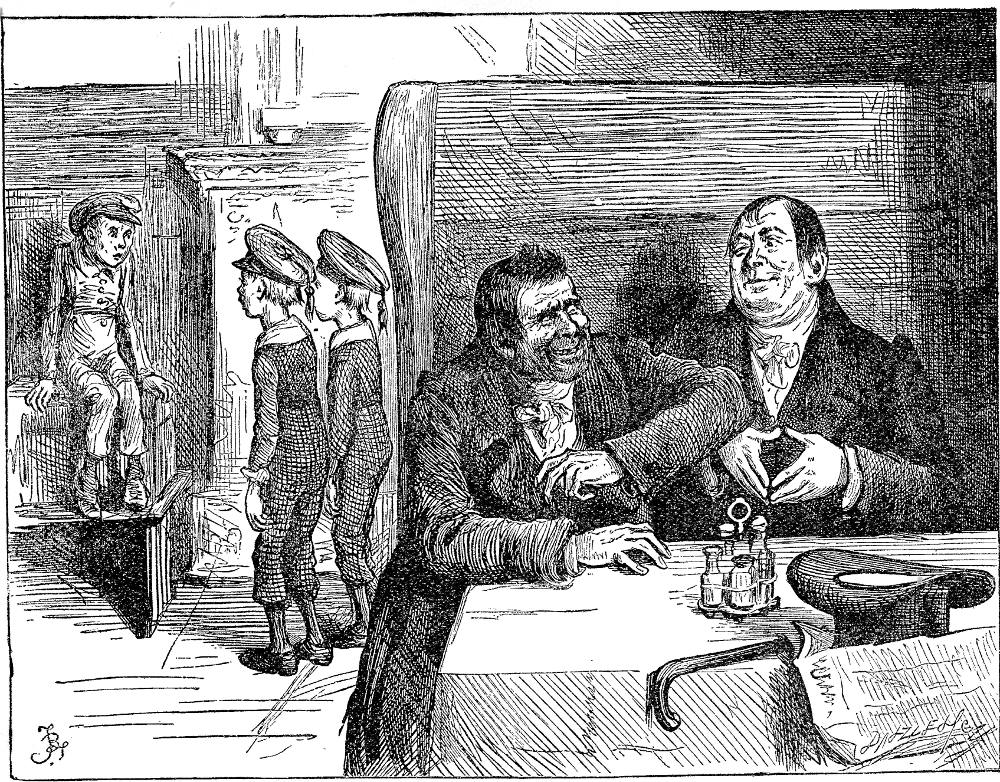 ​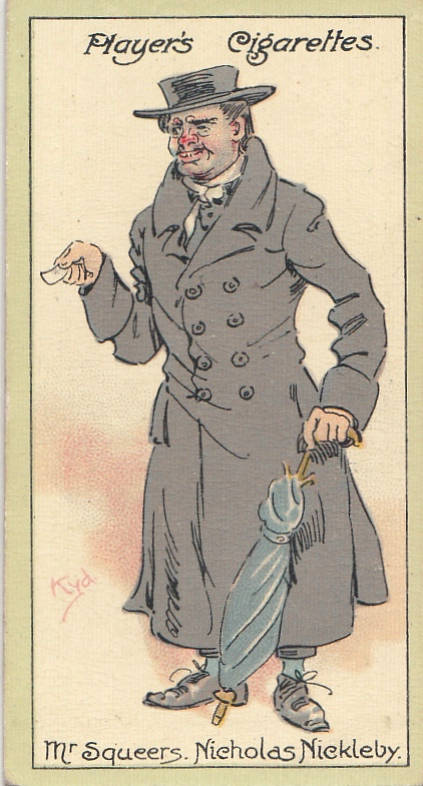 ​
Left: Harry Furniss's decontextualised portrait Mr. Squeers (1910). Centre: Fred Barnard portrays as brutal, shaggy, and villainous in the Household Edition: The schoolmaster and his companion looked steadily at each other for a few seconds, and then exchanged a very meaning smile (frontispiece, 1875). Right: Clayton J. Clarke's Player's Cigarette Card No. 44: Mr. Squeers (1910).
Related material, including front matter and sketches, by other illustrators
Bibliography
"Cheap Schools." The Leeds Intelligencer. " 6 November 1823. Newspaper article on Bowes academy, inspiration for the school in Nicholas Nickleby. British Library Collection Items. British Newspaper Archive. Web. Accessed 8 April 2019.
Dickens, Charles. The Life and Adventures of Nicholas Nickleby. Illustrated by Phiz (Hablot Knight Browne). London: Chapman and Hall, 1839.
Dickens, Charles. Nicolas Nickleby. Illustrated by "Phiz" (Hablot Knight Browne). The Gadshill Edition, ed. Andrew Lang. The Works of Charles Dickens in Thirty-four Volumes. London: Chapman and Hall, 1897. Vols. IV and V.
Steig, Michael. Chapter 2. "The Beginnings of 'Phiz': Pickwick, Nickleby, and the Emergence from Caricature." Dickens and Phiz. Bloomington & London: Indiana U. P., 1978. 24-50.
Sutherland, John. " "Nicholas Nickleby and the Yorkshire School"." The British Library. "Discovering the Romantics and the Victorians." Web. Published 15 May 2014. Accessed 8 April 2019.
Thorpe, Vanessa. " "Will the real Wackford Squeers step forward?" "The Observer: Charles Dickens." The Guardian. Web. Published 17 March 2018. Accessed 8 April 2019.
Vann, J. Don. "The Life and Adventures of Nicholas Nickleby, twenty parts in nineteen monthly installments, April 1838-October 1839." New York: Modern Language Association, 1985. Page 63.
---

Victorian
Web

Illus -
tration

Phiz

Nicholas
Nickelby

Next
Created 9 April 2002 Last modified 2 April 2021