[This document comes from Christopher Arnander's site for the Jekyll Estate, which the author has graciously shared with readers of the Victorian Web. Copyright on text and images remains of course with the estate. Click on the title to obtain the original site, which has additional information.]
Gertrude Jekyll, garden designer and author, was born on 2 November 1843 in London, the fifth of seven children of Edward Jekyll and his wife, Julia, née Hammersley. One brother, Walter Jekyll, was a clergyman, music teacher and writer; he was friendly with the author, Robert Louis Stevenson, who may have borrowed his name for the title of his book, The Strange Case of Dr Jekyll and Mr Hyde.
In 1848, when Gertrude was five, the Jekyll family left London for Bramley House, set amidst the rural heaths, ponds and pinewoods of Surrey, 30 miles south of London. The large garden was paradise for a small girl; her vivid childhood memories never faded and were the foundation of her later achievements.
Her father retired young as a soldier from the Grenadier Guards; poor health, thereafter, kept him at home. From him she inherited an interest in science, music and craftmanship. Gertrude spent many hours in his well equipped workshop, preparing models and carrying out experiments. As she herself later said 'I think a shred of my father's mantle must have fallen on his daughter, for I have always taken pleasure in working and seeing things grow under my hand.' In 1861, aged 18, Gertrude enrolled in the South Kensington School of Art in London. Already a talented painter, she also studied botany, anatomy, optics and the science of colour at the school. Inheriting her father's scientific approach, Gertrude embraced these disciplines with enthusiasm and understanding. Although she grew up in the nineteenth century, her unusual personality had been allowed to flourish outside the conventional strait jacket of the time, so that she could develop her own career.
The death of her father in 1876 was followed by a move back to Surrey, which consolidated her garden design ambition. Her mother built a house on Munstead Heath, near Godalming. Gertrude's success in designing the garden was such that, by 1880, horticultural experts were beating a path to her door, in order to see her work.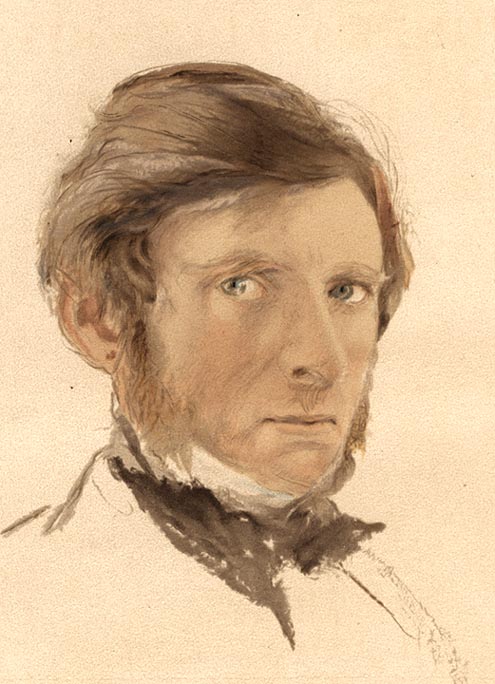 John Ruskin's watercolor self-portrait. [Click on thumbnail for larger image.]
Her attitude towards garden design was influenced by Arts and Crafts principles, absorbed from John Ruskin and William Morris. A sympathetic relationship between house and surroundings was vital; each individual plant should be studied for culture, habit, foliage and colour to achieve a practical, beautiful and appropriate effect. The garden should reveal unexpected views and pictorial surprises.
In his book The Wild Garden, published in 1870, William Robinson advocated a break from the accepted Victorian garden; he favoured more freedom in planting and a wider choice of plants, to give a picturesque and natural appearance. Gertrude agreed and they became close friends; she collaborated with him on The English Flower Garden, published in 1883 and on the house which he bought in 1884, Gravetye Manor, Sussex.
For the next decade, she pursued an active social and creative life. With her younger brother, Herbert, who was a military engineer and civil servant, as well as a co-founder of the Bach Choir, she attended concerts and exhibitions; she made many friends in intellectual and artistic circles, including G.F. Watts, Hercules Brabazon and William Morris (Arts and Crafts). Her travels to the Levant, Algeria and Europe brought new stimuli. Wherever she went, she observed and tried new techniques: singing, painting, carving, embroidery, gilding, metal work and photography. In addition, she became a keen plant collector, noting all the new plants and gardens that she saw
In 1868, the Jekylls moved from Bramley to Wargrave in Berkshire, 40 miles west of London; Gertrude then had her first chance to focus on the decoration of a home and the creation of a garden. She also began to exhibit her paintings, embroidery and craft work. Admiring neighbours and friends gave her commissions. Gradually, Gertrude's original ambitions as a painter fell away, particularly as she suffered from poor eyesight; thereafter, her artistic talent and creative drive were primarily channelled towards garden design, though she continued to draw and paint for the rest of her life.
During her busy life as a garden designer, she executed over 400 commissions, for clients in UK, Europe and America. She ran a prosperous nursery garden business and bred new plants at Munstead Wood, well into her eighties.
She was a prolific writer throughout her adult life. Starting after her 55th birthday, she wrote 13 books, of which several were revised and republished during her lifetime and she contributed sections to other people's books. Early editions can sometimes be found from specialised bookshops or dealers; modern editions of most titles are generally available. She also published over 1,000 articles on the subjects in which she had expertise; they were published mostly in Country Life, The Garden and Gardening Illustrated. In 1930 alone, after she had passed her 86th birthday, she wrote 43 articles for Gardening Illustrated. Her style of writing was meticulous, practical and scientific; she played great attention to the details of print and layout; one of her editors said: 'I would rather have clipped the wings of an archangel' than tamper with any text which she supplied to a publisher.
She died on 9 December 1932, at her home, Munstead Wood in Surrey. She is buried nearby in the churchyard of St John's church, Bushridge. Her old friend, William Robinson, though very infirm, attended the funeral in a bath chair, at the age of 94. Edwin Lutyens inscribed these words on her gravestone:
---
Last modified 15 Janaury 2009