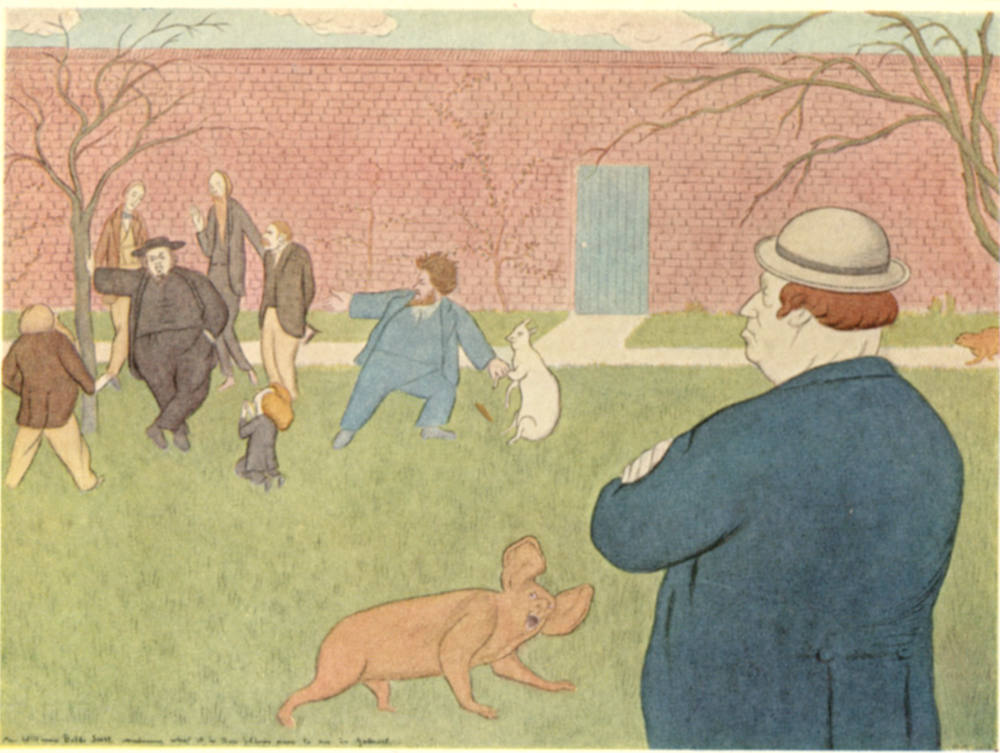 Mr. William Bell Scott wondering what it is those fellows seem to see in Gabriel. Plate 14 from Max Beerbohm, Rossetti and His Circle. 1922. Click on image to enlarge it.
Scott, who always felt himself an outsider, looks on as members of the aesthetic Pre-Raphaelite circle surround Dante Gabriel Rossetti in the garden of his home in Chelsea within which play his wombat and other members of his menagerie of strange pets. William Morris, in blue, extends his hand toward Gabriel, who leans nonchalantly against a tree, while the diminutive Swinburne kneels at his feel. Burne-Jones (with the long narrow beard) stands behind. Dennis Lanigan believes the figure with his back turned facing the tree is likely Ford Madox Brown while the figure with the moustache to the right of DGR is likely Edmund Gosse. Like many of the plates in this collection, this one juxtaposes its caricatured inhabitants at different times in their lives and depicts a scene that embodies something that Beerbohm encountered in a memoir; that is, he caricatures a text about the Pre-Raphaelites containing someone's interpretation of them as much as he caricatures the artists and writers themselves, whom, he reminds us, he had never met.
Compare Beerbohm's Dante Gabriel Rossetti, in his back garden, which is not from Rossetti and His Circle. — George P. Landow
Bibliography
Beerbohm, Max. Rossetti and His Circle. London: William Heinemann, 1922.
---
Last modified 19 May 2021