University College
The University College Art Collections were founded in 1847, when sculpture models by the neo-classical sculptor John Flaxman (1755-1826) were donated to the college by his sister-in-law, Maria Denman. Most of these were preparatory models for Flaxman's funerary monuments, thus bringing together examples of beautiful artwork which is otherwise widely scattered (Flaxman's work can be found in churches and cathedrals throughout the land, and even beyond it, in places like St Mary's Church, Madras, and Lucea Parish Church, Jamaica).
[Click on thumbnails here and followng for larger images and additional information.]
A gallery was built under the dome of University College's Wilkins building to house the donated plaster casts, with a full-scale, larger than life model for Flaxman's masterpiece, St Michael Overcoming Satan, as its focal point. This impressive and vital work, undertaken for Lord Egremont's house at Petworth, is 11' high, and shows off the famed purity of this sculptor's line: it has been considered "a work of the highest merit — the conception is epic" (qtd. by Symmons). The plaster reliefs on the surrounding walls demonstrate the "delicacy of his modelling techniques" (Symmons), reminding us that as a young man Flaxman first achieved distinction as a designer for Josiah Wedgwood. The casts of William Collins reading the New Testament (1795), for the medallion on the monument to Collins in Chichester Cathedral, and of Domestic Affliction for a monument to Lady (Julia) Shuckburgh-Evelyn (1798), are excellent examples here. The Flaxman Gallery was opened in 1851; one of the patrons of the enterprise was Aldershot, from a sketch by Marianne Young (facing p. 21). Prince Albert, a great admirer of Flaxman.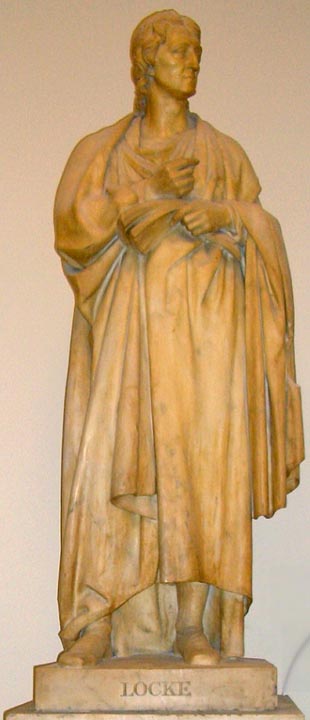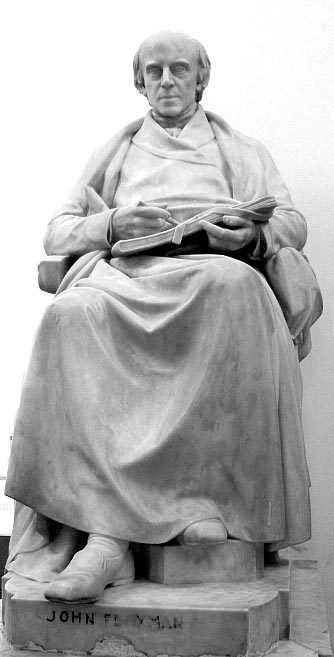 Statues in University College London's public spaces include an imposing one of John Locke (c.1808) by Sir Richard Westmacott (1775-1856), and one of John Flaxman (sculpted between 1843 and 1847), showing the small and rather hunchbacked artist sitting with his sketchbook. This is by Musgrave Lewthwaite Watson (1804-1847), whose best-known works are a frieze entitled "The Benefits of Commerce," once in the city but long ago relocated to Napier Terrace, Islington; and the bas-relief of The Battle of Cape St Vincent at the base of Nelson's Column. The statues of Flaxman and Locke are both in the south cloisters of University College.
On a wall in the cloisters too is the Marmor Homericum (1863-5) by Baron Henri de Triqueti, a French sculptor best known in France for his reliefs on the bronze doors of La Madeleine in Paris (1831-41), and in England for the Triqueti Marbles in the Albert Memorial Chapel at Windsor (c.1863 onwards).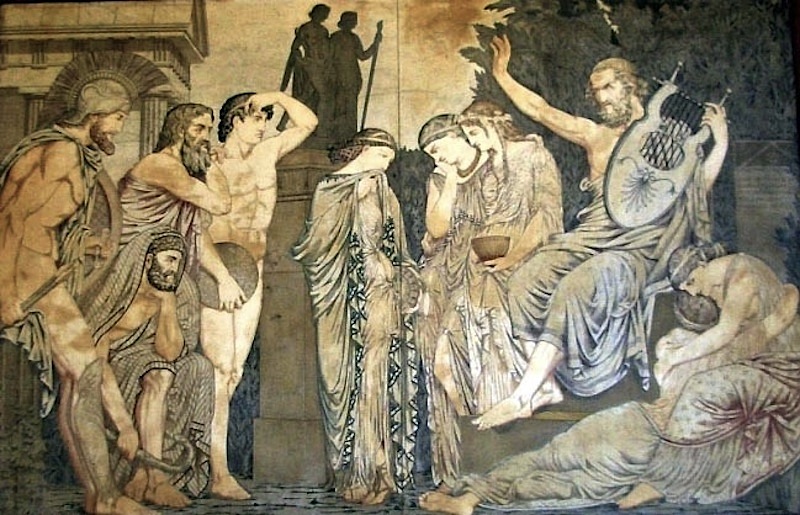 Triqueti revived the older art of "tarsia," a sort of marble marquetry, in which pieces of coloured marble are cemented or even clamped onto a marble ground and then engraved to produce the finer details. The engraved lines are then in turn filled with coloured cements (Darby 35-36). The result is richly decorative. The Marmor Homericum is a large (9' x 6') composition, with Homer reciting the story of Hector's death and Andromocles' grief as its centrepiece, and four other episodes from Homer in the borders. The work was commissioned for University College by the Greek historian George Grote, who had been one of the college's founders and was now again an important member of its council, as well as being, from 1862, the Vice-Chancellor of the University of London. Grote's wife Harriet wrote in her diary for May 19th 1865:
The Marmor Homericum has been placed in position, in the cloisters of University College, and a numerous company graced the opening view. The work excited admiration both cordial and discriminating; among the visitors was the President of the Royal Academy [Millais], than whom no more consummate judge of art could be named, and he paid M. de Triqueti the compliment of saying that, "among modern artists, he alone combined a knowledge of composition and drawing, with pure sculpture." (Grote 274)
This once celebrated work rarely gets the attention it deserves.
The Flaxman Gallery and sculpture in public spaces only represent one part of the University College London's art collections, which contain over 10,000 objects in all. Many of the paintings are prize works from the Slade School of Fine Art, like Augustus John's vigorous yet ethereal Moses and the Brazen Serpent (1897), shown on the college's "Paintings Collection" website. (Incidentally, one of the great originals on this theme, by Rubens, hangs in Room 6 of the Courtauld Gallery). University College also has a fine collection of drawings by artists such as Rembrandt and Constable — as well as by Flaxman himself and former students and staff like Walter Sickert.
Royal Holloway College
Royal Holloway College, which was founded in 1887, has a notable picture gallery of a more traditional kind. This houses its collection of Victorian paintings, including such famous pieces as William Frith's The Railway Station and Luke Fildes's Applicants for Admission to the Casual Ward. The setting of these pictures in the gallery's well-lit interior just opposite another work of art — the college's breathtaking Victorian chapel — greatly enhances the pleasure of visiting the collection.
Royal Holloway College also has striking sculptures by Count Gleichen in its two quadrangles, one of Queen Victoria, and one of Thomas and Jane Holloway.
The Courtauld Institute
For many years now the Courtauld Institute has boasted by far the most important art gallery of the University of London. The Institute, which was the first in the country to offer Fine Arts degrees, was founded in 1932, but it does have some connection with Victorian times: Samuel Courtauld (1876-1947), who helped to found it and whose name it bears, came from a well-known family of textile manufacturers of Huguenot extraction whose fortunes had boomed with the Victorians' fondness for black mourning crape. Moreover, Courtauld himself was especially interested in the French Impressionists, so many of the Institute's most celebrated holdings date from the nineteenth century. Due to Courtauld's continuing generosity, and the gifts and bequests of his co-founder Lord Lee of Fareham, and other people like the Bloomsbury artist Roger Fry, the original collection has greatly expanded, and the process of expansion continues to this day.
As well as nineteenth-century favourites like Turner, Manet, Degas, Cezanne, Sisley, Monet, Renoir and Van Gogh, the gallery exhibits Old Masters, Post-Impressionists and more recent works, together with sculpture, furniture, silverware (the Courtaulds had originally prospered as silversmiths), and so on. Roger Fry's collection includes an African dancing mask and other artefacts as well as paintings by fellow-Bloomsburyites Duncan Grant and Vanessa Bell. In 1990, the institute completed its move from Courtauld's own beautiful Adam-designed home in Portman Square to its present premises in Somerset House close to King's College. In gracious eighteenth-century rooms reached from its spiral staircase, it now has a number of major collections arranged in uncluttered displays according to their collectors. One recently-acquired nineteenth-century work, not yet on display, is Turner's Margate Pier (c.1840?), which was once owned by Ruskin (who briefly studied English at King's next-door); it was later presented to Franklin D. Roosevelt. Another much-loved nineteenth-century piece, which is shown off to advantage in the gallery's Wolfson Room, is Monet's Vase of Flowers (c.1881-82) with its apparently artless abundance of wild mallow-blooms. Many, many more could be mentioned.
King's College
King's College London has no art collection as such, but its archives hold artwork by its school's early drawing master, John Sell Cotman (1782-1842). This includes some fragile sketches entitled Fishing Boat; A Bandoleer depicted in full regalia, loading his weapon; Lone Epèe, a sketch of a troubled-looking knight with one gauntlet on the ground by his right foot; and a typically atmospheric pencil and light grey wash "View of the Estuary at Barmouth, North Wales." Cotman's outdoor paintings, minute attention to detail, and his medieval subject in "Lone Epèe" can all be seen as inspirations for the rising generation of Pre-Raphaelite painters. His characterful portrait of a man in robes, possibly the likeness of a professor of the time, is displayed on the archives' website. Also catalogued in the King's archives are some sketches of architectural details by William Dyce (1806-64) who, along with William Bell Scott, was one of the two Scottish painters associated with the Pre-Raphaelite movement. Dyce was appointed Professor of Fine Arts at King's in 1844. One of these his finely detailed sketches from around this time appears on the archives' website too. (But, as F. J. C. Hearnshaw says, Dyce's professorship soon "unostentatiously expired" (158), and anyone interested in his accomplishments should cross the river to Tate Britain to see his well-known and still much-discussed 1858-60 painting of Pegwell Bay in Kent, with Donati's comet only faintly visible overhead.)
The Foyle Special Collection Library at King's Chancery Lane site has a rich variety of nineteenth-century material. Amongst its treasures, for example, are A Series of Etchings Illustrative of the Architectural Antiquities of Norfolk (1818) by Cotman, a wonderfully evocative yet precise example of which can be seen here; J. G. Wood's Illustrated Natural History, with engravings by the Brothers Dalziel (not dated); and The Poems of William Shakespeare printed by William Morris at the Kelmscott Press (1893). The typically Morris-patterned and decoratively initialled opening of "Venus and Adonis" is on the college's website as well.
King's College London may not be as rich in sculpture as University College, but what it has is intriguing. In its entrance hall are two statues, one male and one female, which one might suppose to represent "Sancte et Sapienter" (the college motto, a suitable riposte to the godless UC). In fact these are Sappho and Sophocles, the work respectively of the Austrian-born Ferdinand Seeboeck (1864-1952), and the German Constantin Dausch (1841-1908). Sophocles (probably late 19c) is particularly fine. It is a copy of the Lateran Sophocles now in the Vatican Museum, a copy in turn of a Greek original. The contemplative, self-possessed Sappho (1893), with her easy gracefulness, is also very pleasing. This is an original commissioned by Frida Mond, wife of Ludwig Mond, an important figure in the history of ICI. The two sculptures were installed in the entrance hall of the Munds' mansion in St John's Wood, and came to King's in 1923 after Frida's death, as part of a bequest from their estate. This was at the suggestion of Sir Israel Gollancz, once one of Frida's protégés, and by this time Professor of English at King's and Secretary of the Royal Academy. The story of this bequest, "a small part of a much larger story of patronage and benefaction" (Trapp 18), reveals not only the European connections of the cultural élite of late Victorian London, but also its generosity towards artists, scholars, scientists, and their institutions. Other Mond bequests went to the National Gallery, the British Academy, the Institute of Mechanical Engineers and so on.
Sources
Coleman, D. C. "Courtauld, Samuel (1876-1947." The Oxford Dictionary of National Biography. Online ed. Viewed 2 October 2007.
"Courtauld Receives Gift of Turner Watercolours." (Courtauld site)
Darby, Elisabeth. "A French Sculptor in Wiltshire: Henri de Triqueti's Panel in the Church of St Michael & All Angels, Teffont Evias." The Wiltshire Archaeological and Natural History Magazine. Vol.95 (2002): 34-45.
"John Flaxman Collection." (University College site)
Grote, Harriet. The Personal Life of George Grote: compiled from family documents, private memoranda, and original letters to and from various friends. London: Murray, 1873.
"Galleries II-IV: Samuel Courtauld Collection." (Courtauld site)
Hearnshaw, F. J. C. The Centenary History of King's College London, 1828-1829. London: Harrap, 1929.
"Museums and Collections of University College London." Information leaflet published by the college.
Neal, Morton. "My Favourite Painting." (Courtauld site)
Symmons, Sarah. "Flaxman, John (1755-1826)." The Oxford Dictionary of National Biography. Online ed. Viewed 2 October 2007.
Trapp, Michael. "Sappho & Sophocles: A Tale of Two Statues." In Touch (magazine of King's College London), Spring 2006: 18-19.
"UCL Art Collections: Exhibition and Arts Programme, September 2006-March 2007." Information leaflet published by the Arts and Humanities Research Council.
---
Last modified 20 April 2009