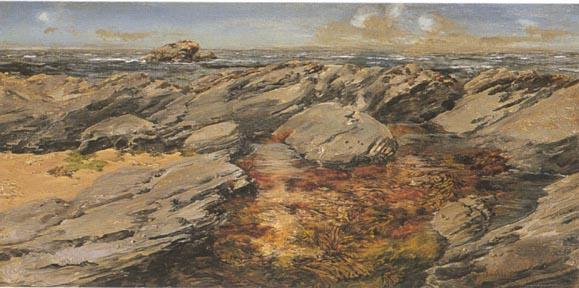 Rocks on the Foreshore by John Brett ARA (1830-1902). Late 1960s. Oil on canvas: 7 x 14 inches, 18 x 35.5 cm. Provenance: Thomas Agnew & Son
Commentary by Hillary Morgan
This landscape study was painted from nature in a period when Brett painted his large canvases In the studio as 'abstracts of several observations.' Brett approached landscape painting in a spirit of scientific observation declaring 'sentiment in landscape is chiefly dependent on meteorology'. He systematised his artistic practice in a similar 'scientific' way. Most of his studies have standard dimensions of which 7 X 14 inches is the most usual, and the large paintings usually maintain the same proportions.
However the studies retain a freshness the paintings often lack. This example is probably an early work produced in the late 1860s at the end of his most intensely Pre-Raphaelite phase. It is signed, but not dated. In his later phase, certainly after 1870, Brett reserved his signature for finished exhibition paintings but dated his studies, usually inscribing them with the point of the brush into the wet paint. The other quality that suggests an early date is the use of a glazing technique, particularly noticeable in the sea. Brett prided himself on working directly without retouching and the spontaneous touch is clearly visible here.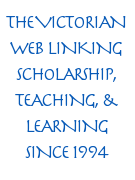 Peter Nahum Ltd, London has most generously given its permission to use in the Victorian Web information, images, and text from its catalogues, and this generosity has led to the creation of hundreds of the site's most valuable documents on painting, drawing, and sculpture. The copyright on text and images from their catalogues remains, of course, with Peter Nahum Ltd.
Readers should consult the website of Peter Nahum at the Leicester Galleries to obtain information about recent exhibitions and to order their catalogues. [GPL]