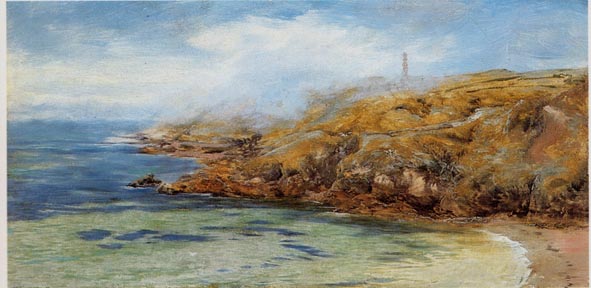 Off the Coast, Guernsey by John Brett ARA (1830-1902). 1868. Oil on board: 7 x 14 inches, 18 x 35.5 cm. Provenance: Daisy Watson.
Commentary by Hillary Morgan
This small study from nature is probably relatively early in date because of the technique which uses glazes. Brett first exhibited a Channel Islands subject at the Royal Academy in 1875, but it is not clear when he had first visited Guernsey. He certainly spent the summers, after his marriage in 1870, cruising in the waters round Britain. One particularly Pre-Raphaelite quality of this painting is the turquoise blue of the foreground sea. The juxtaposition of two blues in this manner is uncommon in British marine painting, but Holman Hunt also makes use of it in 'Our English Coasts' (1853 Tate Gallery, London).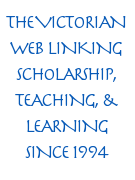 Bibliography
Waters, Bill. Burne-Jones — A Quest for Love: Works by Sir Edward Burne-Jones Bt and Related Works by Contemporary Artists. London: Peter Nahum, 1993. Catalogue number 45.
Peter Nahum Ltd, London has most generously given its permission to use in the Victorian Web information, images, and text from its catalogues, and this generosity has led to the creation of hundreds of the site's most valuable documents on painting, drawing, and sculpture. The copyright on text and images from their catalogues remains, of course, with Peter Nahum Ltd.
Readers should consult the website of Peter Nahum at the Leicester Galleries to obtain information about recent exhibitions and to order their catalogues. [GPL]
---
Last modified 12 June 2020