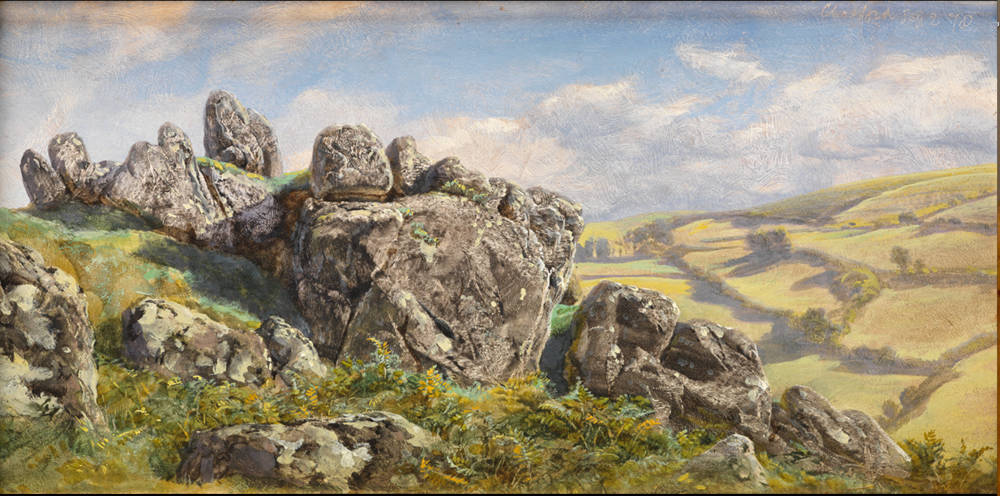 Study for Chagford (a Moorland Scene), by John Brett (1831-1902). 1878. Oil on board, 7.5 x 14.5 inches. Inscribed and dated "Sep 2 1878." Provenance: Sir T.L. Devitt; Abbot and Holder 1970. Courtesy of the Maas Gallery. Click on the image to enlarge it.
In 1878 Brett and his family spent the summer and autumn near Torbay in Devon, but Brett painted fewer coastal scenes than usual; he wrote to the philanthropist and town planner Thomas Horsfall that most of his sketches that summer were done on Dartmoor, especially of the rugged landscape near the village of Chagford. — Maas Gallery site.
The Maas Gallery, 15a Clifford Street, London W1S 4JZ has most generously given its permission to use in the Victorian Web information, images, and text from its catalogues, and this generosity has led to the creation of many valuable documents on painting and drawing. The copyright on text and images from their catalogues remains, of course, with the Gallery. Readers should consult their website to obtain information about recent exhibitions and to order their catalogues. [GPL]
Bibliography
Payne, Christina. John Brett: Pre-Raphaelite Landscape Painter. London: Yale University Press, 2010; no. 840.
---
Last modified 2 September 2019