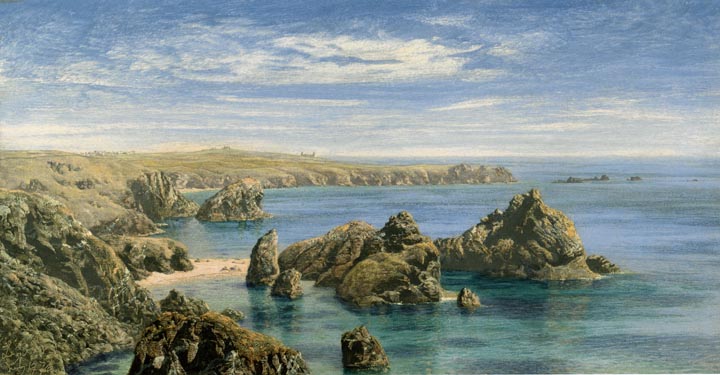 John Brett ARA (1831-1902). The Lizard. Inscribed with title and dated "July 19, '76." Oil on canvas. 10 x 19 inches. The Maas Gallery, London.
"During the 1870s the Pre-Raphaelite landscape painter John Brett was a frequent visitor to the Lizard, a broad peninsula on the south coast of Cornwall, painting numerous sketches en plein air, mostly in a smaller format. The Pre-Raphaelite influence in this painting is evident in the bright, luminous colours painted onto a white ground, and the careful and painstaking attention to detail. The viewpoint is the Rill, above Kynance Cove, looking south-east towards Lizard Point…. Charles Brett has written of this painting; '...for all its photographic accuracy, this remains a romantic work of great beauty....'" — Rupert Maas, p. 73.
Provenance: With J.S. Maas & Co., 1978; Private Collection. Exhibited: Penlee House Gallery & Museum, Penzance, John Brett — A Pre-Raphaelite in Cornwall, 1st April-10th June 2006, illus. p. 80
Bibliography
The Maas Gallery. Exhibition catalogue. London, 2007. No. 73.
The Maas Gallery, London has most generously given its permission to use in the Victorian Web information, images, and text from its catalogues. The copyright on text and images from their catalogues remains, of course, with the Maas Gallery. Readers should consult the gallery website to obtain information about recent exhibitions and to order their catalogues. [GPL]
---
Last modified 12 June 2020