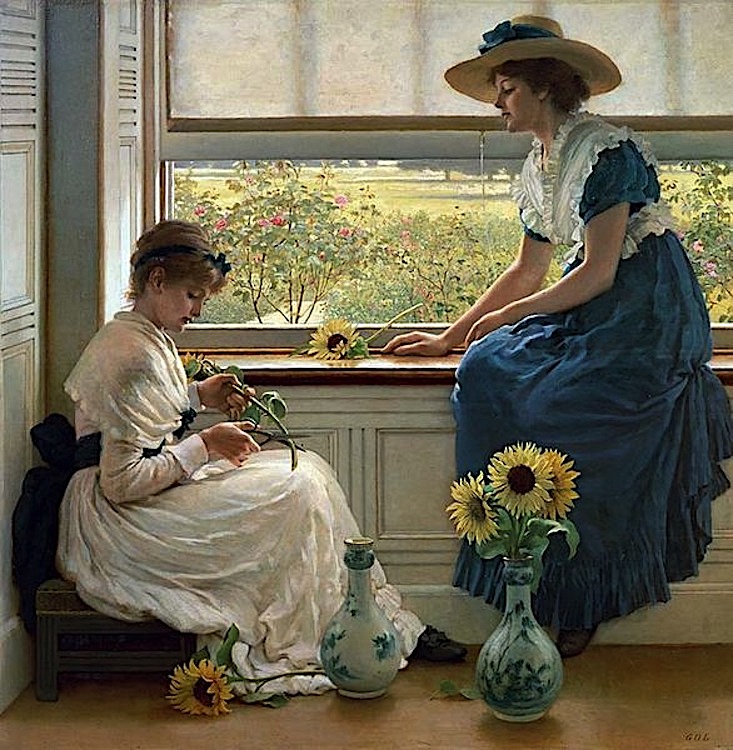 Sun and Moon Flowers by George Dunlop Leslie (1835-1921). 1889. Oil on canvas. 72 x 72 cm. © Guildhall Art Gallery, City of London Corporation. By kind permission of the Gallery. Click on the image to enlarge it. Formatting and commentary by Jacqueline Banerjee.
Sun and Moon Flowers is an example of what Cosmo Monkhouse once described as "Mr. Leslie's later work, which has kept before us constant visions of the innocent beauty and unsophisticated elegance of English girls," but which the art critic himself evidently considered somewhat lacking in the kind of "intellectual effort and [interestingly!] manual labour" that went into earlier works like Leah (69), which, Monkhouse tells us, was exhibited in 1860.
Yet the composition here is a deeply thoughtful one. There is a perfect balance of vertical and horizontal lines, as reflected in the paneling as well as the half-open window and shadows on the blind; and a concomitant sense of harmony between the young women creating an indoor floral arrangement, and the gardens outside, where roses bloom as if to make a natural bouquet of their own. The harmony extends to the blue and white palette of the garments and vases against the structural white and brown of their background, with the yellow highlights which tell us that this is really the height of summer. The young women too are blooming, and in their prime.
There is still a good deal of Pre-Raphaelite detail here (presumably what Monkhouse means by "manual labour"), in the garments, vases, sunflower petals and roses. Despite his dismissal of Leslie's later work, the curators at the Guildhall have found this to be one of the most popular paintings in their newly-curated display. One reason suggested by Julia Dudkiewicz, the gallery's Principal Curator who was responsible for the choice of exhibits, may be that the late Victorian interest in "the house beautiful" has begun to result in a complete change from what we think of as a Victorian room (i.e. one with rich designs on wall and floor coverings, and clutter of all kinds). By around this time, with "the gradual separation of workplace from residence" (Cohen 89), women were taking over the decoration of the house from men, and using it as a stage on which to project their own personalities. Compare what we can see in this picture with Mrs Rate's light and airy panelled room in Milton Court, Surrey. At least in some cases, the claustrophobia of earlier times has already gone, to let in what is truly a breath of fresh air.
The blue patterned vases themselves reflect the fashion of these years (see Cohen 116), as indeed do the sunflowers, used as motifs in both the Arts and Crafts Movement and in the Aesthetic Movement — for which the colour yellow itself had particular significance. The moon flowers of the title may also have a fin-de-siècle resonance. White, scented, night-flowering, they feature in an 1895 illustration by Laurence Housman (1865-1959), and may suggest the seductive power of the female beauty on display.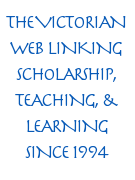 Related Material
Bibliography
Cohen, Deborah. Household Gods: The British and Their Possessions. New Haven and London: Yale University Press, 2006. (For the idea of "Home as a Stage," see Chapter 5).
Monkhouse, Cosmo. "A Pre-Raphaelite Collection." Magazine of Art. 6 (November 1882-October 1883): 62-70. Internet Archive version of a copy in the University of Toronto Library. Web. 30 January 2015.
---
Last modified 30 January 2015