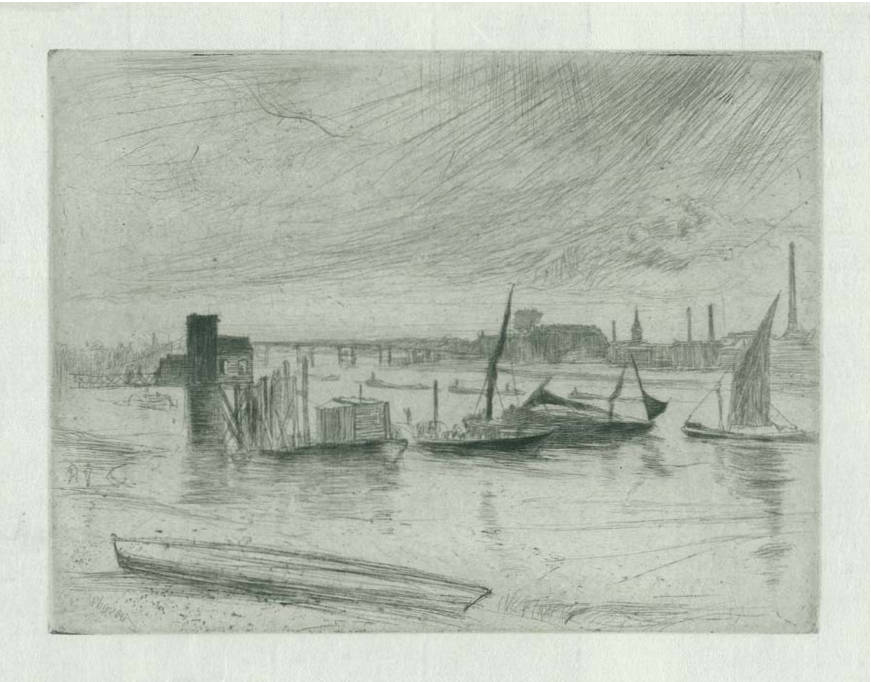 Battersea Dawn (Cadogan Pier) by James Abbot McNeill Whistler (1834–1903). 1863. Etching and drypoint, printed on laid japan paper, 6 x 9 inches (15 x 22.6 cm); sheet 8 x 10 3/4 inches (20.7 x 28.5 cm). This is a proof in the second (final) state, aside from the edition published in A Series of Sixteen Etchings of Scenes on the Thames and Other Subjects, (the Thames Set) published by Ellis & Green in 1871. Source: Whistler on the Thames. [Click on image to enlarge it.]
Commentary by Gordon Cooke
The subject is Cadogan Pier on the north bank of the Thames, between Battersea Bridge and the site of Albert Bridge, which had not yet been built, near the artist's home in Lindsey Row. It is distant from the busy wharves of the earlier etchings, geographically and in conception. Already the atmosphere and the sense of a river waking in the dawn light has become the subject while the detail of the boats and the pier are seen as through a veil.
This plate was not well printed in the Ellis & Green edition; impressions lack the clarity and definition of this one.
The subject was published was published in A Series of Sixteen Etchings of Scenes on the Thames and Other Subjects, (the Thames Set) Early Morning (Battersea)' (no.15). The The plate was sold by F. Keppel & Co. to Charles Lang Freer in 1896 and is now in the collection of the Freer Gallery of Art.
The Fine Art Society, London, has most generously given its permission to use information, images, and text from its catalogues in the Victorian Web. This generosity has led to the creation of hundreds and hundreds of the site's most valuable documents on painting, drawing, sculpture, furniture, textiles, ceramics, glass, metalwork, and the people who created them. The copyright on text and images from their catalogues remains, of course, with the Fine Art Society. [GPL]
Bibliography
Kennedy, Edward G. The Etched Work of Whistler. New York: 1910. No. 75.
MacDonald, Margaret F. Grischka Petri, Meg Hausberg, and Joanna Meacock. James McNeill Whistler: The Etchings, a catalogue raisonné. No. 75. University of Glasgow, 2011. Web.
Whistler on the Thames. London: The Fine Art Society, 2013. No. 11, pp. 36-37.
---
Last modified 22 May 2014