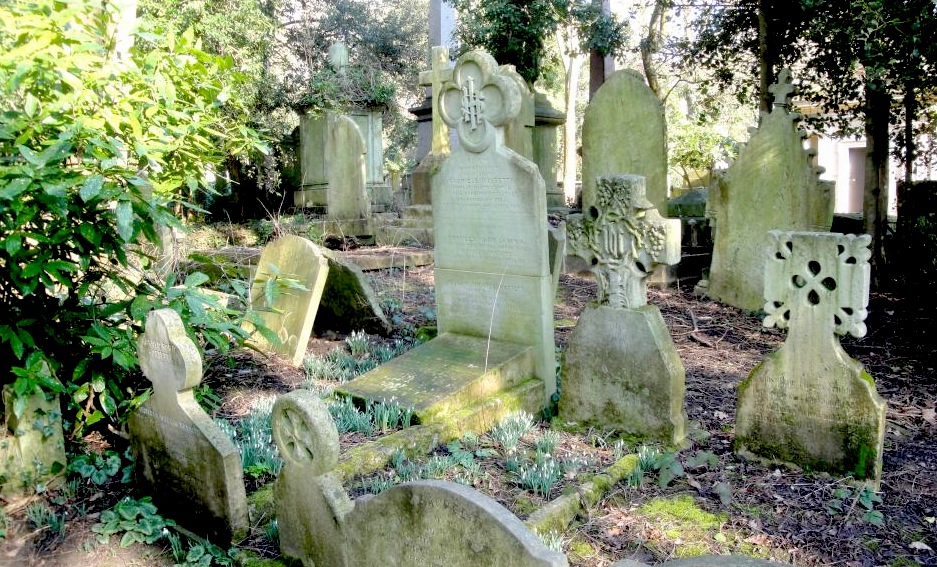 The Rossetti family grave in Highgate Western Cemetery (centre). Among those buried here are Dante Gabriel Rossetti's parents, Gabriele (1783-1854) and Frances (1800-1886); his brother William (1829-1919) and William's wife Lucy Madox Brown (1843-1894, daughter of Ford Madox Brown); his sister Christina (1830-1894); and his wife Lizzie Siddal (1829-1862).
Of the Rossetti family in general, "the biography of any one individual may very well seem 'only an episode in the epic of the family,' so striking is the character of each generation that we can trace" (Cary 1), so that each person buried here is important in his or her own way, starting of course with Gabriele Pasquale Giuseppe Rossetti, one of those Italian exiles who contributed so hugely to English life at this time. A talented man in so many ways, he become Professor of Italian at the recently established King's College, London, sending his sons Dante and Michael to the school there, and surrounding his growing family with "an amazing number and variety of people, musicians, painters, writers, scholars, venders, teachers, politicians; some of them singular figures of heroic and unquiet aspect" (Cary 7). A Dante scholar as well as a patriot, he and his wife, an important influence in her own right, nurtured an extraordinarily intelligent and gifted brood.
With reference to Rossetti's parents, the inscription on the slab at the base of the Highgate headstone begins:
ALSO TO THE MEMORY OF / ELIZABETH ELEANOR / WIFE OF THEIR ELDER SON / DANTE GABRIEL ROSSETTI / WHO DIED FEBRUARY 11th 1862 / AGED 30 YEARS / ALSO OF CHRISTINA GEORGINA ROSSETTI, / DAUGHTER OF / GABRIELE AND FRANCES ROSSETTI.
It was the former, usually known as Lizzie Siddal, who provided the most colourful story associated with this grave. Aged thirty-two, rather than thirty (headstone inscriptions are not always reliable), she died of an overdose of laudanum, either administered accidentally, or as an act of suicide. Another of Rossetti's early biographers recounts the events following her death:
On the day of the funeral Rossetti walked into the chamber in which the body lay. In his hand was a book into which at her bidding he had copied his poems. Regardless of those present he spoke to her as though she were still living, telling her that the poems were written to her and were hers, and that she must take them with her. He then placed the volume beside her face in the coffin, leaving it to be buried with her in Highgate Cemetery. This touching scene will some day doubtless be the subject of a picture. Time, after its wont, hallowed and sanctified the memory of loss, but the bereavement was long and keenly felt. Meanwhile, the entombment of Rossetti's poems had an effect upon which the writer had not calculated. They were familiar to many friends, and passages of them were retained in the recollection of some. These poems were during subsequent years the subject of much anxiety and wonderment, and the existence of the buried treasure was mentioned with reverence and sympathy, and with something of awe. Seven years later Rossetti, upon whom pressure to permit the exhumation of the volume had constantly been put, gave a reluctant consent With the permission of the Home Secretary the coffin was opened" by a friend of Rossetti and the volume was withdrawn. [Knight 76]
Although this puts the best possible spin on this ghoulish aftermath, the exhumation requested" by Rossetti in 1869 came to "haunt him like a ghost" (Marsh). It accounts for his not having wanted to be buried in the family plot.
The well-known poet Christina Rossetti, who died of cancer in 1894, was interred here after a memorial service at Christ Church, Woburn Square (see "Obituary"). Her brother Michael, who lived on until 1919, and whose name appears on the footstone of the grave, was not without his importance either. He had been one of the founder members of the Pre-Raphaelite Brotherhood, and had recorded its aims. He himself wrote widely. His "Reminiscences," not to mention his collections of family papers and letters, biographical writings and editions of his siblings' writings, provide an invaluable resource on this exceptional family and their times and influence. Their brother Dante Gabriel himself was buried in Birchington on the Kent coast, where he died in 1882.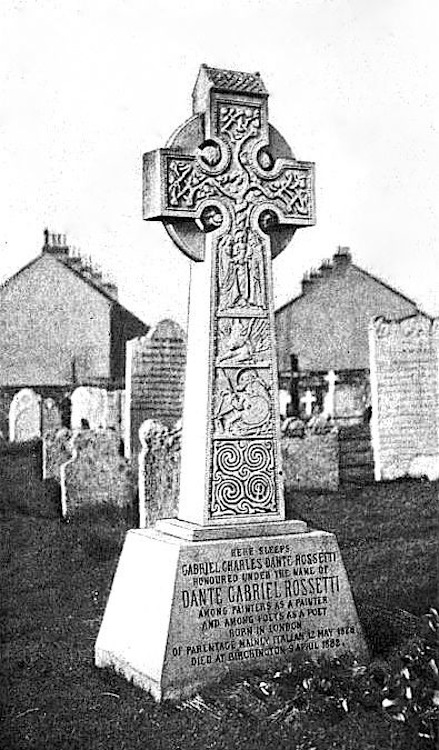 Rossetti's Celtic cross in the graveyard of All Saint's, Birchington, designed by Ford Madox Brown (Cary 215). Image source: Cary, facing p.246.
Related Material
Photographs by Robert Freidus, appearing here by kind permission of Highgate Cemetery. Scanned image and formatting by the author. [You may use the scanned image without prior permission for any scholarly or educational purpose as long as you (1) credit the source and (2) link your document to this URL or cite the Victorian Web in a print document. Click on the images to enlarge them.]
Bibliography
Cary, Elisabeth Luther. The Rossettis: Dante Gabriel and Christina. New York and London: Putnam's, 1900. Internet Archive. Web. 29 December 2013.
Knight, Joseph. The Life of Dante Gabriel Rossetti. London: Walter Scott, 1887. Internet Archive. Web. 29 December 2013.
Marsh, Jan. "Did Rossetti really need to exhume his wife?" Times Literary Supplement. 15 February 2012. Online ed. Web. 29 December 2013.
"Obituary: Miss Christina Rossetti. The Times. 1 January 1895: 4. Times Digital Archive. Web. 29 December 2013.
---
Last modified 29 December 2013