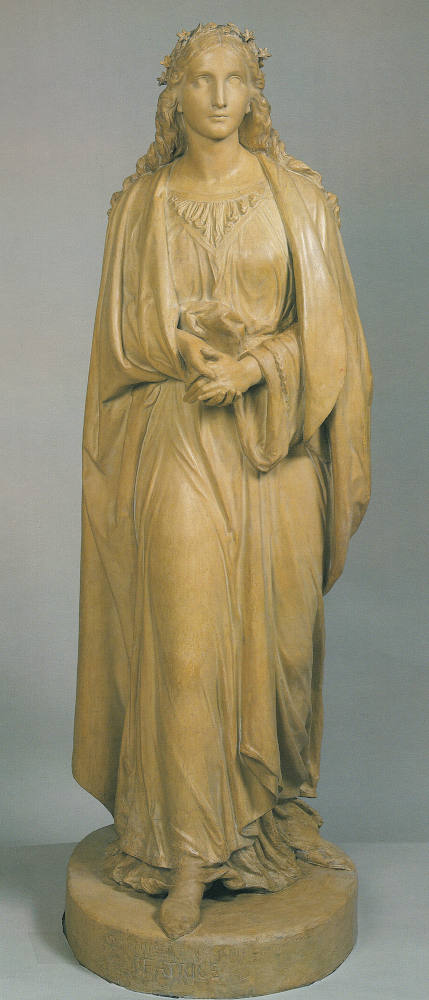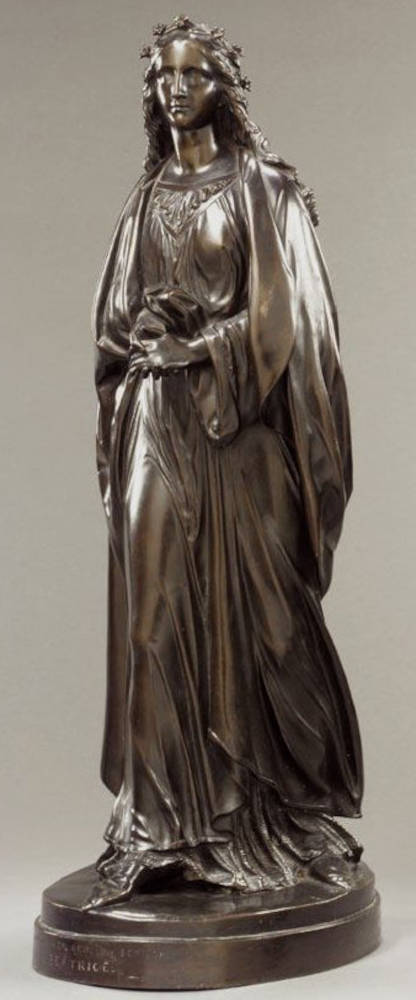 Left: Beatrice. Painted plaster full-length sculpture, 72 ⅛ in. (183 cm) high. Signed "JOHN HANC[OCK] S[C], LONDON" and inscribed "GUARDAMI BEN BEN SON BEN SON / BEATRICE." Anonymous loan to the Victoria and Albert Museum, London. Right: Beatrice. 1854. Bronze electrotype sculpture. Signed "JOHN HANCOCK Sculptor" and inscribed "Executed by Elkington Mason & Co." Entitled "GUARDAMI BEN BEN SON BEN SON / BEATRICE / DANTE PURGATORIO." 24 ⅛ inches (61.5 cm) high. Private Collection.. [Click on images to enlarge them.]
The full-length plaster cast of Beatrice was first shown at the Royal Academy in 1850 (no. 1303), then in the Sculpture Court of the Great Exhibition in London in 1851 (no. 25), and subsequently at the Exposition Internationale in Paris in 1855. It is now on loan to the Victoria and Albert Museum, London. It is undoubtedly one of Hancock's most successful ideal works and was praised by the sculptor Henry Weekes when he saw it at the Great Exhibition: "Will he [the visitor] not stop before the beautiful spiritualized figure of 'Beatrice,' by Hancock, and become for a moment as absorbed in expression as is the plaster itself?"(65) A marble version was apparently made for Baroness Angela Burdett-Coutts but, if so, this version remains unlocated. When the plaster version was exhibited at the Royal Academy in 1850 it was accompanied by lines from a sonnet by D. G. Rossetti, a translation of a poem by Dante that was part of his La Vita Nuova, and entitled "Of Beatrice de Portinari on All Saints' Day." Rossetti, who had completed his translation of La Vita Nuova in 1848 and was producing drawings on the theme of Dante and Beatrice in the late 1840s, likely inspired this subject. (Greenwood, Pre-Raphaelite Sculpture, 106).
In 1854 Hancock exhibited a reduced version in bronze identical to the plaster cast at the Royal Academy (no. 1416). Electrotype bronze casts of this sculpture appear to be rare although casts have sold at Sothebys, London, on December 10, 2004, lot 200, and Bonhams, London, on November 3, 2010, lot 279. Another cast is in the collection of the Birmingham Art Gallery and Museum (accession no. 1992P10). The inscription around the bases of both the full-length plaster and the bronze statuette, "Guardami ben, ben son, ben son Beatrice" [Look at me well; I am, I am Beatrice], leaves little doubt that the Beatrice portrayed in the sculpture is Dante's great love. Hancock portrays Beatrice slowly stepping forward, her hair crowned either with a garland of flowers or stars. If the latter, Hancock might be trying to imply that Beatrice simultaneously occupies both the earthly and the heavenly spheres. Beatrice's hands are clasped, she has a saintly expression on her face, and her gaze is upwards towards heaven. In his early youth Dante had fallen in love with Beatrice Portinari and in his masterpiece La Vita Nuova made her the personification of beauty, wisdom, and piety.
Beatrice. John Hancock. Private collection.
In 1862 Hancock showed a marble bust of Beatrice at the Royal Academy (no. 1054). The bronze bust, dated 1861 and cast by Elkington, is identical to this version. A plaster version of the bust, as well as Hancock's full-size plaster cast of Beatrice, can be seen in an undated photograph of Hancock's studio that is reproduced in Read and Barnes (71). Elkington, Mason & Co. existed from 1842-1861 and then became Elkington & Co. from 1862-1886. The bronze version of the bust must therefore have been cast later than 1861 despite the date on the work that may relate to when Hancock first modelled it. Elkington's made electrotype reproductions of sculptures that differed from those produced by traditional bronze casting techniques. The sculptures were first cast in zinc, then coated with copper by the electrotype process, and finally chemically tinted to produce the patina. For some 25 years, however, from the mid-1850s to the late 1870s, Elkington's also produced numerous bronze statues and sculpture by traditional bronze casting founding methods in addition to making electrocasts and electrotypes. Sculptures made by electrotyping were considerably less expensive to produce than using traditional bronze casting techniques.
Bibliography
Greenwood, Martin, in Pre-Raphaelite Sculpture. Ed. Benedict Read and Joanna Barnes. London: Lund Humpries, 1991. cat. no. 16; fig 42.
Weekes, Henry. The Prize Treatise on the Fine Art Section of the Great Exhibition of 1851. London: Vizetelly and Co., 1852.
---
Last modified 26 April 2021